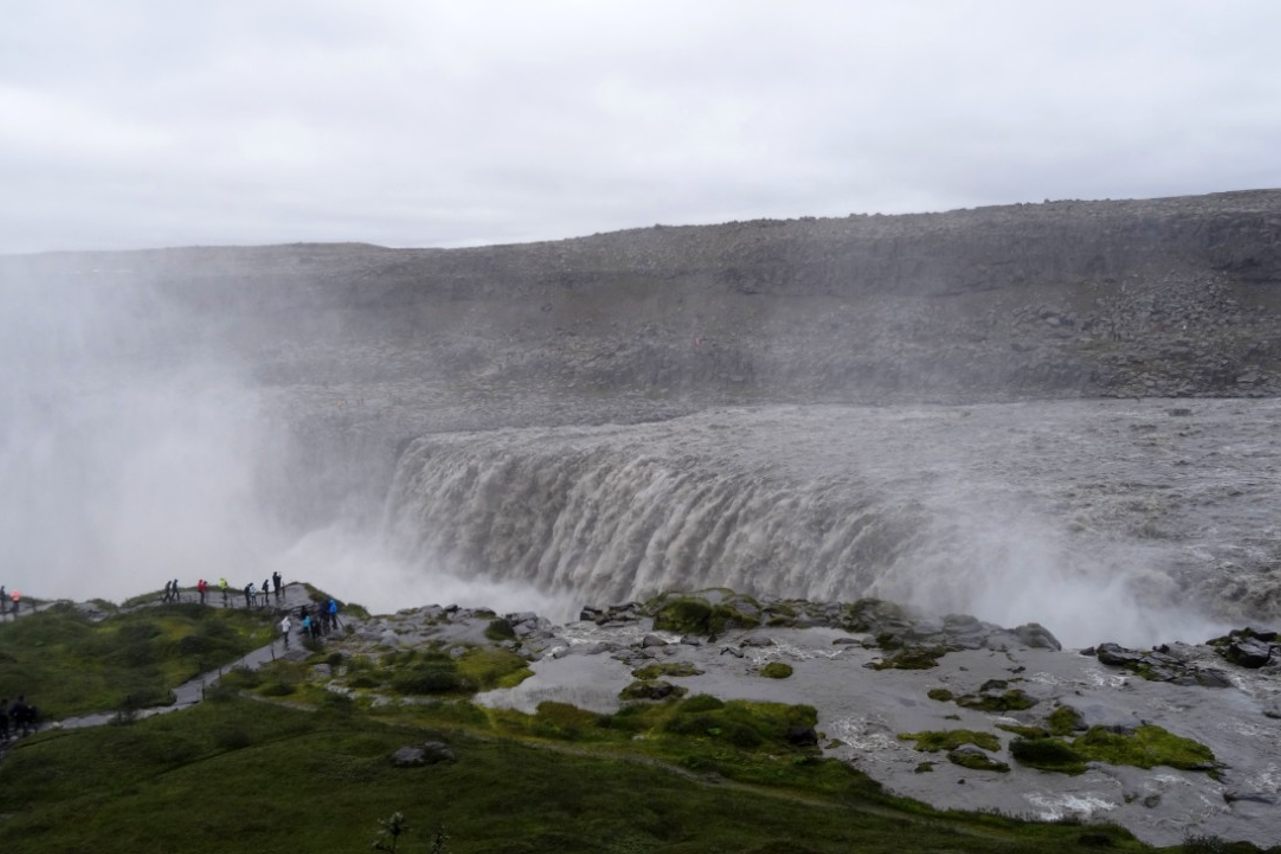 Forceful Falls
1. Dettifoss
Iceland is famous for its spectacular waterfalls, many of which are beautiful and serene places for contemplation. Dettifoss is not one of them. Having earned the superlative of "most powerful waterfall in Europe" because of its massive flow rate (3,059,112 U.S. gallons per minute), standing near this unfettered display of power will give you a healthy respect for the fury of nature. 
From Route 1 (commonly known as Iceland's Ring Road), visitors can easily access Dettifoss by driving north on the paved Route 862. However, if traveling from the north (from Route 85 via the Ásbyrgi canyon area), be prepared to brave some rather rough gravel roads, which may or may not be closed depending on the weather. (There's a reason why four-wheel-drive rental cars come in handy in this rugged nation.) If the roads are clear, pack your rain gear and hiking boots. Even on a sunny day, mist from the flow of glacial water can be visible from up to a mile away and any wind change might leave you soaked. 
The 330-foot-wide falls are fed by the river Jökulsá, which means "glacier river" in Icelandic, a reference to the Vatnajökull glacier (recipient of another superlative: one of Europe's largest). Be careful as you approach and stick to designated pathways since even they can be rendered slippery in the mist. The falls' water tends to be a dingy grayish color, thanks to the water picking up the black volcanic silt from the river bottom. Movie buffs might recognize Dettifoss from its star turn as another planet in the opening scene for the 2012 movie Prometheus.
Dettifoss, Vatnajökull National Park, Iceland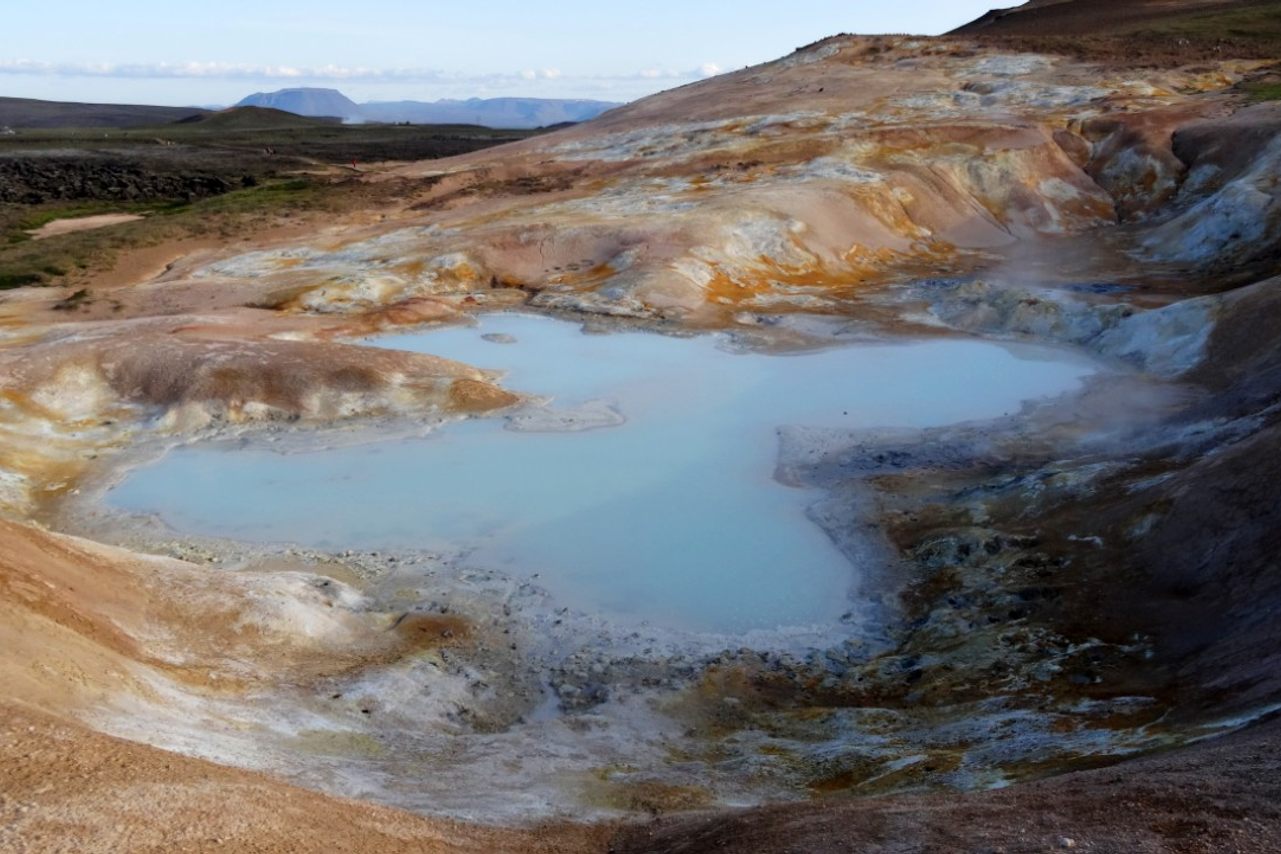 Sci-Fi Stand-In
2. Krafla Caldera
If you want to continue the alien theme, the Krafla caldera—a 6-mile-long active volcano zone that sits squarely on the border between the Eurasian and American tectonic plates—is a must-visit. Drive up a winding mountain road until clusters of red geodesic domes come into view. That's the power plant harnessing the area's geothermal energy, and it means you're close. 
Krafla is part of a large volcanic system and one of Iceland's most explosive volcanoes. The most recent eruptions occurred frequently between 1975 and 1984, and the eerie landscape bears witness to what churns beneath the surface. 
From the parking area, take a hike along a well-worn path and you'll notice the geology of the area change before your eyes. Lava fields, puddles of bubbling mud, evaporating clouds of sulfur-scented steam, solidified magma splashes and horizontal striations of various colors from layers of lava make the Krafla caldera look like a scene straight from Mars. It's such a close match, there are plans for the area to host the Mars Society's European Mars Analog Research Station (Euro-MARS) to observe humans living in space-like conditions. 
Krafla Caldera, Northeast, Iceland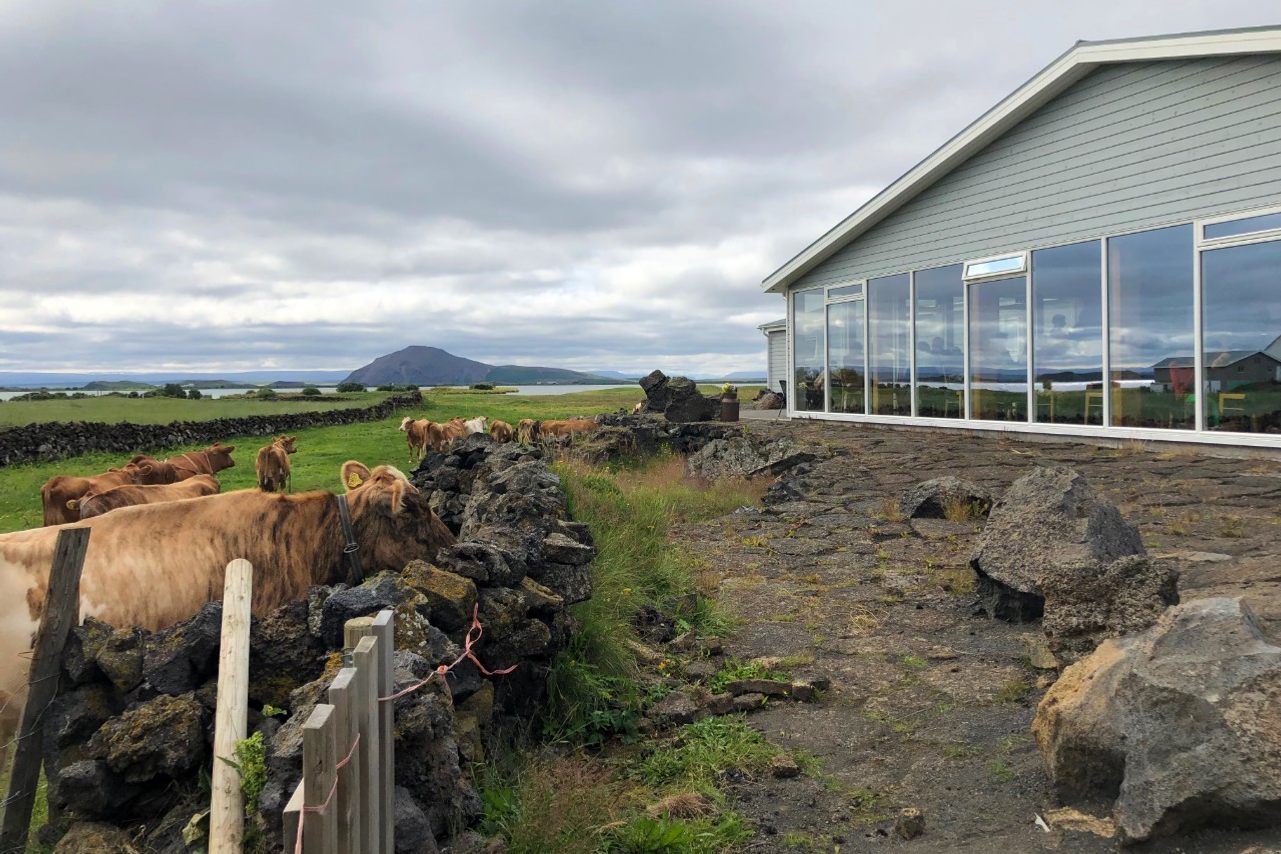 Farm-Fresh Flavors
3. Vogafjós' Cowshed Cafe
Many farm families in Iceland boast a closely guarded family recipe for "geyser rye bread," baked with some combination of rye flour, spring water, sugar and seasonings. The ingredients are mixed, formed into loaves and baked beneath the ground, using the natural, geothermal heat for which Iceland is famous. At this pastoral cafe, on the eastern shores of Lake Mývatn, the geyser bread—which is baked underground for 24 hours—is a star menu attraction, along with raw smoked lamb, pan-fried trout and cured arctic char pulled from the lake. 
The cow farm, which is currently home to 16 stout bovines, has been in the same family for more than 120 years. In 2005, the family added 26 guest rooms, and later, they converted their small food takeaway counter into a full-fledged restaurant. Guests who want to get close to the eatery's agrarian roots can watch the cows being milked or sit outside overlooking the pasture. For a special treat, the kitchen blends the geyser bread into their singular delicacy, geyser bread ice cream.
Vogafjós Farm, 660 Mývatn, Iceland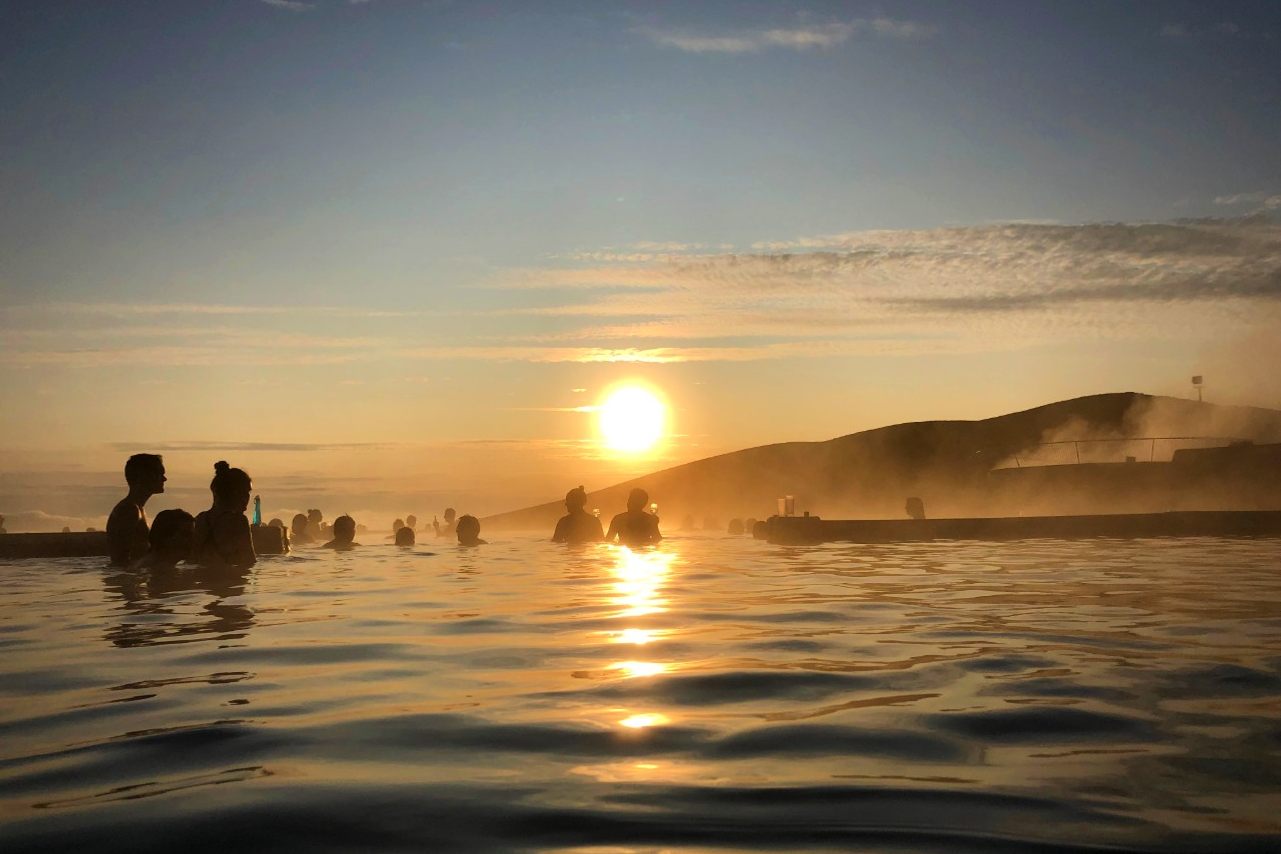 Serene Soak
4. Mývatn Nature Baths
The north's lesser-known answer to the southwest's Blue Lagoon lies in the hot mineral springs next to Lake Mývatn. Unlike the touristic attraction to the south, this picturesque pool is naturally fed by geothermal water drawn from a fissure nearly 2,500 meters deep. Rich in silicates, minerals and beneficial microorganisms, the water is purported to have healing properties. That chemical composition, plus a starting temperature of 130 degrees Celsius, also makes it an inhospitable environment for any undesirable bacteria or vegetation. 
Guests shower in gender-specific locker rooms before wading into the outdoor lagoon, which contains nearly a million gallons of steaming blue water with temperatures between 36 and 40 degrees Celsius. If you've had the forethought to order a drink inside, a friendly lifeguard will deliver it to you at the edge of the pool. The complex also includes an outdoor hot tub, two steam saunas, and views of the surrounding volcanic landscape. While the pool structures themselves are man-made, the water is completely natural and the complex represents a good example of Icelandic hot spring culture.
Jarðbaðshólar, 660 Mývatn, Iceland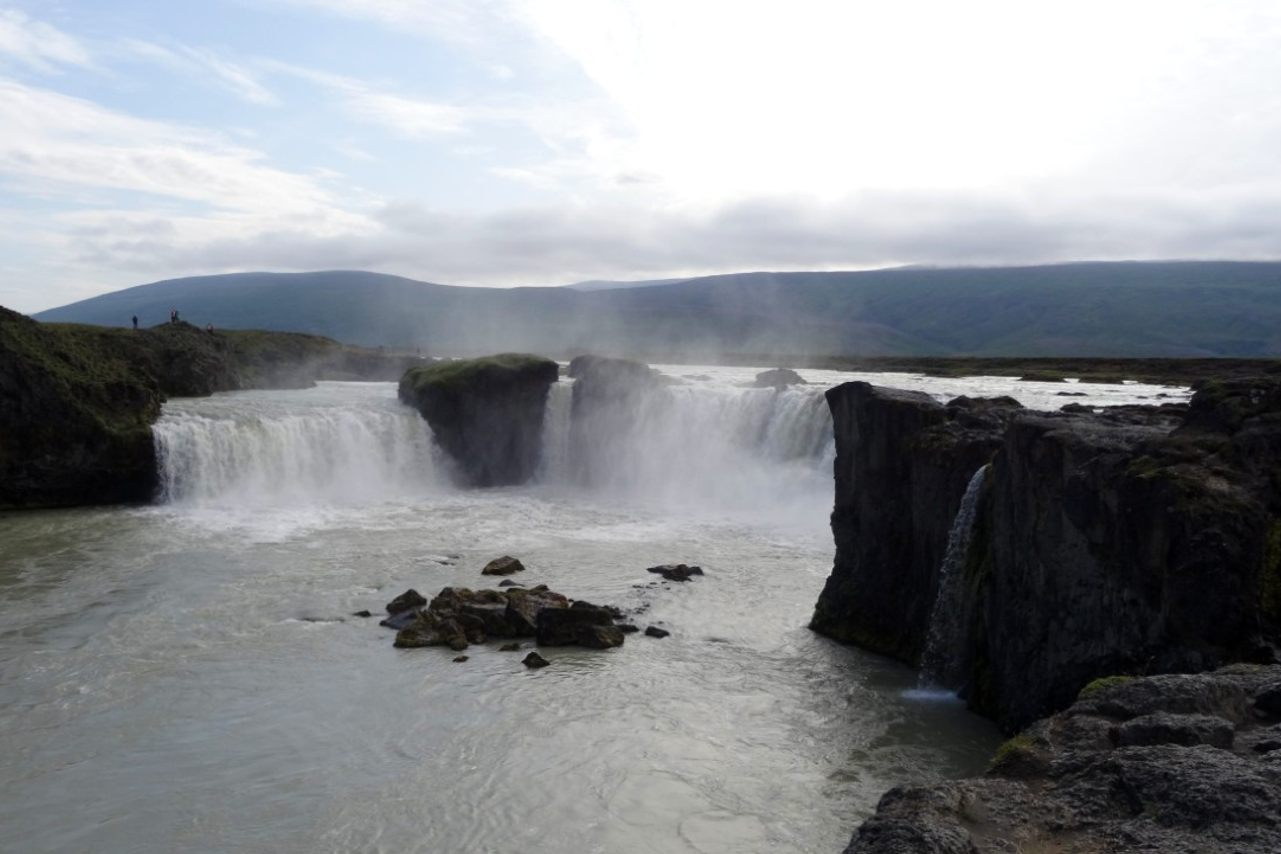 Lush Landscape
5. Goðafoss
Just about every waterfall in Iceland has a story, and Goðafoss, which means "waterfall of the gods," is no exception. According to the Icelandic sagas, in the year 1000, Þorgeir Ljósvetningagoði, the region's Viking leader, threw his Norse idols and instruments into the waterfall to signify the end of paganism and the start of Christianity. The nearby church, Þorgeirskirkja at Ljósavatn (Icelandic for Þorgeir's Church), was built in 2000 to commemorate a millennium of Iceland being a Christian nation. 
The powerful falls stretch across a curve of nearly 100 feet, with water from the river Skjálfandafljót tumbling over massive boulders and down 39 feet before continuing on its way. The lush valley surrounding it is primarily covered with shallow lava topsoil, so the delicate flora includes dwarf shrubs, moss and lichen, which grow on the rocks surrounding and separating the falls. Goðafoss is located right on the Ring Road, (named such because it follows the country's perimeter), so visitors can choose to park on either side. Either way, an easy walk gets you close to the majestic display from the top. For those who wish to view the falls from below, walk to the east side and hike down the rocky path for a new perspective.
Goðafoss, Iceland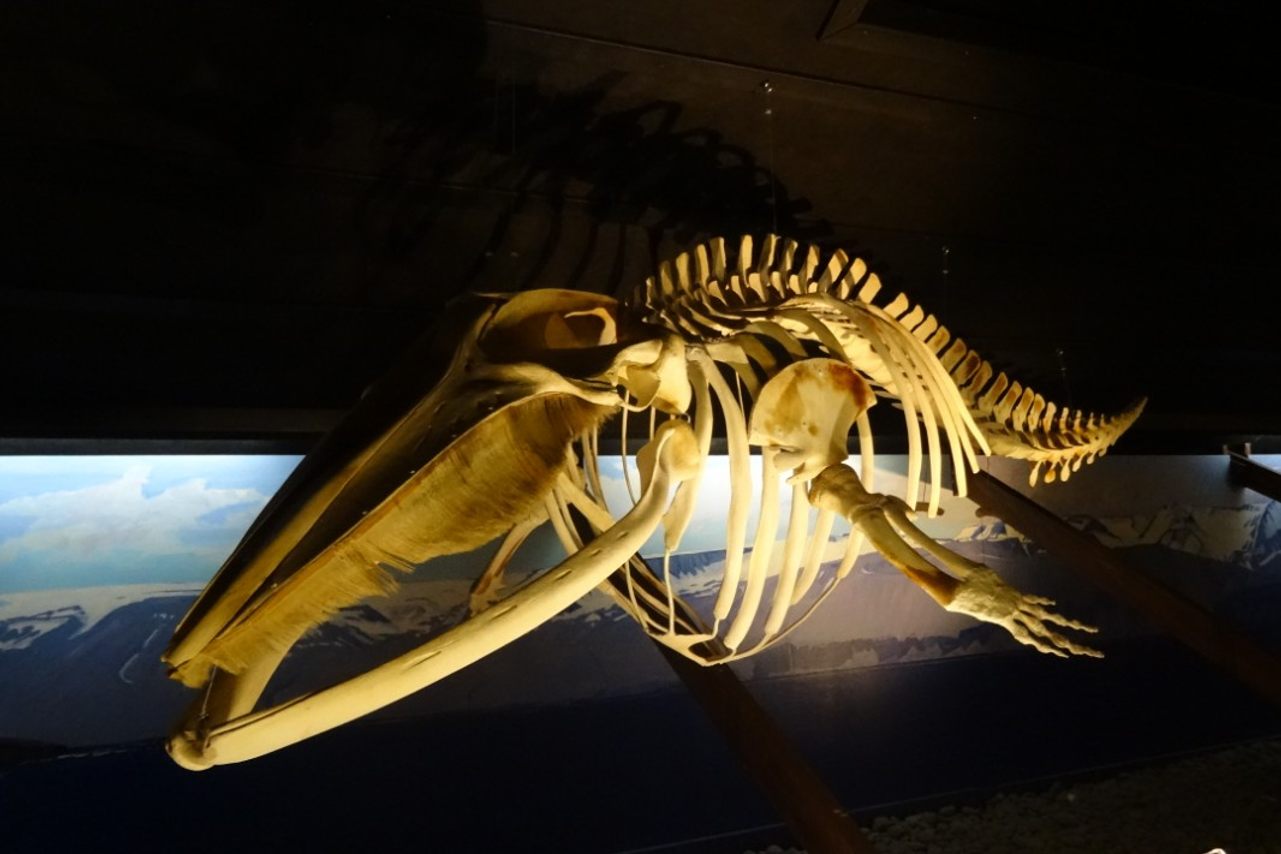 Massive Mammals
6. Húsavík Whale Museum
At just 2,300 residents, Húsavík is one of the densest towns lining Iceland's sparsely populated Northeast coast. The country's self-described "whale-watching capital" is home to the Húsavík Whale Museum. A former livestock slaughterhouse offers more than 15,000-square-feet of exhibition space filled with 11 whale skeletons, including  an 82-foot-long blue whale found beached at Ásbúðir, a farm in Northern Iceland.
Standing in front of the only blue whale skeleton in Iceland gives you an appreciation for the size of the creatures—the largest ever to have lived, with calls that can travel hundreds of miles underwater. Other fully assembled skeletons include a Sowerby's beaked whale, minke whale, long-finned pilot whale, sperm whale, and a narwhal, dubbed the "unicorn of the sea" because of its single horn-like tusk. 
Other engaging exhibits include a "touch and see" box with artifacts—like a baleen whale skull bone, part of a shark tail, vertebrae of a northern bottlenose whale, and a humpback whale's baleen plates—to handle up close. Undulating lighting and underwater noises turn the museum into a place to both learn about and meditate on these giants of the deep.
Hafnarstétt 1, Húsavík, Iceland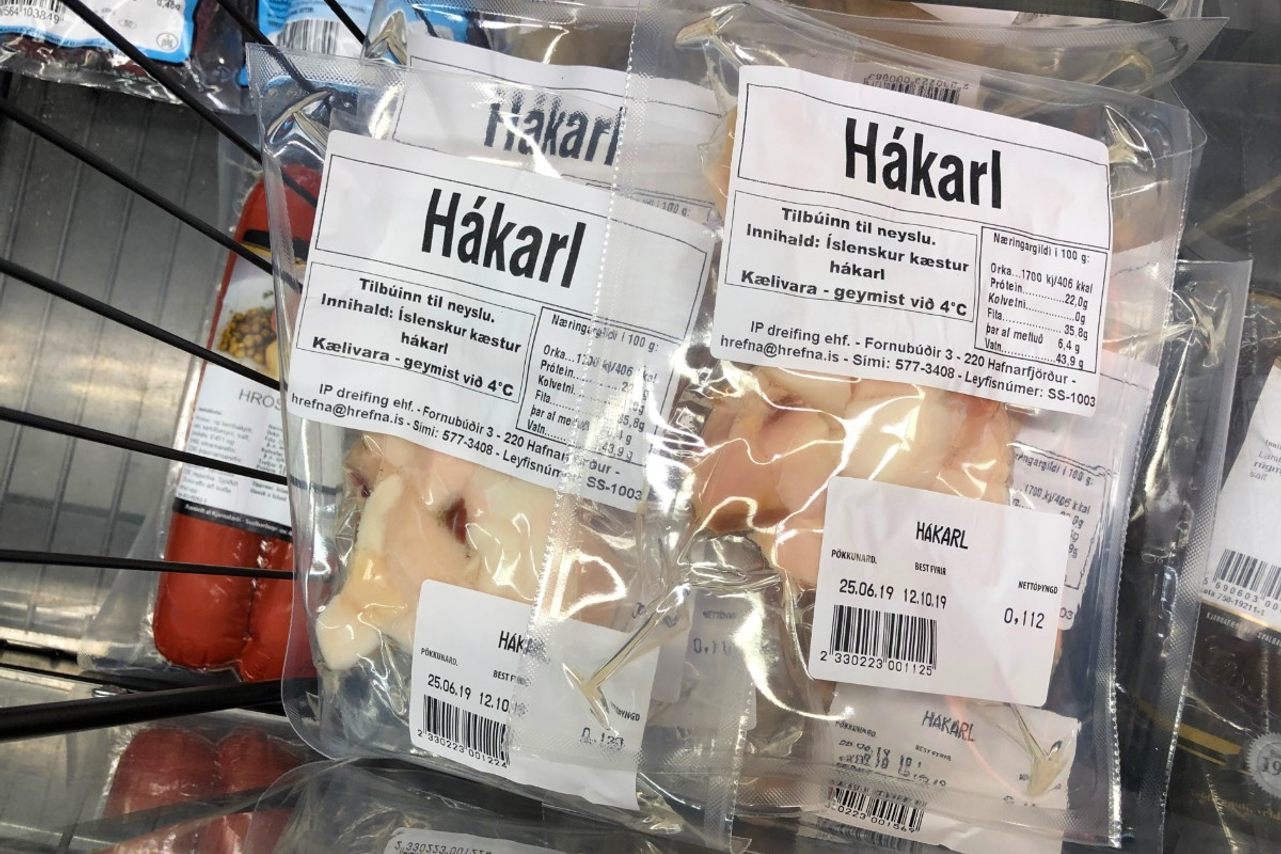 Striking Shark
7. Hákarl
In centuries past, food was often prized more for its ability to sustain than its ability to delight the taste buds. There's perhaps no better example than hákarl, the pungent—some might say putrid—fermented shark the Vikings created in Iceland's early days. The meat of Greenland sharks, the world's longest-living vertebrates at 300–500 years, is poisonous when eaten fresh. But Viking ingenuity discovered that burying pieces of the shark meat underground for several weeks could neutralize the toxins. Next, the slabs of meat were hung to age further. The bite-size chunks of white meat have a urine-like smell, thanks to the ammonia in the uric acid naturally present in the shark's flesh. 
While hákarl is now produced primarily to be eaten during the annual midwinter Þorrablót festival, the gastronomically adventurous (or foolhardy, depending on your view of eating what some have described as "urine-soaked cheese") can find this historical food in high-end grocery stores, like the Hagkaup in Akureyri. When asked if he liked the Icelandic delicacy, the best a store clerk could say was, "It's a very particular taste." To sample it like Icelanders do, plan to wash the hákarl down with a shot of Brennivín, the traditional unsweetened, carraway-flavored schnapps.

Hagkaup Grocery, Grenivellir 26, Akureyri, Iceland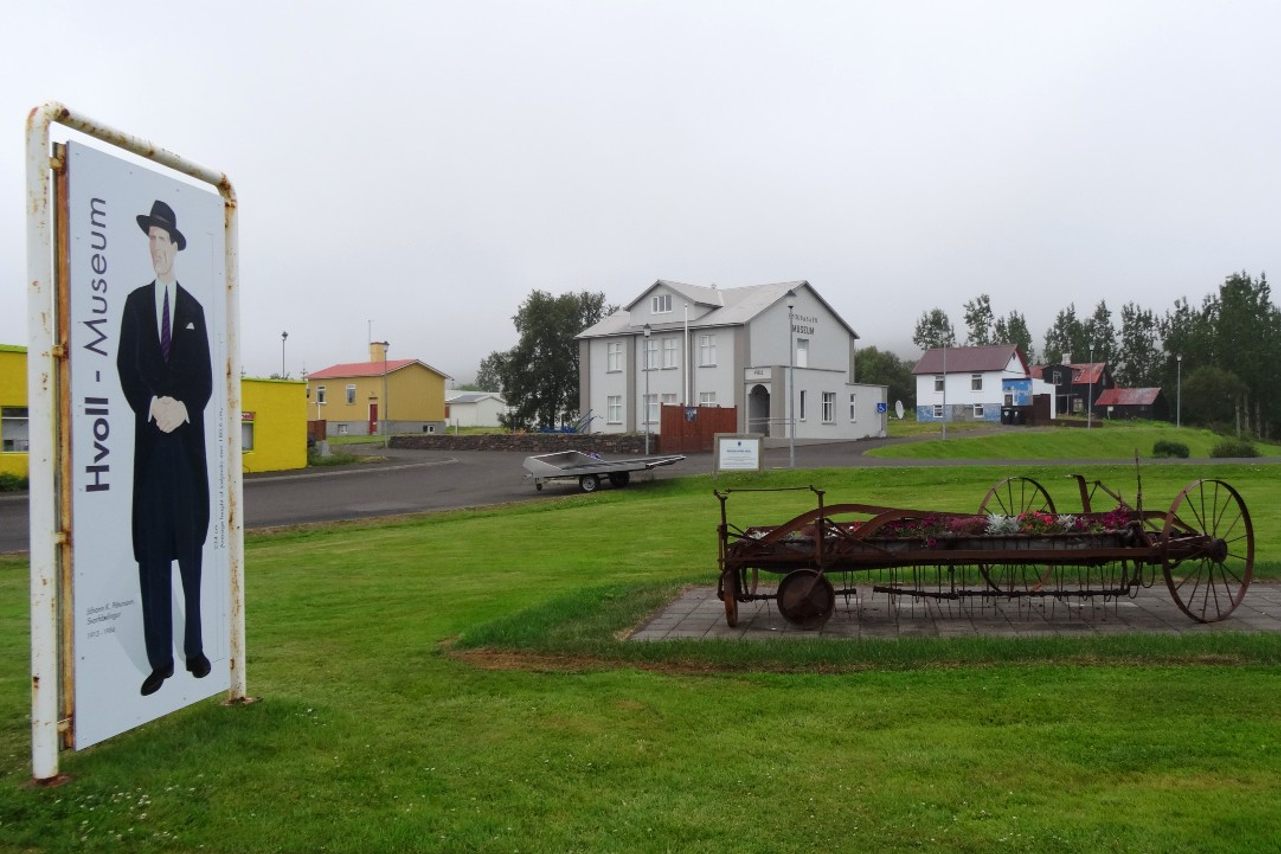 Tall Tales
8. Hvoll Regional Museum
This Dalvík museum's star is an exhibit dedicated to the town's larger-than-life resident. Jóhann Pétursson was dubbed "The Giant," because at 7'8" he was known as the tallest man alive during his lifetime (1913–84). When you visit, snap a photo next to an outdoor display showing Pétursson's impressive height, sit in a larger-than-life bench that would have fit him, and wonder at archival photos documenting his time as a vaudeville performer around Europe and later as the "Viking Giant" in the United States' Ringling Bros. and Barnum & Bailey Circus. 
The rest of the museum's collection is filled with various tools, furnishings, arts, and crafts, which provide insight into Dalvík's history, culture, and community. The natural history collection contains a large number of taxidermied Icelandic birds and mammals, including a toothy polar bear.
Karls-Rauðatorg, 620 Dalvík, Iceland
Giddyup
9. Tvistur Horse Rental
Saddle up an Icelandic horse at this family-run stable near Dalvík, and you'll take part in a proud national tradition. The unique breed of smallish horses came to Iceland with the first Viking settlers from Norway about 1,100 years ago. Because of the land's isolation and stringent laws restricting equine imports, Icelandic horses are among the purest horse breeds in the world. Riders will notice that these friendly and playful beasts have two gaits in addition to the typical walk, trot, and canter/gallop common to other breeds. Experience the tölt, a four-beat prance that's fun even for beginners. More advanced riders will want to strive for the skeið, or "flying pace," that can reach up to 30 miles per hour in which all four hooves are suspended off the ground. 
At this stable just south of Dalvík, 40 of the Sveinbjarnarson family's horses are housed in a former mink farm. Stable staff guide guests of all experience levels on rides atop the sure-footed horses — choose between a walk along the Svarfaðardalsá river or a trek up into the mountains overlooking the stables. On a clear day, you'll be able to survey the surrounding landscape, including the Kaldbakur peak, which remains snow-capped even in the summer.
Hringsholt, 620 Dalvík, Iceland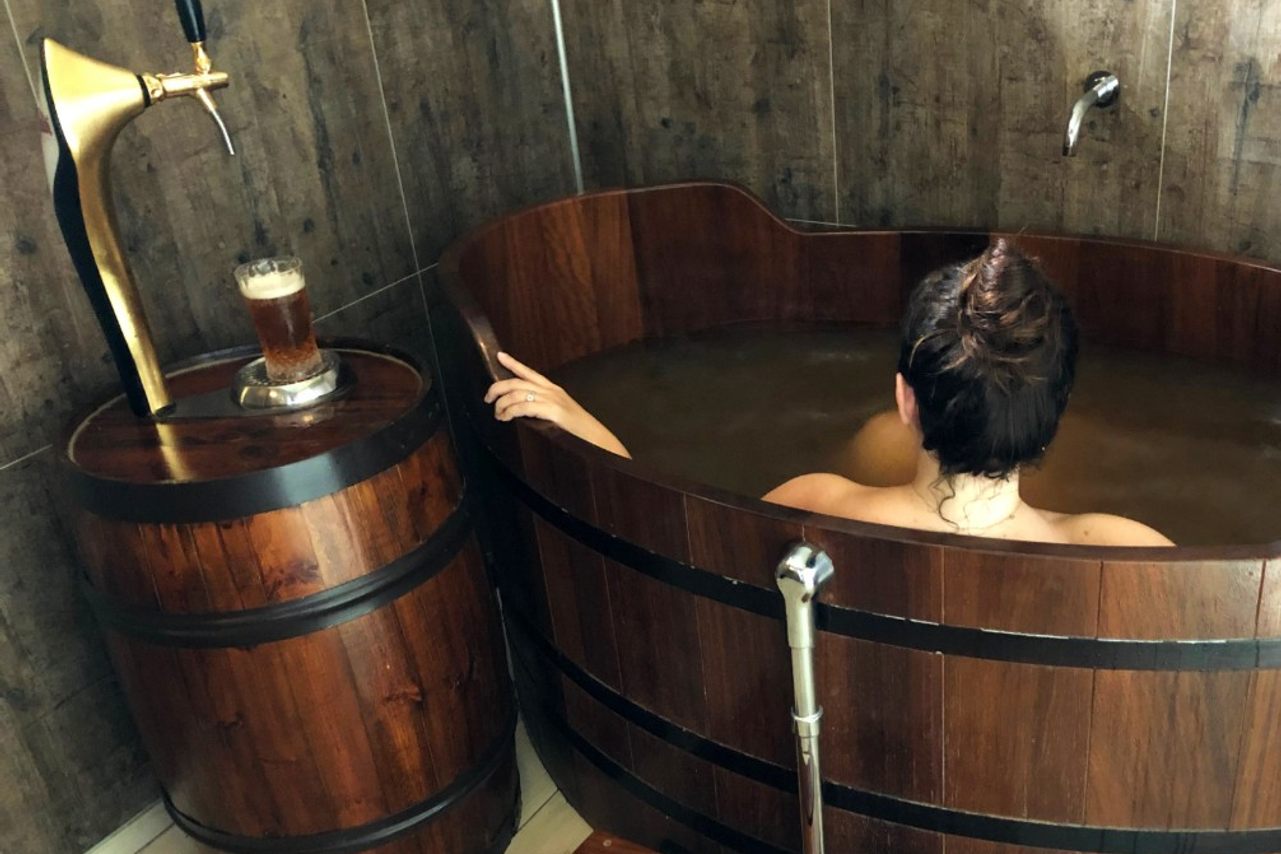 Buzzed Bath
10. Bjórböðin Beer Spa
If drinking beer gives you a flushed glow, imagine what taking a bath in a vat of suds will do. At Iceland's first beer spa, opened in 2017, singles or couples can soak in 700-liter tubs made from Kambala wood from Ghana. Each bath is filled with a secret blend of antioxidant-packed hops, vitamin B-rich brewer's yeast, warm mountain spring water and essential oils to soothe the body and nourish the skin during the timed 25-minute session. Guests over 20 (Iceland's legal drinking age) can sip from an all-you-can-drink tap of golden lager brewed by the adjacent Bruggsmiðjan Kaldi, Iceland's first microbrewery, opened in 2006. 
Once soaking time is up, guests pad upstairs to a dark gabled room full of individual daybeds where an attendant drapes you with a cozy blanket while the yeast goes to work on your skin. Visitors who want more time can spring for a session in one of two outdoor hot tubs overlooking Eyjafjörður, one of Iceland's longest fjords. Even the locker room showers feature beer-infused shower gel and shampoo. 
Ægisgata 31, 621 Árskógssandur, Iceland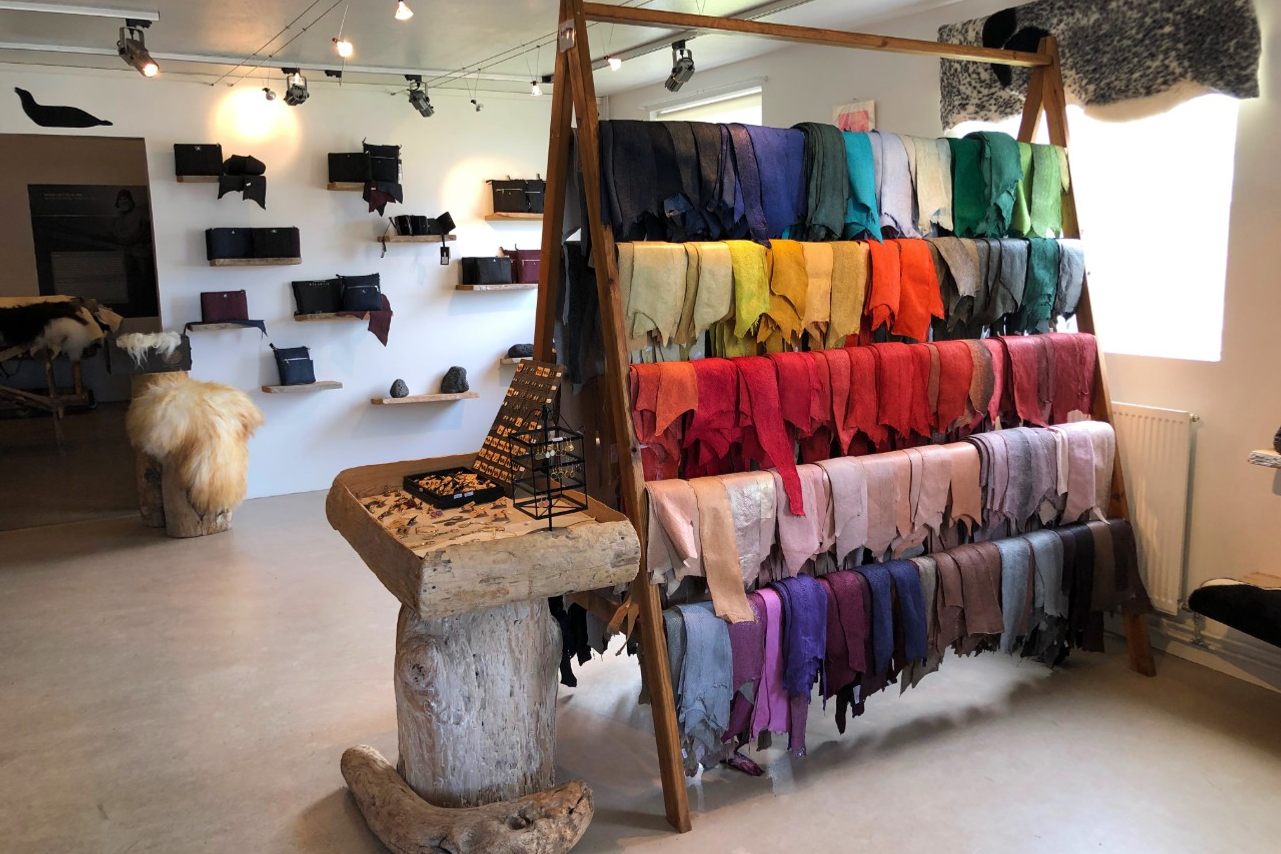 Sustainable Skins
11. Gestastofa Sútarans
Fine leather and wool products are some of Iceland's most popular souvenirs, but for something more unique, visit the Tannery Visitor Center, one of a small number of tanneries in the world (and the only one in Europe) producing fish leather. The business originally opened in 1961, specializing in lambskins. Forward-thinking local entrepreneurs responded to an economic downturn in the early 1990s with a solution to leverage the seafood skins which would otherwise be discarded. 
Now, leather artisans work with local fishermen to cure salmon, perch, wolffish and cod skins, which are treated with vibrant natural dyes in every imaginable color, including an array of metallics. After curing for at least a month, sales reps claim the finished skins are as much as five times more durable than cow leather. The Center offers both custom and off-the-rack handbags and belts, as well as less expected items like bowties and jewelry made out of sustainable fish leather.
Borgarmýri 5, Sauðárkrókur, Iceland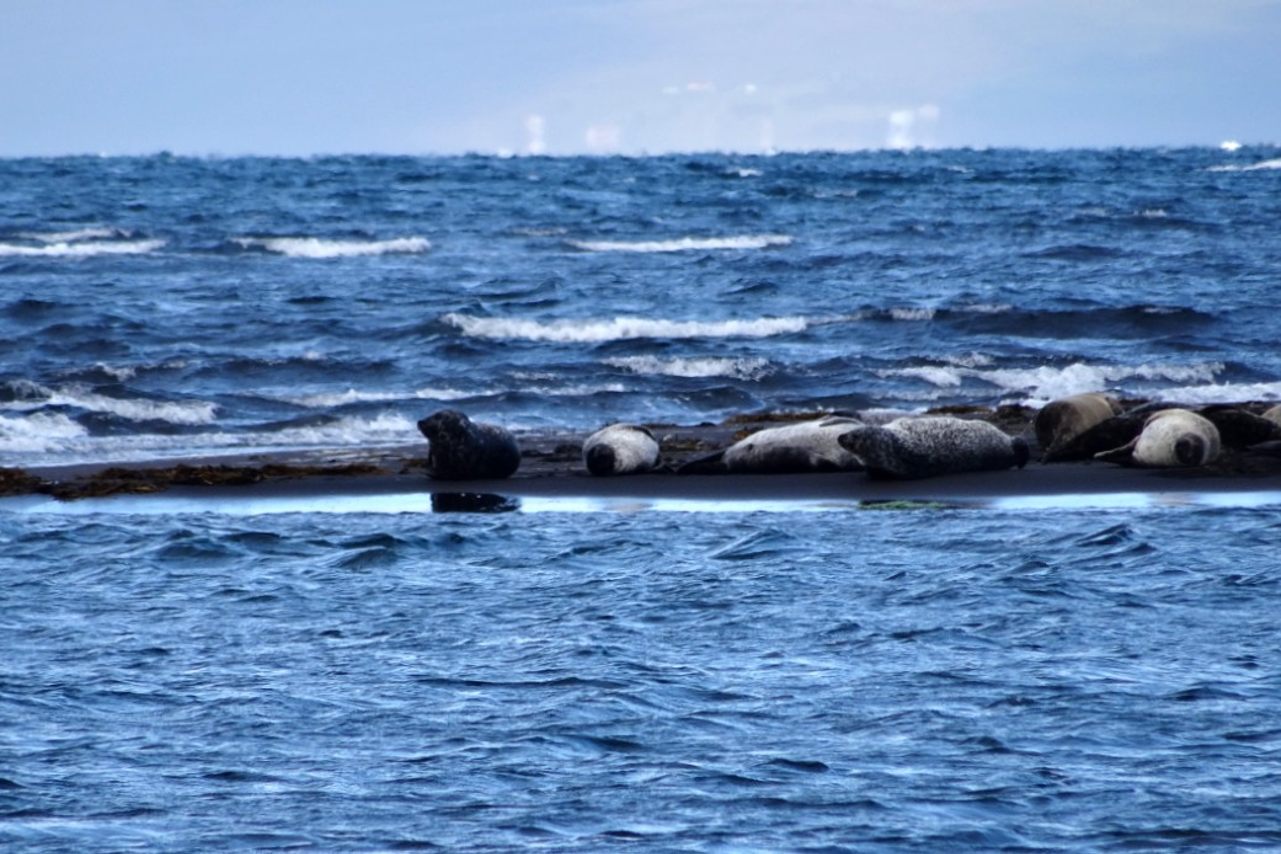 Bark on the Beach
12. Seal Colony at Hvítserkur Bay
Most wildlife spotting on Iceland's northern coast—such as whale watching and puffin sighting—requires time spent on a boat. To see one of the region's largest seal colonies, however, you can stay on the shore, if you know where to look. Make your way to the Ósar Hostel, 26 miles from Hvammstangi (the closest town), and be prepared to rough it a bit. When you turn off of Route 1, you'll need to brave more than 15 miles of bumpy gravel roads. Bring a pair of binoculars and take an easy walk through a sheep pasture down to the coast. 
Once you're by the water, you should be rewarded with a view of a large seal colony frolicking in the frigid surf and sunning themselves on the black sand beach. Visitors are most likely to see the critically endangered harbour seals that lounge here year-round, but occasionally guests might spot grey seals, or even travelers not native to Iceland, including bearded seals, ringed seals, hooded seals, and harp seals. An annual "great seal count" happens here every summer, and in recent years an average of 760 seals have been spotted in this area, though they sometimes disappear for a short time in search of a fresh meal.
Vatnsnesvegur, Iceland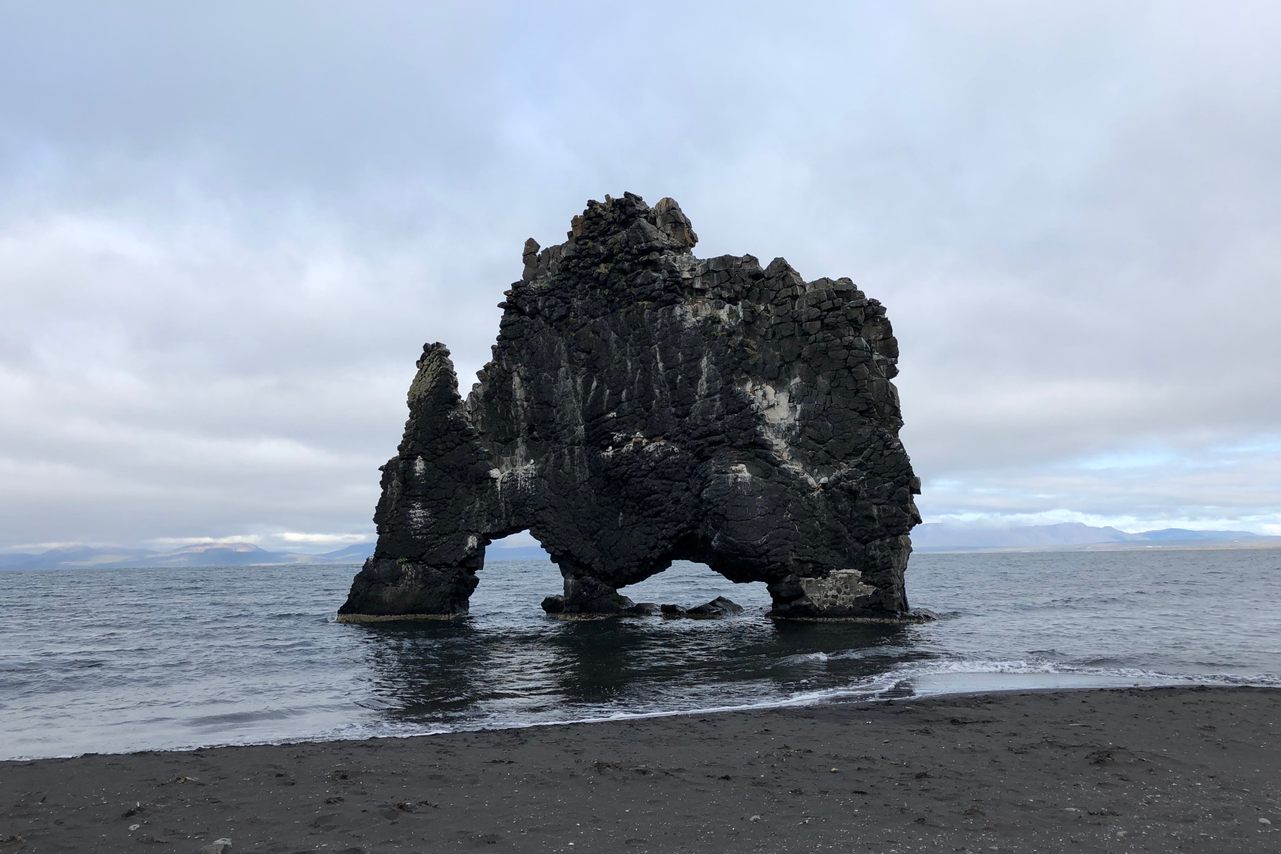 Majestic Monolith
13. Hvítserkur
When you approach the 49-foot tall basalt rock stack jutting out of Húnaflói Bay on the Vatnsnes Peninsula, you'll probably see something in its M-like shape. Some say they see a rhino drinking from the chilly water, others see a dinosaur and still others see a troll, which gives the monolith its nickname "The Troll of Northwest Iceland." Legend has it that the troll, Hvítserkur, came down from his mountain across the bay to destroy the church bells that annoyed him. When the rising sun shone, however, it turned him to stone. Science tells us that the stack was formed by erosion over millennia, with waves carving holes into the stone to create the leg-like base. Because the rock is constantly battered by waves, some concerned locals added a bit of concrete to reinforce it. 
In Icelandic, the name Hvítserkur translates to "white shirt," a nod to the color of the bird droppings that cover the rock. It serves as a nesting ground for seabirds like seagulls, shag and fulmar. Confident and sure-footed hikers may brave the steep dirt path to the shore to get an up-close look, depending on the tide. Otherwise, you'll have to be content with an aerial view from the lookout point above.
Vatnsnesvegur, Iceland