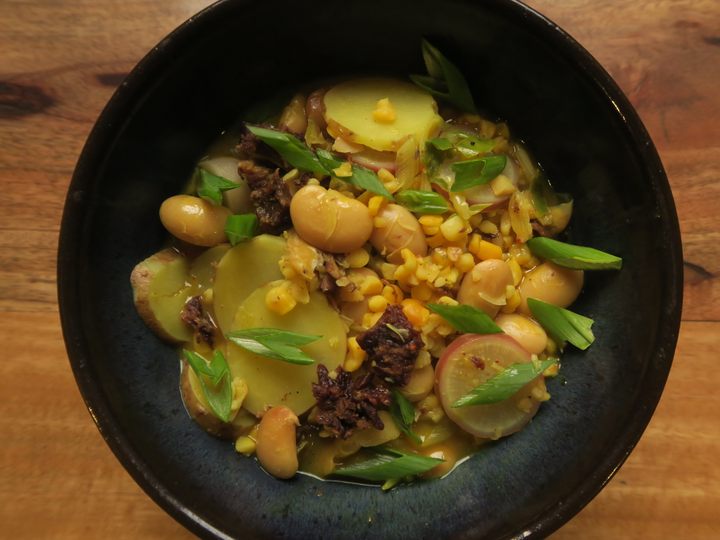 The Restaurant Preserving Dishes From Every Corner of Nepal
From blog to bistro, Prashanta Khanal's focus is forgotten and overlooked foods.
The sight of steamed parcels of pulverized corn, tightly bound in their husks, often misleads Nepalis as they pass by. At restaurant Raithaane's stall at a farmers' market, south of Nepal's capital Kathmandu, the dish has been served since hariyo makkai (sweet corn) came into season. Served alongside achaar, a catch-all term for ferments and pickles, the dish hails from Eastern Nepal, not, as many locals would assume, Central America. They're not tamales, they are lungkacha.
The ancient city of Patan has a cobweb of alleys lined with intricate earthen buildings and temples. Down one alley, a lone blackboard signposts Raithaane, sheltered in a courtyard. It serves traditional dishes that are unrecognizable to many Nepali urbanites. There's batuk, black lentil fritters from Magar and Khas communities in the southwest; rikkikur, potato pancakes with fermented buttermilk and yak butter from Himalayan communities; and arikanchan, pinwheels of lentil paste rolled with taro leaves, from communities along the border with India.
Raithaane co-owner Prashanata Khanal wants to address the unknowing. For the past decade the environmental consultant has been researching Nepali cuisine for his blog, The Gundruk. Then came the restaurant. More recently he has been putting the final touches on his book, Timmur: Stories and Flavours From Nepal, set for release in December. Focusing on 12 communities' culinary histories, Khanal aims to provide a glimpse of the nuance and diversity of Nepali cultural gastronomy when foreign foods are quickly taking over. He wants Nepal to value its own food, as well as its unique ingredients and food system. "Nepali people know more about other cuisines than they do about Nepali food," says Khanal. "That's what keeps me going."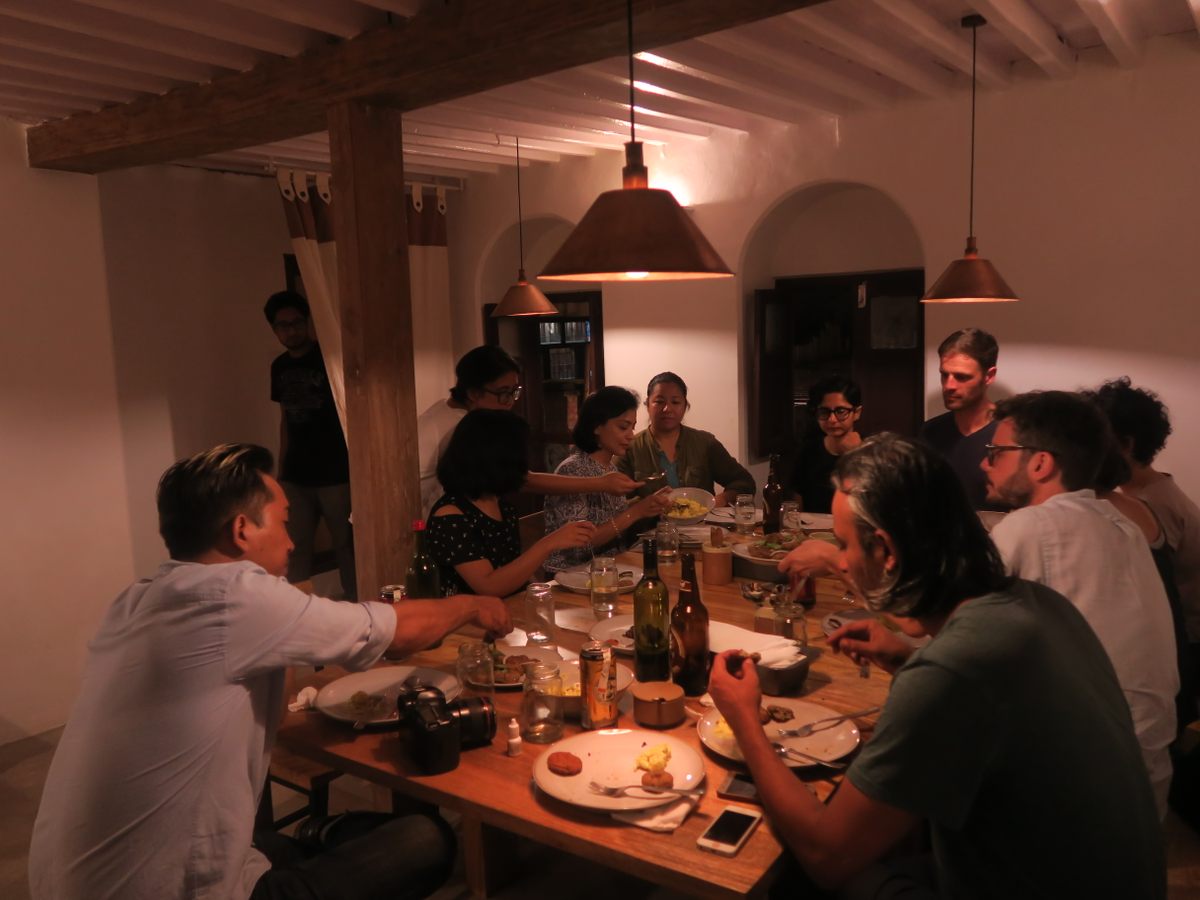 Nepal's 30 million people are of 125 distinct ethnicities and speak almost as many languages. A majority follow Hinduism, some follow Buddhism, while others follow a combination of the two; various indigenous communities have their own belief systems. Each faith has its own edicts, each community its own norms, traditions, and available ingredients. Once organized by a caste system, Nepali society was codified by so-called purity in relation to the reigning Hindu religion—what people ate and drank was integral to their place in society.
"Food is a socio-political issue. It has divided our communities," says Khanal. "We often romanticize that food connects us, but that's not always the case." He begins listing things that once divided Nepali communities according to purity, under the dominant Hindu religion: buffalo meat, pork, various grains, alcohol, water. His upbringing is full of examples.
"In my dad's family, it is kind of a sin to eat buffalo meat, pork, drink alcohol," says Khanal. "But in my mom's culture, buffalo meat is an integral part of the culture. They offer it to Gods. Even the alcohol is offered to guests, offered to Gods."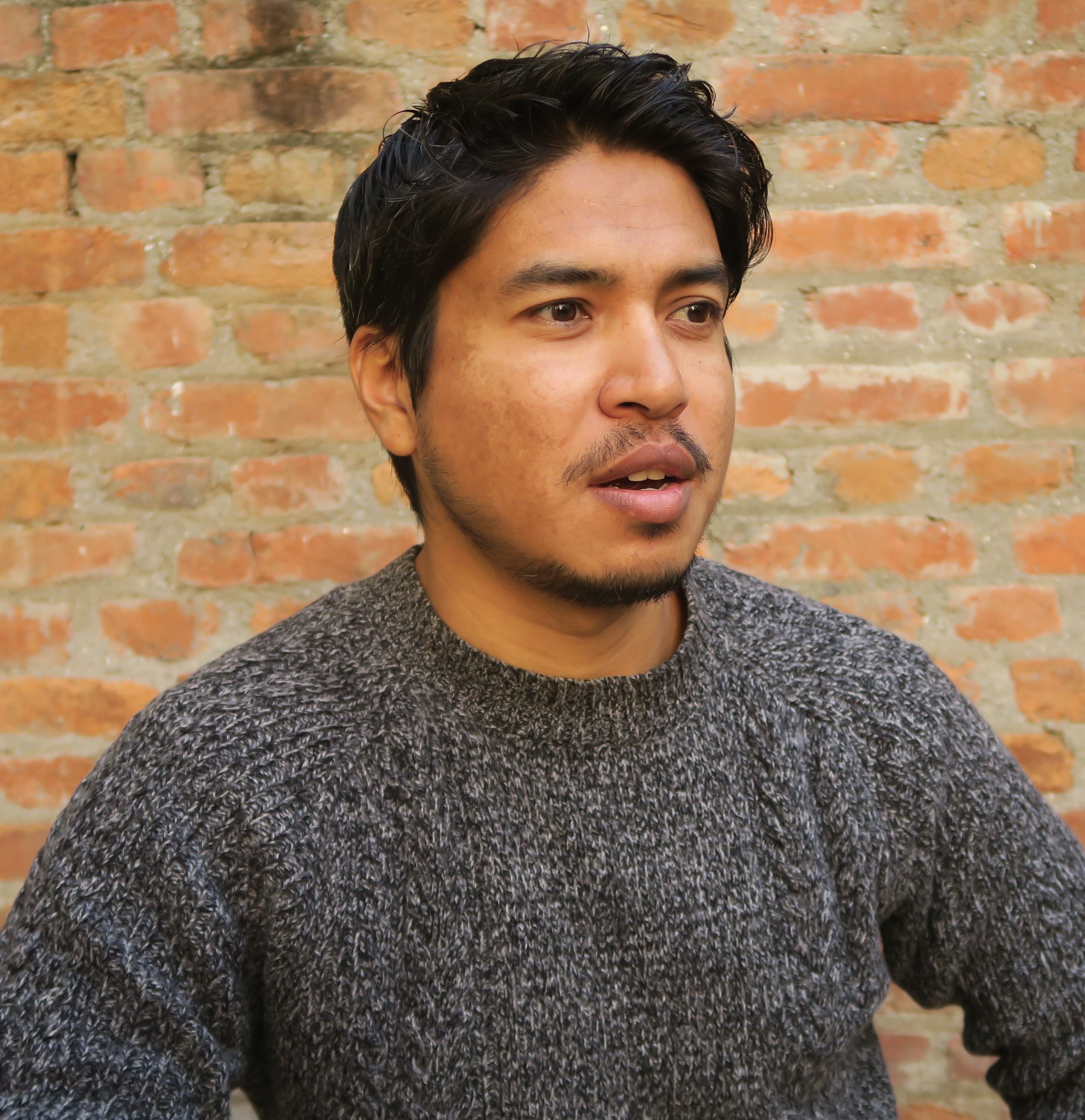 Khanal grew up outside Kathmandu's dusty urban sprawl. His childhood home was in one of the 15 brick buildings in Bhimad, in central Nepal, a hamlet framed by evergreen hills and bordered by the glacial Gandaki and temperate Jyagdi rivers. After school Khanal would explore the jungle and swim and fish in the Jyagdi. He would forage coils of niguro, crunchy furled ferns, chestnuts for roasting and wild flowers for achaar; he tended the garden, harvesting tomatoes, tubers, gourd and squash. "I was, from very young, really fascinated by seeing the plants, the crops, seeing them growing," he says. The family had its own buffalo for milk, but seldom ate meat.
Khanal had responsibilities as the eldest of three. His parents were teachers, geographically separated by their postings in different villages, so the children lived with their mother in Bhimad. And while paternal grandparents often live with their children's families, Khanal's grandparents cast his parents out: Khanal's Newar mother was deemed to be of a lower caste than her Brahmin in-laws. His grandmother refused to visit. So Khanal learned to cook out of necessity. He prepared food when his pious Hindu mother couldn't—such as when abiding by Hindu dictum that menstruating women were not allowed in the kitchen. "He had to take care of stuff and be responsible because he was older," his sister Binita says. "From that, I think he got into cooking." Khanal would recreate momos from memories of rare restaurant visits, as well as quotidian lentils, stewed vegetable tarkaris, and glutinous mounds of dhindo, made with local foxtail millet.
Most restaurants in Kathmandu now have some form of momos or dal bhat on the menu. They are almost ubiquitous dishes in Nepal, often the first to be mentioned when discussing Nepali cuisine. Dal bhat, a dish based on soupy lentils and rice, and served with several fixings, is an everyday dish for Nepalis, but often the sole descriptor of the nation's cuisine by locals and outsiders. "I think it's kind of unjust to define Nepali cuisine by just a handful of cuisines," says Khanal, as his pressure cooker whistles in the background. He's cooking black lentils to go with his dal bhat dinner. But he does not serve it at Raithaane, he wants Nepalis to try something they might not recognize.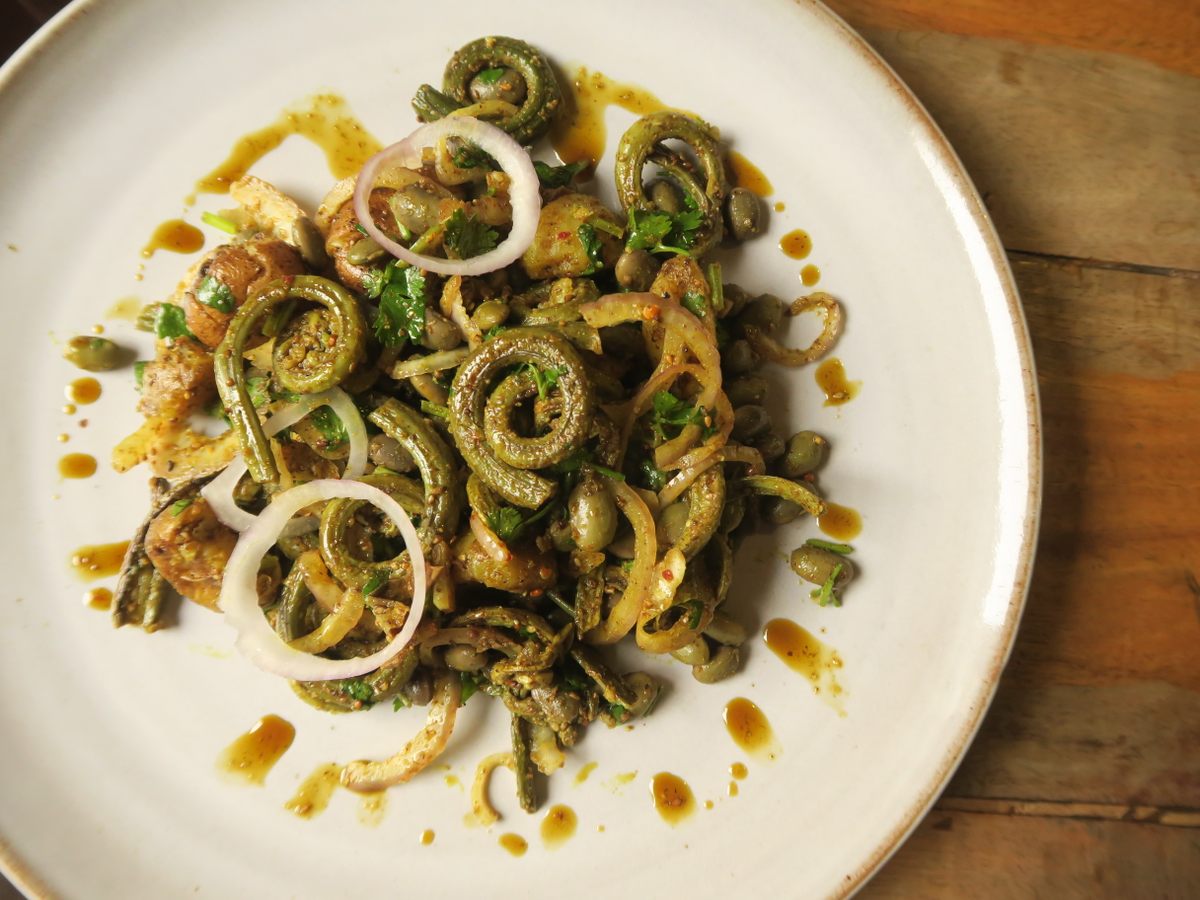 Khanal takes the curatorial, culinary lead at Raithaane, scrupulously teaching his head chef Barish Gahatraj how to cook the relatively unknown dishes. Gahatraj grew up cooking like Khanal, but is proud to be cooking food unrecognizable to many other young chefs—even if at times, his boss is a bit of a perfectionist. Some dishes have proven minor cult hits, such as the juju dhau pie, a pie of strained buffalo milk yoghurt with a crust made of roasted buckwheat (called tsampa, a traditional staple in mountainous communities). Other dishes' popularity highlight how the caste system's food-based stratification is waning: The only meats served are dried buffalo and darani kalo bungur, pork bred in eastern Nepal, both popular but historically impure.
One of Khanals' restaurant partners, Mathilde Lefebvre, a French Nepal-based agricultural researcher, has introduced French dishes, such as a galette made with buckwheat flour, yak cheese, and local greens, though Khanal concerns himself predominantly with the Nepali dishes. He takes great custodial care, keen to ensure Raithaane does justice to the cultures it represents and ensures its food is entirely local. As an environmentalist, he believes the future of Nepal's food system has to be sustainable. "He does not like to compromise," says Lefebvre.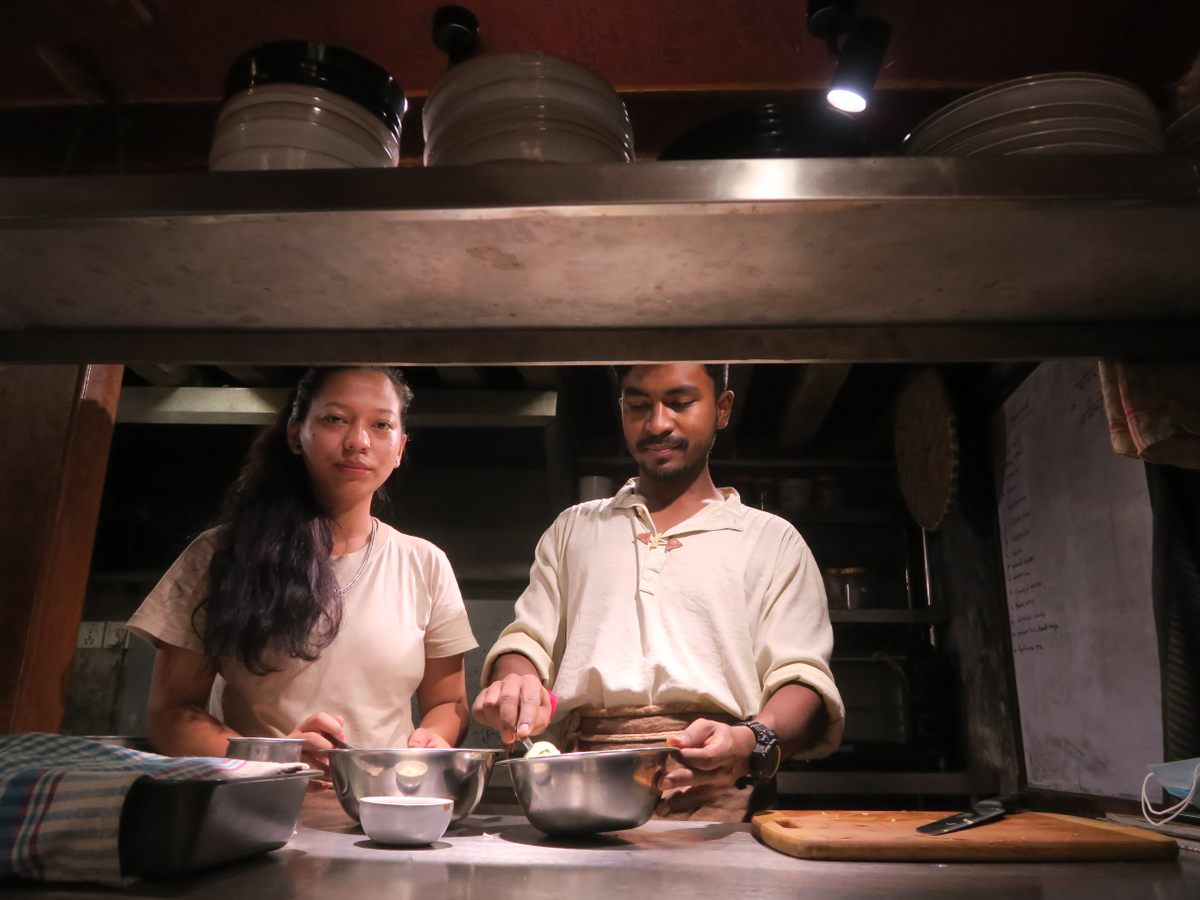 Raithaane's founding ethos is not solely focused on culture. Khanal, Lefebvre, and tourism entrepreneur Jason Shah, another partner, want to strengthen Nepal's food system. They only serve pork and dried buffalo meat, because they are not confident of other meats' quality. They source honey from a single beekeeper, roasted mustard oil from small mills, organic ingredients from smallholder farmers, and source specialty ingredients directly from communities around the country through a roving network of friends and family.
Nepal has come to rely on imported food, while its agricultural diversity has suffered as farmers try to compete with garlic and apples from China, soy oils from South America, and onions and rice from India, often at lower cost. "That's why we are losing all these traditional grains," says Khanal. Kaguno, the foxtail millet he cooked as a child, is now more difficult to find. It is on their menu in the hope demand might ensure the grain's future.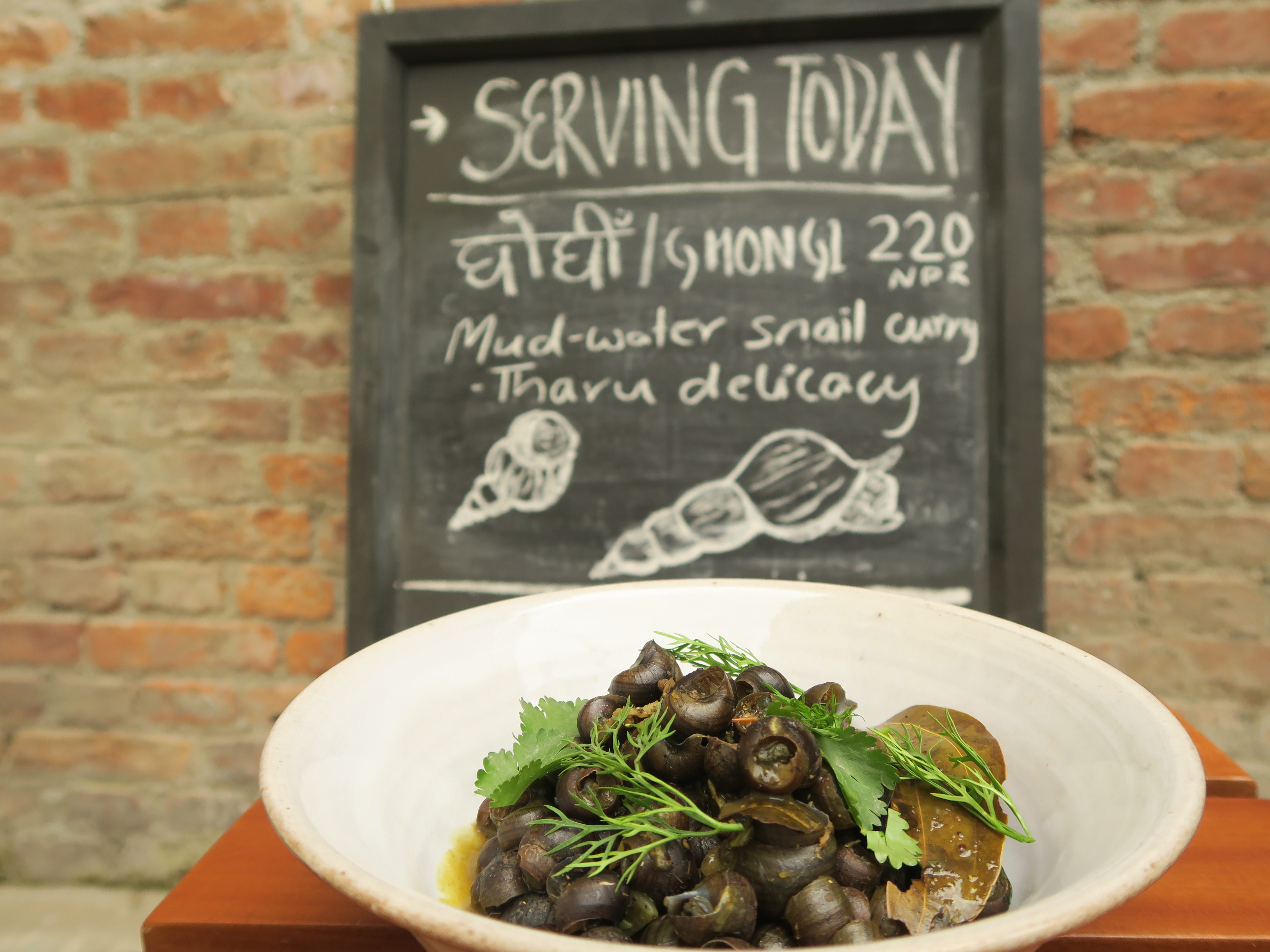 Khanal has also been involved in a locally driven program to increase food systems discourse, called NEPAL FOOD, intended to center around an annual summit that gathers the hospitality and agricultural industries. It's led by Tulsi Giri, a social entrepreneur Khanal met while protesting Monsanto's entry into Nepal in 2011. And, while the pandemic has made everything virtual, the conversation is growing: 35 to 40 food industry professionals per session. "We've been able to discuss things that have never been discussed publicly," says Khanal. Concerns often revolve around foreign investment, corporate interests, and the power of smallholder farmers, paired with the wider food industry's role in ensuring a prosperous future for Nepal.
Giri sees Raithaane's longevity as paramount, because if the restaurant doesn't succeed, people won't follow suit. The partners never imagined "getting rich off Raithaane," Khanal says. Rather, they wanted to prompt change. "That was the goal. We wanted other restaurants to get inspired by us," he says. It's not just about restaurants, it's about Nepal and its relationship with its food.
Soon after Raithaane started serving lungkacha at the farmers' market, Khanal started receiving messages and photos from customers who had attempted to steam their own corn parcels at home. "Just yesterday, or the day before, one of my friend's sisters asked me for the recipe, too," he says. "That's what keeps me going: People learning about Nepali cuisines and appreciating its diversity."
Gastro Obscura covers the world's most wondrous food and drink.
Sign up for our email, delivered twice a week.