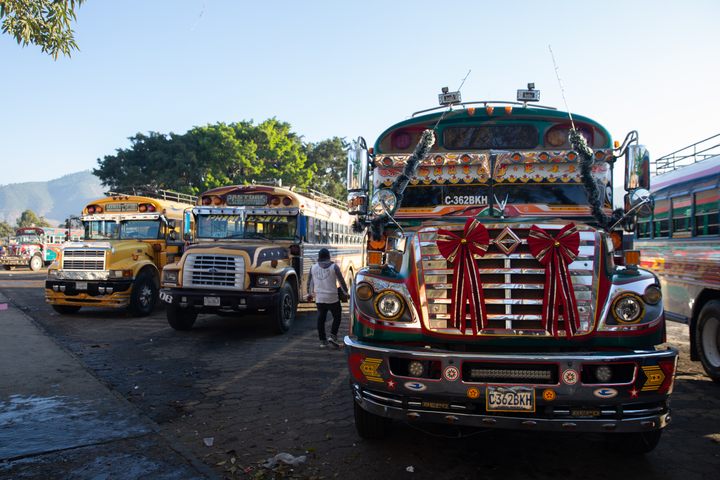 Guatemala's Tricked-Out 'Chicken Buses' Have Lots of Stories to Tell
These old American school buses are a fixture of daily life across Central America.
A peculiar sight flies through Guatemala's densely packed cities streets and rolling, mountainous countryside: a fleet of thousands of American school buses. But they are not the ordinary yellow vehicles that ferry children to school every day. Not any more. Here, and across Central America, these buses are the region's main form of public transport.
In Guatemala, the vehicles are a source of endless creativity and variety. A few buses hit their routes unadorned—still bright yellow, still carrying the names of the school districts they once served. But others get extreme makeovers. They can be seen arrayed in bus ports all over the country, with bright green, red, or blue paint jobs, and decorated with intricate striping, flames, American cartoon characters, flashing lights, or old-school bike horns. Their patterns indicate routes and companies, and are often a point of pride for their owners.
Some passengers haul in large bags of potatoes, corn, onions, and other crops to sell in urban markets. Others are suit-clad workers on their way to work, or women wearing traditional indigenous dress—intricately woven skirts, shirts, and belts as colorful as the buses they ride.
What the "chicken buses," as they are known, share is history. Each of these vehicles started life as a school bus in the United States, and each reached 10 years or 150,000 miles of service. Then they were auctioned off for less than $2,000 and driven south to their new homes for a new life.
And behind each bus is a driver. And each driver has a story that's a window into life in Central America.
The job is among the most dangerous in the Americas. Drivers have to pay protection money to gangs, often out of their own pockets. Between 2010 and 2017 attacks on buses have claimed more than 2,000 lives, notably in the capital of Guatemala City, according to Insight Crime, a think tank and publication that investigates organized crime in South and Central America.
Other drivers tell tales of pride: building their own family businesses through the buses, becoming fixtures in the lives of their passengers, or even meeting their spouses while working. Many more speak of the long hours, every day of the week, and the struggle to see their families, while others dream of migrating to the very place their buses come from.