The Grocery List Sketched by Michelangelo
You can't sculpt like Michelangelo, but you can eat like him.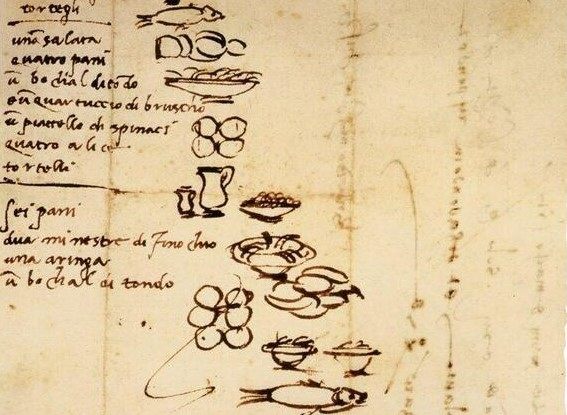 According to Michelangelo's shopping list, genius thrives on a diet of fish, bread, and lots of wine.
Owned by the Casa Buonarroti museum in Florence, Italy, this 500-year-old list was written and illustrated by the sculptor/painter/poet/personality on the back of a letter. Michelangelo's servant was likely illiterate, so Michelangelo sketched out what he wanted to eat.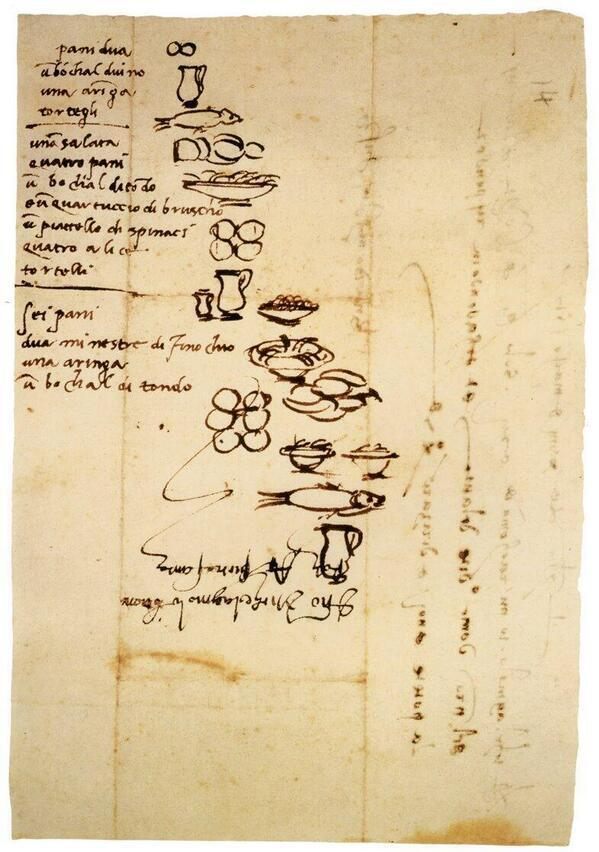 And Michelangelo wanted a feast, spread out over three meals. He depicted bread rolls as quickly-drawn circles, and for one meal, Michelangelo wanted two rolls. For another, he wanted six. On the page, an elegant herring floats in the air, while bowls overflow with salad and anchovies. Two dishes of stewed fennel are sketched side by side, and when asking for a smaller amount of dry wine, Michelangelo carefully drew a small wine jug next to a larger one. Sadly, he did not draw two plates of tortelli—he only asked for the ravioli-like pasta pouches in writing.
The menu consists mostly of vegetables, fish, wine, and bread. This might seem particularly healthy, but the letter on the other side of the list is dated March 18, 1518, around the time of Lent. Since eating meat was frowned upon, Michelangelo ate the requisite vegetables. However, Gillian Riley writes in The Oxford Guide to Italian Food that this was definitely an upscale menu. Despite his frugal reputation, the artist was probably used to dining with nobility.
By 1518, Michelangelo had already finished many of his most famous works, including the Pietà, the David, and the Sistine Chapel ceiling. But among all his work, this rough list is perhaps the most down-to-earth glimpse of the artist himself. It's interesting to imagine the famously mercurial Michelangelo taking the time to illustrate for his servant what he wanted for dinner.
The survival of this list is remarkable, too. Only around 600 of Michelangelo's sketches still exist. 1518 marked the year that Michelangelo burned many of his early drawings, and 46 years later, he ordered many of his papers to be torched in anticipation of his death. Maybe he wanted to preserve the aura of divine genius that surrounded his art. A list showing his sketched takeout order might not have given the right impression.
Gastro Obscura covers the world's most wondrous food and drink.
Sign up for our email, delivered twice a week.