The 'Icing' on These Lakeside Homes Is Actual Ice
Wind and waves sprayed freezing water from Lake Erie onto the houses of Hoover Beach.
Last week, homes along Hoover Beach in the town of Hamburg, New York, looked like gingerbread houses, polished off with a generous spackling of sugar icing. The reality was less dreamy: They were caked with thick layers of actual ice from nearby Lake Erie.
On Twitter, the retired Weather Channel winter weather expert Tom Niziol explained that this was caused by an unfortunately perfect storm—a combination of high water levels and limited ice cover, coupled with very cold temperatures and biting winds.
Typically, come winter, the water in Lake Erie—the shallowest of the Great Lakes, and usually the first to freeze—has a fair amount of ice cover, Niziol wrote. That ice is a buffer, he added, "keeping water/waves away from shore." This year, warmer weather has kept ice at bay. On February 27, Lake Erie was entirely open water, according to the the National Oceanic and Atmospheric Administration's Great Lakes Environmental Research Laboratory (GLERL). That's unusual—on average, over the last four decades, Lake Erie has had between 50 and 70 percent ice cover in February, with the percentage peaking at the end of the month.
Last week, when a small part of Lake Erie froze near Hamburg, the ice was thin and partial: quick to form and quick to melt, says Greg Lang, a physical scientist at GLERL.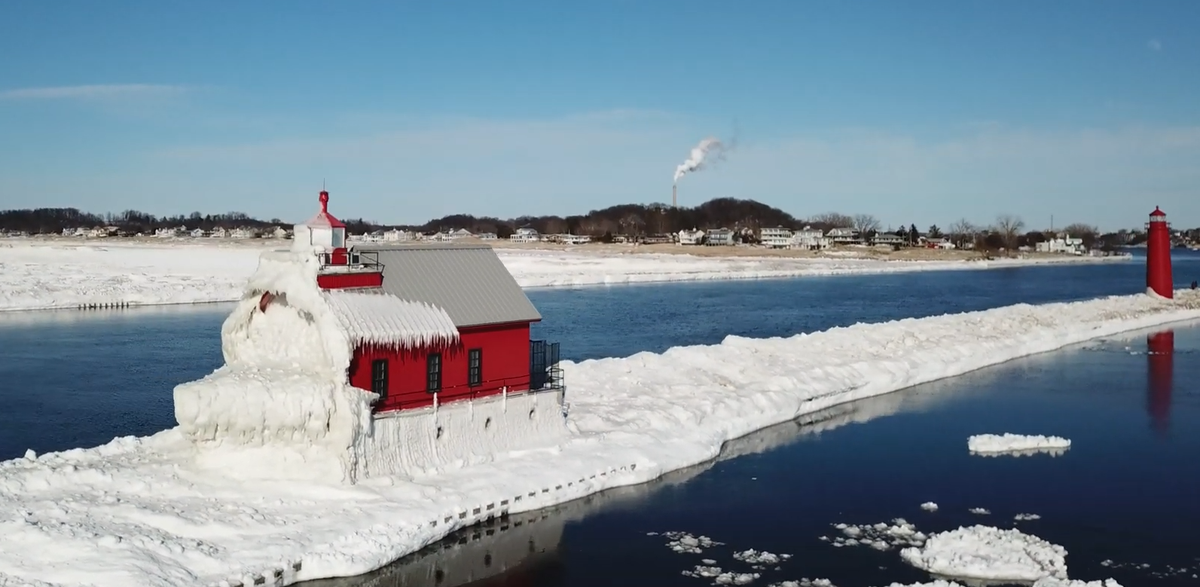 And there's a whole lot of water to slosh around. In summer 2019, Lake Erie brimmed at an all-time high, and February 2020 data from the U.S. Army Corps of Engineers reveals that the lake is still fuller than usual, hanging 36 inches above the long-term February average. Wind and waves can loft some of that water into the air, and it can freeze and latch onto homes near the shore. Lang suspects that if the lake had been more covered with ice, the homes wouldn't be.
Houses aren't the only structures that can be wrapped in a freezing blanket. "I have seen similar scenes on Lake Michigan, but with lighthouses on piers," writes Ernie Ostuno, a meteorologist with the Grand Rapids office of the National Weather Service, in an email. There, he says, houses sit farther from the shore, but the lighthouse perched on the very end of the Grand Haven South Pier, where Grand River meets Lake Michigan, often wears an icy winter coat. "Freezing spray from waves crashing against the pier can build up ice two to three feet thick," Ostuno writes. That much ice lingers for a while, he adds. "It usually takes a couple weeks after temperatures go above freezing for it to completely melt."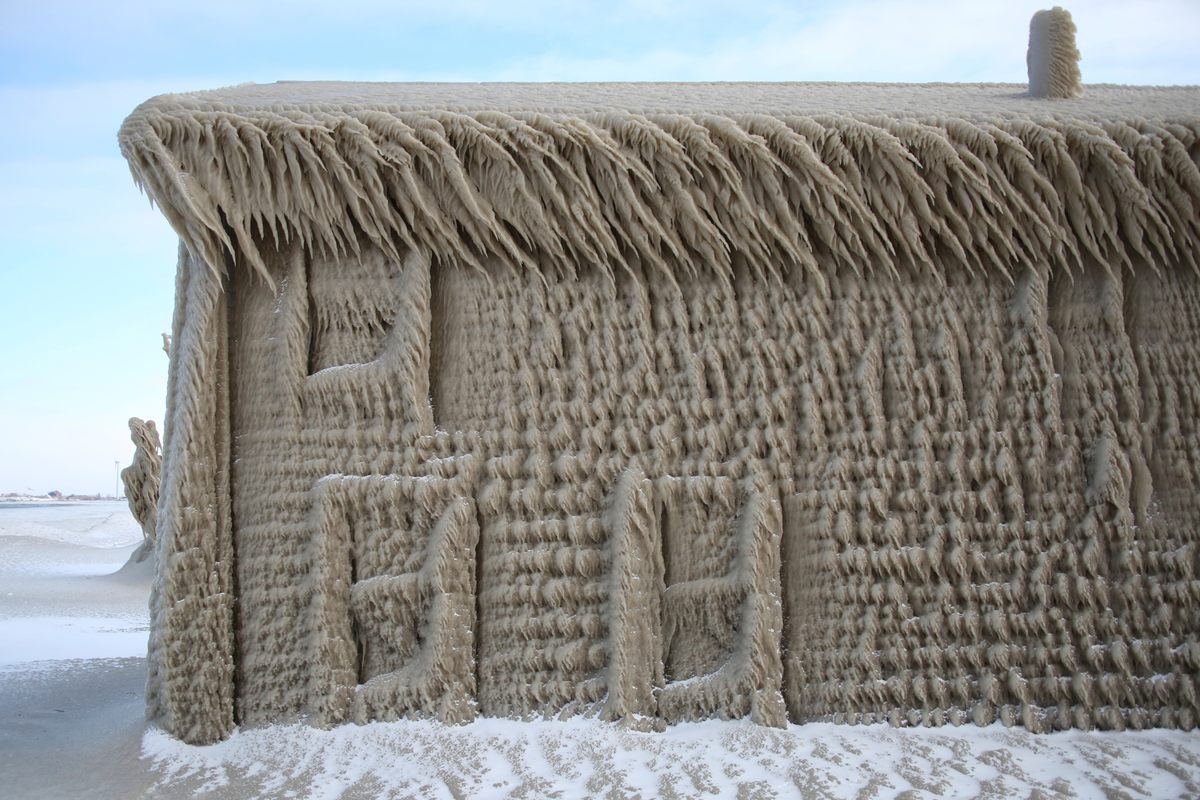 Lighthouses are designed to withstand wallops of sea spray, but houses typically are not. "It looks fake, it looks unreal," Hoover Beach resident Ed Mis told CNN, after his home was encased in ice. "It's dark on the inside of my house. It can be a little eerie, a little frightening." Ostuno estimates that a four-inch buildup of ice covering two 10-foot-by-20-foot segments of a roof would weigh roughly 3.8 tons. Mis, who chiseled his way into his home, told CNN that he's worried that his roof can't handle the weight, and that damage may worsen as the ice melts.
Meanwhile, the Town of Hamburg police are reminding would-be gawkers that the ice is precarious, and the homes are private property. However bewitching the scene may be, it wasn't so enchanting for the people who experienced the chomp of the wind's teeth. "It's a beautiful sight," Mis told CNN. "But I don't want to live through it again."