Keeping the Art of Silent Film Music Alive
Nearly a century after talkies stole the show, composers, musicians, and audiences are still playing along.
Sitting at a Steinway piano in near-darkness, Bernie Anderson flicks his eyes between the keys and a movie screen. Over his right shoulder, nearly all of the 203 seats in the Bruno Walter Auditorium on New York's Upper West Side are full. These enthusiastic viewers have escaped the biting January wind for a screening of the "Silent Clowns" film series. Anderson is set off in a corner of the stage, so as not to distract from the daring, hapless antics. His fingers fly and flutter, and give the cinematic shenanigans an extra dimension.
He gamely tackles One Week, a 1920 short starring Buster Keaton, in which the master of physical comedy constructs a home from a do-it-yourself kit. It's no spoiler to say that it doesn't go well. The porch roof leans, and the windows are askew. When the house needs to be relocated, it gets lodged on some railroad tracks along the way. Anderson's live melodies invigorate the charming foibles.
The music is amiable when Keaton strolls with his new bride. When a storm spins Keaton's sorry house around, Anderson's playing evokes a vortex—swirling and insistent. The sound grows frenzied as a train finally reduces the slapdash home to splinters.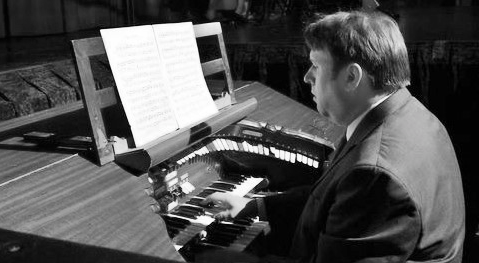 The audience is devouring the century-old hijinks of the bill's four comedic shorts. Laughter erupts regularly, gut-deep and contagious. "Oh nuts! Nuts!" one man chortles when Laurel and Hardy tread, theatrically, on a heap of nails in The Finishing Touch. Other viewers can't stop themselves from swapping corny puns as the gags pile up. "He got plastered," someone whispers to a friend as paint and glue cover a character's face like meringue.
After the 90-minute screening, Anderson finally shuffles to the center of the stage and explains that he doesn't mind being on the edge of the projector's glow. "I'm not there as a concert artist," he says. "I'm not there as a star." He believes that accompanist and film should never be in competition. The music is in service of the moving image.
Though he plays piano for this suite of shorts, Anderson's instrument of choice is the organ, which he discovered as a teenager in the 1990s. He went on to study composition and earn a master's degree in musical theater writing. Now, at 44, he works a hodgepodge of jobs—theater facilities manager, projectionist, and organist-in-residence for the Landmark Loew's in Jersey City, New Jersey. He takes silent film accompanist gigs as often as he can, usually a few dozen a year. In 2017, Anderson played along with movies at museums, libraries, theaters, and schools in New York, New Jersey, Pennsylvania, and Massachusetts. He and a handful of other dedicated musicians are trying to keep this early-20th-century art form humming along, nearly nine decades after talkies entered the picture.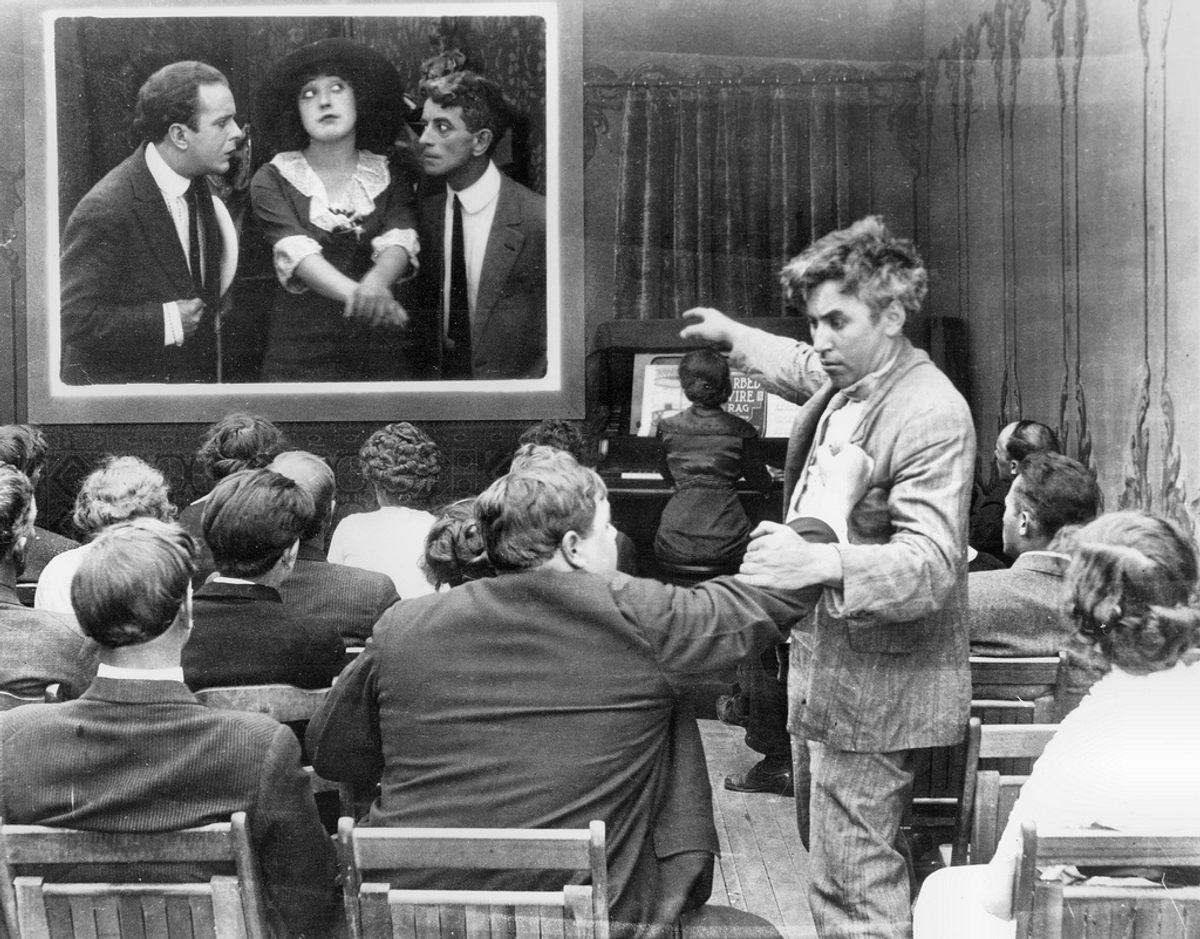 ---
The phrase "silent film" is, of course, a misnomer. Screenings of the 1920s were hardly quiet.
The soundtrack for any given showing depended, in large part, on the setting. At deluxe movie palaces, films were often accompanied by entire symphony orchestras. "A medium-sized neighborhood theater might carry between five and ten musicians," writes Scott Eyman in The Speed of Sound: Hollywood and the Talkie Revolution, 1926–1930. "Even the meanest fleapit in the sticks had a piano player."
What they played varied by movie and musician. An orchestra conductor might rifle through a large library of sheet music to compile a patchwork score, Eyman notes. Some were dashed off quickly, Anderson says, and sounded predictably derivative or cheesy. Tawdrier examples relied on snippets of familiar tunes to do some heavy thematic lifting, such as walloping viewers with "I've Been Working on the Railroad" when a train barreled past.
As an alternative, a conductor or individual accompanist might rely on a cue sheet. These were distributed in trade publications and, later, by the studios themselves. Cue sheets loosely annotated a film's action, and could match scenes with a specific piece of music or just suggest a mood or tempo. One for another Keaton film, Sherlock Jr., for instance, primes accompanists to stay tuned for the moments when a "man buys a box of candy," or "man with black mustache leaves house." The sheet recommends measures by Irving Berlin and "On the Mill Dam," a banjo tune that evokes galloping hooves. Accompanists would need to have the appropriate sheet music on hand, and publishers churned out vast quantities of it to meet the demand for ditties that might provide, say, "highly dramatic agitato" or "agitato furioso."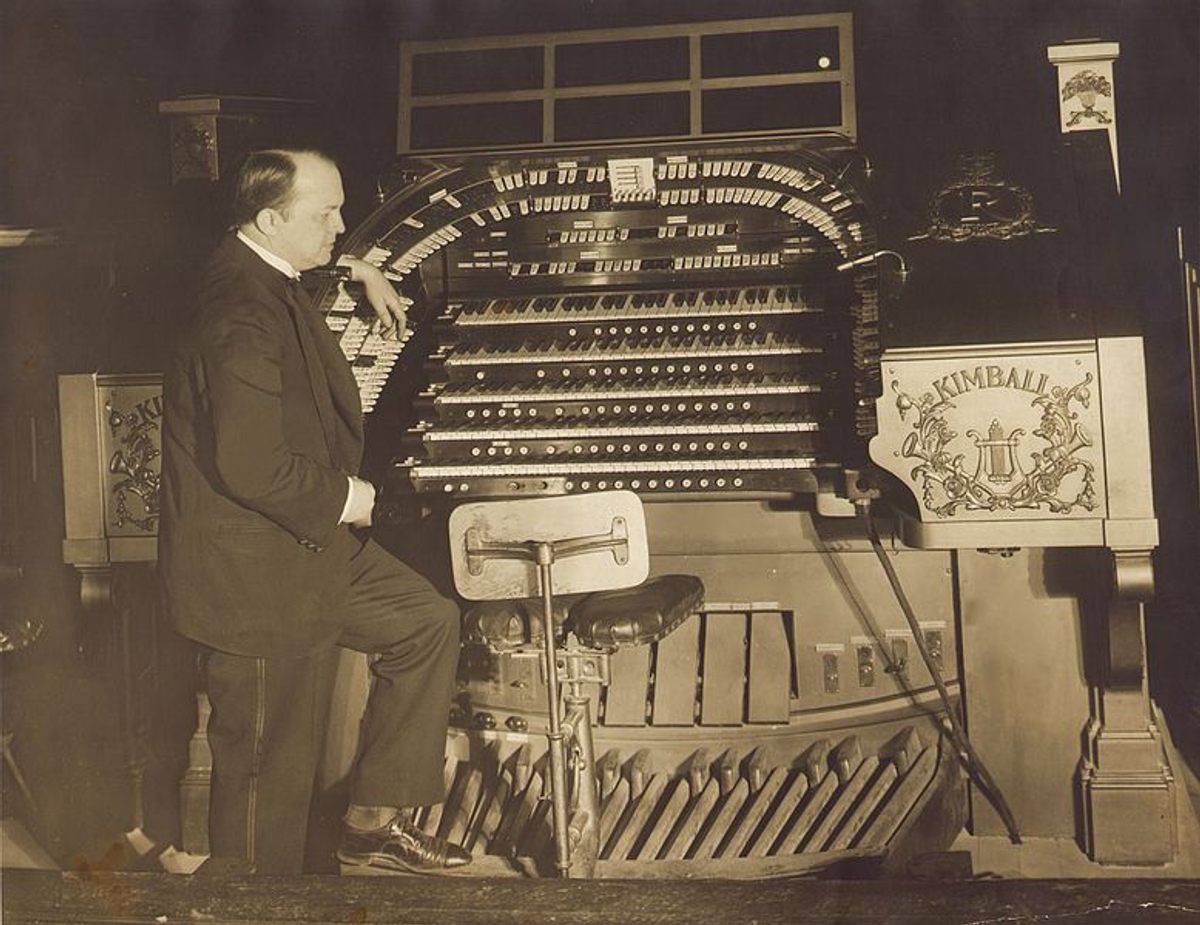 In some cases, studios issued full scores for their films, especially ones from controlling directors, or ones that were expected to pack theaters. D.W. Griffith famously insisted on overseeing the score for The Birth of a Nation, which premiered with an orchestral treatment written and conducted by Joseph Carl Breil. Director and conductor squabbled over whether to tinker with a few notes of Richard Wagner's "Ride of the Valkyries" (which plays as the Ku Klux Klan rides to the rescue)—a proposition that left the orchestra aghast. ("If I ever kill anyone," Griffith told Breil, "it won't be an actor but a musician.")
Music could vary wildly from one venue to another, so "you could go from theater to theater and get a different sense," Anderson says. Even so, "we rarely know much about specific performances," writes Rick Altman, a professor emeritus of cinematic arts at the University of Iowa, in his book Silent Film Sound. Newspaper accounts tend to be stingy with descriptions of music, and it's hard to know whether an orchestra or accompanist hewed closely to a score or riffed off of something suggested on a cue sheet. It's also unclear how synchronized the sound was with the on-screen action.
Performances are similarly variable today, depending on the accompanist and instrument of choice. "I try to be as authentic as possible," Anderson says. But there's a lot of debate about what that should sound like.
If a score or cue sheet for a given film survive, Anderson tries to track them down. Some never existed, others have been lost to time and neglect, and still more, he has found, just aren't very compelling. "Some of the songs are just god-awful," he says. "Whatever's there, I try to use," though he often adapts the music for a better fit, modifying themes, excerpting a verse or chorus, or changing tempo.
Since cue sheets anticipate upcoming gags or dramatic moments, they can be useful tools for artists accompanying films they haven't seen before. That's particularly helpful for comedic shorts, which aren't especially subtle and march along at a steady clip of sight gags—by the time you spot the open manhole cover in Work (also on the "Silent Clowns" bill), Charlie Chaplin is already tripping into it. It's easy, out of inattention or a moment spent looking down at a sheet of music, to skip a flash of action. "Sometimes you miss something big, and you just have to go past it," Anderson says.
He tries to strike a balance between ambient music and antic bits to highlight a gag. In the 1926 short Heavy Love, starring a rotund slapstick trio called Ton of Fun, there's a scene in which the actors slide down a set of stairs over and over. "I get the slide, the 'boomp,' and back to the main music," Anderson says. Over the years, he's developed the ability to divine the next bit of shtick. "You just start to feel it."
Ben Model takes a different approach. Model, a composer and cofounder of the "Silent Clowns" series, which has presented silent movies at various venues in New York City for two decades, began accompanying in the early 1980s, while he was a silent film fanatic studying cinema at New York University. "They were showing the films to students without any music—this was before VHS and DVD—and I wanted to help these films that I loved," he says. "They were bombing in front of film students because of the dead silence."
Model tries to watch films in advance and make notes so he can stay on top of the reel—essentially creating his own cue sheet. Then he just goes for it. "I don't rehearse," he says, crediting his training in improv comedy, which "really opened me up." He often accompanies films he hasn't seen, too—"I just don't tell the audience."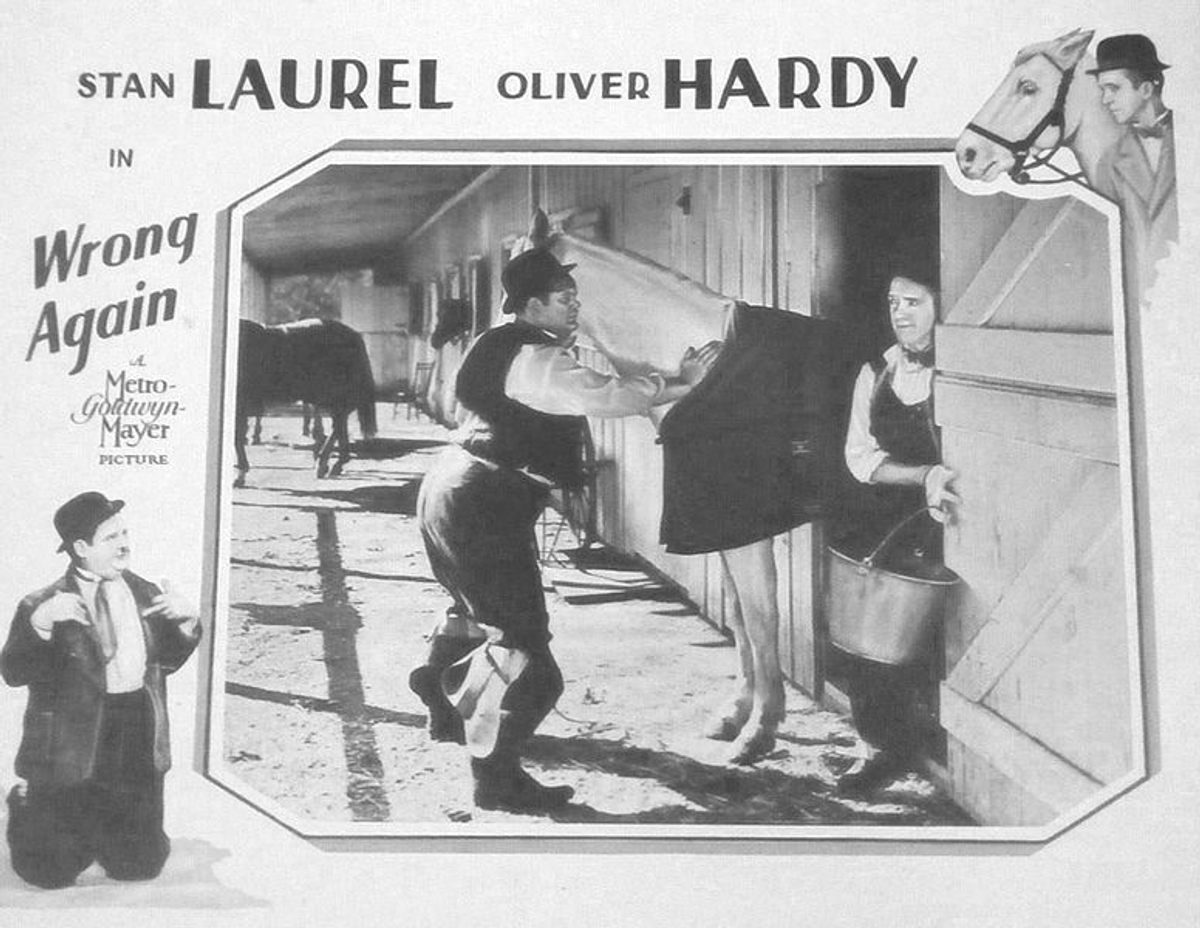 ---
Anderson agrees that silents can still draw a crowd, especially in New York, but he thinks that the genre has a bit of a messaging problem that confuses first-time viewers. "When you hear 'organ,' you think church, funeral, baseball," he says. "That's really the only place we encounter an organ. If you tell them, 'Hey, it's a silent film with a theater organ,' no one will know what that is."
In addition to new audiences, organizers of silent film screenings also need to recruit a fresh cohort of young accompanists. "This craft is an oral and an aural tradition," Model says, and for years he learned from older musicians in a sort of loose apprenticeship. He credits much of his knowledge to Lee Erwin, an organist who accompanied films in the '20s and '30s and wrote more than 70 scores of his own, including for Lon Chaney's The Hunchback of Notre Dame and Keaton's oeuvre. Erwin passed away in 2000, at the age of 92, and now Model and Anderson are carrying his mentorship mantle.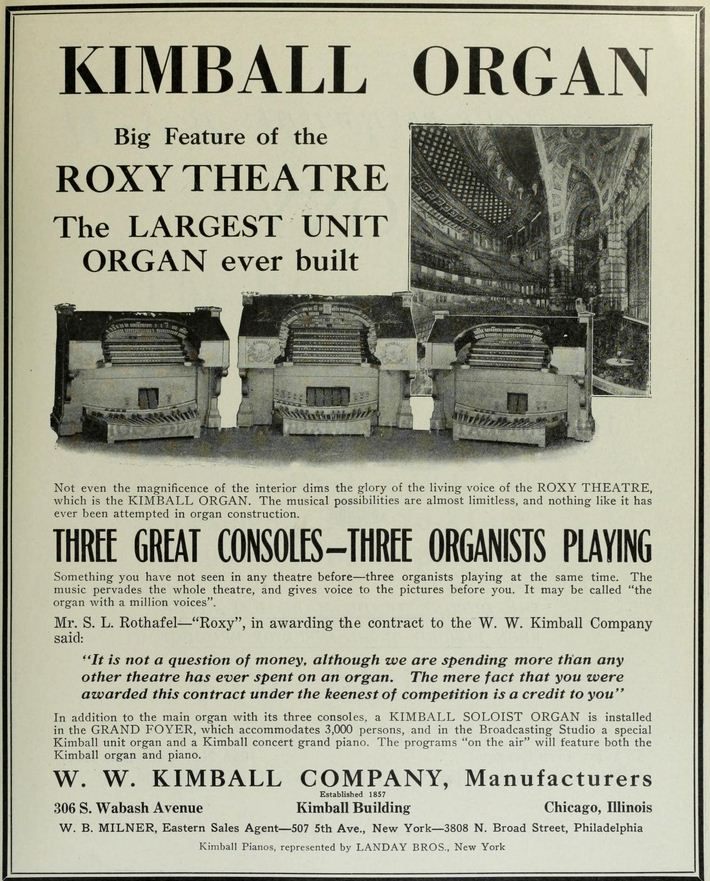 Like many musically gifted 10th graders, Brett Miller plays piano in local youth orchestras. Unlike his peers, Miller also accompanies silent films on the organ. When he was starting out, around six years ago, he and Model reviewed scores and cue sheets over Skype. Model helped him find a feel for marking scene changes. Anderson says he would "talk more philosophical" with Miller, nudging him to think about choices that other musicians made. Miller now plays eight or nine films a year, and finds his calendar especially crammed around Halloween—the season for Phantom of the Opera and Nosferatu, one of his favorites. Miller just "gets it," Anderson says. "He totally gets it."
Meanwhile, theater organ restoration societies have been fixing up some of the Wurlitzer instruments that date back nearly a century, and composers have been writing new scores for old films. Model's ninth orchestral score, for Laurel and Hardy's Wrong Again, premieres next month in Idaho, and will be played by the Boise Philharmonic's chamber ensemble. Silent films are also still rolling out on DVD and Blu-ray, and sometimes feature contemporary scores—including original ones by Anderson and Model. The Film Studies Center at the Museum of Modern Art in New York continues to add to its vast collection of silent film scores and cue sheets, too, says Ashley Swinnerton, the department's collection specialist. They acquire historical items out of "general curatorial interest and in support of upcoming exhibitions," Swinnerton says, and sometimes fold in newer texts that illuminate the past. Model's 2015 compilation of solo piano scores by historic composers joined the collection in October 2017.
Miller, for his part, thinks he might eventually become a high-school music teacher. "Sharing the passion that people have shared with me—I think it's really important," he says.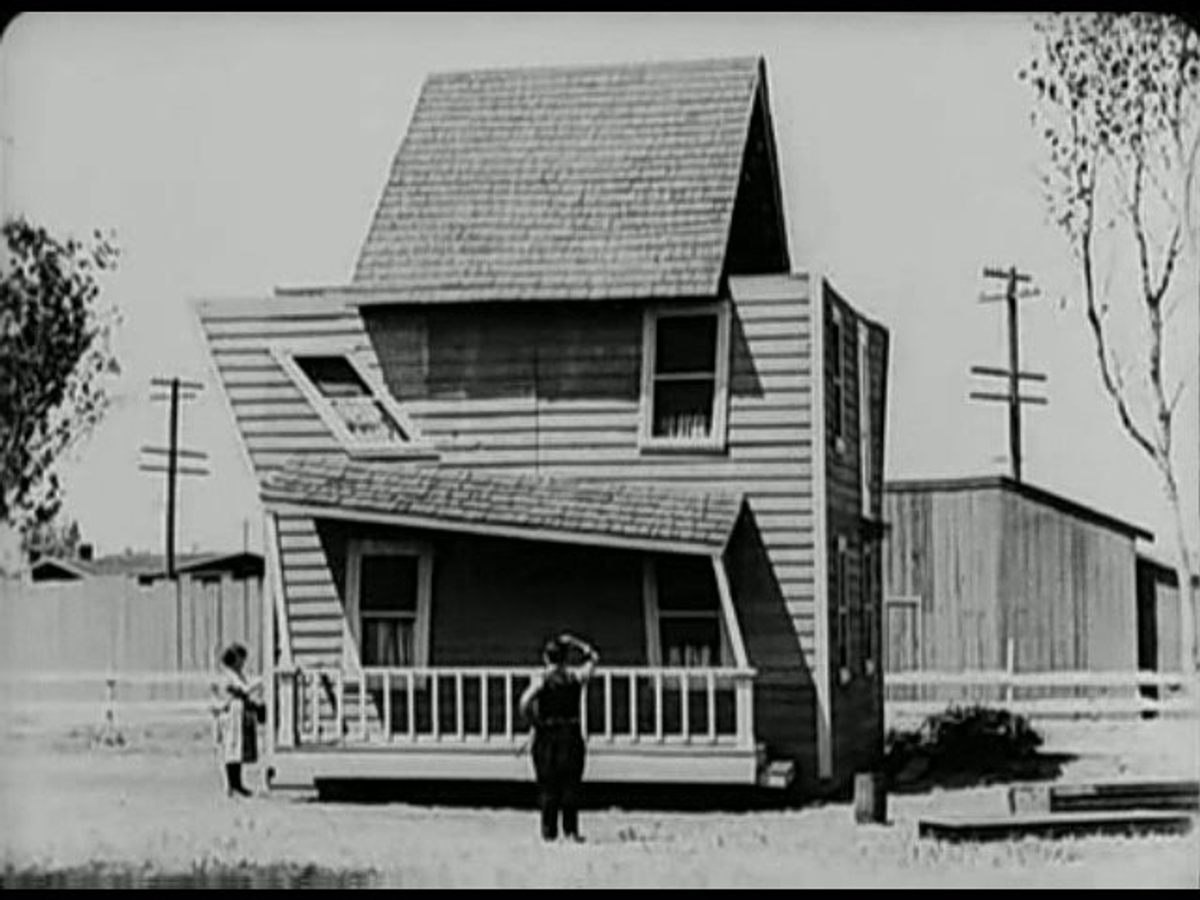 ---
From his seat at the piano, Anderson is feeding off the energy of the room. Accompanists can hear the audience giggling or guffawing or staying mute. Without taking their fingers from the keys, the musicians gauge whether viewers are responding to atmospheric melodies or hankering for bombast. "That's when you let the thing roar," Miller says.
In a way, silent film screenings are a form of group performance. The musicians and audience alike are crucial sidekicks to the actors stumbling, bumbling, dodging scrapes, and falling in love. "It's the only form of cinema where you can shake hands with the soundtrack at the end of the show," Model says.
That's precisely what happens at the end of Anderson's performance. The lights flick on and a line forms on the steps leading to the stage. The audience buzzes around Anderson as he unknots his tie and swaps his dress shoes for a more comfortable pair. Even though he's not the center of attention, Anderson still dresses up out of respect for the venue, the craft, and the audience. "I don't wear a tux," he says. "I just don't have one. If I did, I'd probably wear it, depending on the venue. I don't want to come in like a mad scientist."
In his book, Eyman strikes the community note hard. The allure of silent films extended to being part of a crowd, being entertained in concert. In old movie palaces, he writes, the audience gathered to "worship at the cathedral of light, part of a congregation composed of all members of society, in all parts of the world." It's an overwrought sentiment, but shades of it were on display at the "Silent Clowns" screening.
When it is his turn to talk to Anderson, a man named Kerr Lockhart says that he had traveled in from New Jersey to see the films. Lockhart, a 61-year-old high school drama and English teacher, has copies of all the films at home, but he wanted to watch them in fellowship with other lovers of the form. Anderson can relate. "I can't stand watching films at home by myself," he says. "It has to be a group of people laughing."