The Mystery Hiding in the Cracks of a 17th-Century Painting Has Been Revealed
A cardinal, a bull, a pope, and a monk walk into Yale Divinity School.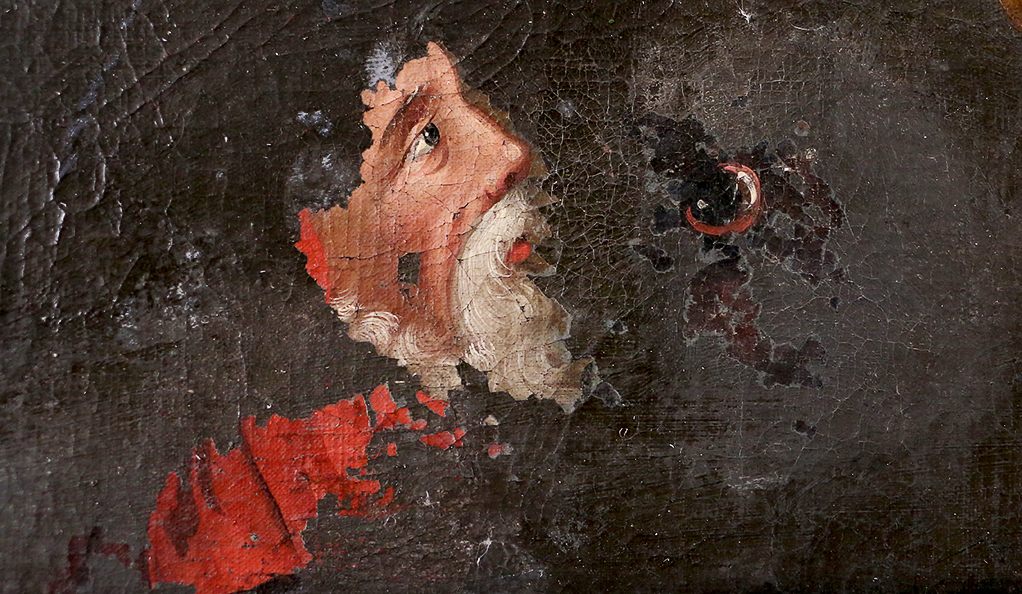 Art history has its share of mysteries. Is a long-lost Da Vinci fresco hidden behind another mural? Did Michelangelo plant secret messages about brains in the ceiling of the Sistine Chapel? How did Dan Brown sell so many books?
Recently, an artistic mystery has been solved thanks to an attentive conservator who figuratively scratched the surface of a 17th-century painting hanging in the hallway of Yale Divinity School on Connecticut.
The dark-toned painting by an unknown artist depicts Martin Luther, head of the Protestant Reformation, surrounded by more than a dozen other Reformation figures, including John Calvin and Theodore Beze. During conservation work on the painting, conservator Kathy Hebb was looking at the painting's largely gray foreground under a microscope and saw bright colors breaking through some of the cracks. She then checked other works depicting the same subject, including an engraving held at the British Museum, and found out that they feature four additional figures there in the foreground—a cardinal, a bull, a pope, and a monk.
It became apparent that the Yale painting had been altered with a layer of gray oil paint. Hebb worked to reveal those hidden subjects. "It is a matter of very delicately removing one layer from another," she said to Yale News. All four were there, present and accounted for.
Spotted: three Catholics and a bull trying to blow out the candle of the Reformation. Photos by Kathy Hebb, gif by Kelsey Kennedy
The hidden portion of the image reveals a much stronger anti-Catholic tone for the painting than previously thought. In the "camouflaged" version, Luther and his Reformists sit around a table, an evocation of Jesus's last supper, with an open Bible and a lit candle. The composition is a symbolic rejection of Catholic belief. The four newly revealed figures are trying to blow out the candle—a representation of the Catholic Church's attempt to snuff out the "light" of the Reformation. The British Museum engraving of the same scene includes the inscription, "The candle is lighted, we cannot blow out."
Why was this anti-Catholic element covered up in the Yale painting? "Perhaps it was done to prevent offense to Catholics," Felicity Harley-McGowan, an art historian at Yale Divinity School, said to Yale News. "Or maybe at a time when the meaning of the image had been lost, an art dealer thought the painting would sell more easily without the Catholic figures and the labels. We don't know."
The painting is back on display just in time for 500th anniversary of the beginning of the Reformation, when Martin Luther nailed his Ninety-five Theses to the door of All Saints' Church in Wittenberg, Germany, on October 31, 1517.