Found: Hidden Sketches Underneath a da Vinci Painting
Glimpses of a master revising, changing, and editing.
He made it look easy, that Leonardo da Vinci: the paintings, the inventions, the beard. But he worked, and worked, and worked some more to tweak his creations to his satisfaction—he simply managed to hide the evidence of the effort pretty well.
New scientific research has revealed that beneath The Virgin of the Rocks, an altarpiece painted for a church in Milan and now in London's National Gallery, are underdrawings that are helping us understand the Renaissance master's process. Technology is revealing his work as something more than a perfected, finished product: a living document of trial and error, reimagination, and editing. The painting, likely executed in phases between the early 1490s and 1508, and its newly decrypted foundations will serve as the focal point of the Leonardo: Experience a Masterpiece exhibit, opening in late 2019.
Earlier research, completed in 2005, revealed some of the abandoned sketches beneath the finished painting—a small but significant portion of what was there. Those partial sketches suggested that Leonardo had been developing a more traditional adoration scene, in which the Virgin Mary kneels before the Christ child. The completed painting, however, shows Mary actually looking in the opposite direction, with her arm around an infant John the Baptist.* The newly revealed portions of the underdrawing, meanwhile, depict an angel hovering just above Christ at close range, looking down into his eyes. In the finished painting, however, the infant is placed much lower, on the ground at Mary's knees. The angel kneels beside him, gazing, it seems, at John rather than the savior.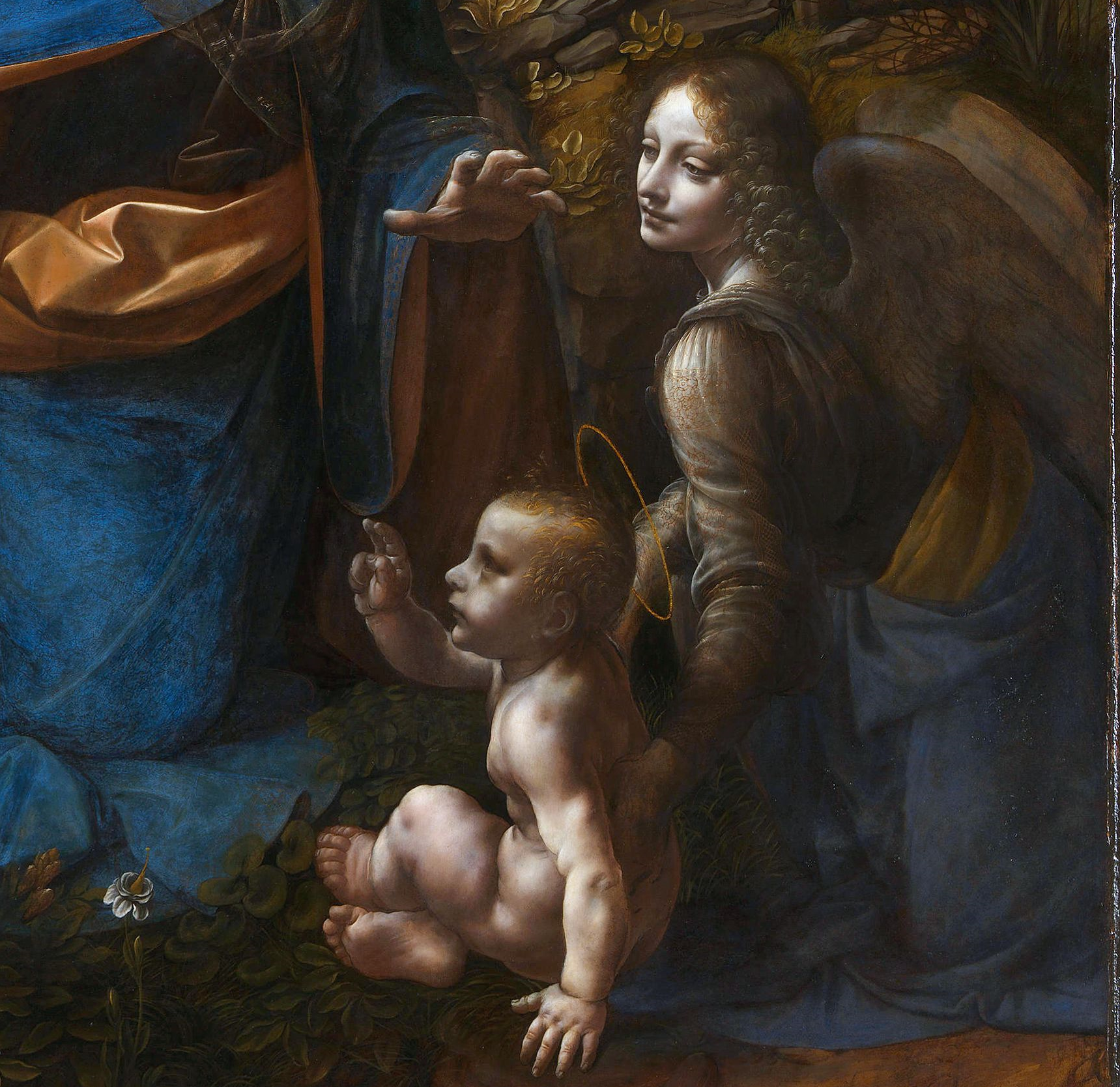 Uncovering this underdrawing relied on scientific techniques befitting a Renaissance man like Leonardo (or Raphael, for that matter). Because the drawings contain zinc, researchers were able to identify them on macro X-ray fluorescence maps, and then visualize them with infrared and hyperspectral imaging. The analysis also picked up faint traces of a palm print by Mary's eye and cheek. In a press release, the National Gallery explained that the print came from patting down the surface in order to evenly distribute the thickness of the paint. We don't know, however, whether the hand is da Vinci's or an assistant's.
We also don't know why Leonardo chose to make these changes. What's clear is how exciting it is to see a master's hand at work, even if he never intended for us to see it.
* Correction: This story originally identified the infant John the Baptist as a "cherub."