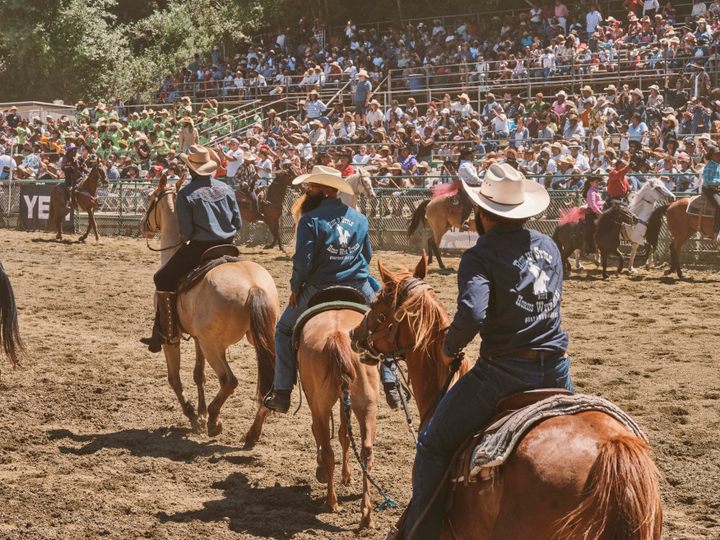 Inside America's Premier Black Rodeo, A Celebration of Cowboy Culture
A photographer captures perseverance and pride over a decade of the Bill Pickett Invitational Rodeo.
A cavalcade snakes across the dusty earth while fans in the packed stands look on with rapt attention. Having spent the last two days racing, roping, and steer undecorating—when a rider removes a ribbon from a steer as both travel at speed—the cowboys, cowgirls, and their horses trot in a single line to receive the crowd's respect and adoration. It is a moment of celebration both for the men and women on horseback, and for the legacy they represent. This is the Bill Pickett Invitational Rodeo (BPIR). Named for the early-20th-century rodeo star, it's been one of the Black cowboy community's most storied and prestigious events for more than 35 years.
Bay Area photographer Gabriela Hasbun spent more than a decade documenting the BPIR riders and their world at the rodeo's annual stop in the second week of July on the outskirts of Oakland, California. It was a side project that started on a whim, when she joined her neighbor and mentor, late photography director Zana Woods, on a search for a snack. Hundreds of images later, Hasbun's recently released book The New Black West: Photographs from America's Only Touring Black Rodeo (Chronicle Books, 2022) captures the dedication, camaraderie, and joy of riders carrying on the traditions of the Black men and women who blazed new trails into the American West.
Atlas Obscura spoke with Hasbun about how the project developed, what she hopes others see in her images, and the enduring spirit of America's Black cowboys.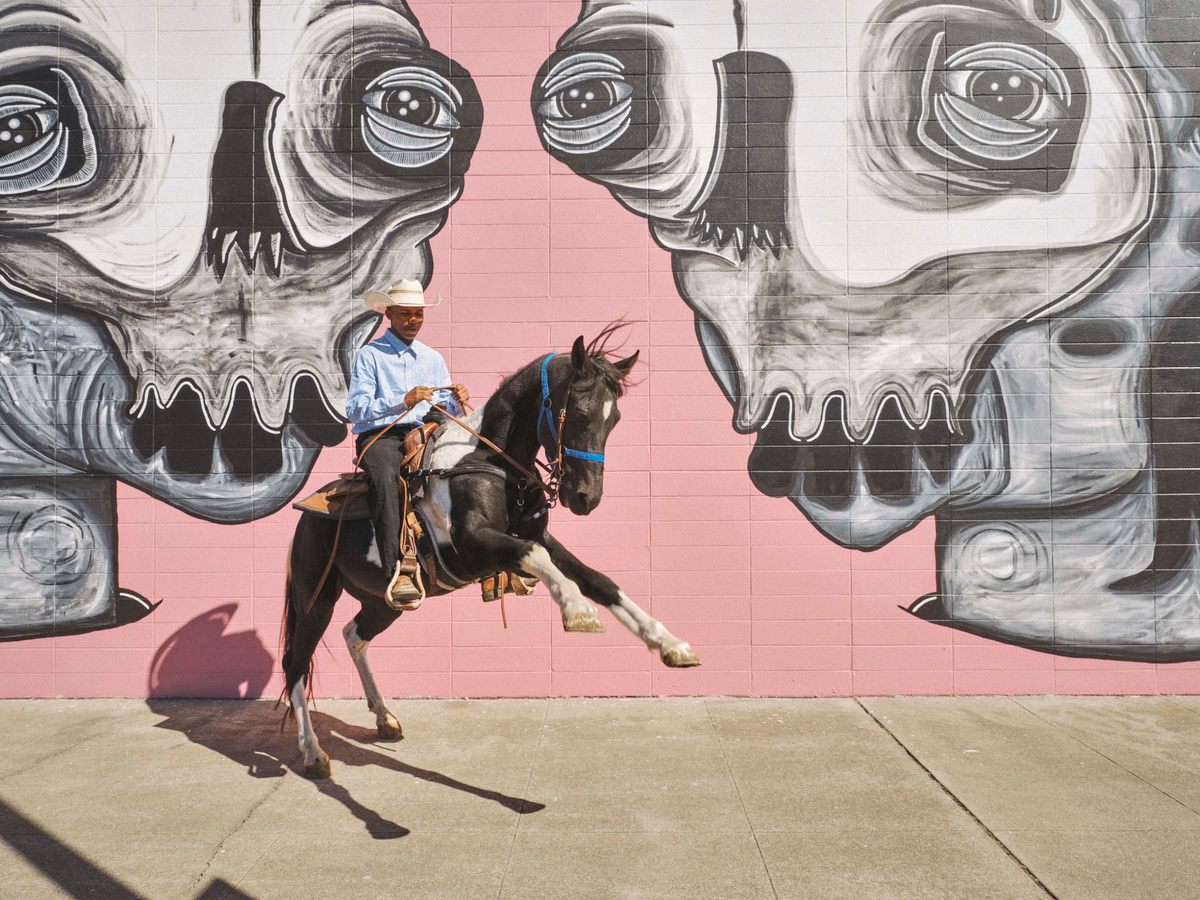 What first drew you to the event?
It was very random. My neighbor Zana was from Arkansas and she was a foodie. She said get your camera out, we're going to go to the rodeo to find some authentic fried catfish—as foodies do, you must find the real deal. I had no idea what I was getting into. It was a huge event. I was overwhelmed and pointing [my camera] everywhere.
Why did you keep returning?
I just fell in love with the event. I had never been around horses in my life. They are really big animals, and they are powerful, and I was blown away by how these people were just handling them. It was very beautiful.
For me, shining a light on positive communities has always been very important. I used to work for a documentary photographer and he'd always be covering stories of war and poverty, just really dark and sad. [Growing up partly in El Salvador], I already experienced a civil war, I already experienced an earthquake, I've already been through that. So for me it's always been very important to find the beauty in communities doing great things, keeping these traditions alive. So I kept going back.
Throughout your career, you've specialized in portraits, but you have a lot of other interesting moments in the book, such as a shot of one of the barrel racer's hats, which features a drawing of her horse. Did your focus evolve as you returned year after year?
I thought it would be great to get more details. Rope cans are very detailed, they're very beautiful. The belt buckles, there's so much information in them. I don't do still-life photography, but it was really fun to shine a light on all these little specifics about the rodeo.
I do have pictures of the barrel racer wearing the hat, but I just really wanted to focus on the hat, because she's a beautiful, beautiful girl; if I put her face in it, and the hat, your eye doesn't know where to go and gets lost.
What do you want people to take away from these images?
I want them to take away how important African Americans were to the westward expansion. They were a crucial part of helping settle the West and even find the West, people like James Beckwourth, a legendary African American cowboy who was also Native American. There's so much history of Native Americans and African Americans that has been forgotten. I hope my book gives a little glimpse into that. I'm not a historian, but this community has so many cowboys who have played important roles in our history, especially in the West.
Your focus is always on the rodeo participants rather than their surroundings or the general landscape, but your work still carries a strong sense of place. How do you achieve that?
I wanted you to feel the dust, the dirt. It's always dusty and it's always dry and hot. I did want you to feel that and get a sense of that and the location. But California is very unique. There's nowhere else like the Bay Area; there's nothing impossible here. It feels like there are a lot of "nos" in the rest of the U.S., but this is a "yes" town. So hopefully that comes through in the images, that the people can be a bigger part of a landscape than the landscape itself.
This interview has been edited for length and clarity.