Food Illustration in Watercolor With Molly Reeder
Thu, Oct 20, 2022
3 sessions
$145 per person
Up to 25 people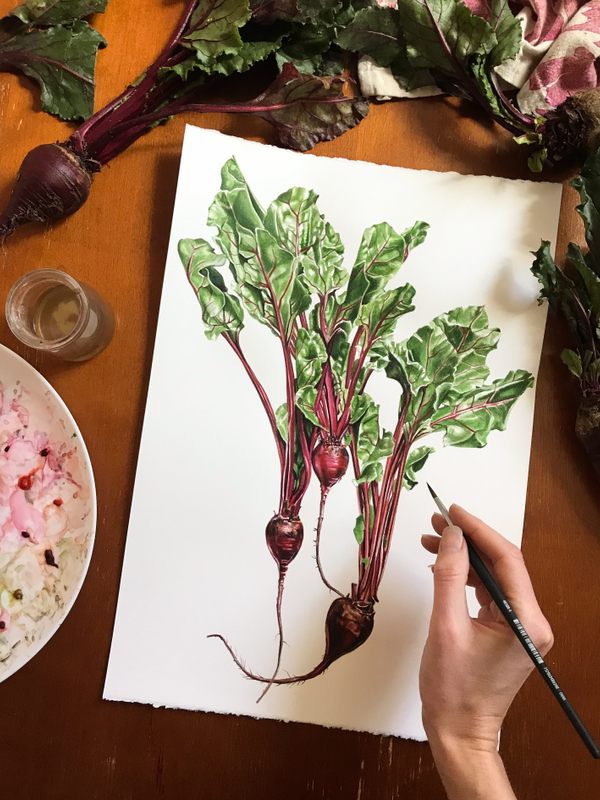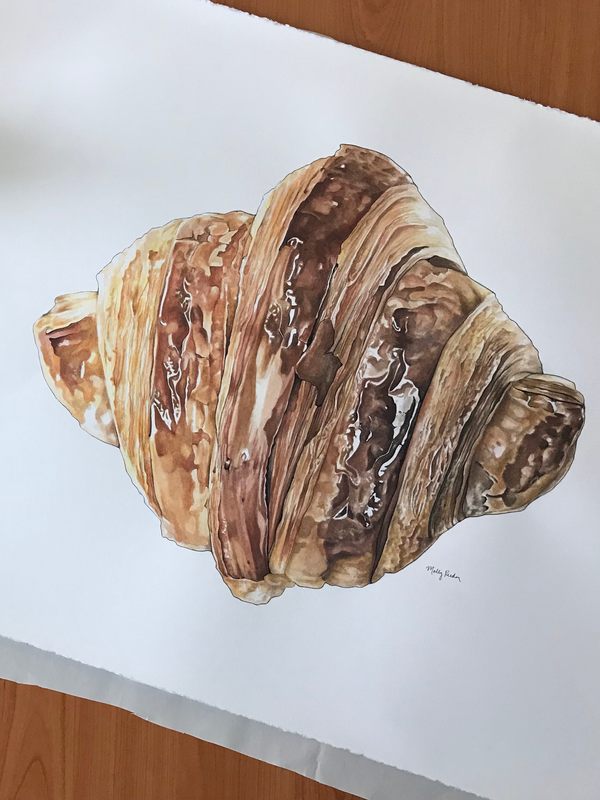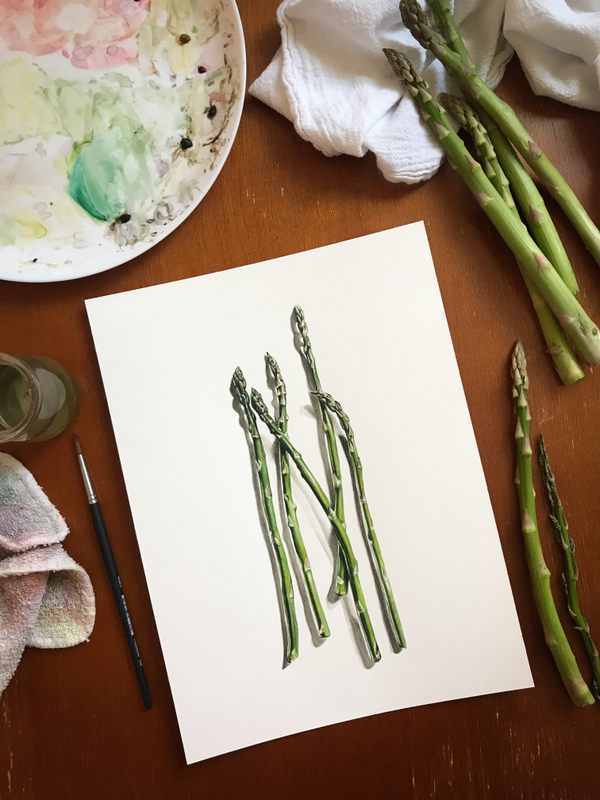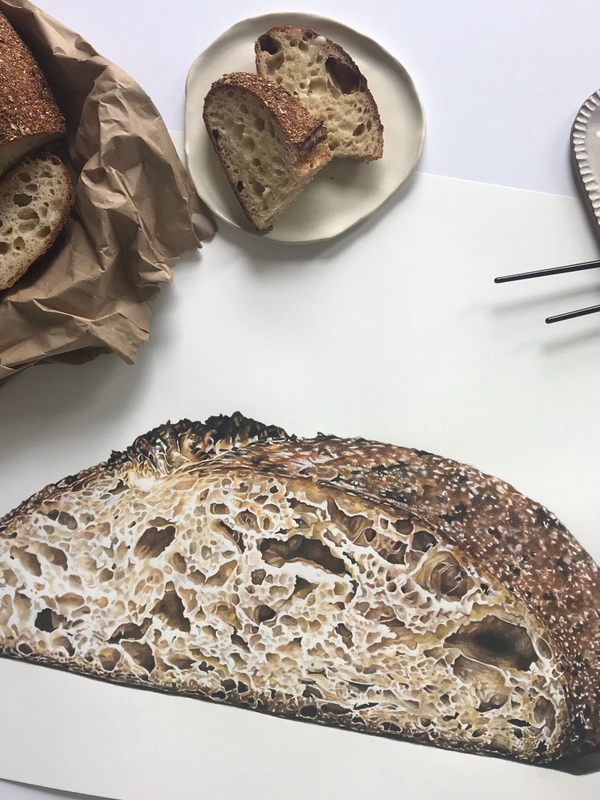 What We'll Do
In this three-part seminar, learn the illustration and watercolor techniques to bring your favorite food to life through culinary portraiture.
Course Description
The worlds of food and visual art have long intermingled. Even before food came to define the still life genre, the subjects of ancient Greek, Roman, and Egyptian art were often edible, giving us a window into some of the culinary culture of the time. In this workshop led by artist and former pastry chef Molly Reeder, we'll honor the foods of our time, using watercolor to create a contemporary culinary portrait of a food of your choice. After touching on some historical references, we'll move through composition, the taking of reference photos, and sketching. We'll then learn how to apply watercolor paint in a wet-on-dry technique and use colored pencil overtop, focusing on using your awareness to capture minute details in your painting. A detailed overview of how to use watercolor and paint inspiring culinary portraits from both photo and life. By the end of our time together, not only will you have a finished portrait of a favorite food to display in your kitchen or give as a gift, but also a deeper understanding of composition, light value, and color value—and a heightened awareness honed from capturing the tiny details that make your edible subject so striking.
This course is for anyone interested in learning how to use watercolor and inspired by the crossover between the culinary world, food illustration, and visual art. No prior experience is required.
Gastro Obscura Courses: delving deep into the world's culinary curiosities with expert instructors.
Syllabus at a Glance
This course includes three total sessions, each lasting 1.5 hours on three consecutive Thursdays beginning October 20.
Session 1 (Thursday, 10/20, 6–7:30 PM ET)| Sketching Your Food Model
Students should come to class with their chosen edible muse: a favorite dish, fruit or vegetable, or something you find particularly beautiful and are excited to paint. (Unstable foods like ice cream are discouraged!) We'll move through some introduction, then cover composition, snap reference photos, and sketch out a base composition.
Session 2 (Thursday, 10/27, 6–7:30 PM ET)| First Layers: Shadows and Midtones
We'll begin applying the first layers of paint to our sketches, focusing on getting comfortable with how much paint and water to use, and how to layer it over time. We'll start with sepia to paint the midtones and shadows.
Session 3 (Thursday, 11/3, 6–7:30 PM ET)| Food Coloring: Adding Color and Detail
We'll move into the more colorful portion of class, adding final layers of paint followed by colored pencil for depth and detail, and then wrap up.
Between Sessions
Students should plan to spend some time outside of class finishing their sketches between the first and second sessions, and finishing the base layers of paint capturing midtones and shading between the second and third sessions. 
Course Materials
Students should plan to bring the following materials to class:
(Estimated cost of purchasing materials: $50–$100) 
Culinary Muse: An edible subject of your choice! Welcoming seasonally appropriate vegetables or fruit (please make sure it's not wilting!), or something that you find beautiful and are inspired by. You're welcome to paint a beloved favorite dish or food that you would like to keep a portrait of in your own home and kitchen. Rapidly changing food subjects are not recommended, such as ice cream or cheese. You'll want to bring something you find eye-catching and dynamic, and made up of more than one color
Watercolor paints: A starter set is great, Daniel Smith or Winsor and Newton are recommended, but any tube watercolor paints are the best
Brushes: Kolinsky round 0, 1, 2 and one larger round brush as well, size 4 and up
Paper: Arches hot pressed 300 lb paper (sized 7x10" or larger)
Viewfinder: A small viewfinder for helping you compose your subject. (Something similar to this: https://www.ebay.com/itm/155008017824?chn=ps&mkevt=1&mkcid=28)
Palette: Something flat and totally white. A white ceramic dinner plate works exceptionally well for this!
Paint Rag: A small towel (or paper towels) to wipe excess water and paint onto as you work
Water Jar: Something to dip your brush into as you work
Camera: A camera (phone camera works great) to take pictures of your subject
White background: A blank surface for your subject to be photographed on
A clean work surface and good lighting!  
Pricing Options
In addition to full-price tickets, a limited number of no-pay spots are available for this course. Please note that these tickets are reserved for those who would not otherwise be able to take this course and who expect to attend all sessions. No-pay spots are distributed via a randomized drawing two weeks before each course begins. For more information and to apply for a no-pay spot, please click here. To learn more about our pricing model and randomized selection process for no-pay spots, please visit our FAQ page.
Community Guidelines for Students
Please take a moment to review our community guidelines for students, which aim to share our classroom ethos and help set the stage for the best possible learning experience.
Atlas Obscura Online Courses
Atlas Obscura Courses offer opportunities for participants to emerge with new skills, knowledge, connections, and perspectives through multi-session classes designed and taught by expert instructors. To learn more about our current course offerings, please visit www.atlasobscura.com/online-courses. For answers to commonly asked questions, check out our FAQ page here.
Founded in 2009, Atlas Obscura created the definitive community-driven guide to incredible places across the planet and is now an award-winning company that shares the world's hidden wonders in person and online.
Where We'll Be
Once registered, you'll receive a confirmation email from Eventbrite that will provide access to each class meeting. Please save the confirmation email as you'll use it to access all sessions of your course via Zoom.
About Your Instructor
Molly Reeder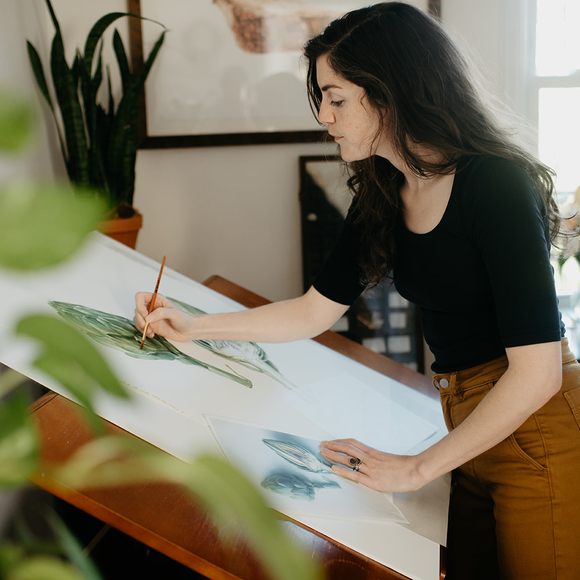 Molly Reeder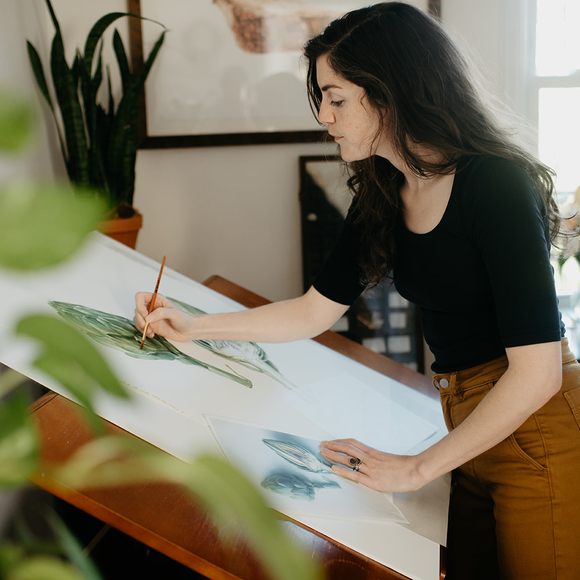 Molly Reeder is a painter and stylist specializing in botanicals and food illustration. She paints large scale, detailed watercolors of edible plant-based subjects to highlight their unique shape and beauty. She is inspired by food ancestry, plants, and the human connection and narrative within these. While she has found homes all across the world including New Zealand and Hawaii, she now calls Richmond, Virginia home, where she lives with her husband, close to family and friends. You can follow her on Instagram (@Mollyreeder).
What Else You Should Know
This is an interactive, small-group seminar that meets over Zoom. Students may be encouraged to participate in discussions, work on assignments outside of class, and workshop projects with their instructor or classmates. Due to the interactive nature of this course, we strongly recommend students attend as many live sessions as possible. Within 72 hours after each session meets, students will receive access to a recording of the live session, which they can watch for up to two weeks after the course concludes.
Instructors may use Google Classroom to communicate with students outside of class. While students aren't required to use Google Classroom, instructors may use this platform to post resources, discussion questions, or assignments. This platform also offers a space for students to connect with one another about course material between sessions. 
We provide closed captioning for all of our courses and can share transcripts upon request. Please reach out to us at experiences@atlasobscura.com if you have any questions, requests, or accessibility needs.
Group Size
There are 25 spots available on this experience.