The Crumbling Art of Costantino Nivola, a Picasso for the People
The Italian-born sculptor was celebrated in his lifetime but largely forgotten after his death.
The ruins of Costantino Nivola's career are scattered across New York. In city streets and public schools, housing projects and showroom floors, the late sculptor's creations were meant to be abstract, modernist monuments to the democratic potential of art in the postwar years. For many of his contemporaries, Nivola was a symbol of the American dream: an antifascist from Italy who emigrated to the United States during World War II, becoming one of the most consequential names in public art.
"Nivola was in many ways the municipal civic public sculptor for New York City in the 1960s," says Michelle Bogart, an art historian at Stony Brook University. His visionary output, she says, inspired public officials to budget for major art projects for decades to follow.
But since his death in 1988, Nivola's work has gradually faded into obscurity. Some of his sculptures have been destroyed. Many others have become like fossils, encrusted in layers of graffiti and beige paint. And one of the artist's greatest accomplishments—a series of large frescoes depicting civic life—faces destruction as the Massachusetts state government prepares to demolish Government Center, the Brutalist building in Boston where it resides.
"It's a huge concern," says Steven Hillyer, the director of the architecture archive at Cooper Union, which is hosting a Costantino Nivola exhibition in New York until March 13*. "We have to decide what of our culture is important to us, and Nivola has some really substantive work there that's now in danger."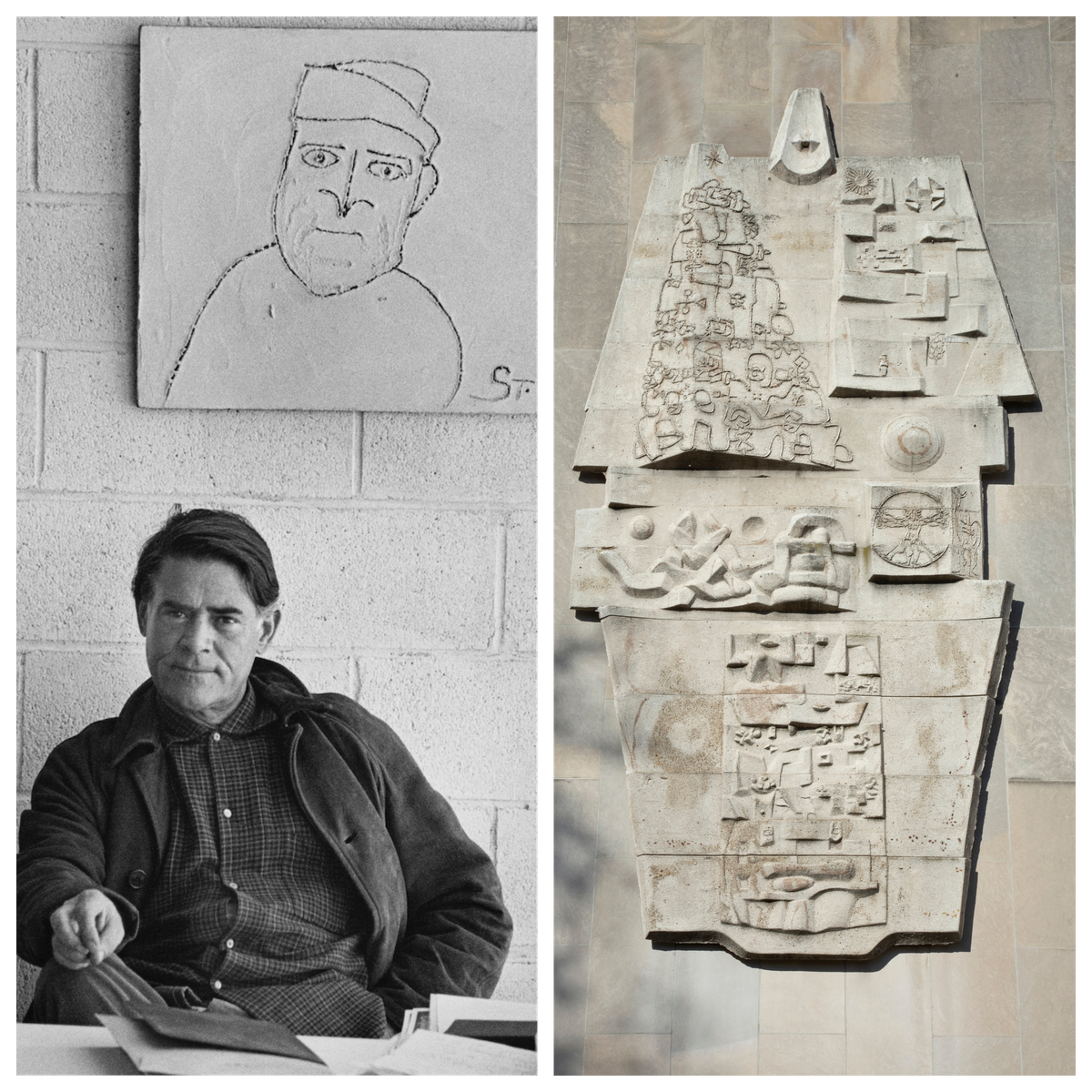 Nivola was the son of a mason, born in 1911 on the island of Sardinia. He initially trained there as a painter, before moving just outside Milan in 1931 to continue his studies on a scholarship. While at university, Nivola refused to make the fascist salute and was suspended for six months. Returning to school, he met his future wife, a Jewish woman from Germany named Ruth Guggenheim (who was not related to those other Guggenheims).
In 1939, the pair fled Italy for a new life in the United States, where Nivola became the art director of Interiors magazine. He met many famed artist-emigrés, such as Walter Gropius, Josef Alberts, Marcel Breuer, and László Moholy-Nagy. He also became fast friends with abstract expressionists such as Willem de Kooning, Jackson Pollock, and Lee Krasner.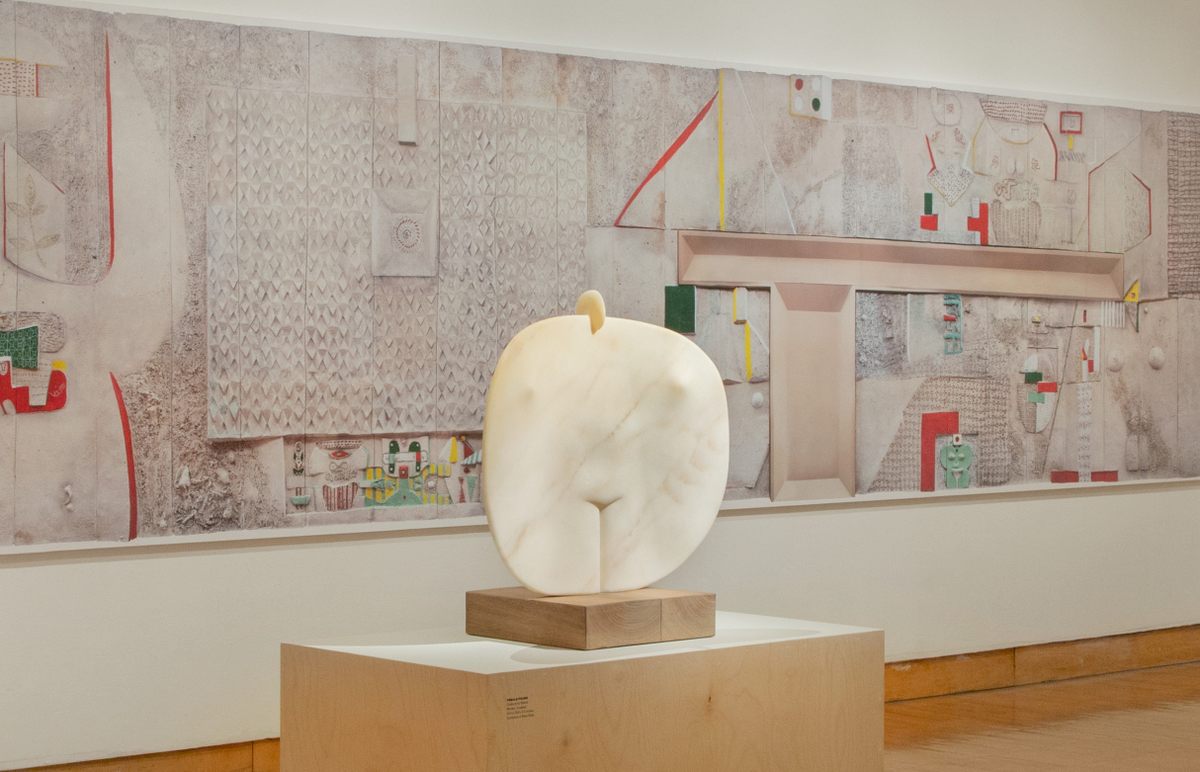 For four years, Nivola shared a studio with Le Corbusier, the Swiss-French architect who abandoned decorative styles in favor of purified, functional, and minimalist designs. Le Corbusier became a mentor and friend who guided Nivola toward an epiphany in the 1950s, when he came up with a unique sand-casting technique of sculpting, which involved pouring plaster or concrete into molds of wet sand.
Nivola's innovative approach required speed and precision. He once compared sand-casting to "explorers who put plaster on the footprints of animals." The results were often akin to cave painting, with natural elements such as shells or a handprint that complemented the colors and shapes he used. Nivola became known for his joyfully abstract depictions of democratic ideals, often celebrating themes of heroism and unity with a diversity of symbols and humanoid figures.
In 1954, Nivola created an enormous sculptural relief for the Olivetti Showroom on New York's Fifth Avenue that helped to launch his career. That same year, he became the director of Harvard University's design workshop. (The school later became a steward of Nivola's legacy by installing a few of his creations on campus, including the relocated Olivetti relief.) But appreciation for the artist has dwindled. In 2006, Harvard Law School covered its Nivola work with a plain wall adorned with modern art.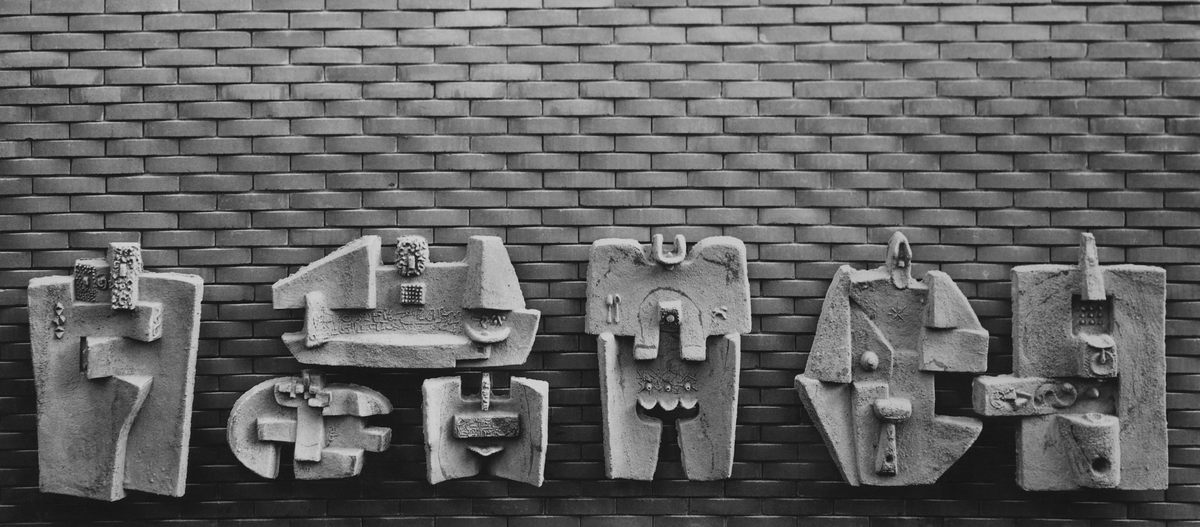 Throughout his career, Nivola endeavored to create a world where art binds communities together, and he often partnered with architects to raise money for monumental works. "Nivola championed the idea that arts should be accessible to everyone," says Antonella Camarda, director of Museo Nivola in the artist's hometown of Orani, Italy. "In fact, 15 of his metro New York projects were commissioned for New York City schools, highlighting the importance that Nivola placed on making his work for the community and in the art's role within civic life."
In 1968, for example, Nivola collaborated with the architect Richard G. Stein to create a playground for a public school in Queens. The men proposed a system of color-coded murals that segmented the space into different zones for play and rest. These paintings would include Nivola's enigmatic graffiti, populated with humanoid figures and hieroglyphic doodles that expressed the type of roughhousing and fun of recess time.
Many artists avoid creating public art because it is expensive, bureaucratic, and time-consuming; politicians often underfund the work, and public criticism can ravage an artist's reputation. Nivola did it anyway—at a moment when he could have made an otherwise lucrative career in the art market. He recognized the way that public art can humanize urban spaces. Seventeen of the artist's works still exist in New York, yet despite their importance, many are in a state of disrepair.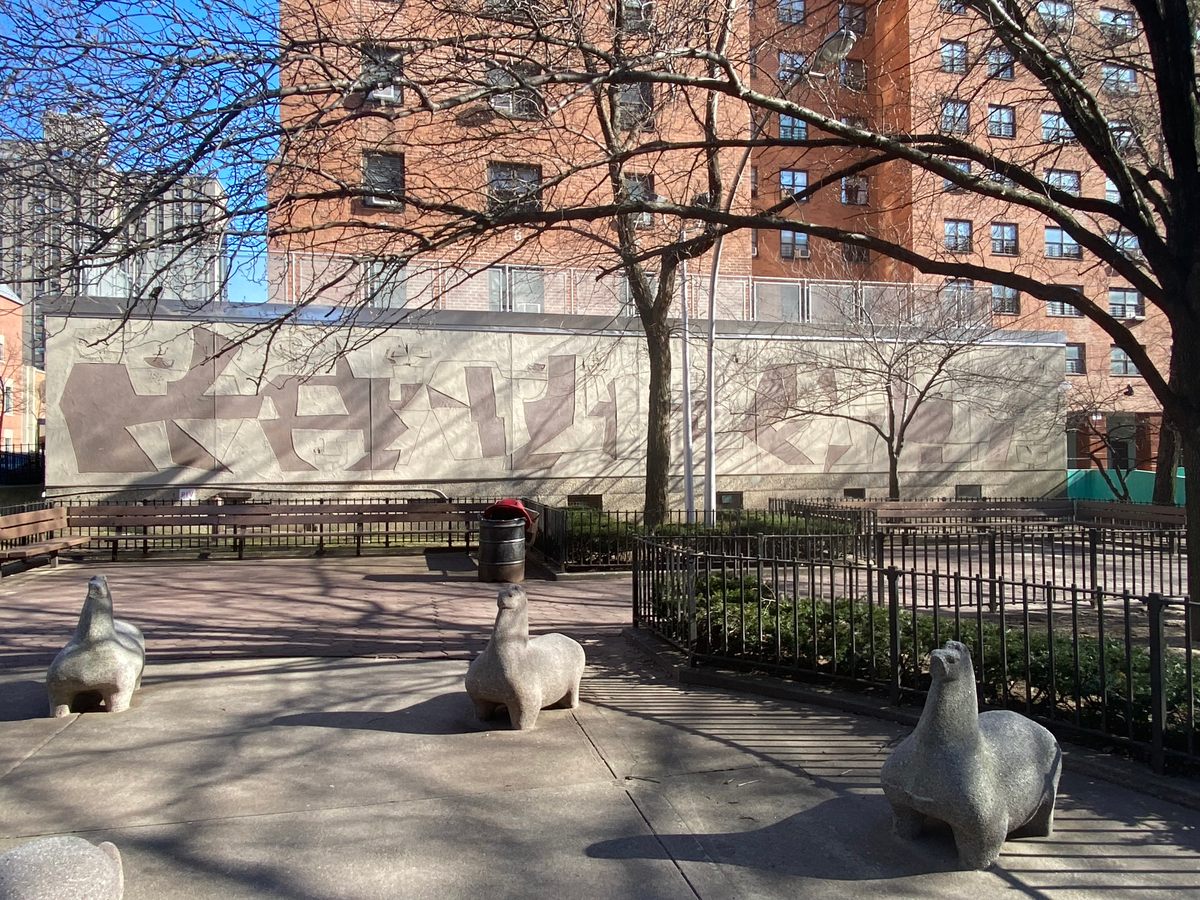 The Stephen Wise Recreation Area, on the Upper West Side of Manhattan, captures the type of world Nivola was trying to build. Constructed in 1963 for the surrounding housing project, Nivola partnered with Richard Stein to fill an entire city block with avant-garde abstractions: cuboid cutouts in cement, a fountain made with two diamond-shaped boulders, concrete play horses, and a sand-casted relief carved high into the walls. Uniting these disparate elements is a freestanding sculpture in the northeast corner known as "The Nanny." Created for a space that functions as a neighborhood playground, the strong but motherly figure seems to watch over the community, especially its young people.
But a trip uptown today finds these elements crumbling from neglect and riddled with graffiti. Advocates for conservation say that a survey of the damage alone will cost $14,000. Actual repairs could easily cost millions. As residents wait to see Nivola's work restored, the condition of his sculptures continue to deteriorate.
Meanwhile, Nivola's frescoes in Boston face even a more imminent threat, as the city prepares to replace government offices with a private development. His 1969 paintings greet visitors in the foyer with a three-tiered program of abstract symbols and strikingly realistic figures, including an allegory about the virtues of government, a family seated around the dinner table, and a hand depositing coins into a bank. It is a carefully composed symphony, incorporating Nivola's many styles and quirks into one harmonious picture. The frescoes also serve as a subtle critique of American politics: It reminds viewers that the government is supposed to work for the people.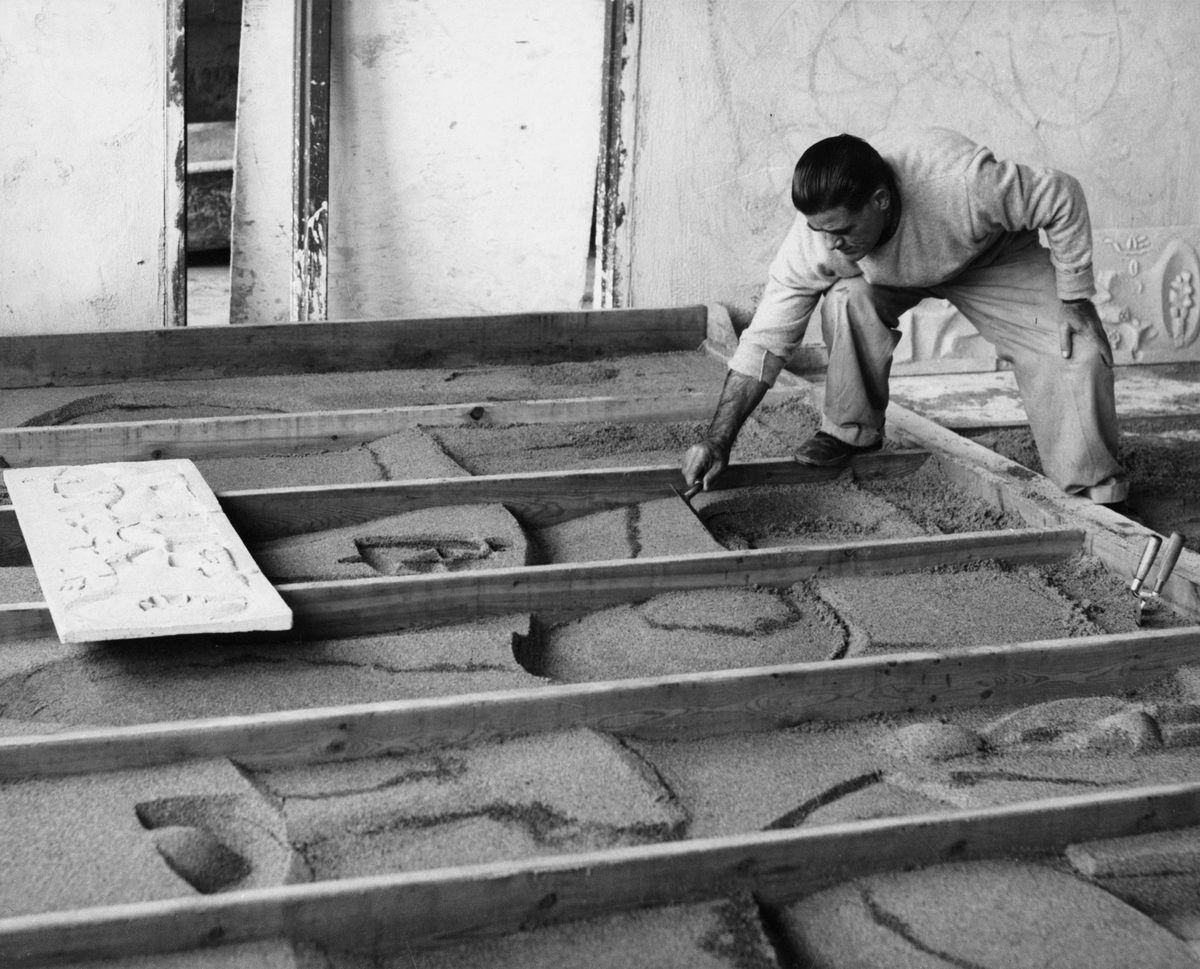 "Losing the murals would mean losing an important representation of what government could be in a truly modern, egalitarian idiom," says Roger Broome, an architect who spent the last seven years co-organizing the Costantino Nivola exhibition at The Cooper Union. "The mural is significant and shouldn't be ignored," adds Greg Galer, executive director of the Boston Preservation Alliance, a nonprofit working to save both the building and the painting.
Nivola spent a lifetime championing the virtues of good governance. It is a sad irony that now, the very institutions that he supported through his artworks seem to be uninterested in preserving them. "A work designed for a public space is less a work of art than a civic act," the artist once said. "It concerns the ways in which we live together, and in which we influence each other."
* Update: This story previously described a New York exhibition closing March 15. Due to COVID-19, the exhibition was rescheduled to close at 7 p.m. on March 13.