Bake Luxurious 19th-Century Marlborough Pie
This apple custard pie is a forgotten New England classic.
"Tell me where your grandmother came from and I can tell you how many kinds of pie you serve for Thanksgiving," the food writer Clementine Paddleford surmised in her 1960 book, How America Eats. Around Boston, she wrote, "four kinds of pie were traditional for this feast occasion—mince, cranberry, pumpkin, and a kind called Marlborough, a glorification of everyday apple."
A single-crust pie of stewed apples in a custard fragrant with nutmeg, citrus, and sherry, Marlborough pie originated in England as a custard pudding and crossed the Atlantic with early English settlers. It has since embraced its Americanness as another take on the beloved national dessert: apple pie.
The practice of putting apples in a custard and baking in a pastry base is at least as old as 1660. An Eater article cites Amy Traverso's The Apple Lover's Cookbook, which traces the first iteration of Marlborough pudding to a recipe in The Accomplisht Cook, an English cookbook published that year. It called for a whopping 24 egg yolks mixed with cinnamon, sugar, salt, melted butter, "some fine minced pippins" (tart apples used in cooking), and minced as well as sliced citron, all poured into a pastry-lined dish. The recipe was strikingly similar to the Marlborough pudding recipe in the first known American cookbook, published in 1796: Amelia Simmons's American Cookery.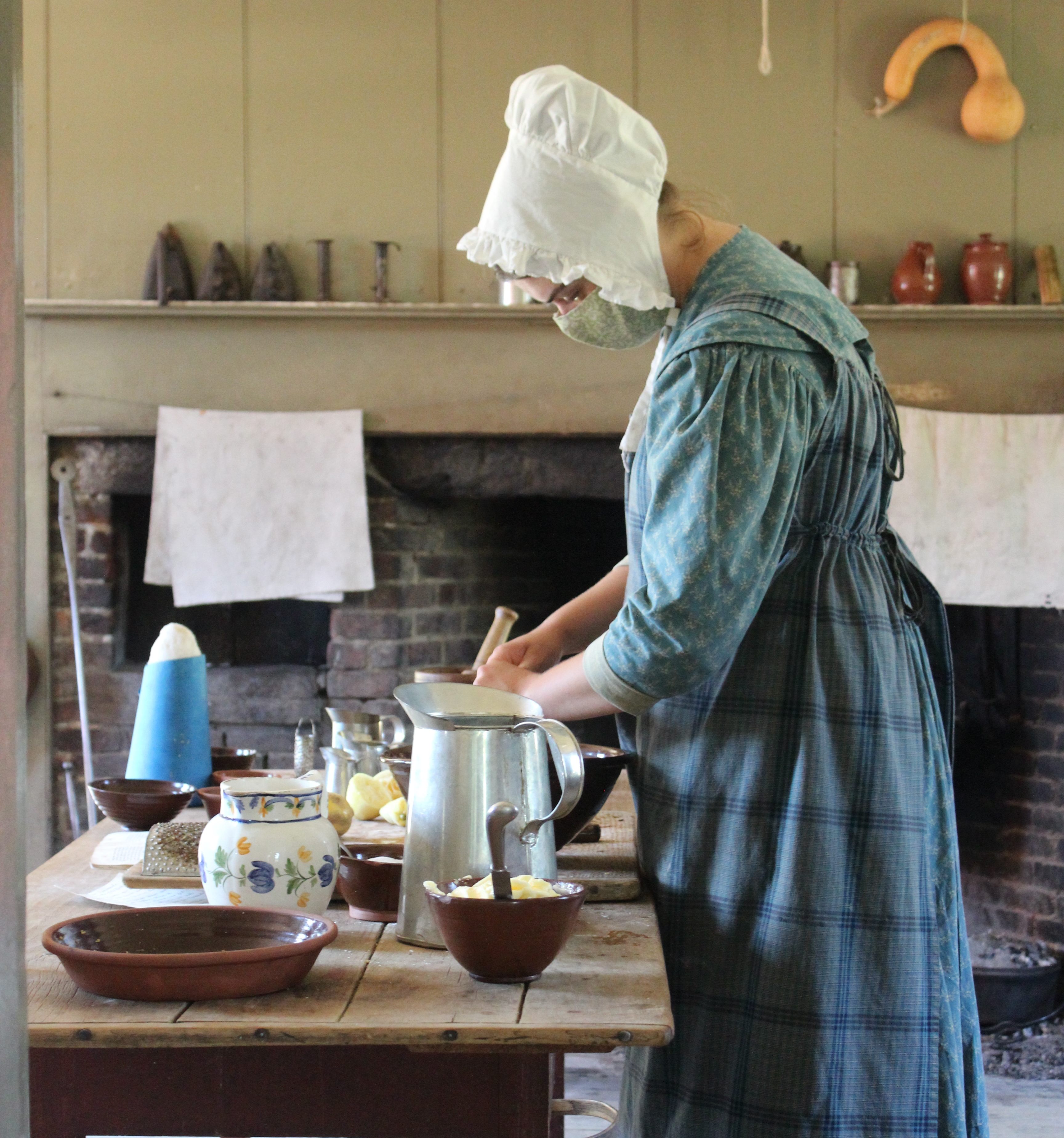 So, is it a pie or a pudding? It's both, says Sarah Ramsey, lead interpreter at Old Sturbridge Village, a living history museum in Sturbridge, Massachusetts, that recreates rural New England of the 1830s. "Pie and pudding in the 19th century are very interchangeable, depending on how they're served," she says. "Because this is a custard-based dessert, it would technically be considered a pudding. But because it has a filling that has to be poured into something else—like a pie crust—in order to have it form and cook, it is also a pie."
Ramsey is one of the costumed historians in charge of operations at one of Sturbridge Village's many houses. Here, Marlborough pie is a staple at Thanksgiving, where visitors can watch it being made, although only the employees at the Village may partake in the joy of eating it.
"Marlborough pudding is probably one of the favorites of everyone in the Village," says Ramsey. "It has a really nice, light flavor. It probably disappears the most on the table."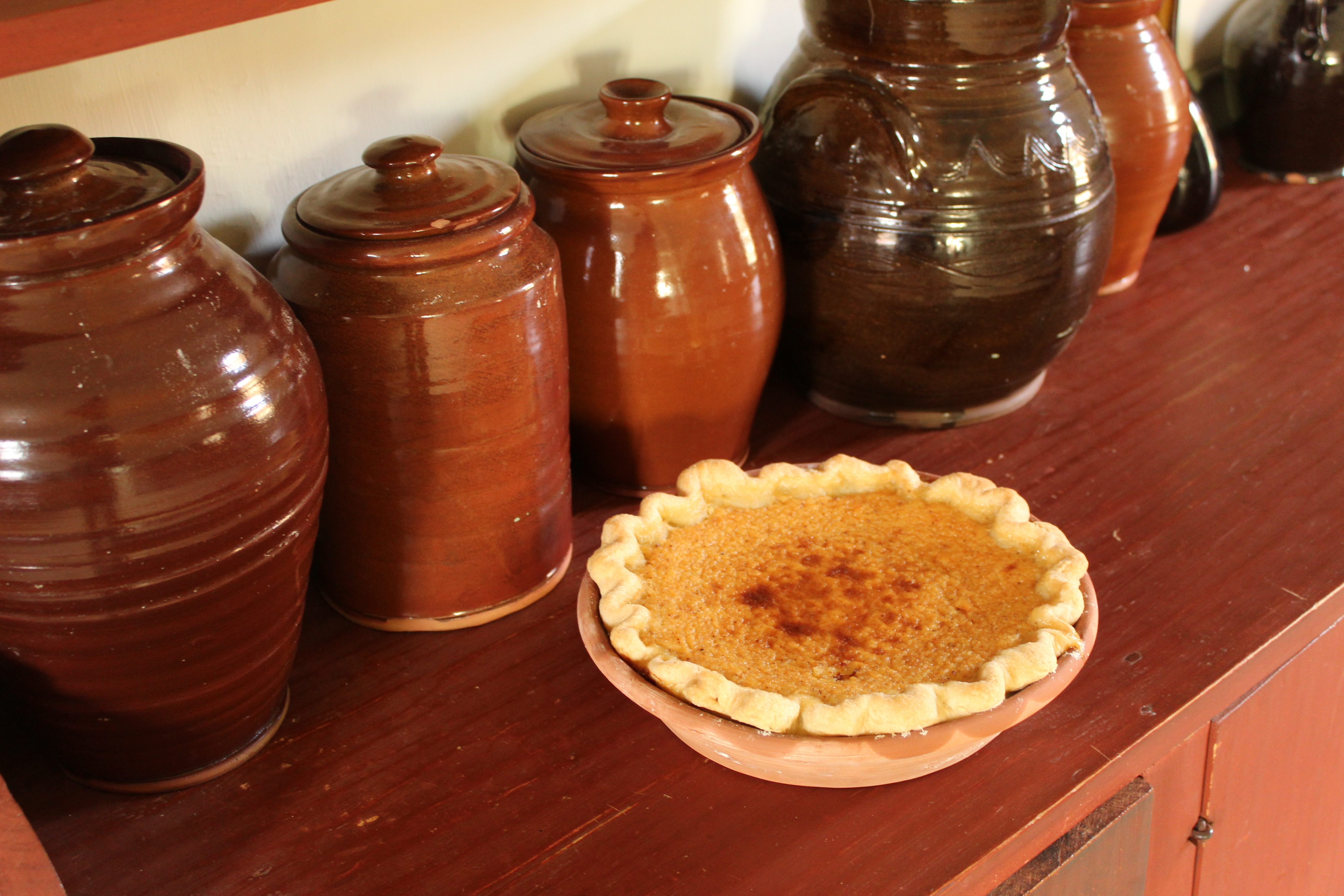 The exaltation of Marlborough pie to the 19th-century Thanksgiving table features in the American writing of the time, from Harriet Beecher Stowe to Edward Everett Hale. In her 1869 book, Oldtown Folks, Stowe wrote that around Thanksgiving, "Pies were made by forties and fifties and hundreds, and made of everything on the earth and under the earth … huckleberry pies, cherry pies … apple pies, Marlborough-pudding pies—pies with top crusts, and pies without—pies adorned with all sorts of fanciful flutings and architectural strips laid across and around, and otherwise varied, attested the boundless fertility of the feminine mind, when let loose in a given direction." "It seems she was batty for the stuff," John T. Edge writes of Stowe's pie obsession before quoting the above excerpt in his book Apple Pie: An American Story.
Marlborough pie was extremely popular in 19th-century New England, considered an indulgent treat as well as an ingenious use for apples nearing spoilage. "It was special because it was both more labor-intensive and more expensive to make than other pies of the time," says Ramsey. "The sherry was probably coming from Spain. Nutmegs were coming from Indonesia, lemons from Sicily. Finding the ingredients could be tricky at the time."
When an apple custard pie got the Marlborough moniker remains a mystery: Its nomenclature may be owed to a town of the same name in England, or Massachusetts, or both. To make matters more confusing, it is also sometimes known as Deerfield Pie (presumably after another Massachusetts town). A gloomier conundrum is why there's sorrowful little Marlborough pie to be found in the Anglo-American culinary lexicon today. In fact, Clementine Paddleford's explanatory preface suggests that even in the '60s, the pie was not ubiquitous. Few establishments serve the pie today, although home bakers have kept it alive in the culinary imagination. In England, the celebrated chef Rick Stein serves Marlborough pudding at his Marlborough restaurant every fall. Stein's redolent update on the traditional British recipe, topped with glazed Italian meringue and served with warm custard, contributes a portion of the sales to a local food pantry.
Ramsey attributes Marlborough pie's faded glory to the added labor of cooking the apples down and the fear of custard scrambling as it bakes. But pie aficionados who've baked a conventional double-crust apple pie will find this a far simpler affair, with the potential to be a bigger hit for its subtle creamy sweetness, the bright tang of lemon, and the warmth from the sherry and spices.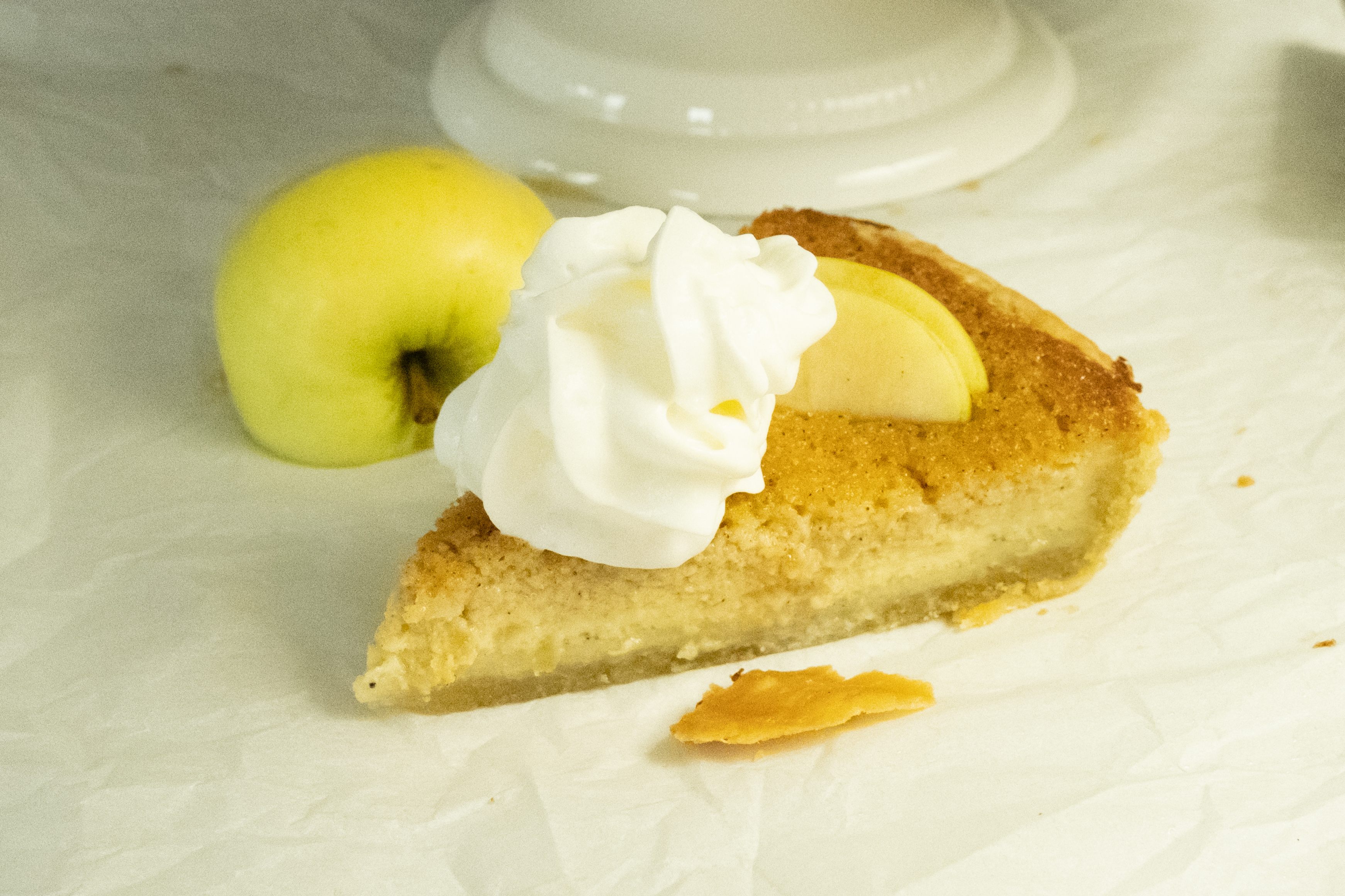 Marlborough Pudding (Pie)
Yields one 8-inch deep-dish pie.
1 pie crust
6 tablespoons butter
3/4 cup stewed, pureed apples (Though it varies by size, this typically requires around 4 apples.)
Juice of 1 lemon
3/4 cup sherry
1/2 cup heavy cream
3/4 cup white sugar
4 eggs
2 teaspoon grated nutmeg (or to taste)
1. Prepare the pastry.
Use whatever pastry recipe you'd like to create the single crust. I used this recipe from Deb Perelman's blog, Smitten Kitchen. At Old Sturbridge Village, the crust is rolled from a mixture of just flour, water, and butter. I mixed flour, salt, and sugar with cold cubes of butter by hand until crumbly, then added just enough ice-cold water to bind the dough.
Divide the dough into two balls. Wrap and freeze one for a rainy day, then use the other one for the Marlborough pie. I refrigerated my pie dough for an hour, to let the gluten settle and the dough hydrate evenly. This prevents the crust from shrinking in the oven, and rolling out cold dough keeps the fat firm and ensures a flakier crust when baked.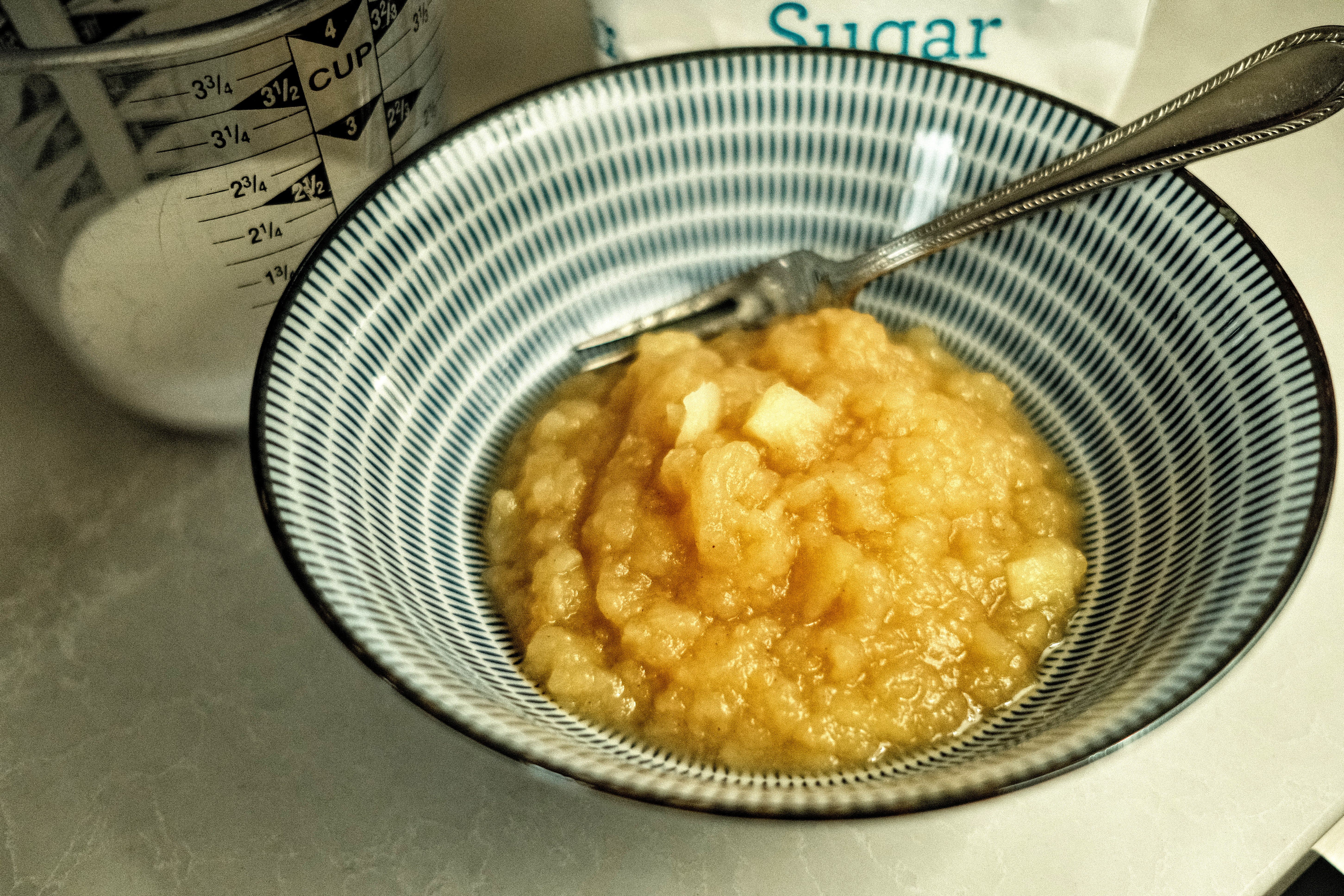 2. Prepare the custard filling.
Melt the butter and leave to cool. Next, prepare the stewed apples. Sarah Ramsey cautions against using store-bought applesauce, which is typically made with Red Delicious apples that aren't as flavorful as the heirloom apples she recommends using. "If you wanted to be historically accurate, you could go with Macoun or Baldwin apples," she says.
Peel and dice the apples, transfer them to a pot, and add just enough water to cover them. Boil until they're soft. I simmered mine for about 30 minutes. I also added a few dashes of ground cinnamon with no regrets. Strain and mash the apples when they're done.
Squeeze the lemon, remove any seeds, and add the juice to 3/4 cup of the stewed apples. Add the sherry (I used Harveys Bristol Cream, which is produced in Spain and bottled in England), cream, and sugar, and mix until well incorporated. Some 19th-century recipes add rose water or orange-flower water, instead of sherry. Next, add the melted butter, blending well. Finally, beat and fold in the eggs.
3. Assemble for the oven.
Preheat the oven to 400°F. Roll out the pie crust into a deep (roughly 1½ to 2 inches deep), 8-inch pie plate. At Old Sturbridge Village, the pie plate is made on-site, as part of their signature kiln-fired redware pottery. I had only a shallow 9-inch tart pan, resulting in some leftover filling. (I used it to make scones, substituting the heavy cream and egg in this scone recipe with the leftover custard.) I refrigerated the lined pan for another hour, but no refrigeration takes place at any stage at the Old Sturbridge Village kitchen.
Add the grated nutmeg to the custard and spoon everything into the pastry-lined pie plate. Bake for 15 minutes at 400°F. Reduce the heat to 350°F and bake for another 45 minutes or until a tester comes out clean. I always place a baking tray or a sheet of aluminum foil on the bottom rack to catch any spills. (Note: Next time, I might blind bake the crust—lining the unfilled crust with foil, weighing it down with coins or dried beans, and baking at 375°F for 10 minutes or until just lightly brown—to prevent a soggy bottom, which was a little bit of an issue with mine, although not to the detriment of flavor or enjoyment.)
Cool before serving. I served mine with sliced apples and a cloud of whipped cream.
Gastro Obscura covers the world's most wondrous food and drink.
Sign up for our email, delivered twice a week.