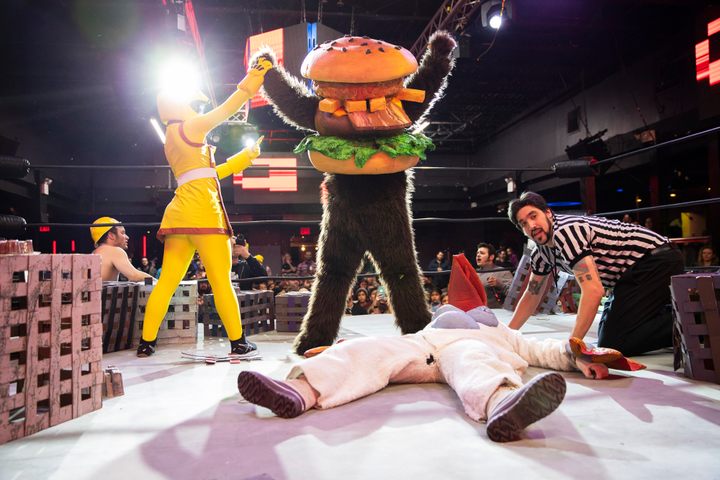 Monster Wrestling And Other Weird, Wonderful Sports from Around the World
From traditional Japanese log riding to charitable llama races in Colorado, this photographer has seen it all.
Surrounded by the wide open plains of eastern South Dakota, locals from the tiny town of Clark gather every year in early August for a spud celebration. The "Potato Days" tradition has persevered since 1992, eventually featuring the Little Miss and Mister Tater Tot Pageant, potato decorating, and most famously, instant mashed potato wrestling.
On a hot August day in 2019, photographer Sol Neelman stood on the sidelines—still somehow drenched in instant potatoes—grinning wildly. He remembers being particularly impressed by the high school spud wrestlers. "Generally you don't get that level of experience and athleticism in a mashed potato ring," he says.
Ending a work day covered head to toe in instant mashed potatoes may not seem like a win for everyone, but for this "weird sports photographer," it's one of many fond—and odd—memories from on the job.
Weird sports is loosely defined, but for Neelman's purposes, it's any athletic gathering he deems out-of-the-norm, often prizing performance art and a good time over competition and athletics. As a self-described "failed athlete" and a lover of "weird shit," Neelman can relate to weird sports fanatics. "Even though I'm a photographer and I generally don't participate in weird sports, they still feel like my people and I feel like they know that I'm one of them."
Neelman started his photography career as a reporter for a humanitarian organization and then transitioned to The Oregonian, a Portland-based daily newspaper—the oldest still running on the West Coast—where he and a team of staffers were awarded the 2007 Pulitzer Prize for Breaking News Reporting. His love for sports, on the other hand, came much earlier. "I've always loved sports, even though sports didn't love me back," he laughs.
Neelman wasn't cut out for the court, but he found his place on the sidelines, taking photos. After going on an assignment with The Oregonian to photograph high school wrestling on the beach and a roller derby the next year, Neelman started to wonder what other weird sports may be lurking in the shadows.
In 2007, he left his job—determined to find the world's weirdest sports. In 2011, he published his first photography book, Weird Sports, which compiled hundreds of photos of bizarre sports, from cardboard tube fighting to Segway polo. Since then, Neelmani has published two more books, Weird Sports 2 and More Weird Sports. His most recent book celebrates oddities from log riding in Suwa, Japan, to a llama race in Fairplay, Colorado, to Kaiju Live Monster Wrestling in Queens, New York.
This book was wrapped immediately before the pandemic, with the book's last shoot—a beer drinking contest in Jackson Hole, Wyoming—taken on March 11, 2020. "While producing the book during the pandemic, it was very sobering to look at photos of people having so much joy and fun and engaging with others in enclosed spaces," says Neelman. "It's really surreal to look at them because it feels really normal, but it also feels like a different time."
The added perspective of the pandemic—a solitary time for many—only enhances the wonder of weird sports and what they stand for in a community. "A lot of people get kind of hung up on the weird part, but I think it's really about the stories that you find when you're there."
Whether covered in mud, glitter, or mashed potatoes, weird sports bring like-minded people together to celebrate what they love—from the Furry Ski Weekend, where members of the furry fandom subculture community get together to downhill ski in Copper Mountain, Colorado, to Cosmic Bowling, where costumed participants bowl under black light in Pasadena, California. "I feel like we all are looking for a laugh and looking for community and looking for joy," says Neelman.
Neelman hopes readers will be inspired to find their own local weird sports, which are usually very welcoming, he says. Most weird sports are free or cheap, and include all ages, genders, and races, he adds. He compares the vibe to a block party or children's soccer game, except adults get to be the kids too.
Even if you don't attend, Neelman hopes his photos can bring delight and wonder to whoever sees them. "I tell people I might be the only photographer who wants people to laugh at their photography," he says with a laugh himself. "I'm passionate about photography and what I do, but I really want people to get a sense and feel of what it's like to be at these events where there's so much joy."