Even World War II Had Its Weird Side
Strange and unexpected photos of wartime innovation, animal mascots, and Churchill in a onesie.
In the vast archive of photos held at Britain's Imperial War Museums (IWM)—some 11 million images—there are some that defy all expectations of what life was like during wartime. One of the Royal Navy's mascots, Venus the bulldog, hangs out a porthole and wears a jauntily-angled hat. Spitfires are painted pink to blend in at sunrise and sunset. A woman adorns a cow with white stripes.
These are the lighter, unexpected, eccentric moments, enlivened with odd facts and unusual stories, that make up the new IWM book Weird War Two: Intriguing Items and Surprising Stuff from the Second World War. "Not only does this book offer some remarkable and often unbelievable anecdotes, but it highlights the tenacity of the people who lived through some of the darkest days in our history," writes author Peter Taylor. "This book is proof that the truth is often stranger than fiction."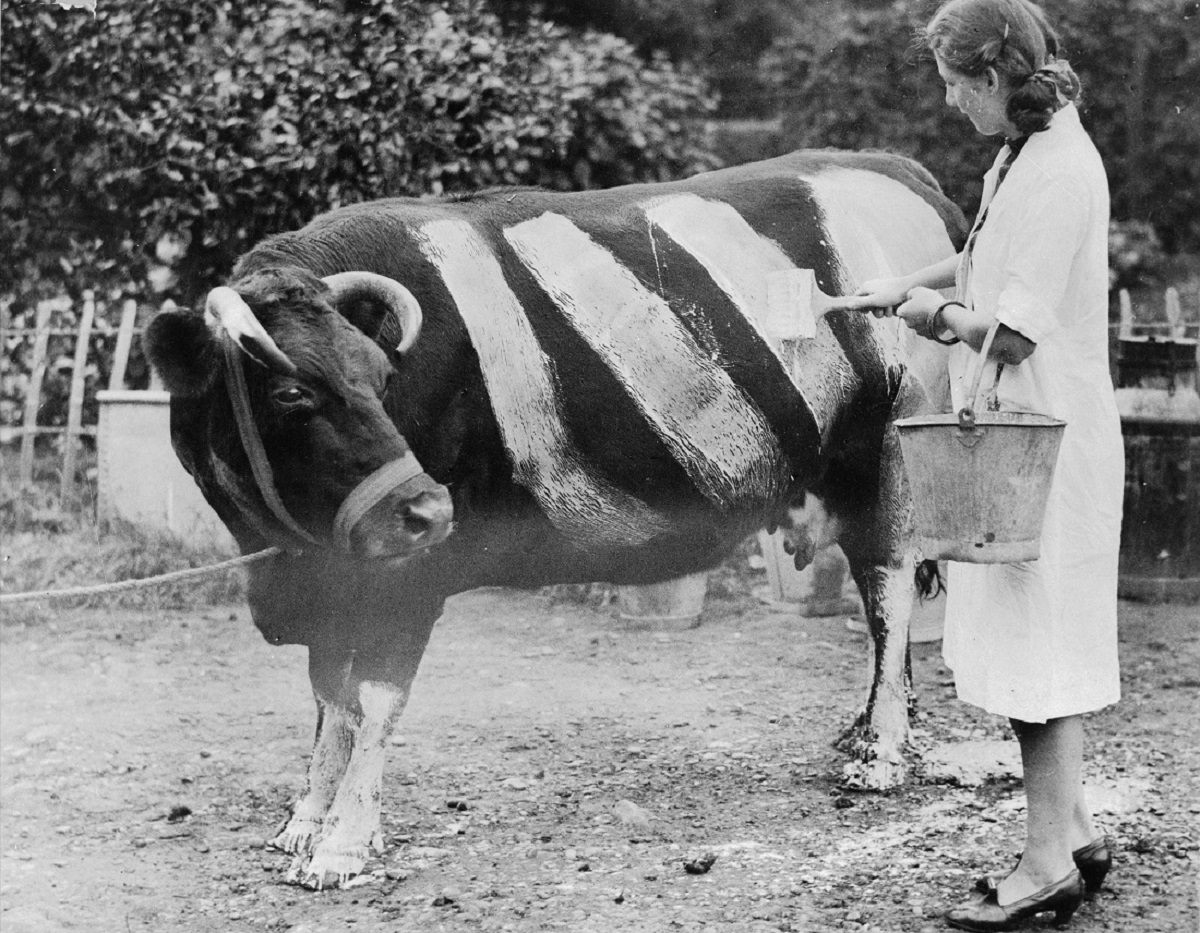 In many ways, the images in the book are testaments to the British wartime "Make Do and Mend" spirit—ingenuity, practicality, and positivity in the face of unimaginable dangers. Consider the woman painting the cow. This curious moment reflects a lesser-known aspect of Britain's wartime blackout (when all the lights were extinguished at night to foil nighttime bombing raids): the dangers posed by cattle wandering around in the dead of night. The stripes helped make cows more visible to motorists.
In fact, Weird War Two has several pages devoted to inventive ways Britons coped with six years of dark nights, including a "kerbfinder" apparatus to help pedestrians stay on sidewalks and the Brighter Blackout Book, a compendium of parlor games for passing long nights. There are other innovations as well, such as inflatable tanks to trick the enemy (such decoys were used on all sides of the war), brightly colored gas masks for children, and shoe soles designed to leave barefoot prints (to resemble those made by local people in Southeast Asia).
Many of the photos also happen to include animals, which must have provided some levity and comfort in the dark days of the war. There are mascots, livestock, and work animals, but also circus elephants pressed into service, a paratrooper dog, a kitten in a hammock, and the good luck monkeys of Gibraltar. Even Winston Churchill himself gets into the act, in a photo with a baby and wearing one of the "siren suits" he himself invented—a kind of onesie or boilersuit that could be pulled on for warmth and modesty during a nighttime air raid. According to the book, he liked them so much he owned several, in denim, pinstripes, and velvet, and even wore them to meetings with world leaders.
Atlas Obscura has a selection of these images from the book, which contains scores more unusual objects and stories from the war.