Inside the Final Days of New York City's Last Dairy
Elmhurst Dairy closes its doors in late October. What happens when a metropolis loses milk?
On a recent Friday between 2:00 a.m. and 9:30 a.m., Anthony Vasquez wound his truck through midtown Manhattan, making 40 stops to deliver milk for Bartlett Dairy. New York City is America's largest, most complex dairy market. A bodega or deli might order a few quarts; Starbucks might need a truckload of gallons. The range in the scale of customers, the congestion, and the confounding parking regulations all contribute to the market's eccentricities.
Delivering milk has always been hard work because time is critical and milk is heavy. In New York City it also requires strategic thinking. As Vasquez wheeled stacks of 50-pound crates on a handcart or lugged them up and down stairs, he fine-tuned his route for maximum efficiency and minimum parking tickets. (He only got one that morning, his first in a week.) And he reflected on an upheaval in the city's dairy market that will affect the route he has been driving for 12 years: Elmhurst Dairy, New York City's last milk processing facility, will be shutting down for good this weekend.
"It is going to have a big impact on our small business," Vasquez said. "I think it is going to hurt a lot."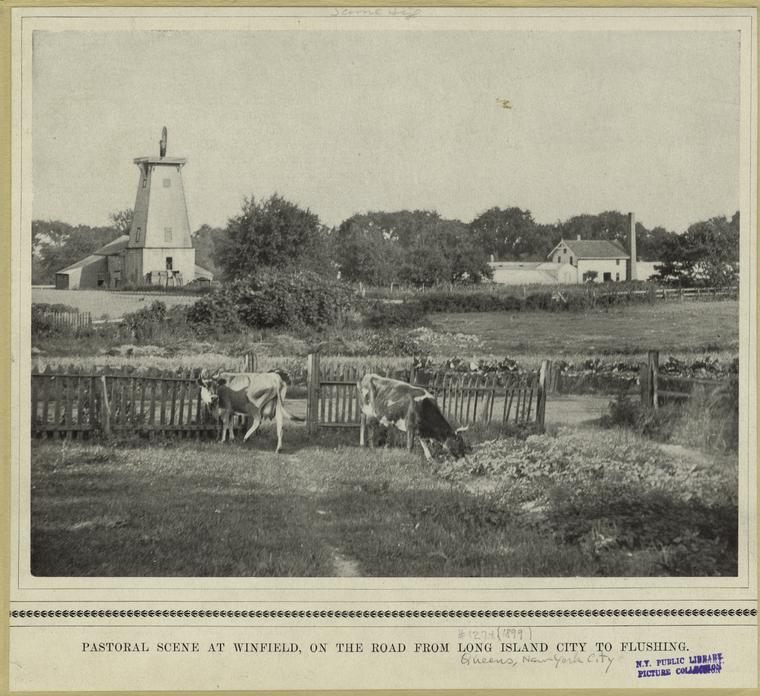 Based in Jamaica, Queens, Elmhurst supported a unique network of distributors, like Bartlett, provided about 270 manufacturing jobs in a city where such jobs are scarce, and was the sole supplier of more than 110 million half-pints annually to public schools. Its closure, which seemed inevitable to some observers and has shocked others, is rippling out across the city and state. Such disruption is nothing new—New York City's dairy industry has been undergoing disruption since it was born. Its peculiarities have shaped aspects of national dairy policy and its goings-on have sometimes been at odds with milk's wholesome image: poison, death, violence, and Pete Seeger all appear in its two-century history.
But the forces contributing to Elmhurst's closure are hardly local. Nationwide, the story is the same. Cows are producing more, consumers are drinking less—much as they did in the past, before the ascendancy of milk. Elmhurst's demise represents a kind of coming full circle, in New York City and across the country.  
---
Cows' milk first came of age as a consumer product in New York City in the mid-19th century. Before then, by and large, urbanites ate durable dairy: cheese and butter. And urban babies drank mother's milk. Pace University sociologist E. Melanie DuPuis, author of Nature's Perfect Food, points to many reasons nursing was outsourced to the cow—among them, middle class women's expanding roles outside the home. Cows provided a degree of liberation.
As the city's population grew, pasture dwindled. Remaining herds were packed in small quarters where disease spread and where the nearest, cheapest feed was distillery or brewery mash—a nutritious slop that rendered milk blue, redolent of alcohol, and clumpy. Chalk, magnesia, or plaster were often required to transform the milk into a substance that looked like milk. The contaminants and the bacteria thriving in the unsanitary dairies contributed to skyrocketing infant mortality. Two of today's federally required tests, for water and for fat content, are a direct legacy of this era. "New York City was a pioneer and innovator in solving problems," said Andrew Novakovic, an agricultural economist at Cornell University. "Sometimes it was solving stuff that New York shouldn't be proud of. But that is part of the story."
A restored Elmhurst Dairy Divco truck. Courtesy Elmhurst Dairy
By the early 20th century, temperance advocates and public health activists had made "swill milk" illegal in New York City and pasteurization was the new cause. Nearly all the city's milk came via train or truck from upstate, restoring milk's rural, wholesome image. As was true in other regions, this flow was described in the same terms as the flow of water: as a milkshed.
The industry's reputation soon regressed. Farmers, squeezed by low prices set by growing conglomerates, began striking in upstate New York. In a famous 1933 essay Edmund Wilson described law enforcement's brutal response—employing "sub-machine guns, gas bombs and riot sticks"—to one strike. A later strike had vocal support from Pete Seeger and his troupe, the Vagabond Puppeteers. Industrialization was also up-ending consumers' bucolic image of rustic farms and ambling cows; the Rotolactor, an iteration of the mainstay of mechanized milking today, had been recently invented. At the 1939 World's Fair in Flushing, Queens, Borden—one of the conglomerates—introduced its wide-eyed mascot, Elsie the Cow, in an effort, according to historian Anna Thompson Hajdik, to recoup some pastoral cred.
Milk delivery in Manhattan, 1936. New York Public Libary/Public Domain
The doyenne of what was to become the Elmhurst Dairy was at that fair too, dropping by to demonstrate how to milk a cow by hand. Dora Krout ran one of the last dairy farms in the city and although the cows ultimately had to go, she and her relatives merged their various dairy companies, focusing on processing and distribution. Her son-in-law and, then, her grandson, Henry Schwartz—the dapper, 82-year-old chief executive officer of Elmhurst—steered the family business through many other disruptions—including regulatory changes as well as regional and global milk-market restructuring that, respectively, opened the city's dairy companies to outside competition and led to a decline in U.S. milk prices overall.
---
In the 1980s, many city processors began to fold. Some of their related distributors, including Bartlett, moved their offices and trucks onto the Elmhurst compound, which covers 15 acres in a neighborhood rich in automotive repair shops. "I don't know any place in the world that had the system Henry had," Novakovic said. Those sub-dealers "were part of the ecosystem of the Elmhurst plant and allowed him to stay alive." As many as 20 tankers a day would travel from upstate to unload milk to be separated, homogenized, pasteurized, packaged, and then delivered by city-savvy drivers, like Vasquez, who could handle narrow streets, unruly traffic, and an eclectic clientele.
Elmhurst dairy products. Courtesy Elmhurst Dairy
Many observers thought Elmhurst would survive because it was the last plant standing. But Americans have been drinking less milk and increasingly consume dairy in other forms—just as they did before the 19th century—with many opting for organic, this era's pastoral icon. And milk prices, long volatile, have plummeted recently. "It finally got to a point where it didn't make sense to continue any longer," Schwartz said, "and so I have had to reluctantly decide to close this business."
The ecosystem Elmhurst cultivated has come apart. It owned the city's only N-8s—elegant, mesmerizing machines that fill half-pints—and the Department of Education now will be getting half pints from several distant plants—one in Buffalo. Bartlett intends to build its own milk processing facility with half-pint capability near JFK airport by 2020. But for now, it will no longer deliver to all public schools, only to those in Queens and Staten Island. "I've got one little school; the lady likes her milk before 8:00," Vasquez said. He parked the truck, unpacking what would be one of his last deliveries at a public school in Chelsea: two crates of Elmhurst half pints, light blue cartons for skim, purple for one percent. "I love my job," he said. "I love my route."