The Genre-Bending World of Amapiano, South Africa's Township House Music
You can't not dance when amapiano comes on.
Secret Obsessions is Atlas Obscura's new column where we ask wondrous people to take us down a rabbit hole. This edition features Emmy-nominated producer and television host Selema Masekela, as told to Associate Editor Sarah Durn.
Oh, this is a vibe.
It was like the whole crowd was moving in unison. The dancing was joyful, expressive, with a bit of bravado, like the dancers were telling the story of the music with their bodies, their faces. And the music, it felt both distinct and familiar, like this incredible fusion of traditional South African township music, but over extremely technical and super-melodic electronic beats. From the grit and essence of the townships comes this beautiful, endless melodic space for electronic music. This was the form's newest iteration, this was amapiano. And it was fire.
Mouth-watering smells of street food wafted through the throngs of dancing bodies. It was December 30, 2019, and I was at the Joburg AFROPUNK festival with some friends, some of whom had never been to South Africa before. The music at the festival sits at the intersection of all South African music, from more traditional music to punk rock to electronic to even American artists. And it all happens in downtown Johannesburg—10,000 South Africans all dancing and vibing in one place.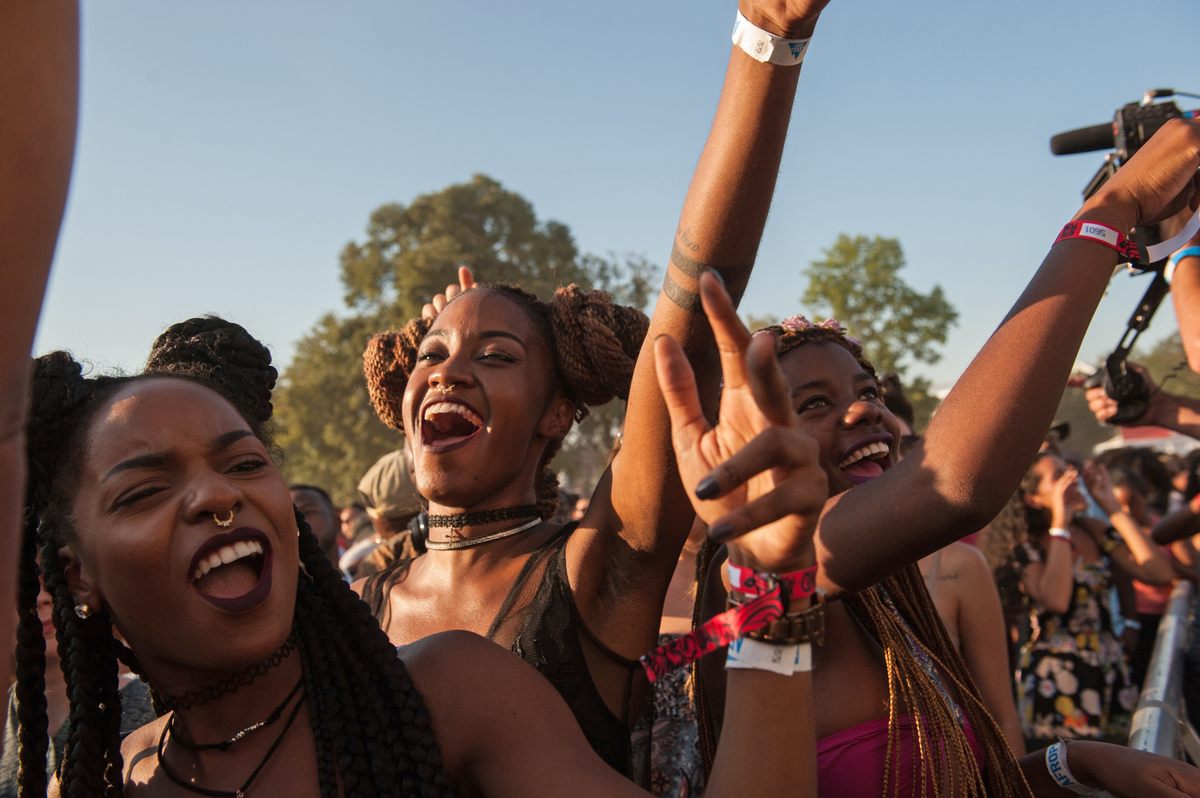 The first time I went to AFROPUNK, a global pop-up festival featuring art, fashion, music, and film by Black artists, was in Brooklyn. I was blown away. I remember how distinctly freeing it was to be in an environment that featured Black music and Black culture, but not in a sort of monolithic manner. The media often places Black music into very specific boxes: There's R&B, hip-hop, rap. But the great thing about AFROPUNK is that it's all the things in between, all the different layers between the boxes people think Black culture exists in. It allows for the entirety and wide array of our various and unique interests as human beings in the midst of our Blackness.
So here I was at Joburg AFROPUNK watching these kids dancing; I mean, you can't listen to amapiano and not move. But after the set ended, the festival just rolls right on into the next artist. I had no idea who or what I had just heard. I didn't know what it was called or if there were other artists out there doing a similar thing.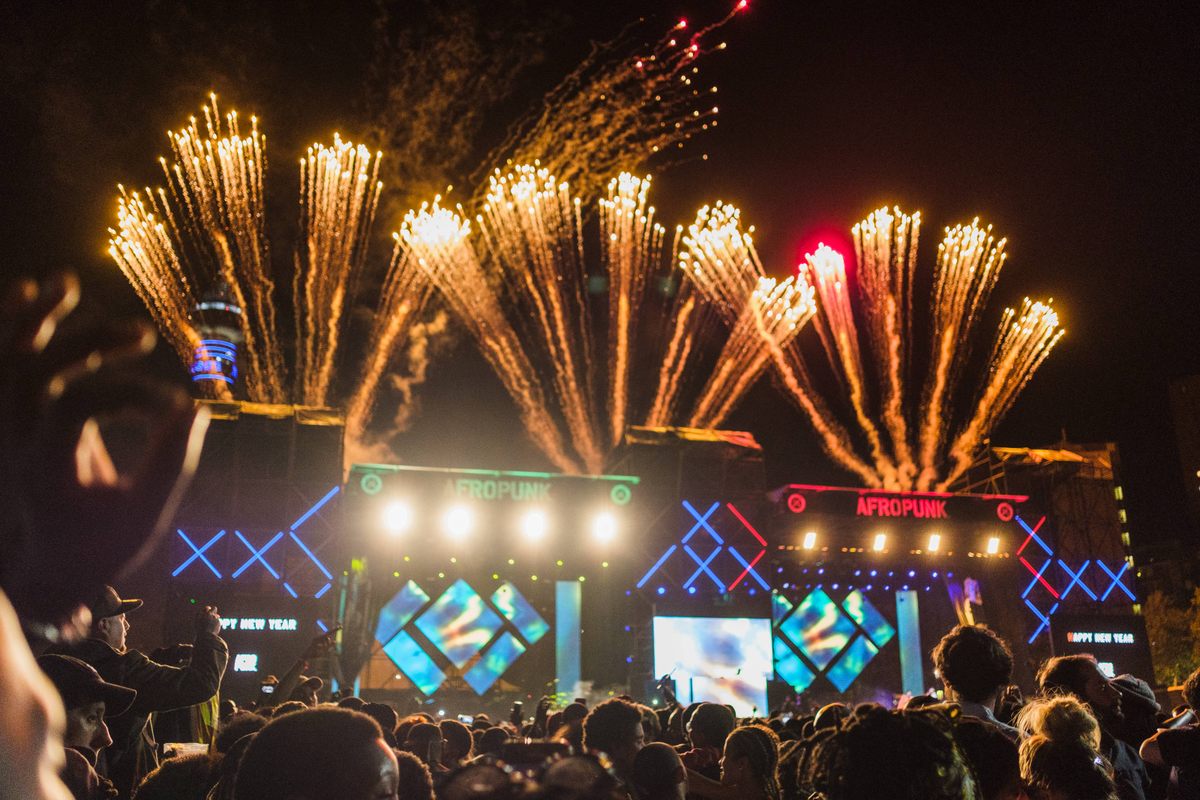 After the festival, I looked up the DJ on Spotify and started poking around at similar artists on Spotify. That's when I started to realize that this wasn't a one-off. This wasn't just an off-shoot of kwaito, a South African house music genre from the 1990s. All these songs all had this distinct rhythm with these instrumental tracks that ride the beat. Any lyrics are sung in traditional South African languages. And the artists layer beats on beats on beats but somehow, in the end, it all just fits.
Months after AFROPUNK in Joburg, I asked my younger South African cousin, who's really into the music scene there. "Yo! I've been listening to this. What is this?"
"Oh yeah. No, no, man, that's the new thing. That's the next thing. It was born from kwaito. It's amapiano."
It had a name, I was hooked. I looked up "amapiano" on Spotify and found hundreds of playlists. That's still how I find different artists or songs. There's a song called "Bella Ciao"—that's my present obsession. There's this other Kvng Vinci song that takes the theme from Squid Game and makes it the hook of this song called "Squid Game Amapiano." It's fire! Then there's this other artist that I love right now called Musa Keys. I follow him on Instagram and seeing the way kids are just losing it at his shows, the way he performs, the dances that he does, it's just super cool.
Just two months ago, someone sent me a DM and was like, "Yo, you have to listen to this song. It's got your name in it!" That's actually how I discovered Musa Keys, through his song "Selema (Po Po)." I was like, "Woah! My name is the hook of this song." And it's a huge song on the continent and in South Africa. There was like a "Selema" dance challenge at one point. And my name isn't common. The only people I know with my name, other than my grandfather who passed away, is my cousin. I don't really know if the song is about me, but I also don't know who else it might be about.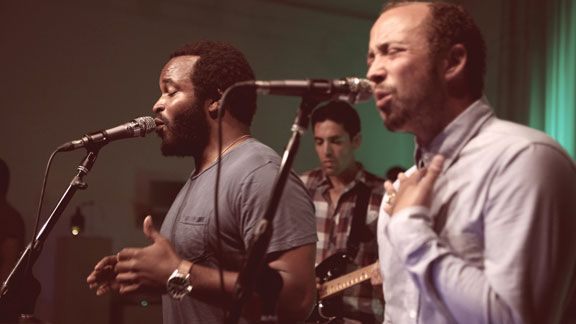 It's just so inspiring to witness this movement. I have an immense amount of pride knowing that that's where I come from. I didn't get to grow up in South Africa, but my dad named me specifically so that I could have a South African name that I could be proud of. And to hear it all echo back to me in a song feels like an acknowledgment that this place, its people and culture, will always be a part of who I am and what I'm about.
Selema Masekela is an Emmy-nominated producer, television host, sports commentator, and half of the surf R&B band Alekesam. His passion for surf culture led him to become co-founder of South African surfwear brand Mami Wata, which launched stateside in fall 2021. Under the Mami Wata brand, Selema co-published the Amazon bestseller, Afrosurf, a stunning book celebrating African surf culture.