Teddy Bears Are Taking Over Prince Edward Island in Canada
While locals shelter in place, stuffed toys are popping up by the hundreds on porches and windowsills.
No one has seen a wild bear on Prince Edward Island, Canada's smallest province, since the 1930s. Now, prompted by the COVID-19 pandemic, thousands of islanders are hunting bears from the safety of their cars. To be clear, the bears in question are the cuddly, fuzzy variety—Ursus teddybearus, the kind that children take to bed for comfort and security. They're popping up by the hundreds on front porches, mailboxes, lawn chairs, and windowsills.
On March 23, Kim Baglole, a resident of Summerside who was looking for some way to respond to the pandemic, created a Facebook group that encouraged islanders to track down the fuzzy creatures. The Prince Edward Island (PEI) Bear Hunt was born. Within a week, the group grew to 7,500 members, and it's still growing. "I just wanted to start it for something fun," Baglole says. "People want to be socially distant, but they're used to coming together. We're raised from birth to be cuddled and snuggled, to hold hands, to kiss and hug, to have get-togethers. All of a sudden, we have to stop all that."
At the beginning, Baglole simply asked members to place teddy bears in their windows. "The goal is for people to get in the car, drive around, and count," she says. "Make a game of it. It's giving families something to do." Immediately, bears began appearing around her neighborhood. Those who didn't have bears used other stuffed animals—"stuffies," as Baglole calls them.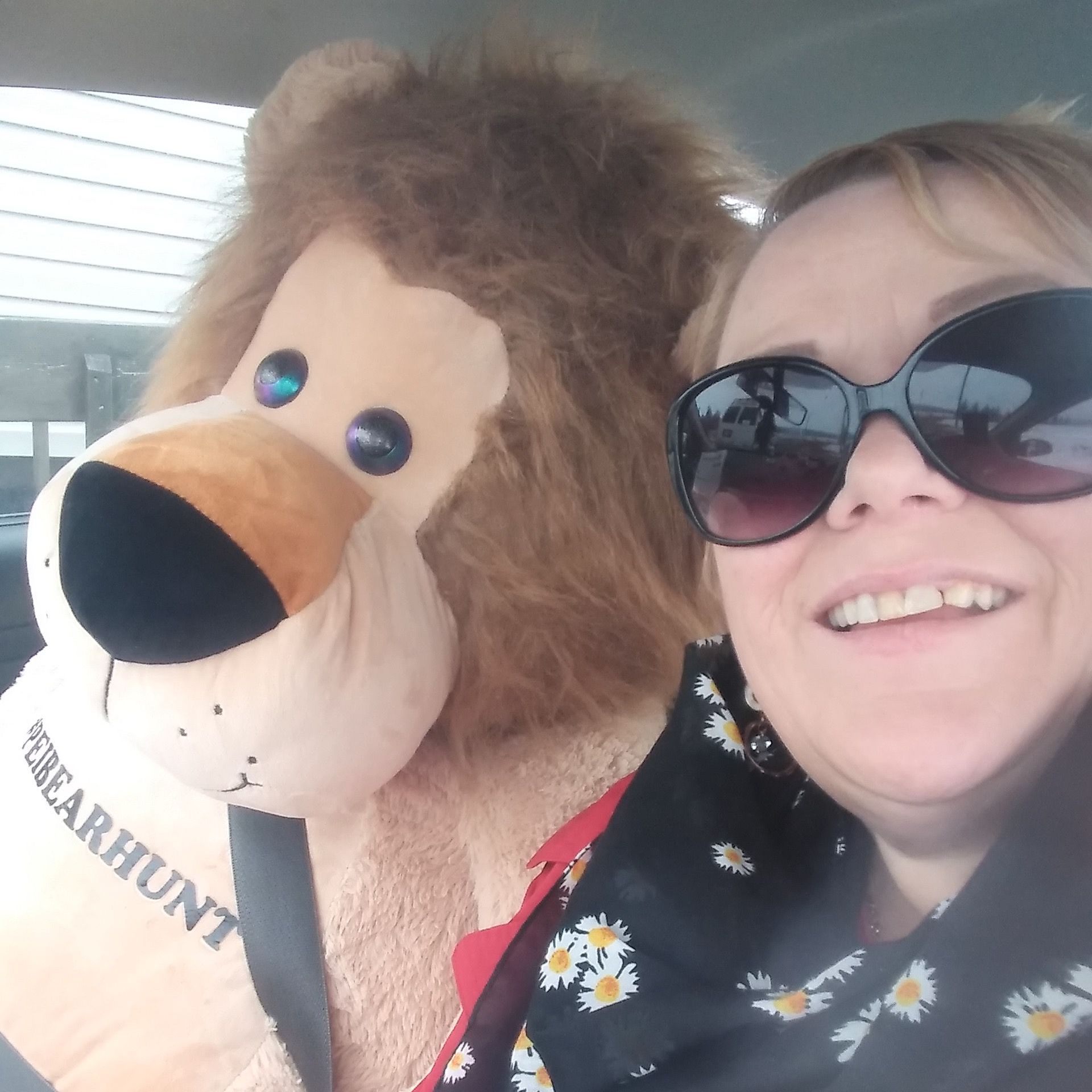 Baglole herself couldn't find a stuffy in the house anywhere, so, as is her nature, she improvised. "I had a little bumblebee costume I bought for my Shih Tzu that was too small for him. I stuffed that with his winter coat and hung it in the window." Then her sister bought her a four-foot-tall bear that now moves between her patio and her car, bearing a pair of "glitzed-out bear-noculars."
The inspiration for the PEI Bear Hunt came from friends in Baglole's hometown of Gander, Newfoundland, who started a similar group a few days before, inspired by the children's book We're Going On a Bear Hunt by Michael Rosen and Helen Oxenbury.
On Prince Edward Island, members were soon posting about the difference the hunt was making in their lives. "One lady said her son has been depressed," Baglole says. "His birthday happened and he's not allowed to have friends, so they took him bear hunting. He came home and put bears up in their windows, and he's talking and laughing again."
Baglole also tells the story of a woman whose grandchildren came for sleepovers every weekend, their beds filled with stuffed animals. After three weeks without a visit, Baglole says, "She put the stuffies in the window. Her grandbabies came by to see them, and they all ended up crying with excitement."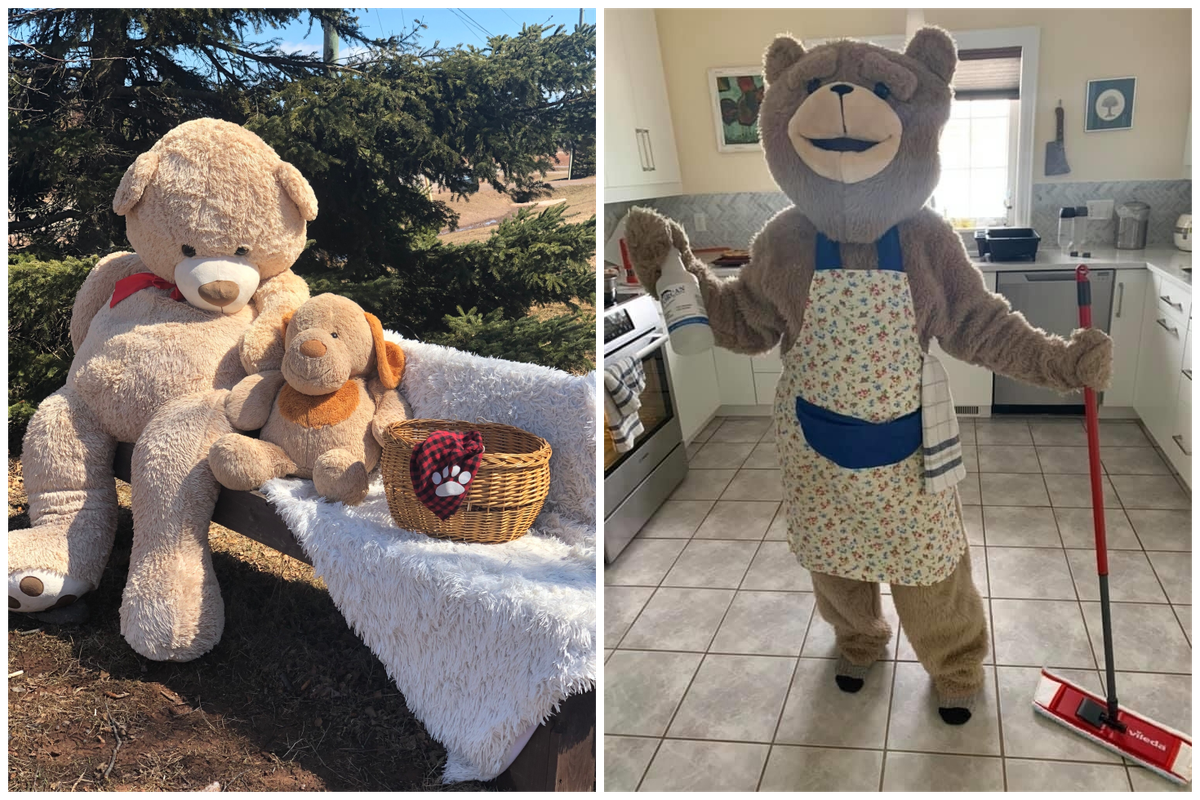 Stories like these inspired group members to get even more creative. David Farrell dressed in a bear suit and posted videos and photos of himself reading to teddy bears, playing mini golf in the living room, cooking, cleaning, and dancing in the kitchen. Toby MacDonald created a character she calls Maximus Moose. She photographed her stuffed animal teaching math using the window as his white board, helping with the cooking, and sending messages of support to front-line workers.
Last summer, Baglole had to leave her part-time waitressing job to care full-time for her husband, Kevin. "He's immunocompromised, so we stay home a lot," says Baglole. "His lungs are working 35 to 45 percent from complications from multiple sclerosis. I keep him pretty ensconced in the house."
With her own experiences in mind, she has turned the PEI Bear Hunt into a vehicle for supporting others. When she learned that a single parent had lost her income and was living in isolation with her 14-year-old daughter, Baglole says, "I took my $25, all I had left in my account. I reached out to my family, and I had $80. Then I reached out through the Facebook page." Baglole ultimately sent her friend $300 for groceries, and had enough left over to help others.
Recently, she launched a new project: the Great Canadian Bear Hunt. It hasn't taken off as quickly as the one on Prince Edward Island. But she says that when Canadians are ready for it, "the group is there waiting for them."