How Erotic Peruvian Artifacts Inspired a Controversial Roadside Attraction
The risqué new landmark is the site of joyful selfies—and arson.
Editors' note: This story contains images of sculptures of human genitalia.
There is no right or wrong way to interact with the 11-foot-tall statue of a grinning man with an enormous phallus recently erected outside Trujillo, the biggest city on Peru's north coast.
Along a narrow strip next to a two-way road that connects the city to the ancient pyramids of the Huacas del Sol y la Luna, children and adults wander around tentatively. They exchange complicit gazes with other amused visitors, gathering courage to step in for their selfie. Once they do, it is a very short road from the timid snap under the ample shade to the reckless swinging from the circumcised member.
The crimson fiberglass structure responsible for such scenes of liberation is the scaled-up version of a ceramic vessel from pre-Hispanic Moche culture, whose people lived in the region between 150 and 700. The "Mochica," as they were sometimes called, were expert ceramists. Famous among their huacos—as ancient pottery is known in Peru—are portrayals of massive penises, masturbation, and various forms of intercourse. These artworks have long lived in museums and history books as representations of fertility and life. But seeing the imposing landmark caused commotion in a country where the Catholic church still exerts major influence on public policy. For example, consider the halted implementation of comprehensive sex education in the national school curriculum. While not a proper replacement for formal education, the statue has become a conversation starter for lessons denied elsewhere.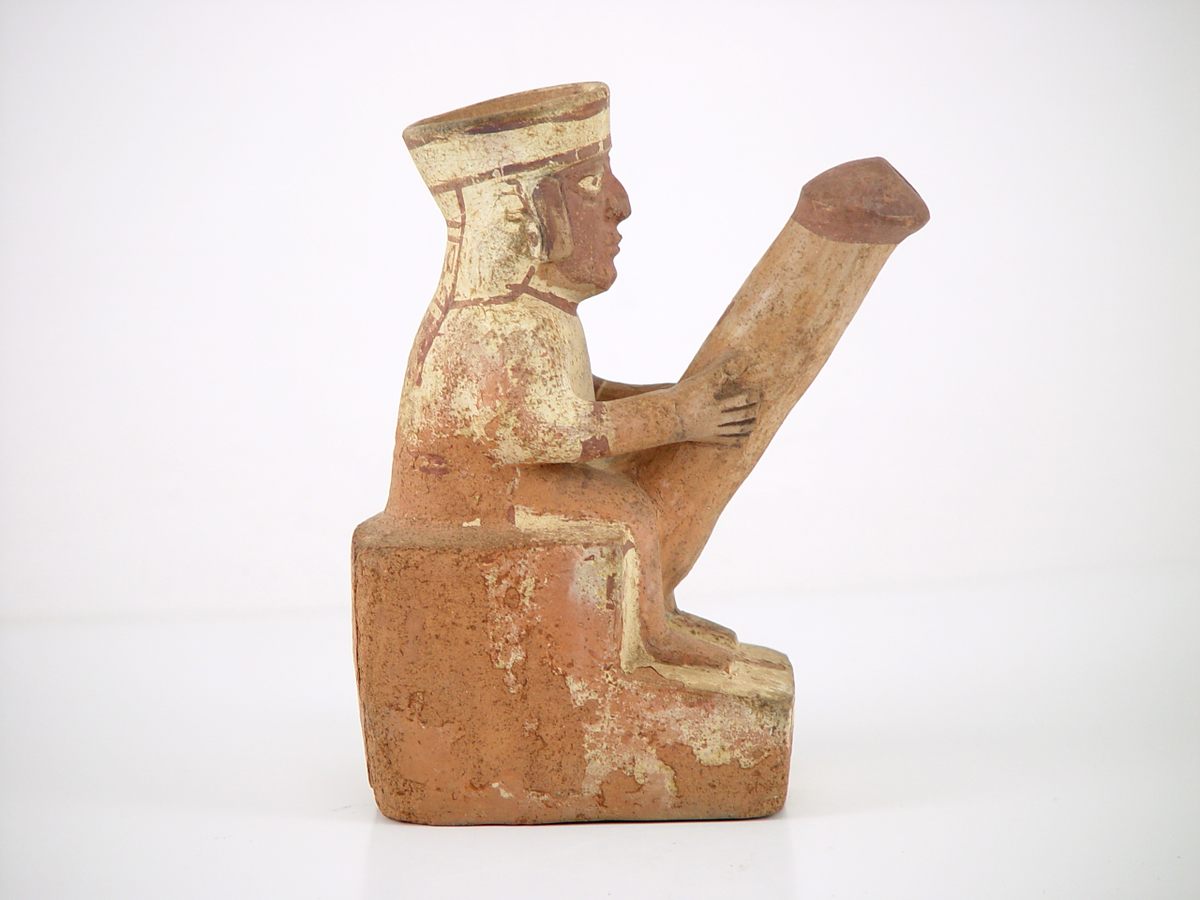 "It's not a sin anymore to talk to our kids about these things because we're talking about themselves, their own bodies," said Graciela Zamora, a local resident, moments after kissing the penis while taking a photo with her pre-teen children. The huaco's security guard, often called upon by visitors to take their family portraits, said "none of this can be offensive, because it is our culture."
There was not as much consensus six months ago, in January 2022, when the appearance of the giant huaco—installed by the district municipality of Moche to revitalize the area—challenged notions of good taste and modesty. The nudity and disproportionate virility scandalized the more conservative in the country who said such representations were okay for museums, but inappropriate in public. Most opponents spouted their "think about the children" rhetoric over social media, and a local priest urged his parishioners to "disapprove this [artistic] expression by not showing up." But people kept arriving in caravans of cars that often blocked traffic as delighted families admired the size of the new member of the town.
That is, until someone resorted to violence.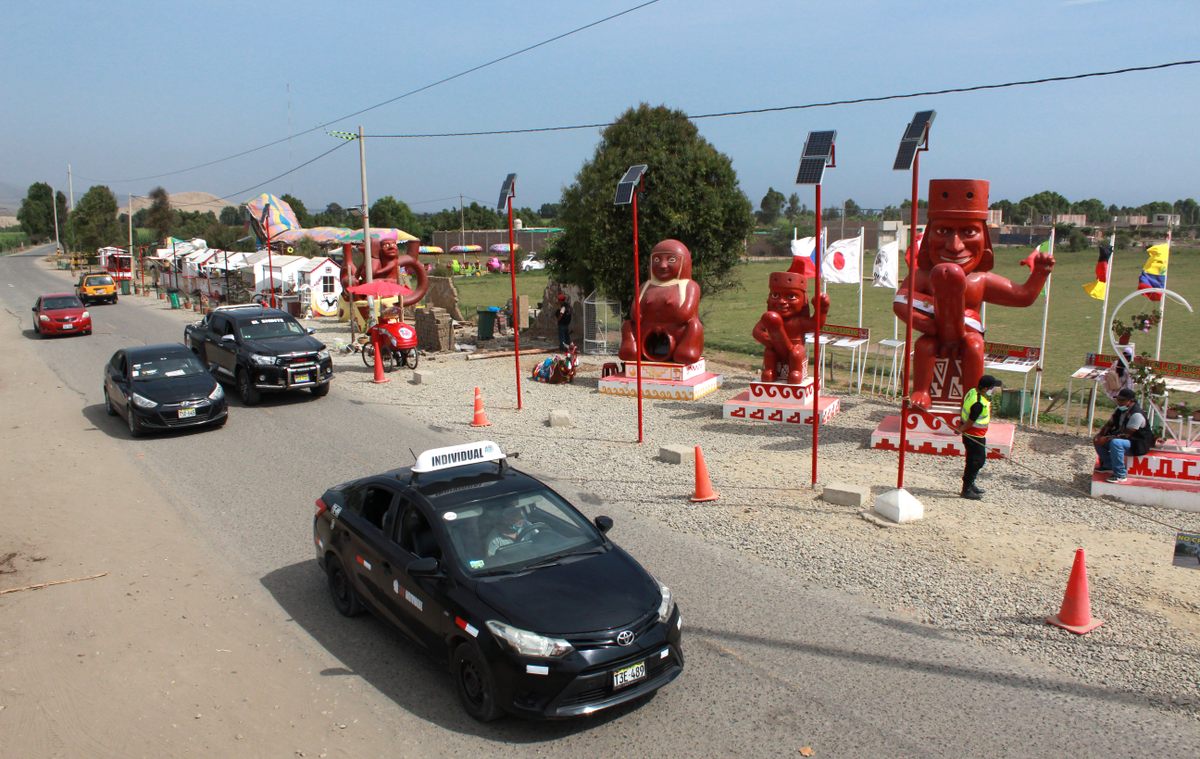 In successive overnight incidents in January, the tip of the statue was smashed open and then the whole structure burned to the ground, in incidents locals attribute to the political rivals of the mayor. A new huaco rose again in February, along with a smaller, baby-faced replica nearby. They were joined soon after by a female counterpart: a representation of a woman with an extremely enlarged vagina, along with four other colossal replicas of Moche sex pots that turned the countryside patch of gravel into an erotic boulevard. To avoid further incidents, the sculptors added fire-retardant varnish to the new, semi-flexible resins they used for each piece.
Although one of the least historically faithful of the bunch, the reconstructed original statue of the smiling Mochica remains the most popular.
"I wanted it to have a softer, more welcoming smile than the ancient ceramics it was based on," said Paco Calderón, creator of the first version of the giant huaco. Using his creative license, he gave it a raised fist as a gesture of greeting and an even more disproportionate penis size than the original, with a hollow inside to prevent the statue from toppling over.
"My ultimate goal," the sculptor said, "was democratizing art and making it public for all social classes that cannot pay the entry fee for the museum to see pieces of their own history."
While Calderón remained anonymous throughout the troubled early life of the huaco, Arturo Fernández, the mayor of Moche responsible for the installation, was thrust into the spotlight. He initially scrambled to explain the reasoning behind the colossus. Although his district is already filled with Moche-themed friezes and other non-native fiberglass pieces—the Smurfs and Mickey and Minnie Mouse among them—his opponents said it was nothing but a call for attention in a year when Fernández is running for the provincial municipality. He waved off the claims, saying the huaco is a symbol of procreation and life in what still is an arid land, as well as a contemporary marker of their heritage.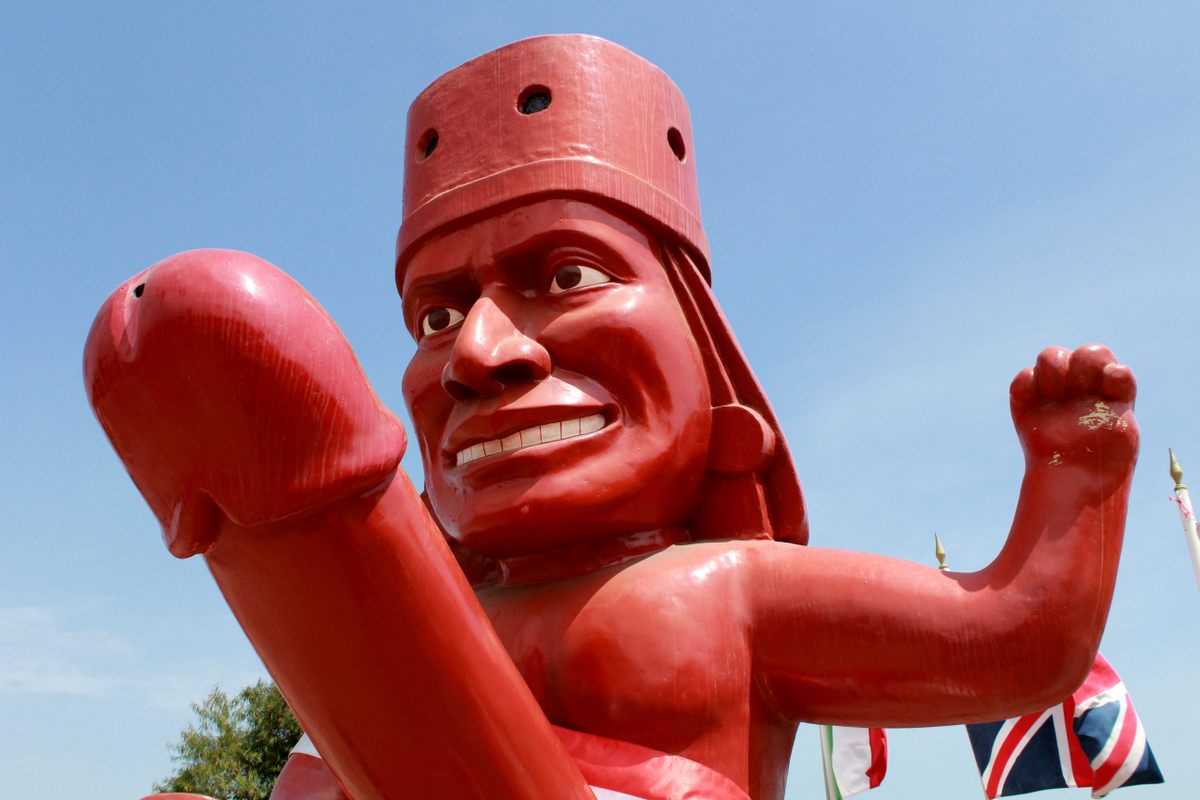 "It's like going into someone's house and finding a framed photo of their parents," he said. "It shows pride of where you come from, and we come from that Moche culture, that fertility and that love."
Whether it is love of fame or historical awareness (or both) that moved Fernández to commission the statue, no one who pays a visit seems to worry. In fact, it is surprising to see people shed their shyness after a moment of hesitation and just revel in the celebration of vigor and life.
Ulla Holmquist, archaeologist and director of the Museo Larco in Lima, home of the biggest Moche sex pot collection in the country, describes a similar feeling shared by visitors to her erotic gallery. "People discover a new, more relaxed way to relate to their own bodies, to talk about them, that is healing."
Enlarging the pots and bringing them to the side of the road, she said, is just facilitating the public's interest in their pre-Hispanic past.
Still, for some, the experience of self-actualization has devolved into a carnival of profanity, the monument stripped of the meaning intended by the ancient Moches. Smaller replicas of the huaco are sold at a small fair next to the erotic landmarks and have been seen used in bars as vessels for pisco cocktails. The statue has even already come to life as a foam mascot at birthday and wedding parties, to the delight of dancing men and women. In a country battered by COVID-19 and living in a perpetual state of political crisis, this is a moment of joy—and such responses are historically accurate, too.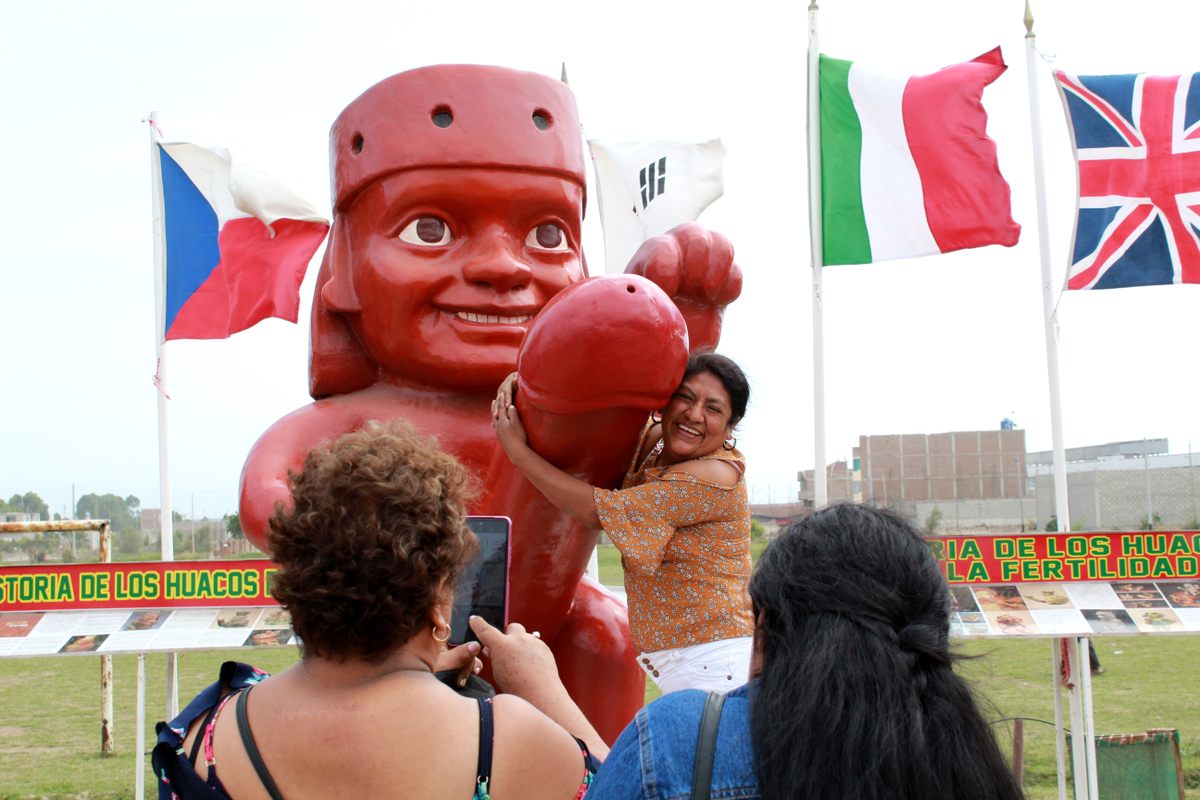 "These objects were not made to be exhibited, but to be used, and for people to drink from them," said Holmquist, who has long fought to bring Moche history to its heirs. "We can imagine celebrations where humor was not just folly or absurdity, but where it also represented a metaphorical look at life," she explained. "If we look at it that way, the use of these objects by our ancestors is not that alien from certain reactions we now see."
In dodging fires and engaging its visitors, the huaco Moche has survived attacks that would have brought down less formidable foes. It stands–still and erect, like a modern obelisk—as a monument to ancient culture and current objections, sparking conversations and a measure of soul searching.
For one religious college student who warily visited with his mother, it was an image he wasn't sure he wanted to see. But as she stepped for her selfie, he felt a change of heart. "If she was able to break that barrier of shame," he said, "why can't I?"