The Extraordinary Autobiography of an Enslaved Muslim Man Is Now Online
The Library of Congress has digitized the works of Omar ibn Said in both Arabic and English.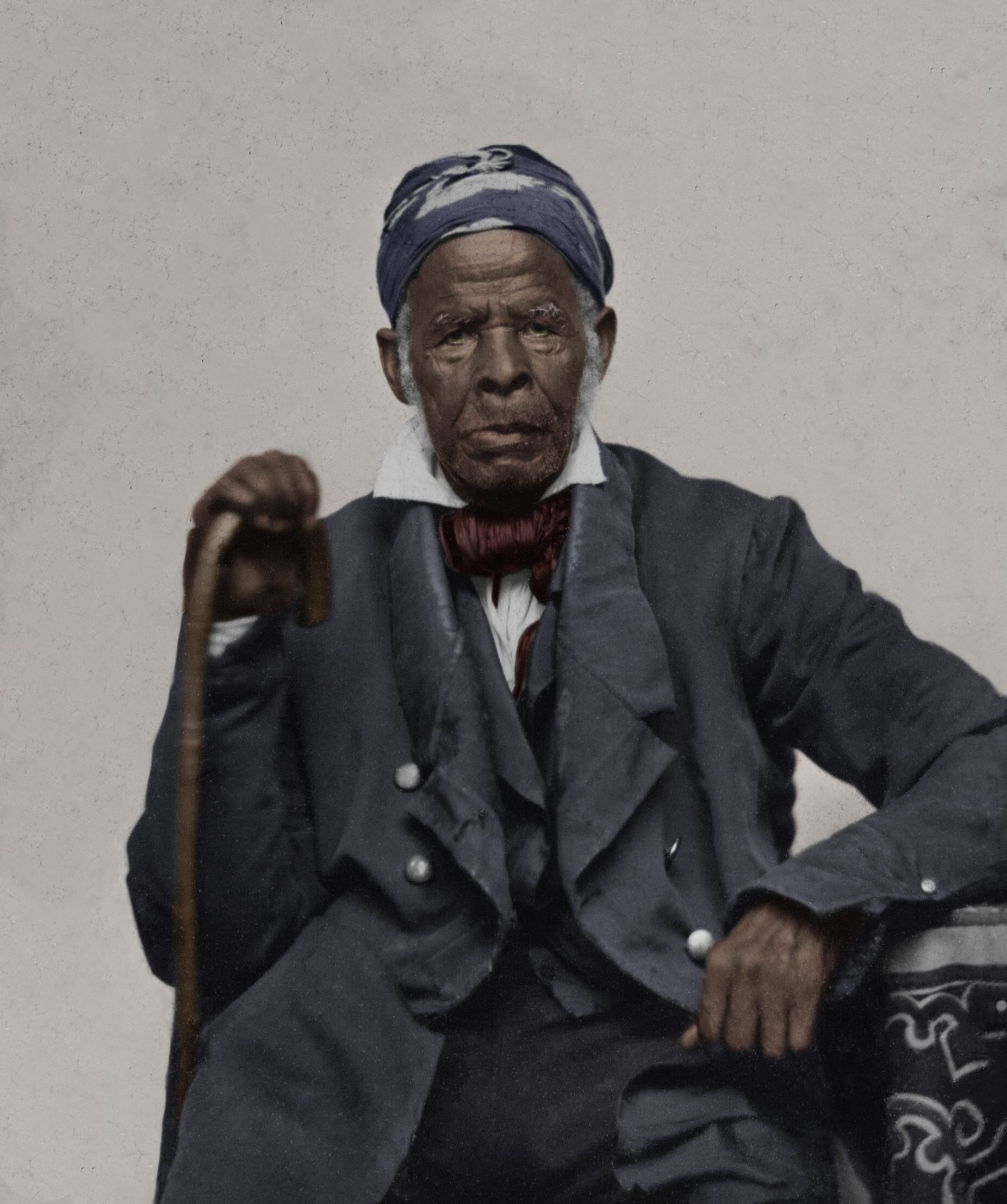 Omar ibn Said was too old and frail to endure the backbreaking field labor his master forced upon him, so he escaped. He feebly made his way into a church where he could find shelter and a moment to pray about the plight of his situation. When he was arrested soon thereafter, it unexpectedly changed his life for the better.
We know these things because Said wrote about them in his 15-page autobiography, The Life of Omar Ibn Said, written in Arabic while he was enslaved in 1831. The text is considered the most well-known account of a Muslim slave living in America. Now the original manuscript, along with 41 other documents including personal writings and letters, have been restored, digitized, and made available online by the Library of Congress.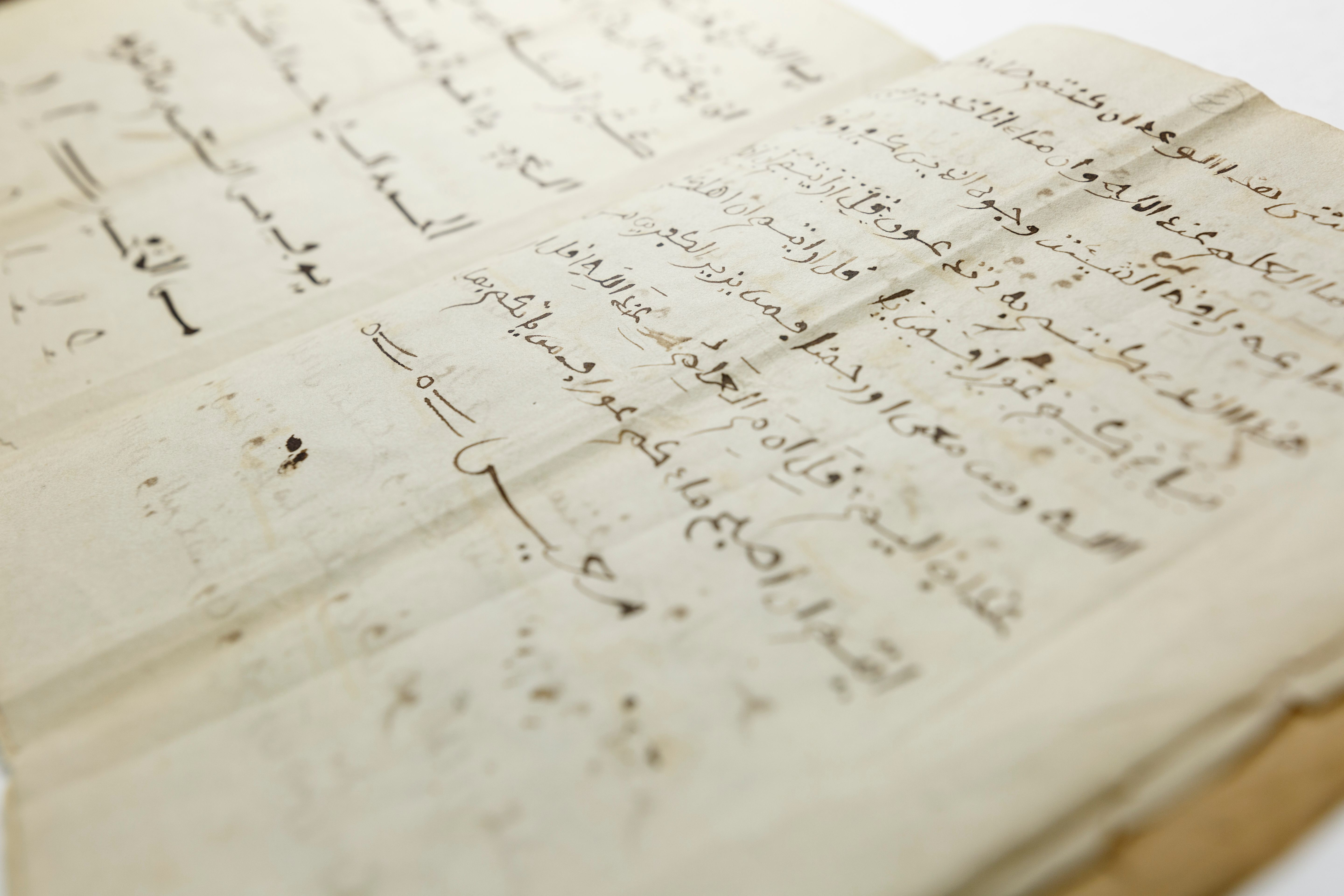 In 1770, Said was born into an aristocratic Muslim family in a region known as Futa Toro, now modern-day Senegal. It wasn't uncommon for someone in Said's position to receive years of education. In fact, for 25 years, Said studied under the guidance of three teachers, including his brother. They taught him Arabic, math, and how to interpret the Quran according to schools from across Africa. He was known as a scholar for much of his life in Africa, where he taught and worked as a tradesman.
But at 37, his entire life changed. Various tribes and kingdoms throughout Africa were at war and Said fell victim to these quarrels. "Then there came to our place a large army, who killed many men, and took me, and brought me to the great sea, and sold me into the hands of the Christians, who bound me and sent me on board great ship and we sailed upon the great sea a month and a half," he wrote in his autobiography.
Eventually, Said arrived in Charleston, South Carolina. There, just one year before the Atlantic Slave Trade would be made illegal, he was sold to an individual he described in his manuscript as a "wicked man" and "a complete infidel."
The rest of Said's writings are similarly forthright, and this approach may be one of the reasons why he chose to write in Arabic. "It is interesting to think about why he wrote this [autobiography] in Arabic and it may very well be because other biographies that we have that are in English were either dictated or edited or written by the slave owner," says Mary-Jane Deeb, chief of the African and Middle Eastern Division at the library. She adds that other narratives may have been crafted with trepidation because writing in English meant their owners could read their works, garnering unwanted attention.
In the case of Said, nobody really had a clue what he was writing—most were just enamored with his ability to craft such beautiful calligraphy.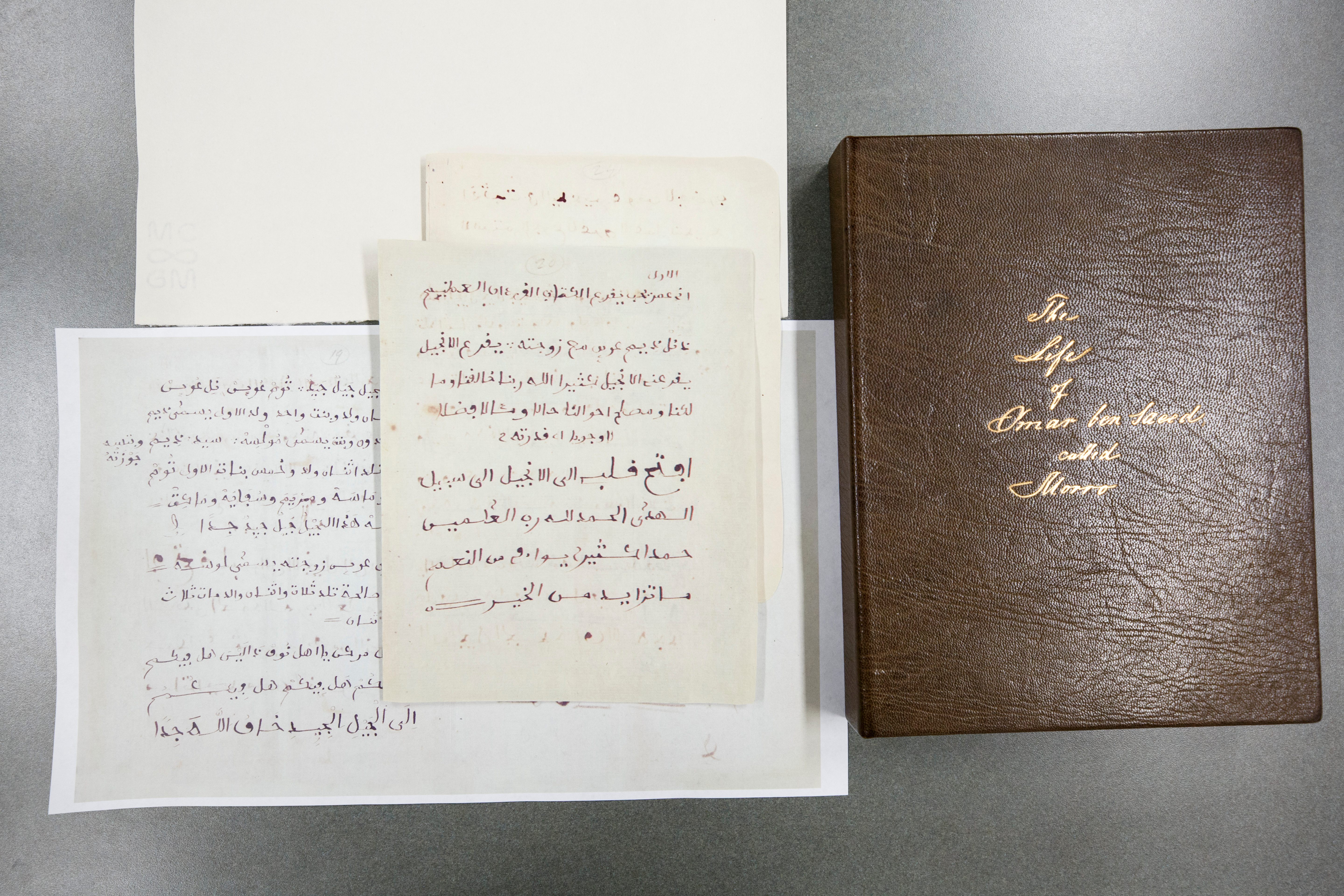 While in jail for his escape in Fayetteville, North Carolina, Said wrote in Arabic on his cell wall. Said's writing fascinated locals and eventually, he attracted the attention of John Owen, who would later become the governor of North Carolina. Owen recognized Said was an educated man, purchased him, and gave him to his brother James.
As noted by Neil Caudle in Glimpse, Said remained enslaved, but was no longer subject to physical abuse and general neglect.
At Owen's estate, Said was allowed to write and teach Arabic to visitors. He even received a Bible, written in Arabic, from Francis Scott Key. "During the last 20 years, I have known no want in the hand of Jim Owen," he wrote.
However, Said still understood the ills of slavery. His autobiography opens with a passage from the Quran, Surah 67, entitled Sūrat al-Mulk, which means "sovereignty." The chapter focuses on God's control over all things and humanity's attempts to control the world. The passage itself challenges the idea of ownership over another human being, a right that only exists within God, explains Deeb. "It is a fundamental criticism of the institution of slavery," she says.
But Said's writings weren't solely about his life or Islam. He also discusses Christianity.
Said compared the different prayer styles of Islam and Christianity. He talks about how James Owen and his wife would read him the Gospel and even pleads with North Carolinians to find a family "having so much love to God" as the Owens. In 1821, he was baptized as a Christian at the local Presbyterian Church.
But there have been debates among researchers as to what this "conversion" meant. As noted by Lowcountry Digital History Initiative, some believe that although Southerners at the time were enamored with his writing, he may have been fearful to display his religious practices freely. Even his own minister suggested that while Said was displaying the Christian faith outwardly, he may feel otherwise internally. Said's writings give us more of this nuanced story.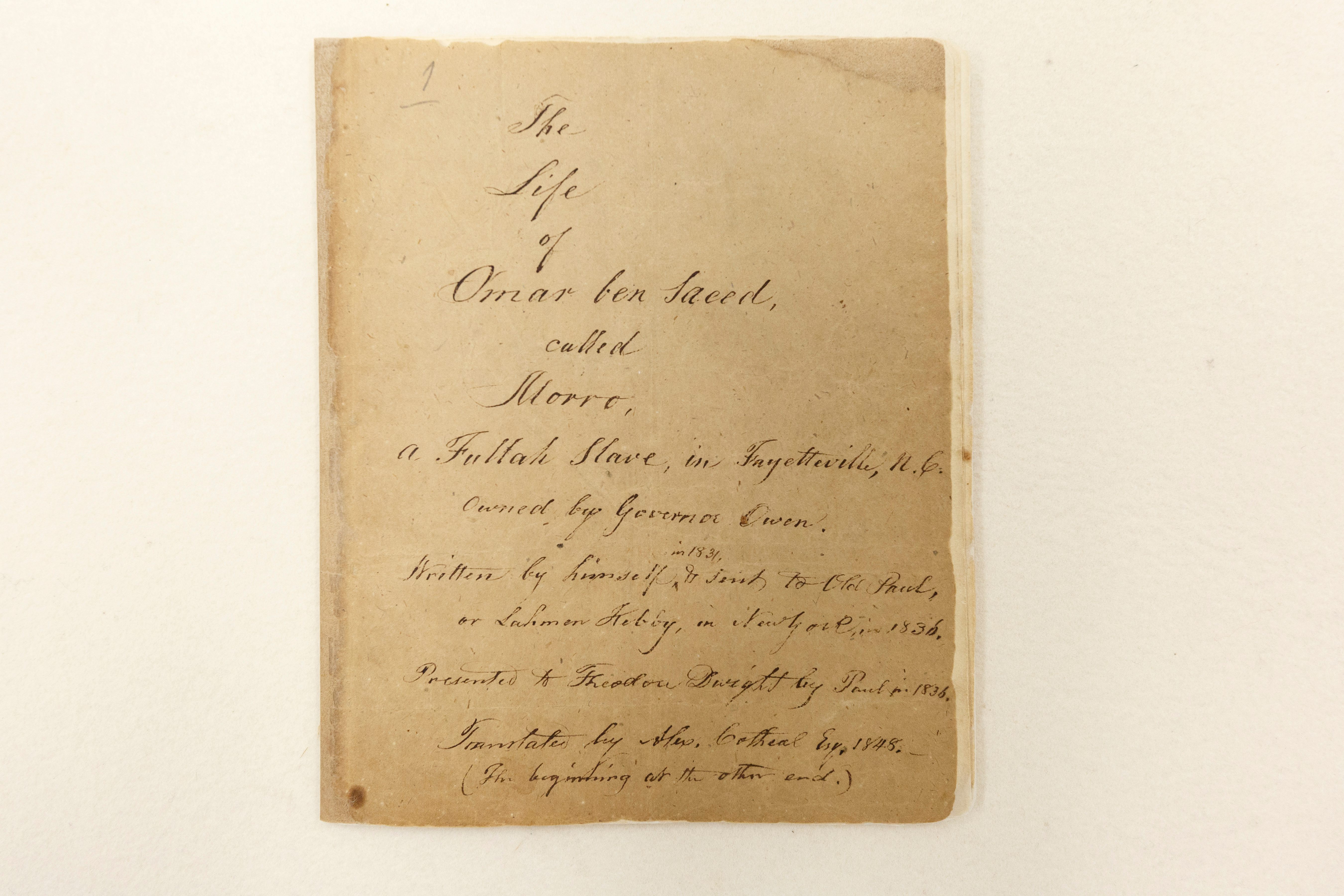 Often hidden in his works and belongings were verses written in Arabic from the Quran. Inside his Bible was the holy phrase, "Praise be to Allah, or God" and "All good is from Allah." Another writing from him, wrongly translated as a Bible verse, was actually a verse from the Quran about non-believers coming to Allah.
Although not fully fleshed out, you can see Said's examination of the theological frameworks around him in his works. His writings offer a portrait of a man who has not lost touch with his birth religion. This is evident not only in his words, but also in the materials he used.
While working to restore the collection, Sylvia Albro, Senior Paper Conservator at the Library of Congress, found that Said used different writing utensils when quoting the Quran in his opening passage. He utilized a pen with a reed-like flat tip, similar to one he used in Africa to write calligraphy. The rest of the autobiography was written with a traditional pen for the times. "From a material point of view, you can learn a lot about a person," says Albro. That simple adjustment highlights a connection to faith and tradition that hadn't wavered in spite of his enslavement.
Albro has been working hard to restore Said's papers. The collection came to the library via the private trove of Derrick Beard, a collector of African-American memorabilia. According to the LOC, it was Beard's desire for the library to display the materials for researchers to study. But prior to reaching Beard, the texts had gone on a long journey. The cache was originally assembled by the abolitionist Theodore Dwight in 1860. Dwight also commissioned scholars to translate some of Said's letters. The collection changed hands over the decades and at one point was lost for nearly 50 years.
This voyage caused the items to garner their fair share of damage. Tears had begun to develop because of the constant handling of the manuscript.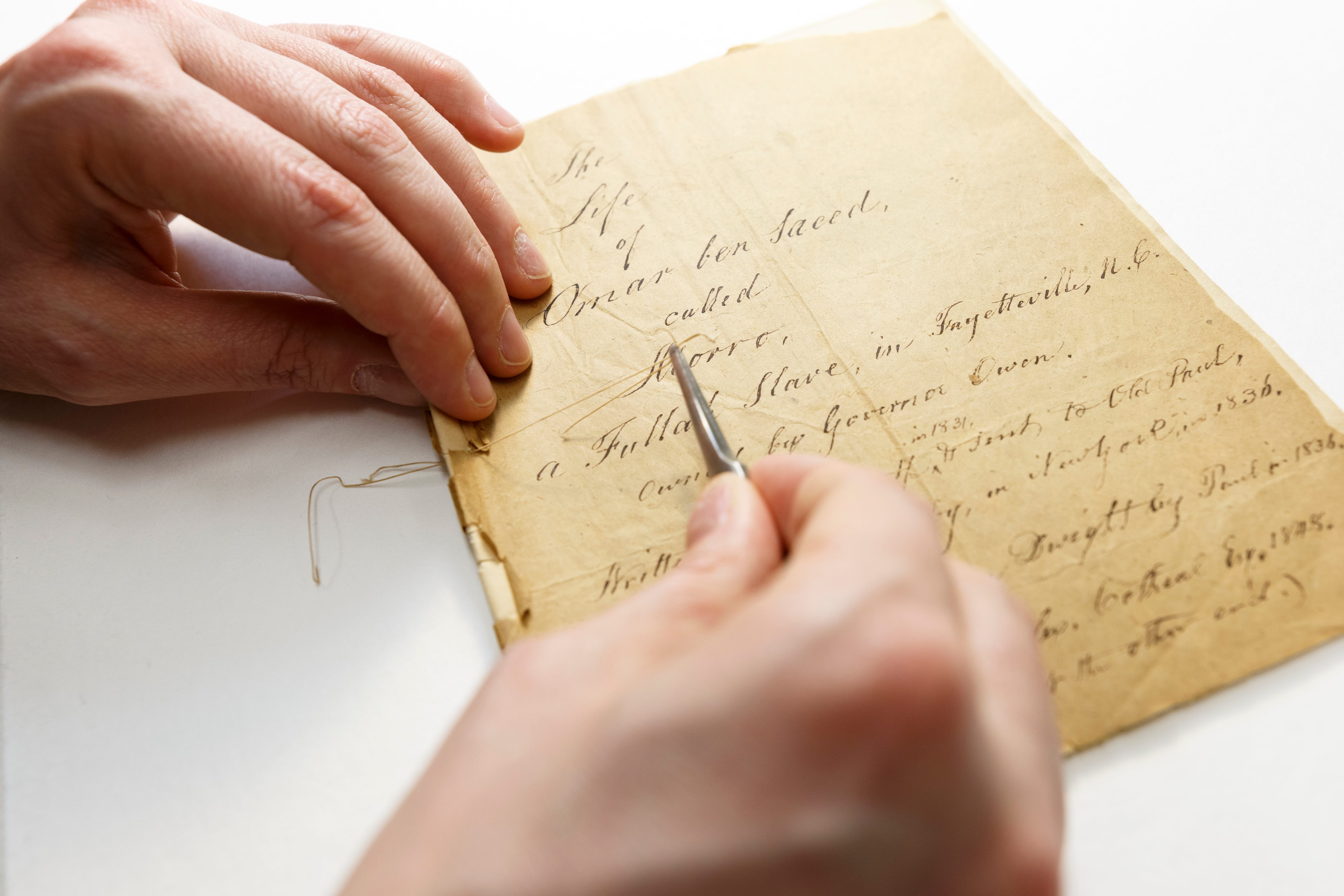 Restoring the cover of the autobiography was a task in itself. A cover was attached around 20 years after the text was written. Albro likened it to brown wrapping paper in feel and functionality. To preserve it, she treated the material with an alkaline bath to remove some of the acids before it could be placed back on the manuscript. Had that not been done, the other pages would slowly turn brown from the acidity.
What was fascinating about the cover, according to Albro, was that the original thread holding everything together is the same type found in other West African Arabic manuscripts collected by Dwight. Like his choice of writing implement, it's another material connection between Said and Africa.
The story of Omar ibn Said ends with him living out his last days in Bladen County, North Carolina, with the Owens. He died at 94, a year before slavery was abolished in the U.S.
No one is sure why Said wrote his autobiography or for whom. But those questions aside, it is a fascinating journey into the mind of a complex man living during tumultuous times. Said's tale forces historians to dig deeper into the past to further understand a period in America where the histories of thousands were ignored.