Chasing McDonald's Pizza, Deep Into Ohio
Podcaster Brian Thompson's jokey search for a lost menu item has led him on some surprisingly serious adventures.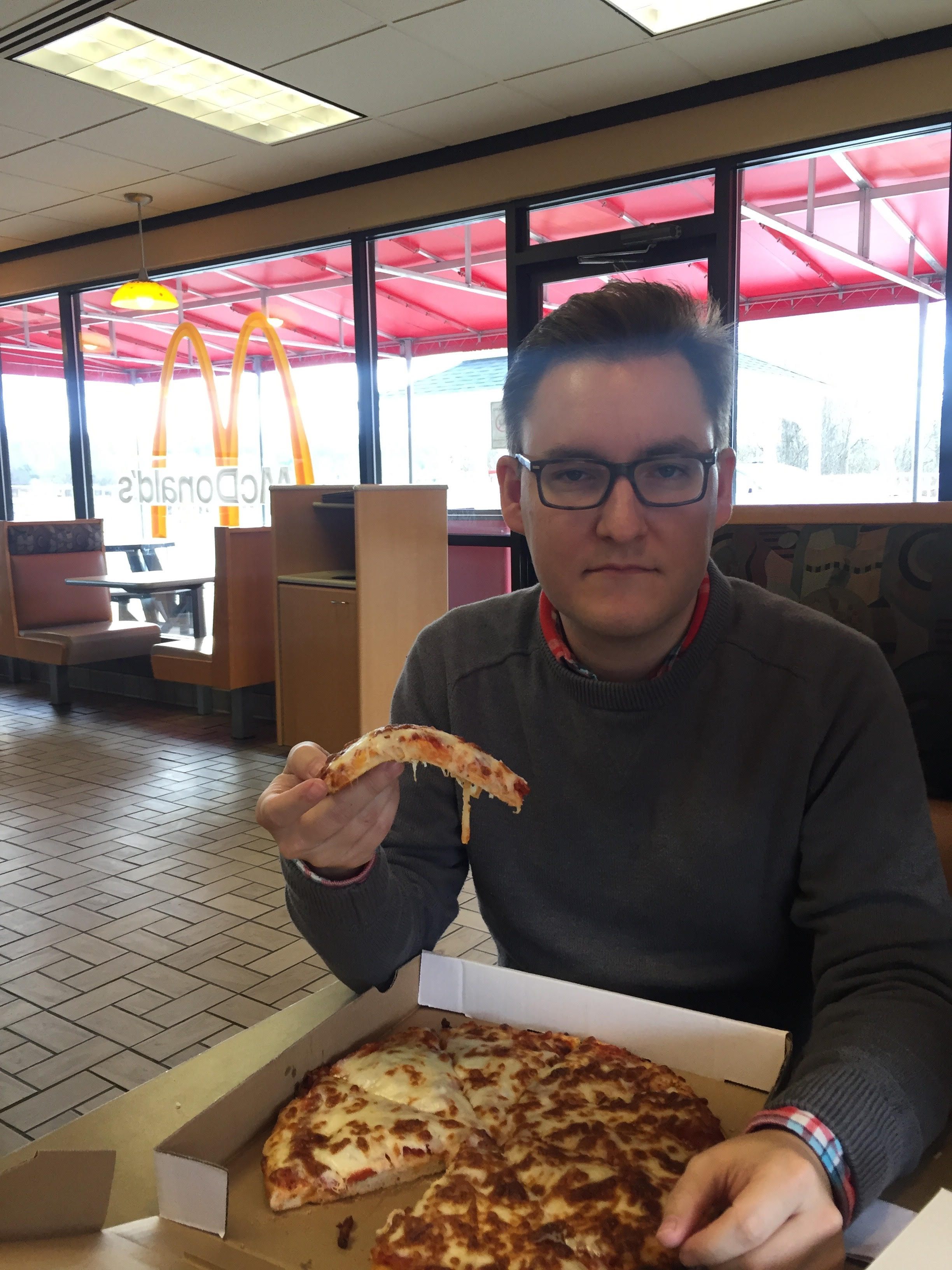 Brian Thompson's new podcast starts straightforwardly enough. "Welcome to Whatever Happened to Pizza at McDonald's?," he intones at the beginning of the first episode, "a podcast where I ask the question, 'Whatever happened to the pizza at McDonald's?'" After introducing himself, he cuts (or slices) directly to the chase: "Let's call McDonald's and see whatever happened to their pizza."
Something did, indeed, happen to pizza at McDonald's. In the late 1980s, in an attempt to grab a piece of the burgeoning pizza market, the franchise introduced personal and family-sized pies. From about 1989 through the early 1990s, in select restaurants, you could get a fresh, hot McDonald's Pizza, straight out of an oven invented especially for the purpose. After that, though, the restaurant quietly phased out the innovation in almost all locations, citing various issues—lack of interest, slow cooking times, boxes that didn't fit through drive-thru windows.
Fans, though, never forgot. Neither did a new generation of fast food aficionados, who, although they may never have tasted this particular pizza, would desperately like to. Thompson, an L.A. resident who grew up in Monroe, Louisiana—where, he says, "the main street was nothing but fast food places"—belongs to this second group. Thanks to Whatever Happened to Pizza at McDonald's?, he has now, somewhat accidentally, become the lost menu item's standard-bearer.
Like many worthwhile quests, Thompson's started as a late-night joke. "[The demise of McDonald's pizza] is something I've always had in the back of my mind," he says. "Every few years it would pop up and I would think about it." One night, discussing the recent wave of true-crime podcasts, he decided it might make a good topic for a satirical investigation. So he opened his laptop, plugged in a microphone, and dialed up his local McDonald's. The resulting, fruitless calls became Episode 1.
Thirty-four unlikely episodes later, Thompson has chased his titular question through complicated corporate dial-up menus, across gulfs of conflicting information, and finally all the way to Pomeroy, Ohio, one of only two locations in the United States that still has a pizza oven fired up. (The other is in West Virginia.) He has spoken to McDonald's representatives in various states and on three continents, and he doesn't plan on stopping anytime soon. "The actual investigation is now kind of a real thing, and is branching out in all kinds of interesting ways," he says.
Tonally, Whatever Happened to Pizza at McDonald's? remains resolutely satirical, poking fun at more sincere investigative podcasting efforts such as Serial or Criminal. Ebullient in regular conversation, Thompson's hosting voice is deep, deadpan, and somewhat pained. Along with more traditional on-air reporting strategies—interviewing small-town journalists, reading Reddit threads out loud, keeping listeners apprised of his emotional ups and downs—he has called in some less common sources, including private detectives and dial-a-prayer hotlines.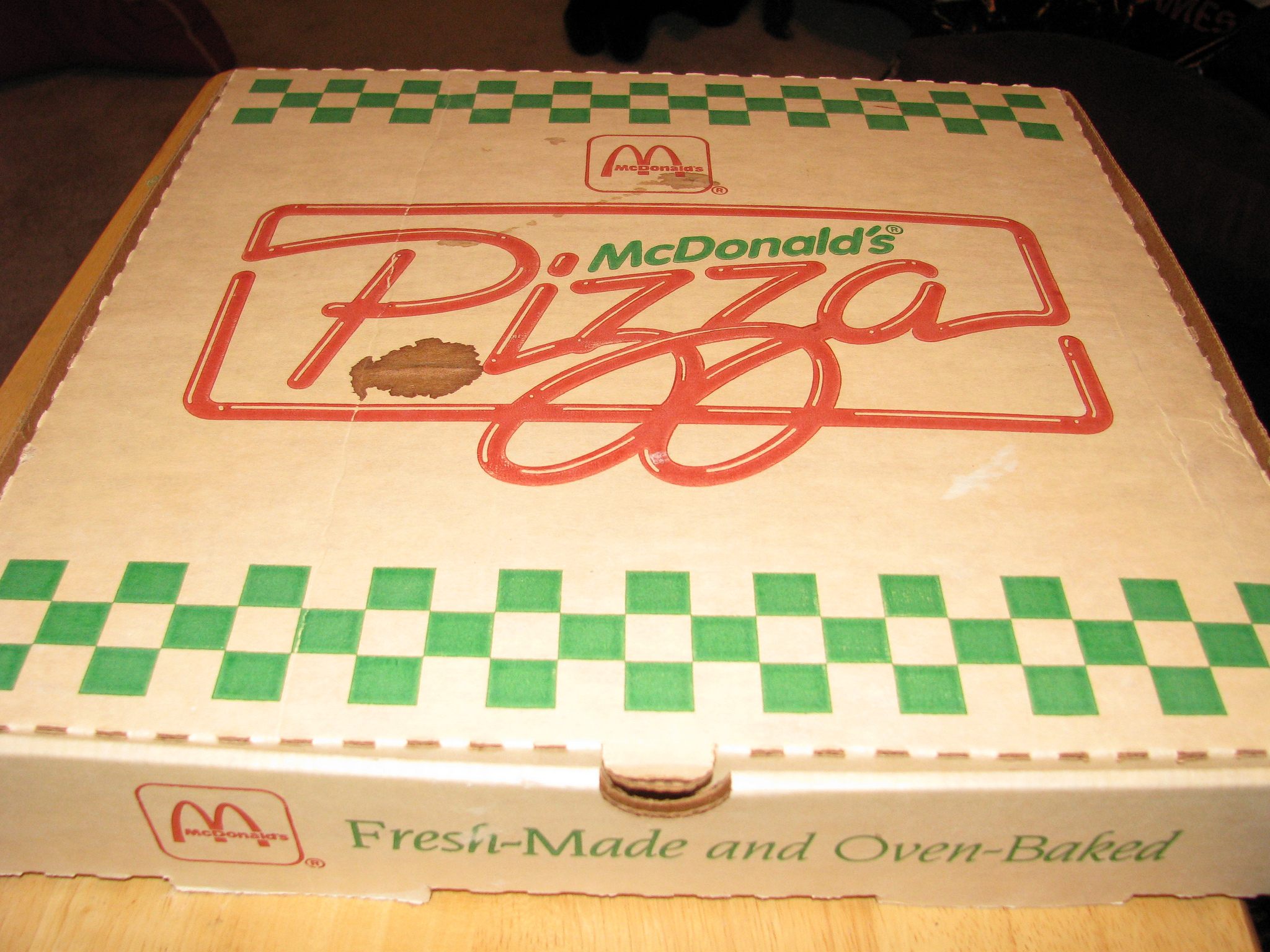 Apart from one obviously staged "listener call" about halfway through Season 1, "nothing is fake," says Thompson. "It's just maybe the way I'm going about the investigation is not the way you should be." In one episode, he contemplates suing McDonald's for withholding information; in another, he attempts to join the White House Press Corps. He routinely asks McDonald's employees if the company has forbidden them from speaking about its pizza-filled past, and ends innocuous lines of questioning by stating, gravely, "thank you for your candor."
The show wouldn't work, though, if the question at its center wasn't at least somewhat appealing. As with many huge, long-standing corporations, McDonald's esoterica offers up a heady blend of familiarity and mystery. Finding an all-but-dead menu item feels like discovering an extinct species, or digging up a rare B-side in a dollar record bin. McDonald's Pizza in particular seems to be having something of a moment. Just this past week, three men from Canada made headlines when they road-tripped sixteen hours to West Virginia, to try it themselves. (Their verdict: "Mediocre.")
For the Season 1 finale, released on March 1, Thompson successfully Kickstarted a trip to Pomeroy, Ohio. There, he and his girlfriend-slash-producer, Agnes, explored the town, and interviewed McDonald's employees and patrons. The owner of this particular location, Greg Mills—who also helms the West Virginia location—didn't want to get rid of pizzas, a manager named Laurie explained to Thompson. Now, she says, they serve so many that headquarters just lets them keep going.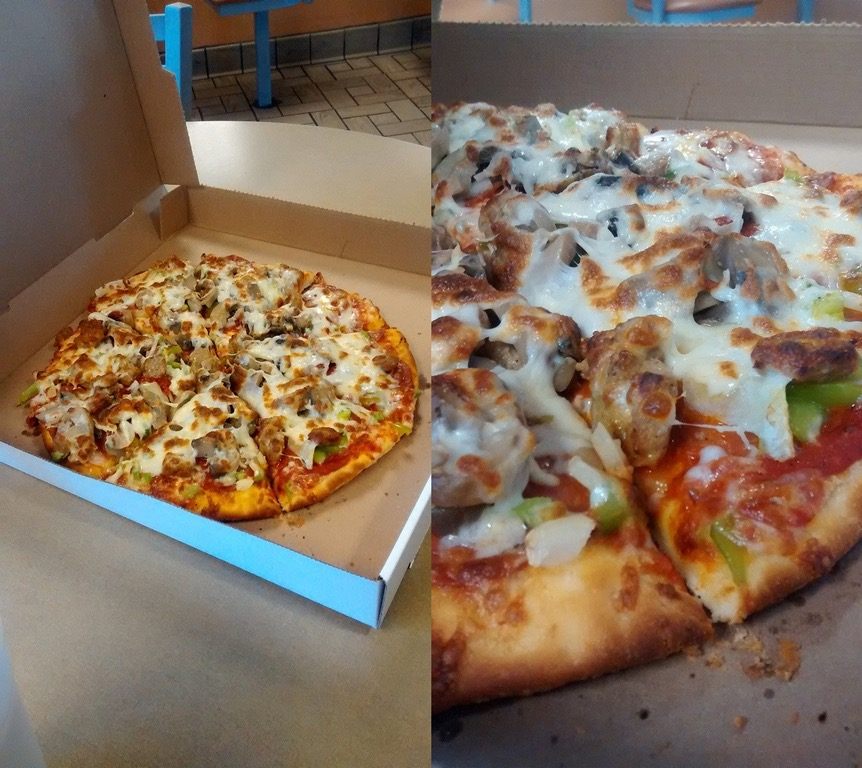 Eventually, Thompson ordered a family-sized pepperoni, a personal-sized cheese, and a personal-sized deluxe (which features sausage, peppers, mushrooms, and onions). "McDonald's pizza is everything I hoped for," he pronounces on air, after sampling each kind. "It tastes good."
Whatever Happened to Pizza at McDonald's? isn't breaking any podcasting records—it averages about 10,000 listeners per episode. But Thompson says that, compared with other shows he's been involved with, audience engagement is very high—he's constantly getting Tweets, emails, and Facebook messages from fans who remember the pizza, or who have specific questions about it. "There's a lot of minutiae to dive into there," he says. There is also a growing movement to get the podcast—which is produced entirely by Thompson, and funded partially by fans—picked up by a distributor. (In another running gag, Thompson pretended to be a part of Slate's Panoply network, until he received a decidedly real-world cease-and-desist letter.)
Thompson originally figured his podcast would last one season, that after he made it to Pomeroy and tried the pizza, the story would be over. But the audience response has encouraged him to keep going. Plus, he says, the more details he gathers, the more inconsistencies arise. Now, he wants to dig harder. "It's starting to take more and more of my time," he says.
First of all, in Thompson's view, McDonald's brass keeps changing their pizza-nixing rationale. "Sometimes they say it's because it took too long to make," he says. And yet the most-cited turnaround time, 11 minutes, is at odds with testimony Thompson gathered from a former McDonald's employee, who put it at about five and a half minutes. "Other times they say it's because it wasn't successful, or because they couldn't fit the boxes through the drive-thru window," he says. "It is strange to me how little they want to talk to me about it."
Another line of potential inquiry is that the Pomeroy McDonald's claims to serve the chain's original pizza recipe. Thompson has his doubts. "People email me and contact me on Twitter all the time about having had McDonald's pizza when it was in its heyday," he says. "Almost all of them describe [the crust] as being crispy and covered in cornmeal." The crust Thompson tried was, instead, bald and soft. "So I want to get to the bottom of that."
As existing mysteries deepen, new ones crop up, too—mysteries that, to Thompson, invite even more unorthodox investigative methods. For Season 2, a journalist from Pakistan is helping him tap into what Thompson calls the "fast food black market" in Southeast Asia, where some restaurateurs operate unlicensed KFCs and Burger Kings, and deduce and trade the chains' various proprietary spice mixes and secret sauces. (The hope is that the original 1980s McDonald's Pizza recipe might be floating around.)
Eventually, he may head to Vancouver to investigate the famous McBarge, a floating novelty McDonald's that was shuttered in the late 1980s and remains frozen in time. "It's possible they still have pizza paraphernalia," Thompson says. Or maybe he'll go to Adak, Alaska, where throughout the 1980s, a listener told him, the McDonald's on the local Air Force base "only served pizza."
"I have this growing document of leads to follow," Thompson says. And maybe, someday, someone from McDonald's Corporate will even call him back.