Making the Miraculous Cake of the Patron Saint of Bakers
Test your pastry-making prowess with gâteau St. Honoré.
Saint Honoré was a sixth-century French bishop who earned his status as patron of bakers and pastry chefs through several alleged bread-related miracles. Legends tell of baking implements magically transforming into trees, divine eucharist-distributing hands appearing at mass, and saintly relics ending droughts that had impacted wheat crops. For amateur pastry chefs, these miraculous acts may seem more feasible than making the complex cake that carries St. Honoré's name.
A traditional gâteau St. Honoré consists of a round puff pastry base that gets encircled with a ring of choux pastry and caramel-topped choux pastry puffs, then filled with Chiboust or Chantilly cream (or both). The result is a heavenly halo of decadence. That is, when it's executed perfectly. When it's not, it can look like a deflated, cream-filled kiddie pool. On The Great British Baking Show, where making gâteau St. Honoré was a semi-final technical challenge, Prue Leith warned contestants, "This is very difficult to make look good."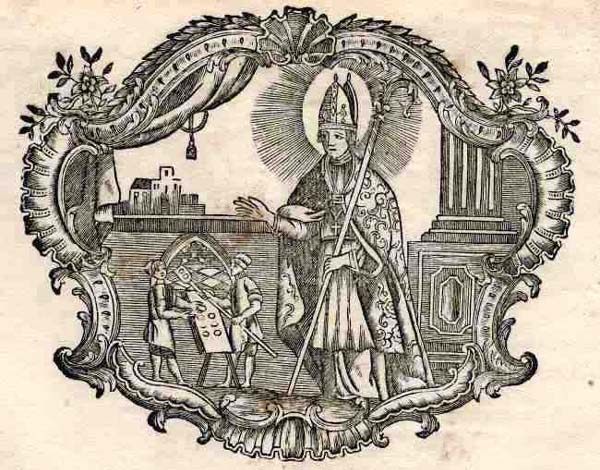 Since it assembles several building blocks of French pastry, such as puff and choux, making a beautiful gâteau St. Honoré is a fine showcase for a patissier's skills. Although the cake is not well known outside of France, it's an old-fashioned favorite in its homeland. Patisserie shelves boast traditional versions, single-serving mini gâteaus, and staggeringly inventive interpretations that play with shape, flavor, and toppings.
I love a cooking challenge. I've made 5,000-year-old energy bars, tested an archaeologist's ancient Pompeii recipes, and sculpted marzipan in the shape of St. Agatha's breasts. But I have no formal pastry training and, like many others, I've been put off by the intimidating world of French desserts. But in the spirit of St. Honoré's feast day, which is May 16, I decided to give his namesake cake a shot. And so began what I dubbed "The Great Beatific Bake-Off."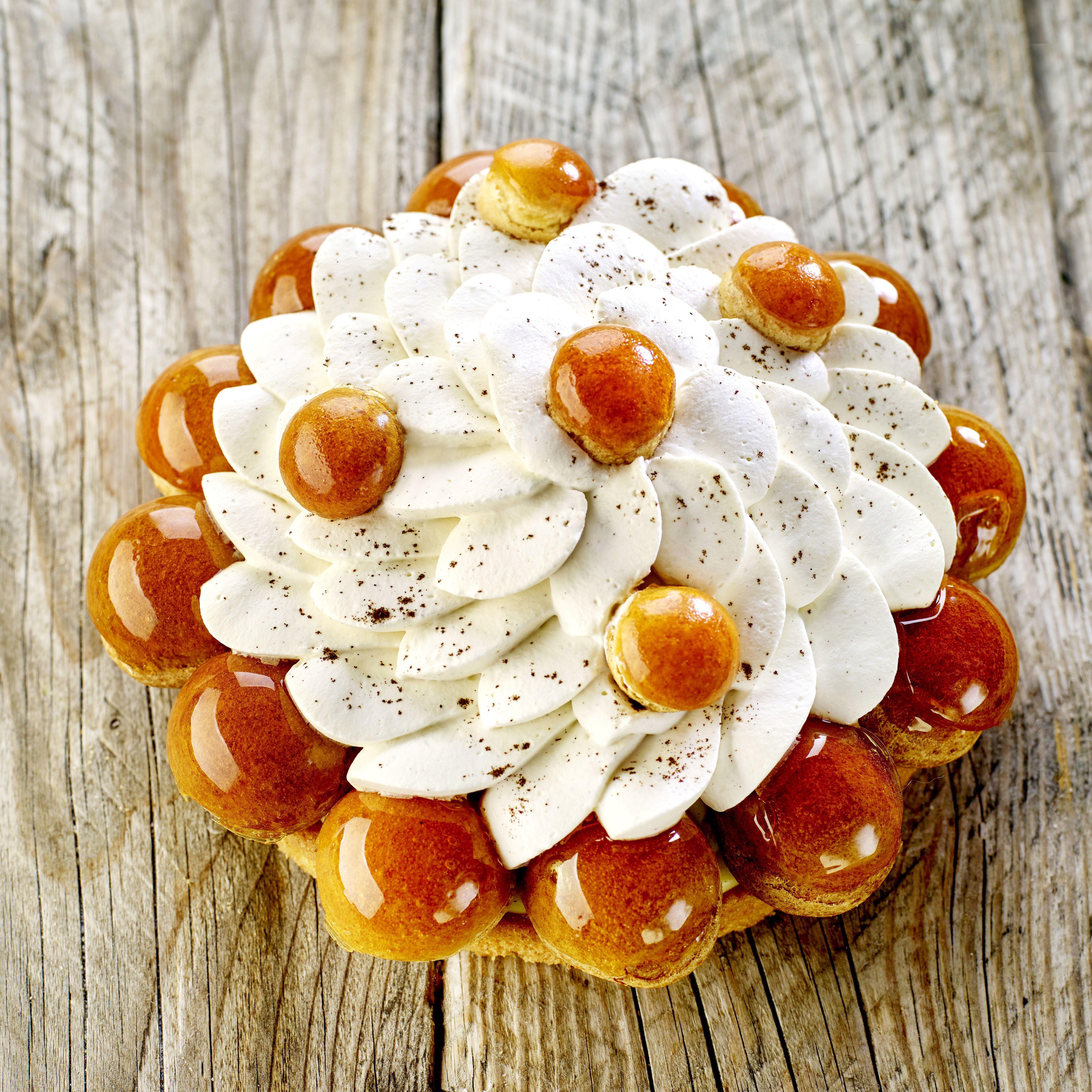 Before I embarked on my quest, I wanted to understand the man behind the cake. How did a bishop with no apparent baking experience become associated with a classic cake? Steven Laurence Kaplan, a historian of French baking, says the legends surrounding the saint certainly played a part, but it was really French baking guilds that cemented the saint's status. In the 1700s, when guilds strictly regulated the craft, a chapel dedicated to St. Honoré served as the headquarters of a Parisian baking fraternity, giving the saint serious name recognition among bakers.
But Honoré's popularity declined after guilds were abolished during the French Revolution in 1791. Although there are remnants of the saint's symbolic power in some iconography (he is often depicted holding a baker's peel or loaves of bread), Honoré has largely faded as a revered figure among pastry makers and bakers. "Today, bakers don't give a damn about St. Honoré. And the vast majority of bakers have little idea of who he was and who he might be."
Kaplan points out that some might vaguely know of Honoré through his connection to La Fête du Pain, a bread festival that begins on the saint's feast day. However, on May 16, he says it's the bread, not the saint, that's the star.
The other way St. Honoré remains relevant is, of course, his namesake cake. The earliest recorded recipe for gâteau St. Honoré is from 1873's Le Livre de Pâtisserie by the renowned French pastissier Jules Gouffé. Like most culinary origin stories, the exact history surrounding the creation of gâteau St. Honoré is murky, but most accounts center the cake's creation around the mid-1800s. According to Larousse Gastronomique, an encyclopedia of French cuisine, gâteau St. Honoré was invented in 1846 by a pastry chef named Chiboust who worked on Paris's Rue St. Honoré, a street named for the saint that was known for its many patisseries and bakeries. (This is also the origin of the name of the Chiboust cream that appears in gâteau St. Honoré, a blend of traditional pastry cream and Italian meringue.)
Maryann Tebben, a food historian at Bard College at Simon's Rock in Great Barrington, Massachusetts, has thoroughly investigated the story of Mr. Chiboust. "I couldn't find much else about him and I really looked. He probably was a pastry chef and he probably worked on that street, but that's the dead end. He's not named anywhere else, including his first name. It's just his last name, which is suspicious."
But Tebben points out that even if the origin story is apocryphal, it's still significant. "To me, the legends are almost as important as the real story, because the French really sit on that, they enjoy it and they promote the myth. It's important for desserts and other foods too." And the intimidating reputation of gâteau St. Honoré is a big part of its mythology. "That's the genius of French desserts," she says." They make it sound so complicated and you think, 'Oh, I could never make it, it must be so important and hard.'"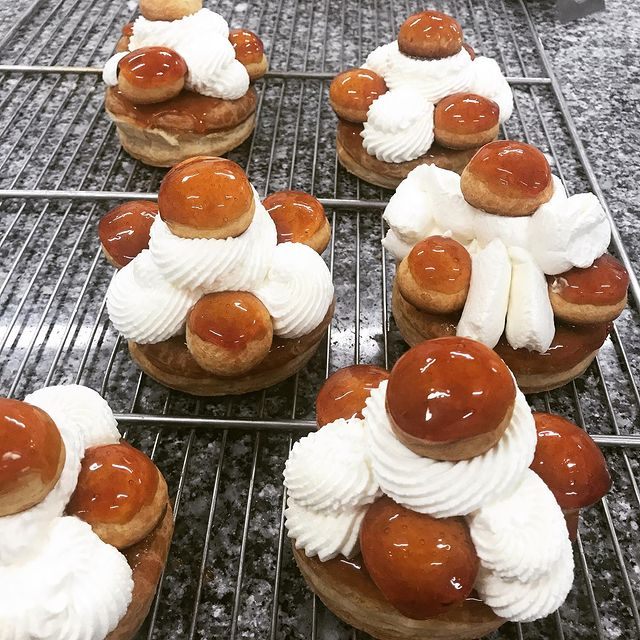 Armed with an understanding of how this cake came to be, I was ready to tackle the challenge of making it. For advice, I consulted someone who'd recently trained in the art of French pastry. Brigitte Malivert studied at the Ferrandi School in Paris and was poised to start working in a local patisserie when COVID-19 hit France last year. She returned to New Jersey, where she runs a private pastry business. According to Malivert, the notorious gâteau is far more accessible than its reputation suggests.
"I really think they over-emphasize that it's so difficult. Honestly if you follow directions, most recipes do a good job." She notes that it's really just a matter of assembling the basic building blocks of French pastry—such as puff and choux—into a new and elegant form. "If you break the process down into those smaller pieces, it's doable."
With the recipe below, I attempted to do just that. It's broken into four parts: One for puff pastry (which you can also buy premade), one for choux pastry, one for Chiboust cream, and one for assembly. A few deep breaths wouldn't hurt, either. Malivert says that starting from a place of anxiety is especially bad for pastry-making: "I always say when you're working with puff pastry that it senses when you're nervous. If you're sweating or hot, it affects the layers."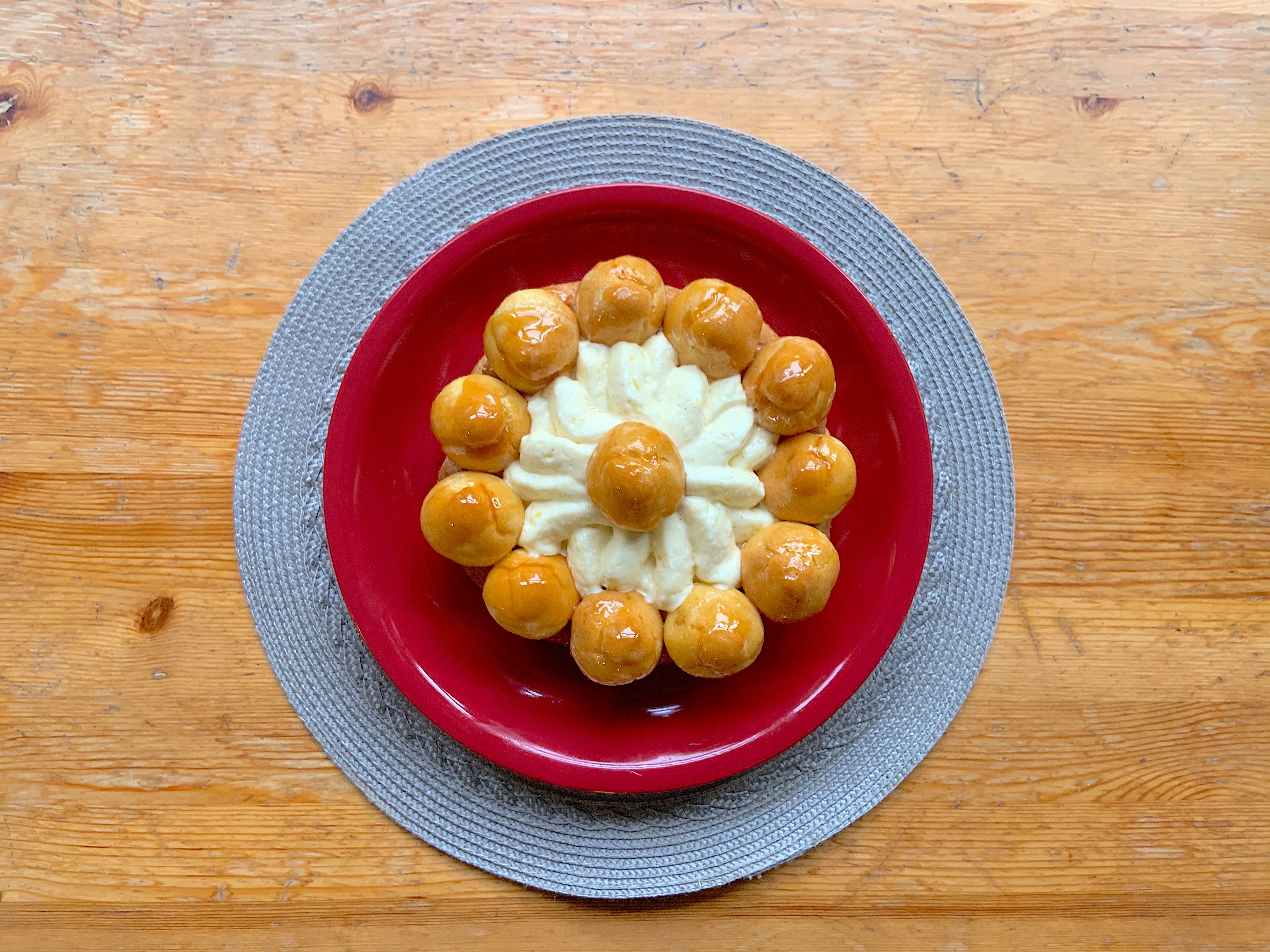 Recipe for Gâteau St. Honoré
Step 1: Pâte à Choux
Adapted from The Flavor Bender (whose detailed guide on choux pastry is incredibly helpful)
Ingredients:
8 ounces cold water
4 ounces (1 stick) unsalted butter, cubed
½ teaspoon sea salt
1 tablespoon white sugar
4.7 ounces all-purpose flour, sifted
8 ounces eggs (this is usually about 3 to 4 large eggs)
Special Equipment:
Piping bags and tips (or a Ziplock-type bag with a corner cut off)

Preheat the oven to 375° F.
Add the butter, water, milk, salt, and sugar in a saucepan over medium heat. Stir frequently, since you want to make sure the butter has melted and the sugar and salt have dissolved before it's begun to boil.
When it starts to boil, remove the saucepan from the heat and stir in all the flour with a rubber spatula or wooden spoon. Keep stirring until the flour has absorbed the water and there are no lumps. When it's starting to become a dough, move the saucepan back to the heat.
Cook the dough over medium heat for 1 to 3 minutes. You'll know it's ready when you can stand a spoon upright in it.
Move the dough to a bowl to cool down for a few minutes. In a separate bowl, beat the eggs. Once the dough has cooled, use a stand-mixer (on a very low speed), hand-held mixer, or whisk to mix in the eggs, one at a time (one egg is about a ¼ cup once beaten). You'll know the dough is ready when it's shiny, thick, and smooth. This might happen before you've used all the eggs. To test, run your finger through the dough. If the trail holds and the dough doesn't collapse into it, it's ready
Add the dough to a piping bag with a ½ inch tip (many recipes use a Wilton 1A piping tip). Pipe 2-inch discs about 3 inches apart on the baking sheet. Wet the back of a spoon or your finger, then smooth over any peaks, then spray or brush the parchment paper with water (this will increase humidity and help the pastries puff up).
Save a bit of the dough in the piping bag and place in the fridge. You'll need it later.
Bake for 30 to 40 minutes in the oven's center. After 25 minutes, open the oven and pierce each pastry with a toothpick to allow the humid air inside to escape (otherwise it might cause them to collapse). Do not open the oven before then! The cool air could prevent the shells from properly puffing up. After 5 to 10 more minutes in the oven, or when the shells are golden brown, remove from the oven and allow to cool in a warm area. Store them in an airtight container for up to 24 hours or freeze.
Step 2: Puff Pastry
Adapted from Baking a Moment
(If you're overwhelmed, don't stress and just buy premade puff pastry dough.)
Ingredients
9 ounces all-purpose flour
1 teaspoon salt
10 ounces unsalted butter (2 1/2 sticks), cold
1/2 cup cold water
Instructions
Preheat the oven to 400° F.
Sift the flour and salt into a bowl and whisk until combined.
Slice the butter into 1/4-inch pieces and toss with the flour mixture.
Add cold water and stir until it takes on a doughy consistency.
Ball the dough, then flatten it into a disc, and wrap it up. Chill for 20 minutes in the freezer.
On a floured surface, roll the chilled disc of dough into a rectangle then fold it into thirds.
Rotate the folded dough 90 degrees, then roll and fold again. Repeat this process one more time.
Chill the dough in the fridge for at least 2 hours before using.
Remove the dough from the fridge and roll into an 8-inch disc about 1/8-inch thick (this is the equivalent of two stacked American quarters).
Prick the dough with a fork a few times to make sure it doesn't puff up too much.
Remember that choux pastry in the piping bag? Grab it and pipe a ring around the edge of the puff pastry.
Bake for 25-30 minutes, checking until it reaches a golden brown.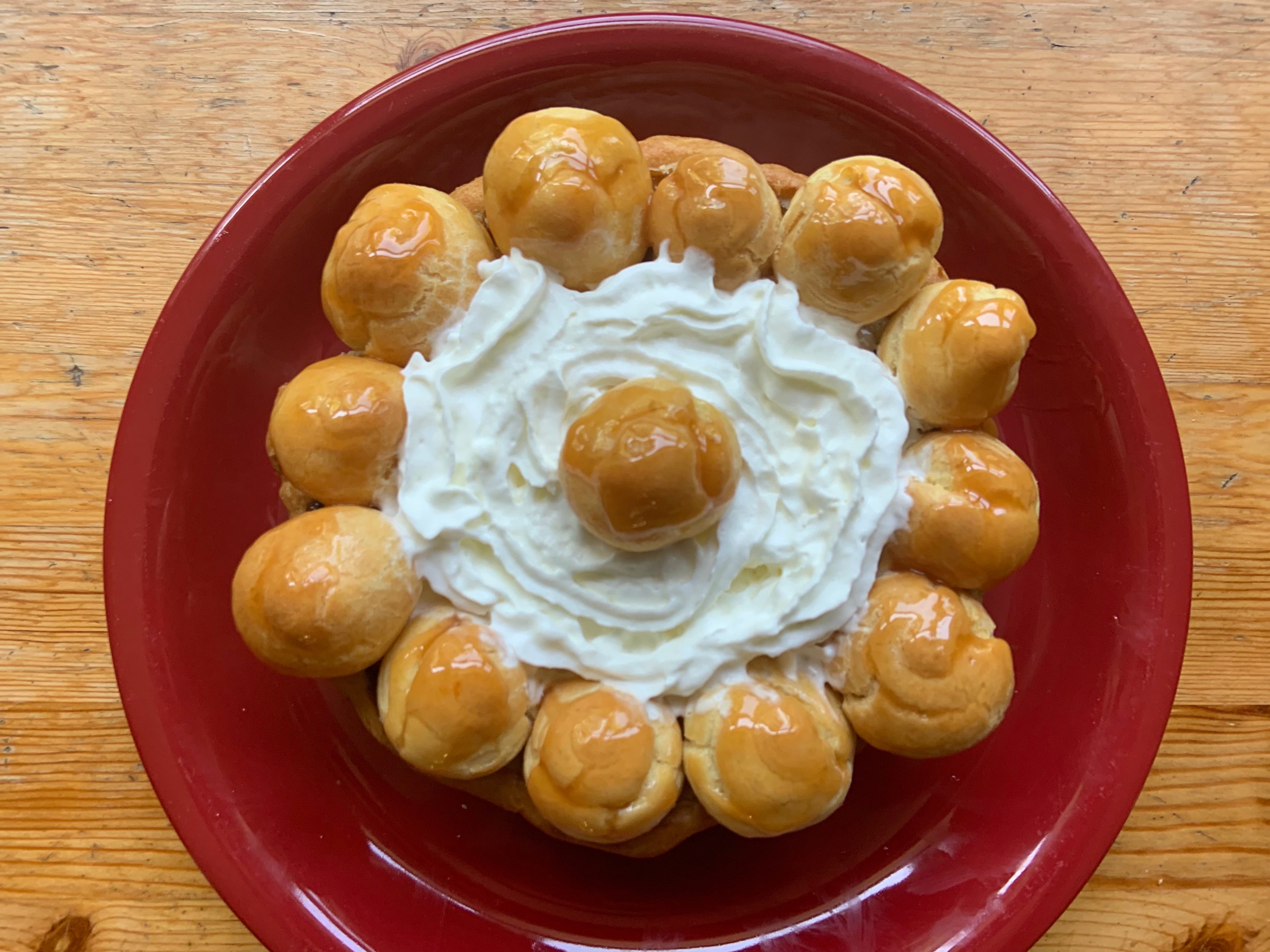 Step 3: Chiboust Cream
1. Make a standard crème pâtissière recipe, such as the ones from Joe Pastry or The Flavor Bender.
2. Make whatever Italian meringue recipe you prefer.
3. Combine them at a 2:1 ratio of Italian meringue to crème pâtissière, and, voilà, you have crème Chiboust.
Step 4: Build Your Gâteau
Fill a piping bag with Chiboust cream. If you're feeling ambitious, cut a small hole in the bottom of each choux pastry ball and pipe in the cream. Otherwise, set it aside for later.
In a small saucepan, warm up some caramel. You can make this yourself or simply buy some caramel.
Take your choux pastry balls and dip each into the warm caramel to coat its bottom. Use this as your glue to stick each ball in a ring around your puff pastry. Drizzle caramel over the top of each ball.
Once the choux ring has been assembled, pipe your Chiboust cream into the center. Fancy chefs use a special St. Honoré piping tip for this, but you can use whatever shape you like.
Congratulations, you have finished your first gâteau St. Honoré! If, like me, your first attempt was a far cry from the stuff Paul Hollywood handshakes are made of, don't fret. It'll still be delicious and this is just an excuse to make another.
Gastro Obscura covers the world's most wondrous food and drink.
Sign up for our email, delivered twice a week.