A Great Wave of Hokusai Drawings Resurfaced at the British Museum
"This is definitely one of the greatest discoveries of Hokusai works in a long time."
In 1829, when the celebrated Japanese artist Katsushika Hokusai was almost 70 years old, he created more than 100 drawings of a dazzling array of subjects: playful cats, serene landscapes, even severed heads. Hokusai's fame continued to grow after his death in 1849, and the suite of small, elaborate drawings was last purchased a century later, at a Paris auction in 1948. Then it disappeared from the public eye.
Now, a total of 103 drawings have resurfaced. According to Antiques Trade Gazette, the Paris auction house Piasa sold them in 2019 to the London-based dealer Israel Goldman, who later sold them to the British Museum. Additions to Hokusai's prolific body of work can be major news, and the suite is receiving unprecedented attention and scholarly interest. "This is definitely one of the greatest discoveries of Hokusai works in a long time," says Frank Feltens, an assistant curator at the Smithsonian's National Museum of Asian Art. "They look like they are in pristine condition, there's an incredible level of detail, and a variety of subject matter. You get a sampling of virtually any area in which Hokusai painted: figure painting, animals, landscapes. You get glimpses of everything."
Titled Banbutsu ehon taizn zu, or Great Picture Book of Everything, the drawings were likely intended as illustrations for a book filled with worldly information—a sort of fanciful, pictorial encyclopedia. At the time, Japan's longstanding policy of sakoku, or isolation, was still in effect, and such texts would have served as a way to enrich readers' understanding of life and culture beyond the islands' borders. Among the pictures are studies of quotidian life, from waterfowl to rice wine brewers, but also scenes of distant realms, including portraits of humans and deities from China, India, and Southeast Asia.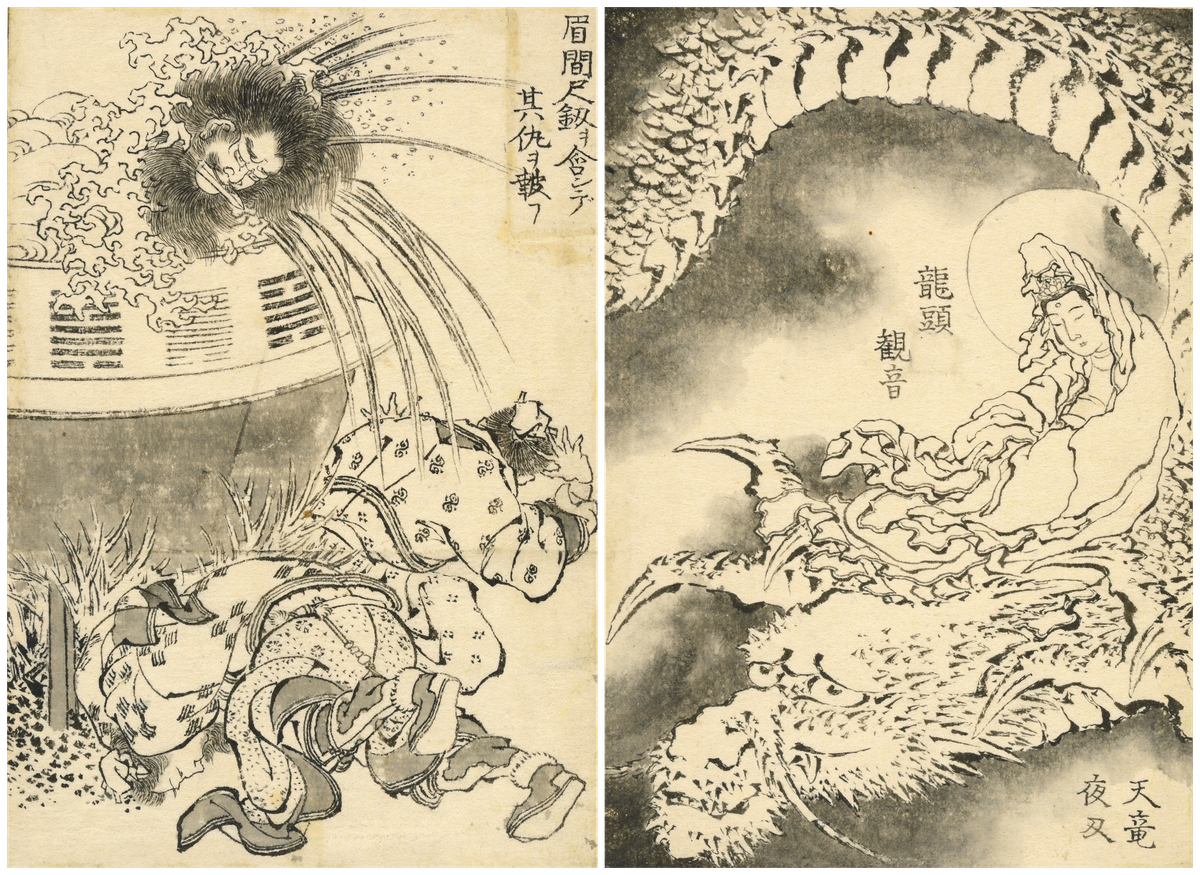 "Especially in the early-19th century, that longing for the exotic and the unknown became incredibly pronounced in intellectual circles," Feltens says. "Hokusai clearly intended to create a book that basically enabled travels of the mind at a time when people in Japan could not travel abroad. It captures his incredible powers of creativity, fusing what he saw around himself but also what he had in his own imagination."
Hokusai's picture book never came to fruition, for reasons that remain unknown. The drawings survive only because these volumes were never published: The production process would have destroyed them. To make prints, the drawings would have been pasted onto a woodblock, where they would have served as a sort of stencil for carving the final image. While the volumes would have reflected the artistry of professional cutters and printers, these preserved drawings carry the trace of the artist's own hand. "The assumption in most cases is that these drawings were by Hokusai, and Hokusai alone," Feltens says.
The British Museum's acquisition has not been without controversy. It comes in the context of racial justice protests that have circled the globe and increased scrutiny of cultural institutions and their collection practices. The British Museum has been heavily criticized for its troves of colonial-era art and artifacts, some of which were looted from Asia, Africa, and the Americas. A bust of Hans Sloane, a founder of the museum who profited from the slave trade, was recently removed from a pedestal in the museum.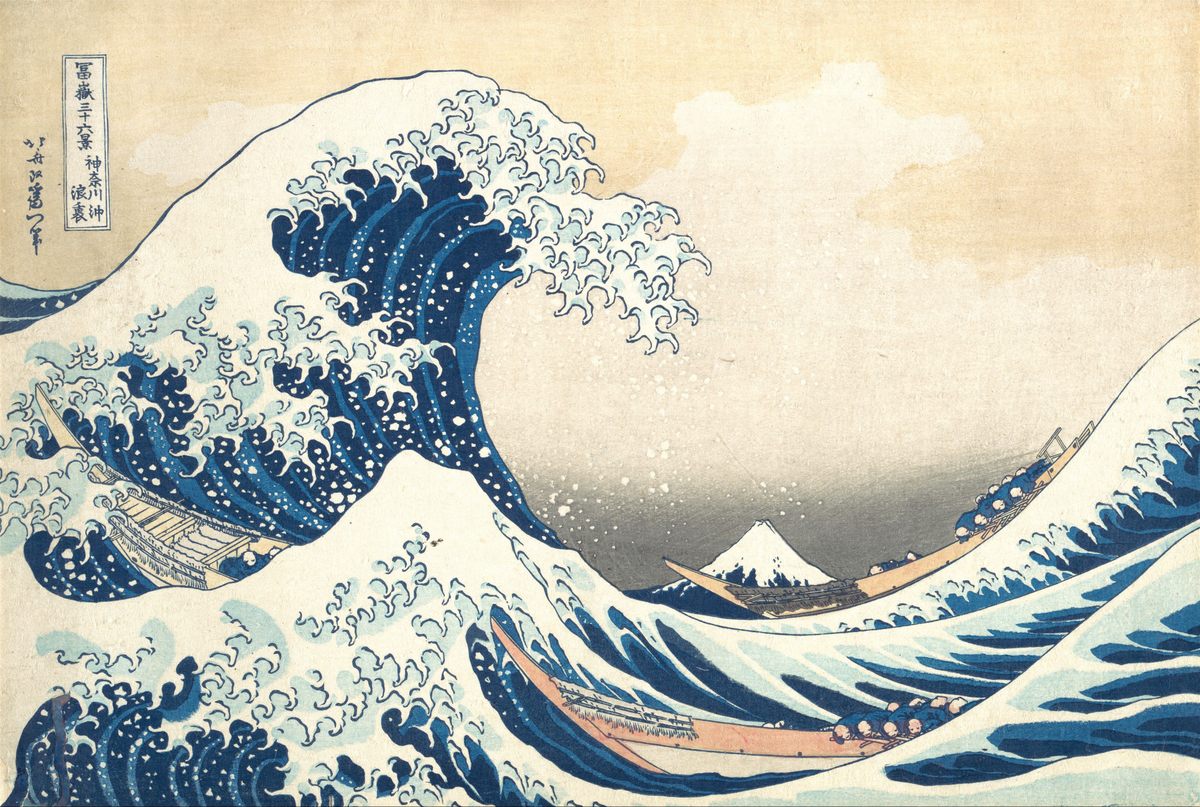 "There has been a heated debate among specialists of Japanese art history in the past few days—about where [the collection] has been in the past 70 years and where it should belong now," says Asato Ikeda, an assistant professor of art history at Fordham University, in an email. "I don't see this as an issue about Hokusai's drawings per se. This is a conversation fundamentally about the role of museums, the histories of which have been Western-centric and colonialist … I still think it's important that we have become so sensitive with the way in which museums are acquiring objects."
The global circulation of Japanese art is especially complex considering the country's geopolitical history in the mid-19th and mid-20th centuries. "Japan used its traditional art for soft power and cultural diplomacy," Ikeda says. "Japan participated in numerous international expositions displaying Japanese art (especially prints) to 'sell' their national image to ameliorate international tension, especially when they advanced into Manchuria in the early 1930s. From that perspective, Japan was 'selling' their art to the world as much as Westerners buying Japanese art (and taking it away from its people). So unless we know the recent history of the drawings, it's hard to say how problematic this acquisition is, or not."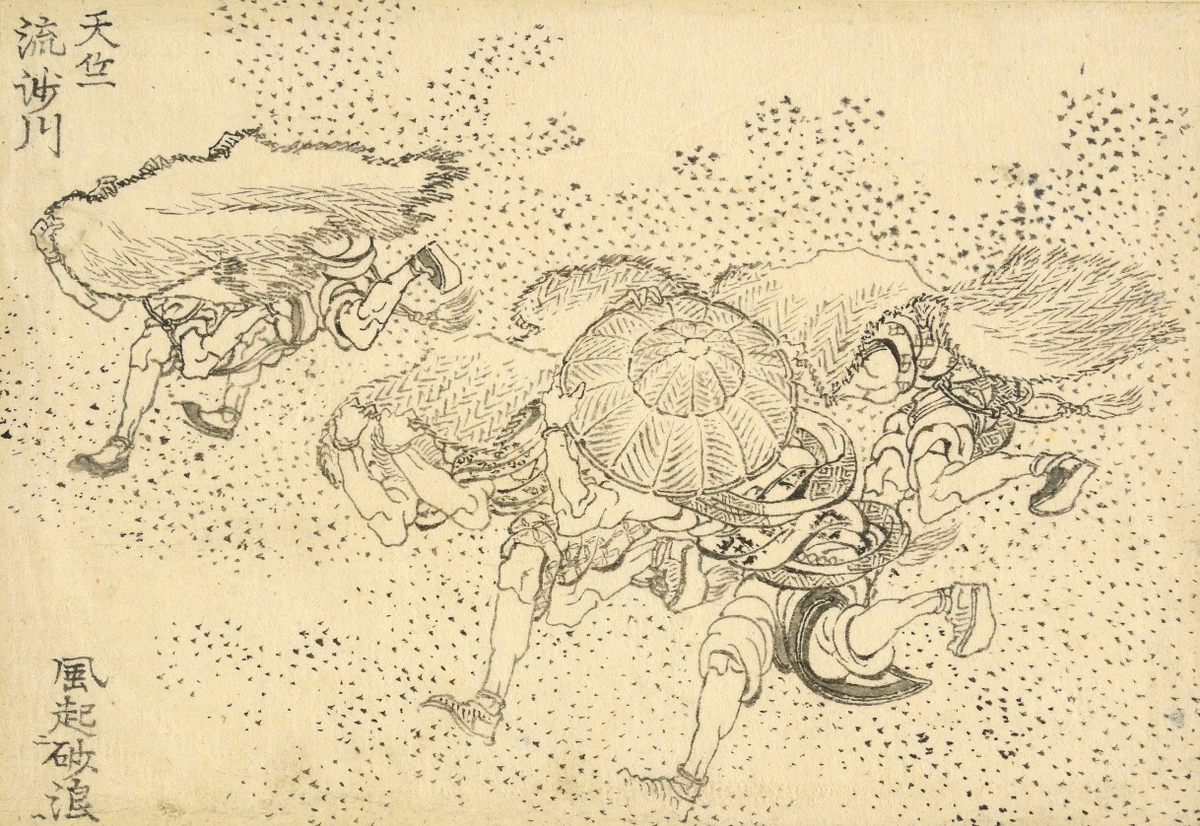 The drawings' history is not entirely lost. Before they went to auction in 1948, they were owned by Henri Vever, a French jeweler and one of many avid European collectors of Japanese art. At the time, the orientalist fascination with Japanese culture known as Japonisme gripped the Western world and influenced the circulation and value of prints. "After Japan opened in the mid-1850s, more works were acquired by Europeans, and Paris was at the epicenter of interest in Japan," Feltens says. "That fame reverberated in America, and the Western collecting interest actually triggered an increased interest in and recognition of artists like Hokusai at home."
The British Museum is planning to exhibit the newly acquired drawings in the future. In the meantime, anyone can view all 103 works online, in high-resolution images made freely accessible on the museum's website. In a way, they are at last fulfilling Hokusai's original intent, allowing viewers to stretch their minds in a time of restricted real-world adventure.