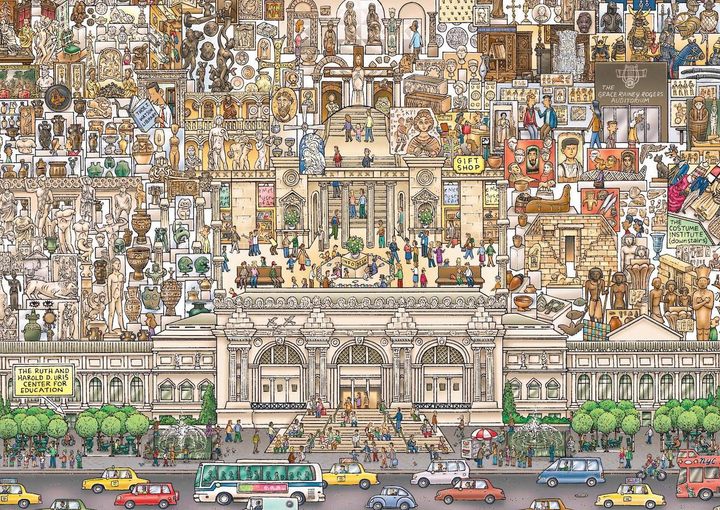 Lose Yourself in a Mesmerizing, Meticulous Map of the Met
The beloved New York museum comes alive in this massive and mysterious illustration.
Many visitors to New York make the Metropolitan Museum of Art a key part of their itinerary. But one needn't visit the city to get a sense of the breadth of its holdings; anyone with an internet connection can explore 5,000 years of art, revel in the intricacies of incense burners from around the world, get lost in a garden, or even go bird-watching.
A standout among these many resources is a charming, illustrated map of the museum that was created before the Met had a Digital Media Department. Hand-drawn by artist John Kerschbaum, who received the commission in 2004, the Family Map charts out every gallery of the museum on a single, 18-by-24-inch page. Kerschbaum lives in New York City and based the Met map on a similarly saturated 1976 poster of Manhattan by artist Tony Graham.
Kerschbaum made countless visits to the encyclopedic museum and drew hundreds of sketches. "Each department head gave me 50 of their most important pieces that are almost always on display," Kerschbaum says. "I'd have a floor plan of the museum and a clipboard, and I'd make notes of where each item was, either by name or a quick sketch." Beginning with Egypt in the lower-right-hand corner, he worked his way outward, condensing hundreds of galleries across five floors—plus the roof garden—into a single plane teeming with history and culture.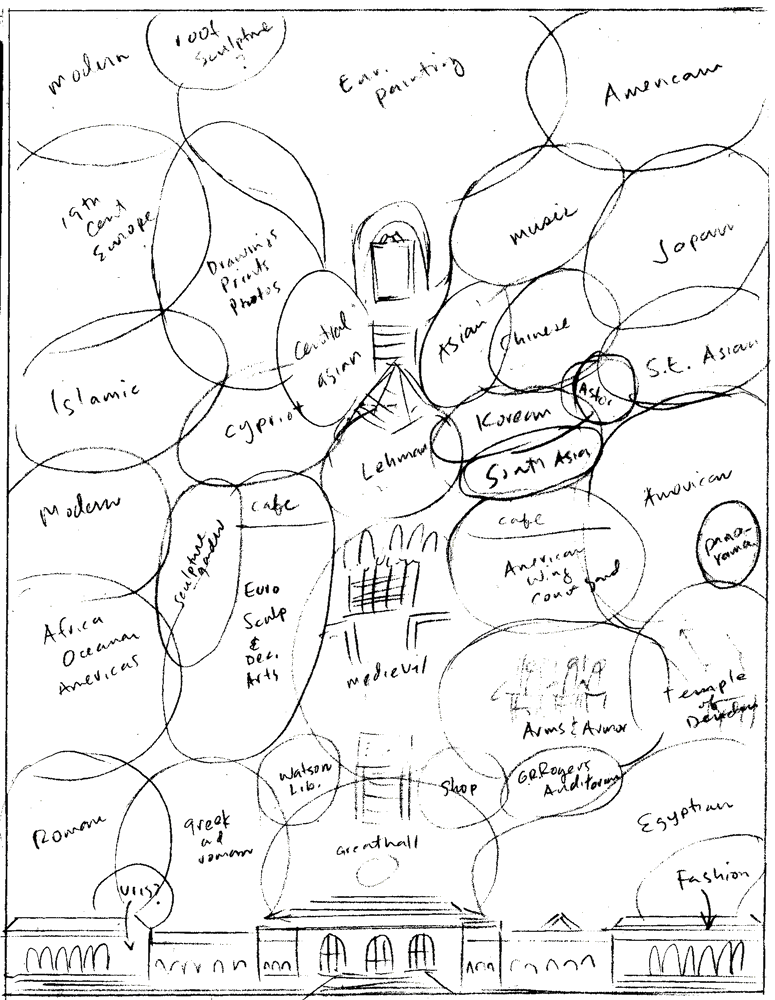 In the dizzying final result, every department explodes with comic-style, book-like representations of resident sculptures, paintings, and more. Tiny, colorful tapestries surround the famous Spanish choir screen in the Medieval Sculpture Hall; in the Egyptian Art wing, the Temple of Dendur looms over ancient seated statues. "I walked around the museum a lot," Kerschbaum says. "It was good to take a break every once in a while because I started seeing it in my sleep."
According to Emily Blumenthal, a former lead educator in the museum's Education Department, the map has been the museum's most popular publication for kids and their families since its publication in 2007. "Its Where's Waldo? approach, with entertaining illustrations that transcend language barriers, inspires engagement by visitors of all nationalities," she says. "We find that kids and families use it for finding their way to highlights of The Met collection, gathering tips for what to do as a family in the Museum, and keeping it as a memento of their visit." The map is available for free at the museum, but it's just as handy as a remote activity to test one's knowledge and observational skills.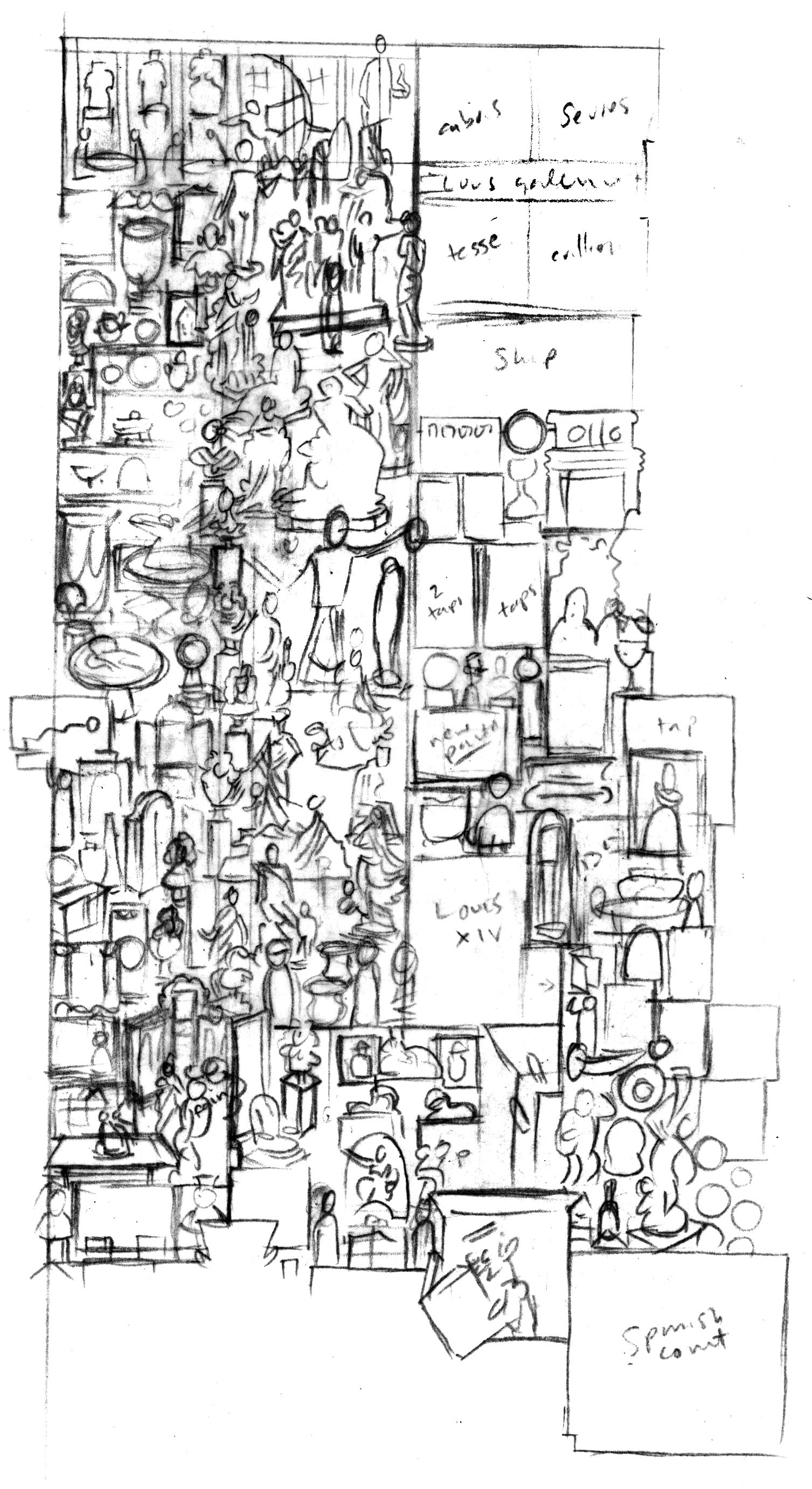 Kerschbaum's map is part navigation tool, part "I spy" puzzle: Clues adorn its border, prompting users to search for such sights as "a room full of Wright angles," "a painting of the back of a painting," and "a trompe l'oeil fly (really tough!)." And while most visitors today might navigate the museum using a more up-to-date online map, the whimsy of Kerschbaum's drawings is timeless.
"Some sections have changed completely—like the American wing has been completely redone—and some parts are dated," Kerschbaum says. "But 12 years later I still hear from people who just found the map who are finding it fun to look at."
As challenging as it was to cram the nation's largest art museum into a single illustration, the artist made sure he had some fun. Most of his cartoonish patrons are fictional, but Kerschbaum depicts himself with his wife and daughter on the Grand Staircase—just behind Philippe de Montebello, the museum's director at the time. In the gift shop, his wife shows up once more, perusing postcards. Kerschbaum also makes a solo appearance in the European galleries in front of Vincent van Gogh's 1889 painting Corridor in the Asylum. "At that time the map was starting to get to me," he jokes. "I thought that made a good background."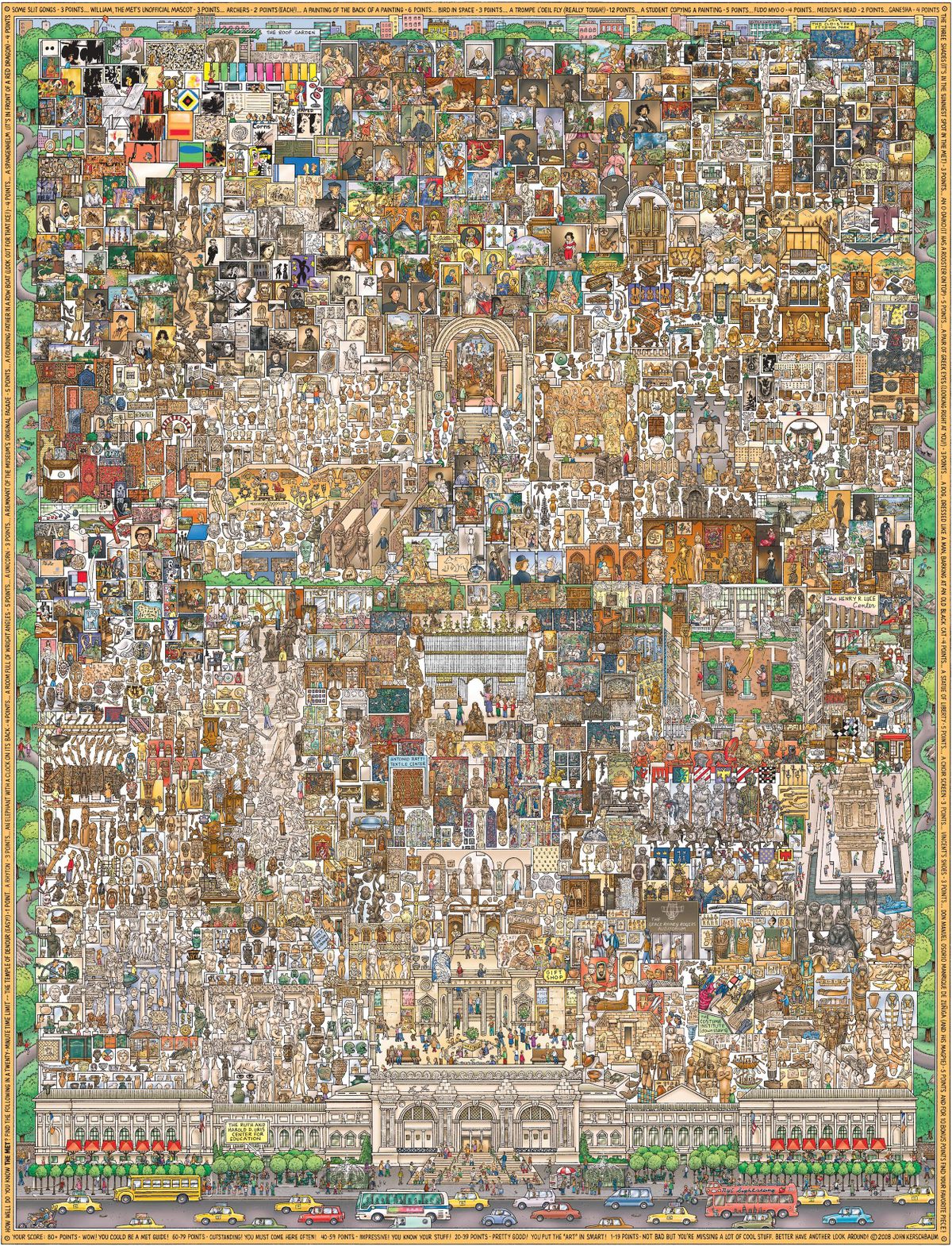 When Kerschbaum started the map, he didn't know that much about the Met. Now, he knows it well enough to roam around without much guidance. "I even take pride in knowing where all the bathrooms are," he says. "I tell people about the ones that aren't crowded."
Reaching this level of familiarity might take you a while, but the Family Map is a good place to begin any journey. Don't forget to pick up a copy from any information desk—or simply bring your own printout.