Found: Mysterious Ritual Burials From the Iron Age
Ancient Britons had a complicated relationship with the dead.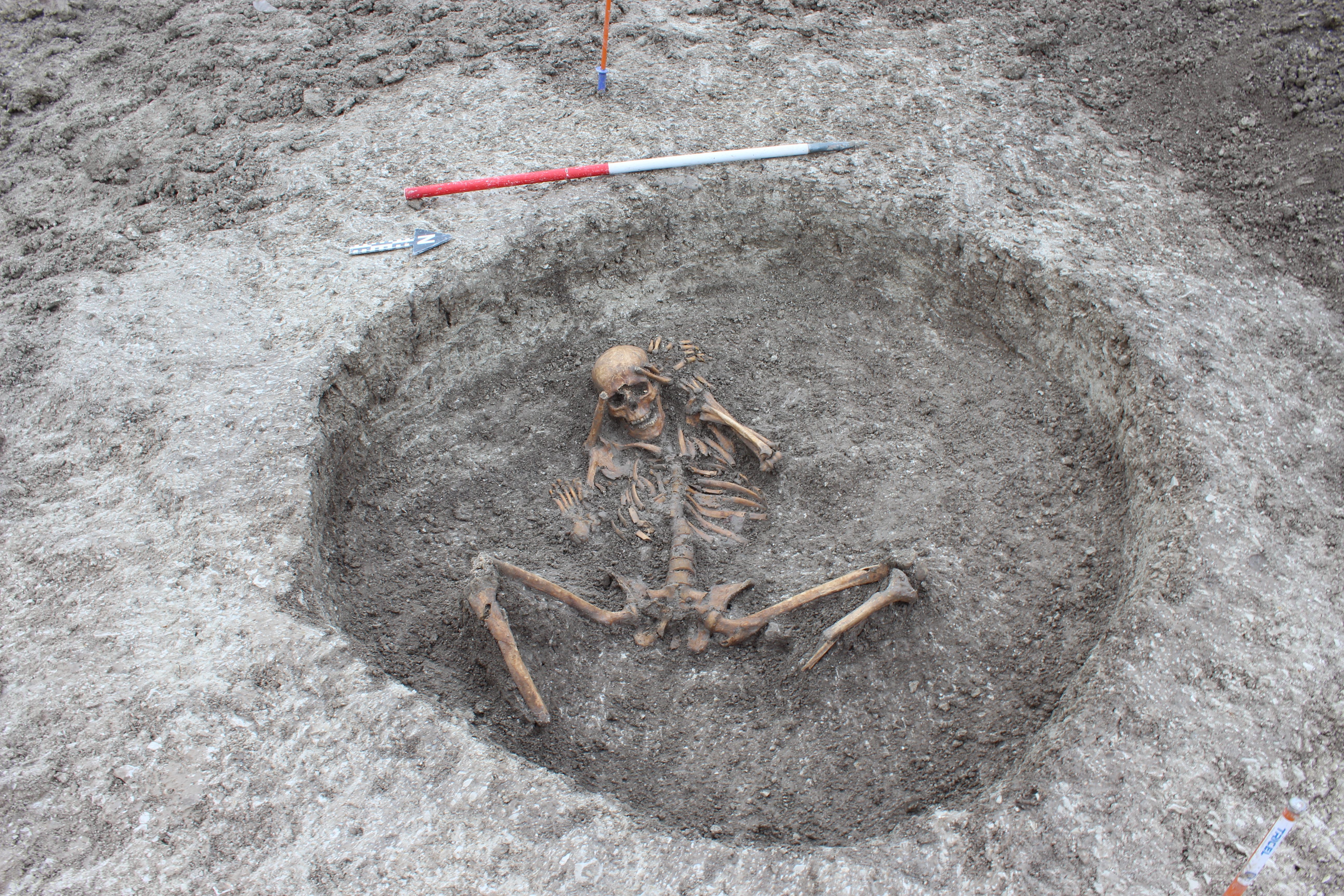 While laying down some water pipes, workers at the U.K. utility company Thames Water had a workday interrupted in a rather macabre fashion when they unearthed what turned out to be the remains of 26 people who had been ritualistically buried in pits in Oxfordshire. One set of remains belonged to a woman who was interred with her feet cut off and placed by her side, and her arms bound behind her head. The bones are believed to be nearly 3,000 years old.
The utility company turned the work at Childrey Warren, as the site is known, over to Cotswold Archaeology, which carefully excavated the graves and associated areas. The archaeologists unearthed evidence of dwellings, a bone comb, pottery, an animal skull (possibly from a horse), deer antlers for digging, flint tools, and a Roman brooch. "The Iron Age site at Childrey Warren was particularly fascinating, as it provided a glimpse into the beliefs and superstitions of people living in Oxfordshire before the Roman conquest," said Neil Holbrook, chief executive of Cotswold Archaeology, in a statement. He also added that previous research has uncovered similar pit burials that suggest that Britain's ancient population may have practiced human sacrifice.
Ancient Britons had interesting relationships with their dead, and not just involving burials. In a 2016 study published in the Journal of Archaeological Science, for example, researchers found that some Iron Age Britons were buried in large grain storage pits, only to be exhumed years later. The process was done to retrieve a body part, as a relic of the deceased. This most recent discovery in Oxfordshire also helps refute the idea that the Iron Age people there widely practiced sky burial, in which corpses were left out in the open to decompose or be scavenged. This has often been used as an explanation for why so few Iron Age burials have been found in Britain. (Not to mention that those that have been found are often buried in odd configurations or with body parts removed.)
A thorough analysis of the bones, artifacts, and soil should provide more insights into the lives and burial practices of these Britons, spanning the Iron Age and Roman conquest.