Found: A Forgotten Copy of Shakespeare's First Folio
It was sitting in a library in a Scottish mansion.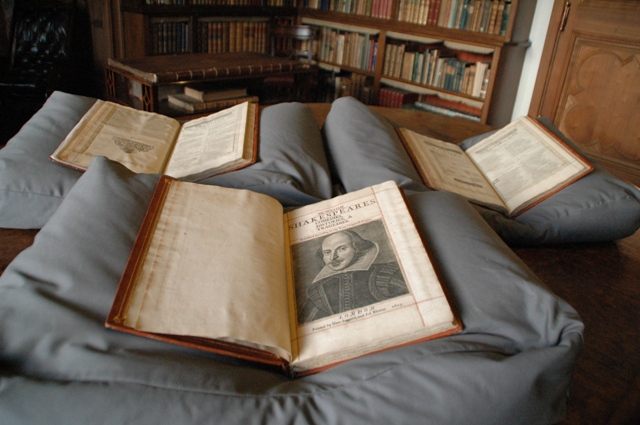 Mount Stuart's First Folio (Photo: Mount Stuart)
In 1623, seven years after William Shakespeare's death, about 750 copies of a collection of his plays, 36 in all, was published. The "First Folio," as it's known, contained 18 plays that were never published elsewhere, including fan favorites Twelfth Night, As You Like It, Macbeth, and the Tempest. Less than a third of the original copies have survived to this day.
New copies of the First Folio almost never turn up. But a previously unknown copy was just discovered, sitting happily in a library in a mansion on the Isle of Bute, a Scottish island not far from Glasgow.
This First Folio, the 234th copy known to exist, has been sitting since at least 1896 at Mount Stuart, a Gothic Revival mansion that was the ancestral home of he Marquess of Bute. Recently, the director of collections was cataloguing the mansion's library and came across the folio, which, unusually, is bound in three separate volumes.
Emma Smith, an Oxford professor and expert in First Folios, at first did not believe it could be real. Finding a first Folio is "like spotting a panda," according to Smith, and when she was told the Mount Stuart staff had found a new copy, she thought, "Like hell they have."
But when Smith examined the folio, she became convinced it was the real thing. She identified it as a copy that once belonged to Isaac Reed, a London editor who bought it in 1786. His copy was sold after his death, in 1807, but there are marks in the folio that he made. It's not clear exactly when or how the folio made it to Mount Stuart, but its existence there was never made public.
Now, though the First Folio will stay on the Isle of Bute, it will be proudly on display at Mount Stuart.
Bonus finds: Dragon millipedes, radioactive debris from a supernova, one of Lawrence of Arabia's bullets
Every day, we highlight one newly found object, curiosity or wonder. Discover something amazing? Tell us about it! Send your finds to sarah.laskow@atlasobscura.com.