These Farmers Want You to Drink Your Hops and Eat Them Too
Trashed in the U.S., hop shoots are treasure in parts of Europe.
Washington's Walla Walla Valley is home to some of the country's most fertile soils. Wheat farmers and vintners, or wine-grape growers, have taken advantage of this for decades, and it's what the region is known for. But it may soon be known for a more unusual crop.
Longtime friends Nick Morgan and Jeremy Petty, who worked at the local bottling factory together, both studied winemaking at Walla Walla Community College and worked a little in the wine industry, as most locals do. But when they thought about their next career steps, it didn't involve crushing grapes. What the two beer-lovers really wanted to do was grow hops.
A couple hours west of Walla Walla, 75 percent of the U.S. hops supply is grown in Yakima Valley. If this key beer-making ingredient was doing so well in a similar growing region, why not grow it in Walla Walla? None of their neighbors had a good answer—some had considered hops, but never followed through with the crop.
Encouraged by the growing craft beer scene, in 2018 they started Walla Walla's first hops farm since Prohibition. Walla Walla Hops began on an acre of land beside Petty's home. As a new, scrappy operation, they wanted to sell as much of the plant as possible, not just the flower, or cone, used in brewing beer. With a little research, they discovered that hops oil and salts could be made from the cones. And that the hop shoots (the first signs of growth on the perennial plant) were not only edible, but fetched a steep price—at least in some parts of the world.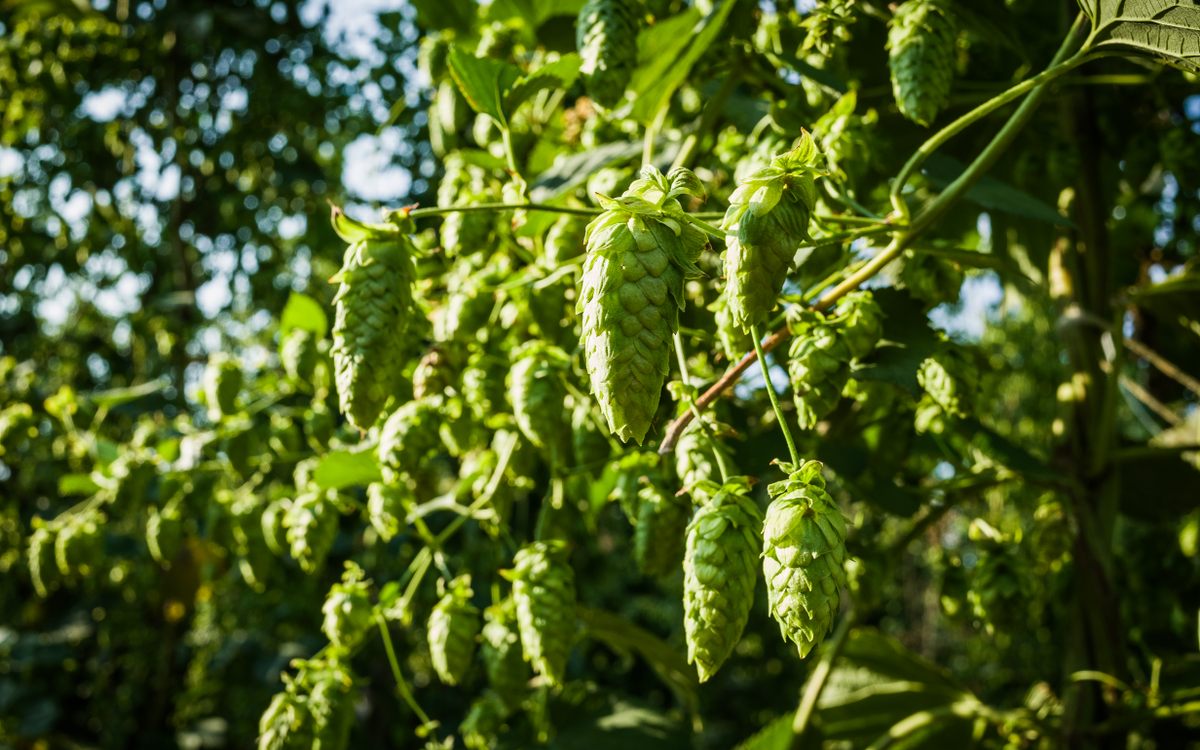 "It caught our attention because no one was doing any of this around here," says Petty.
Hop shoots begin to sprout in the early spring. Farmers typically remove these initial shoots to make way for the later-sprouting, hardier shoots that turn into bines, spend the summer winding up 20-foot trellises, and produce the aromatic, cone-shaped hop flower. These bright-green cones, which add stability, bitterness, and aroma to beer, come in many varieties and are coveted by brewers and craft-beer lovers for the unique flavors they bring to beer.
Do a quick Google search of hop shoots and the phrase "world's most expensive vegetable" pops up. In Belgium's hops-growing region of Poperinge, the tiny, tender shoots show up on menus from late February to early April. Thrown raw into salads, cooked in cream sauces, or baked, the shoots are harvested from underneath the soil and look like tiny white asparagus or bean sprouts. Petty says they are crisp and, when eaten raw, have an almost cucumber flavor.
The classic way to serve them is cooked with a poached egg and cream sauce, says Stefaan Couttenye, chef and owner of Restaurant 't Hommelhof in Poperinge, who has even turned them into ice cream. Couttenye says hop shoots have been found in ancient Roman cookbooks, but don't appear to be widely used outside of Belgium.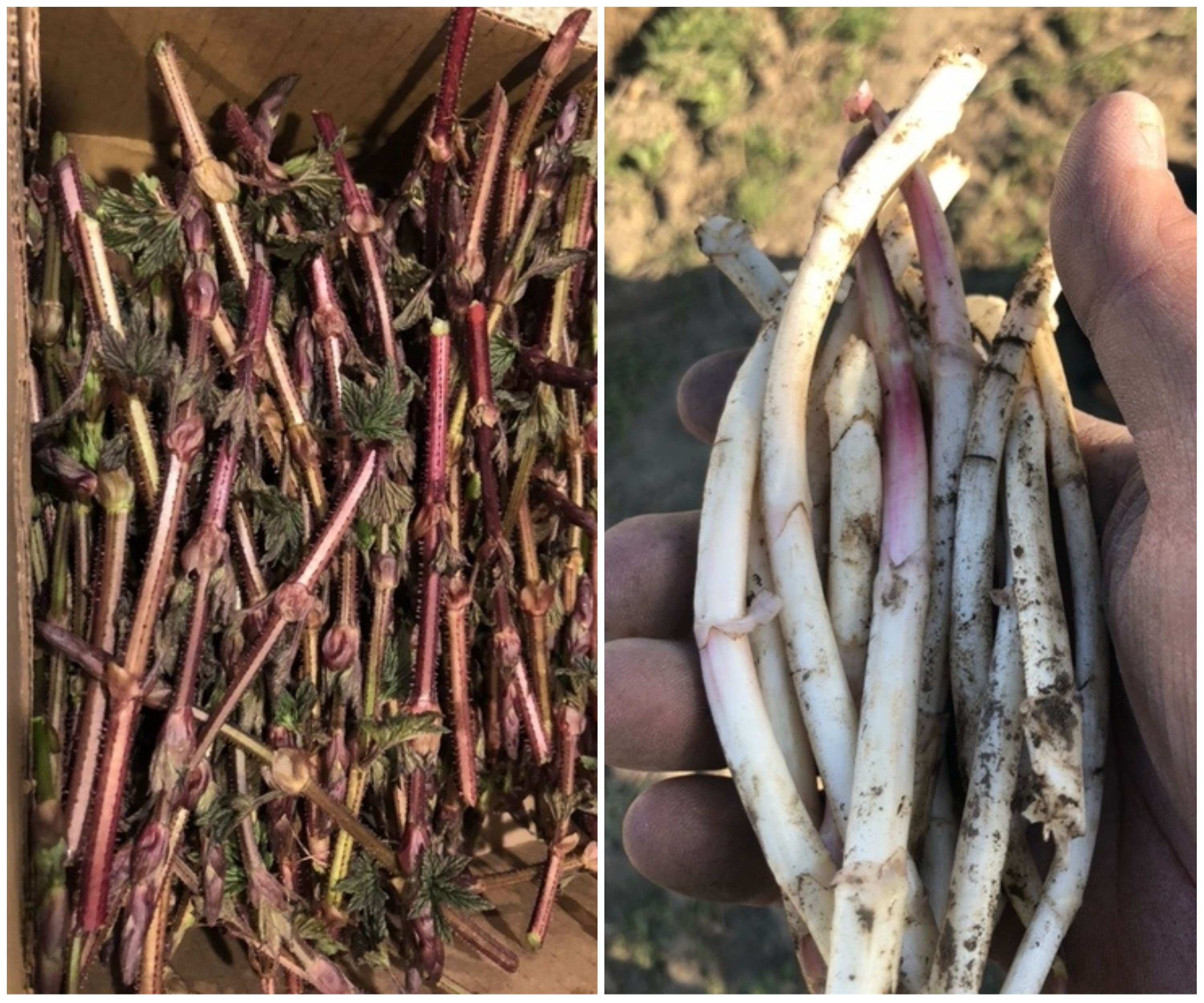 But this wasn't the part of the shoot that Petty learned about and began harvesting. It was the even less common, green and leafy, above-ground shoot, eaten primarily in Northern Italy and harvested from the wild. In Veneto, where they are called bruscandoli, wild hop shoots are cooked into omelets and risottos or pickled. This above-ground part of the shoot is more bitter than the Belgian shoots.
"They're quite expensive if you buy them though, so almost everyone I know just prefers to collect some in the countryside," Zaira Zarotti, a food photographer and blogger writes in an email. "In Venice they are part of the popular cuisine. I've never seen a dish with wild hops at a restaurant though." She says the ingredient is more familiar to her grandparent's generation, who grew up during the war when foraging was more common.
Most American hops farmers, though, discard this part of the plant. When Petty asked Yakima hops growers why they weren't harvesting the shoots, he kept getting the same answer: "They are a pain in the butt to harvest." Special equipment makes harvesting hop cones fairly easy compared to the fussy hand-picking the shoots require. For large-scale hops producers, it just wasn't worth it.
"I assume that at one point in time, this was attempted, wasn't profitable, and then was dropped," speculates Nicholi Pitra, lead scientist and breeder at Yakima Valley's Hopsteiner, one of the world's largest hops-growing and -processing operations. "To be honest, things in the hop world change slowly. The spring is a labor-intensive time for a hop farmer, so there might not be room on their plate to take on a task like this."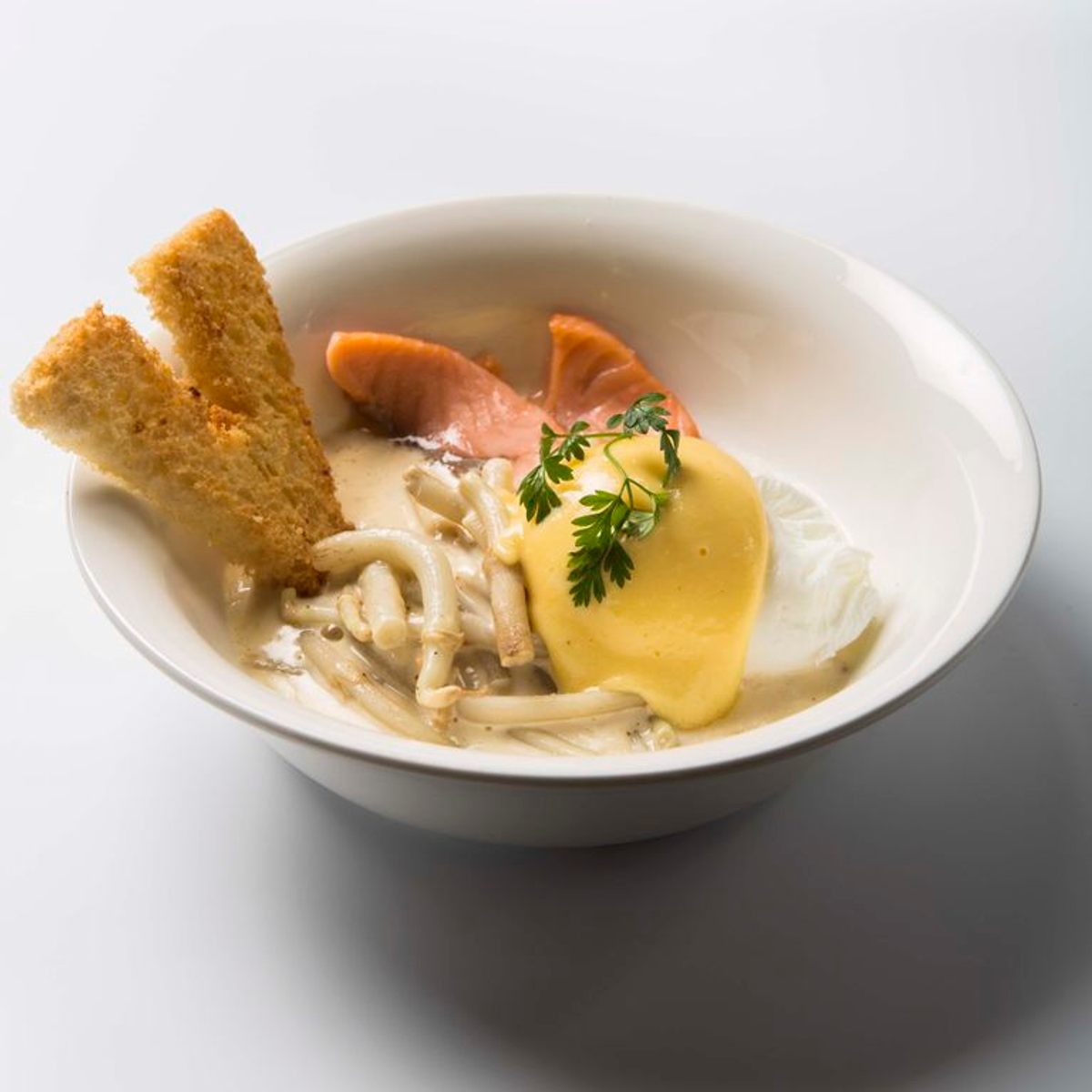 This didn't deter Petty though, who was intrigued by the potential of creating a new market for hop shoots. His first year of harvesting, he picked 10 or 20 pounds of the above-ground shoots to give to local chefs to trial.
"We weren't sure how they would take it honestly," says Petty. "But having friends in the industry, they trusted us enough to try them out."
Chris Teal, then chef of Walla Walla's Public House 124, a favorite restaurant of Petty's, had never heard of hop shoots, but was excited to try them. He Googled them, but came up short on information about how to cook the delicate shoots, so experimented with the vegetable in his kitchen.
"I've been kicking around things to compare it to, but there's really nothing else like it," says Teal. While it looks like a skinny asparagus, he puts it in the same flavor category as arugula or mustard greens, but that's still not quite right. It has a spice that increases the bigger or leafier it gets, and an earthiness. "You can taste the soil—in a good way."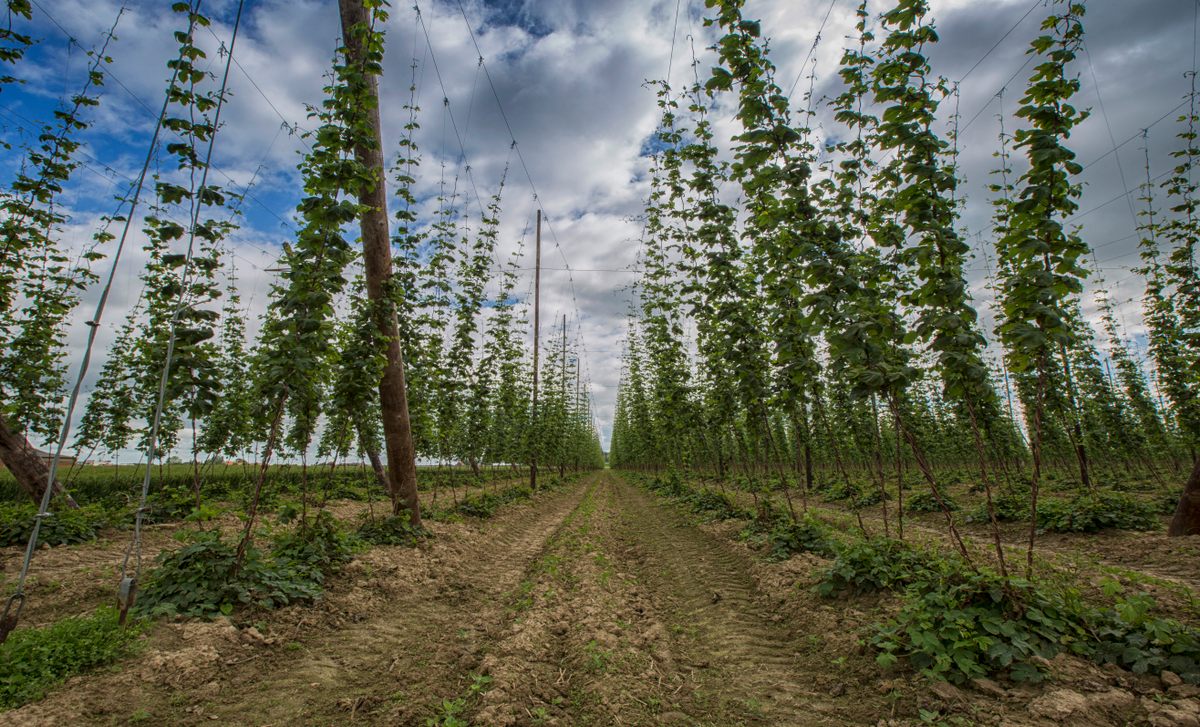 Teal, who got laid off as a chef at the start of the pandemic and now runs a produce-delivery business, did see interest and curiosity from patrons when he put them on the menu. He rolled them on the grates of a barbecue ("Cook time is a snap of a finger"), but had the most success pickling them in a local IPA beer-based brine with spices (he likes to throw them in tacos). He's found it works best as a garnish, since it takes a large quantity to make a full side dish.
Teal has also tossed hop shoots with pasta and wild morel mushrooms, another sought-after, highly priced local ingredient that he used as a benchmark for pricing in a market where most have never heard of hop shoots. While they won't be getting European prices any time soon, which, according to Couttenye, can be 120 Euros per kilogram ($73 per pound), Petty and Teal hope to grow the market for hop shoots based on initial interest from restaurants. They didn't sell any last season, since restaurants closed due to the pandemic, but they plan to continue selling both the above-ground and underground shoots, which Petty uncovered in his field this year and tasted for the first time without realizing that they were also eaten in Belgium. They gave a discount to local chefs this season as restaurants get back on their feet.
"It's a cool product," says Teal. "I think it could catch on if it got to the Seattle area where there are a lot more chefs looking for those cutting-edge ingredients to set them apart—the weirder or more off-the-wall the better."
Gastro Obscura covers the world's most wondrous food and drink.
Sign up for our email, delivered twice a week.