A Visual Appreciation of Hong Kong's Bamboo Scaffolding
Photographer Peter Steinhauer has captured striking images of cocooned skyscrapers.
Amid the skyscrapers that comprise Hong Kong's dense skyline, one might spot a few structures shrouded in vibrantly colored mesh and encased in grids of bamboo. These spectral scaffolds have been used for construction, renovation, and demolition in China for thousands of years, and they're also objects of enduring fascination for scholars and artists.
One of the first photographs of this distinct, dynamic process is an image created by John Thomson in Hong Kong in 1871. It shows a man climbing up an intricate network of bamboo surrounding a building. The scene, rendered in black and white, reveals the apparent durability of a seemingly delicate support system.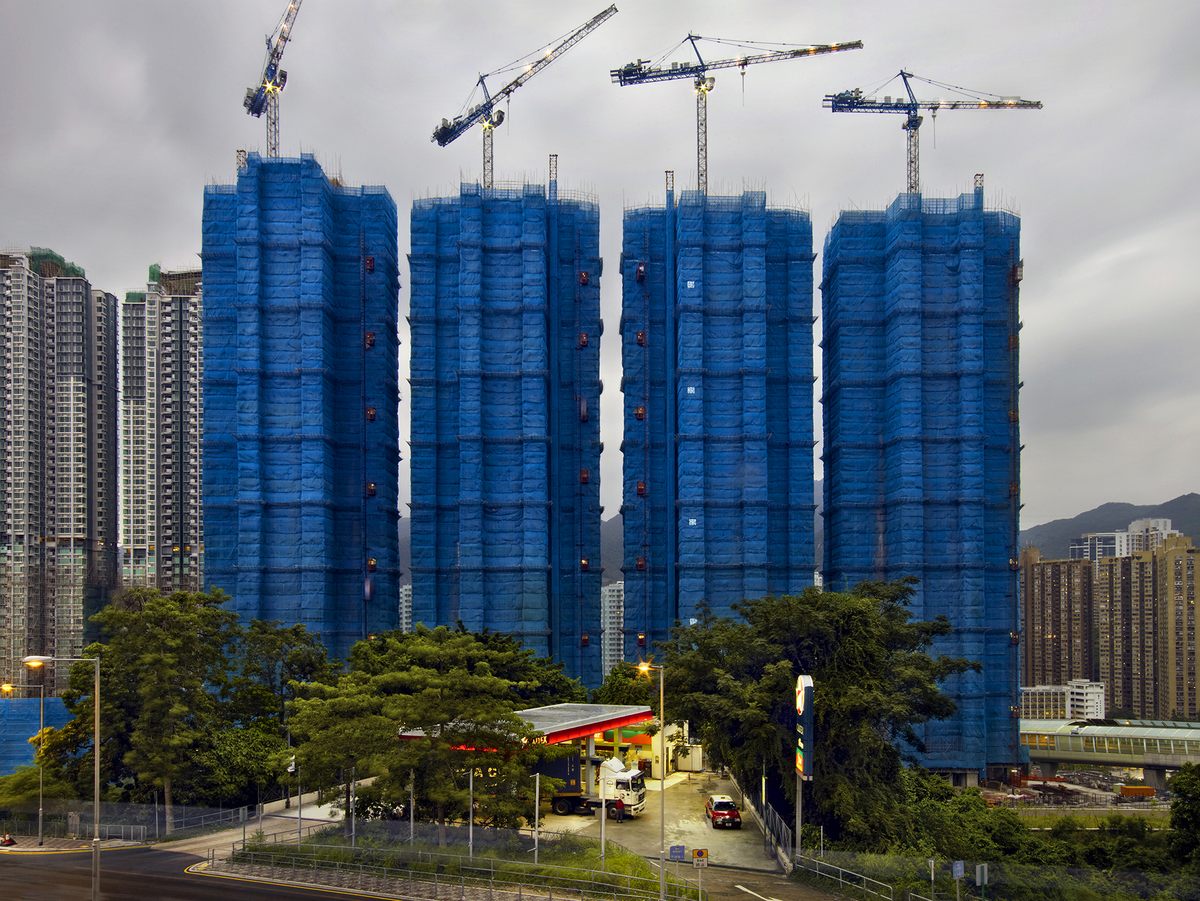 Bamboo scaffolding is one of the strongest, lightest, and most sustainable construction techniques practiced today. The bamboo and nylon mesh are recycled and reused for other developments, and the plants themselves are some of the fastest growing in the world.
It's easy to imagine why, when he visited Hong Kong in 1994, photographer Peter Steinhauer was immediately captivated by a building swathed in a bright yellow covering. It was a vision that he couldn't quite shake, and the extraordinary scaffolds would become the subject of an artistic project that lasted over two decades, as well as a new, robustly sized monograph titled Cocoons.
Within its pages are images of fantastical bamboo scaffolds around the city. Close-ups focus on the tight geometric forms within the bamboo frameworks. Photos with broader perspectives juxtapose the urban landscape with these undulating blue, green, and yellow outcrops.
"It reminded me of seeing giant, colored, wrapped packages in the middle of a monochromatic setting," Steinhauer says. "They're all different shapes, sizes, colors. And the design was completely different on every single building."
Steinhauer went to great lengths to capture the scaffolds from various angles, heights, and distances. Though the natural peaks of the city were useful for his purposes, he sometimes slinked into structures with particularly auspicious vantage points. In one instance, a doorman denied him entry into a residential building, but, by a stroke of luck, he managed to access a fire escape stairwell on its side. After climbing some 28 floors and waiting out a rainstorm once he reached the roof, he captured Cherry Street Cocoon, a rather dramatic photo featured in the book.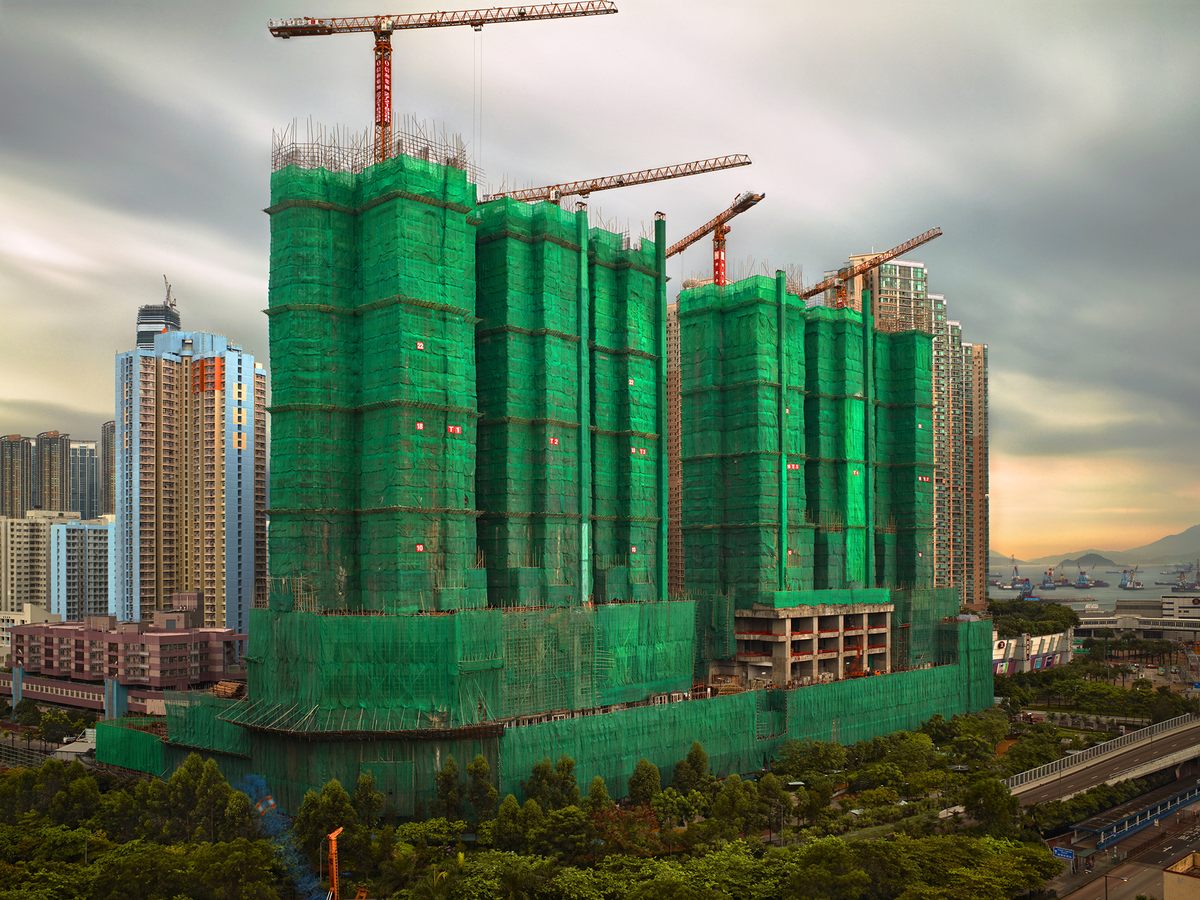 "The clouds were great, and there was color in the sky afterwards. It's a very Hong Kong-esque type of photograph. It shows the life of Hong Kong," he says.
The photographer acknowledged that his long-lasting interest in construction sites might baffle some viewers. ("That's kind of the crazy side of an artist," he told me.) Steinhauer explained that the complex configurations of lines that make up the scaffolds have held his attention since he first encountered them many years ago.
"There's actually a structure of the way the bamboo has to be put up so it's sound and strong," he says. "When you look at that structure, there's complete design to the whole thing."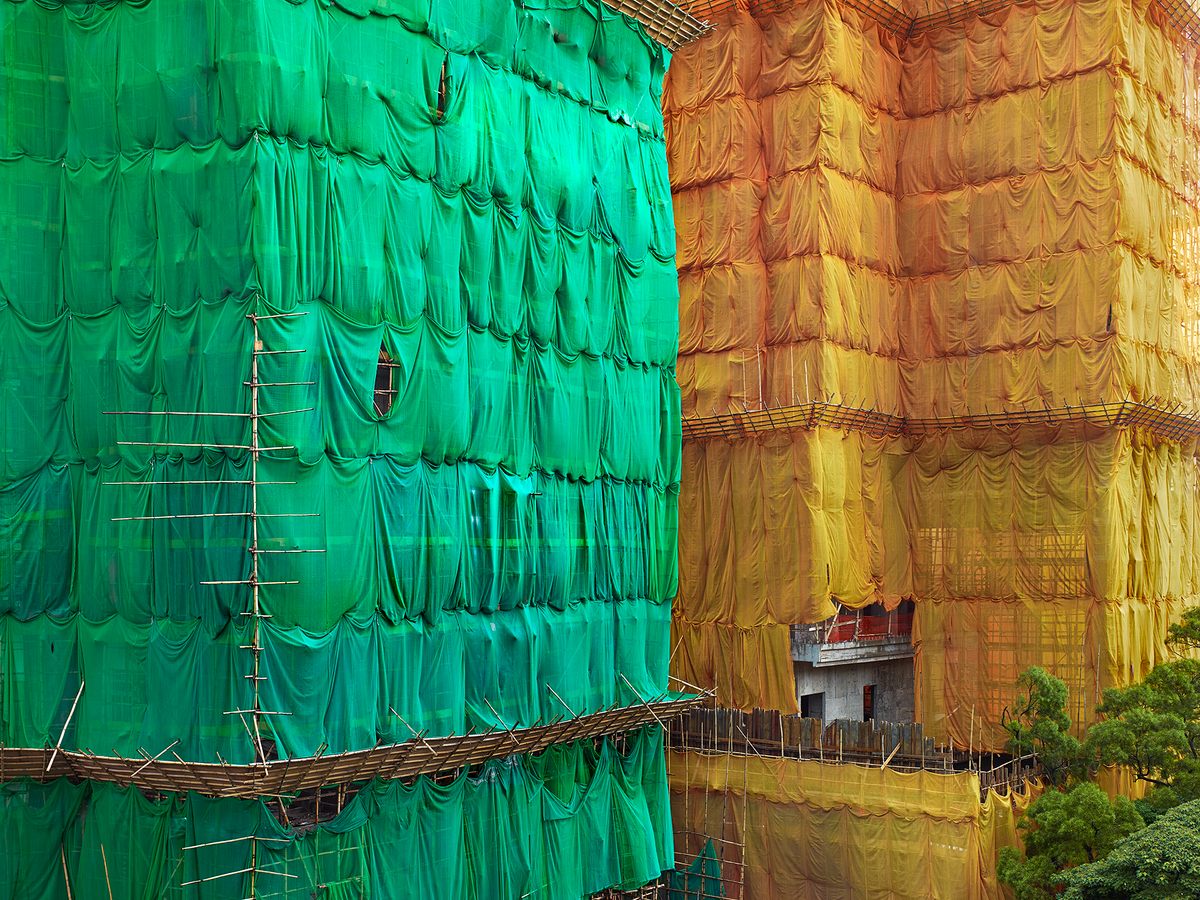 Moreover, Steinhauer was enamored of the process wherein the cocoons transform after being exposed to debris and air pollution and, ultimately, give way to something new. Often, he photographed the scaffolds at both the beginning and end of the endeavor.
These days, Steinhauer—who's represented by Hong Kong-based gallery Contemporary by Angela Li—is working through a new phase of the project: photographing the scaffolds in black and white. He's returning to the roots of the whole undertaking, in a way, since his very first snapshots of them were taken in that same colorless format. While this new variable is "resonating" with him, the artist said that his love for the subject matter remains constant and unflagging.
"It's beautiful. For me, it's a complete art form."