A Bookstore in Boulder Pivots to Bike Delivery of 'Mystery Bags'
They're filled with handpicked books and a bag of tea or coffee beans.
In late March, when the COVID-19 pandemic forced Boulder, Colorado, to close all non-essential businesses, the city's bustling pedestrian hub for food and shopping, Pearl Street, went quiet. Without its usual flow of foot traffic, Trident Booksellers and Cafe had to choose whether to close or to totally change its approach. Its owners realized that instead of having the public come to them, they could bring the books, coffee, and tea to the masses.
Founded in 1980, Trident is the oldest cafe in the area, filled with new and used books, coffee, and every type of tea you can imagine. It normally serves locals and University of Colorado students, and its windows look out on the city's iconic rock formations, the Flatirons. During a lockdown, of course, its prime location wasn't much of an asset. As its income dried up, the store laid off 80 percent of its 25-person workforce. But in recent weeks, one of Trident's four owners, Andrew Hyde, has brought a few of them back to take online orders for "mystery bags" of books, to be delivered to your door. "At first, I posted the idea to Twitter, almost as a joke, but we received 10 orders in the first few hours, so it was a go," Hyde says.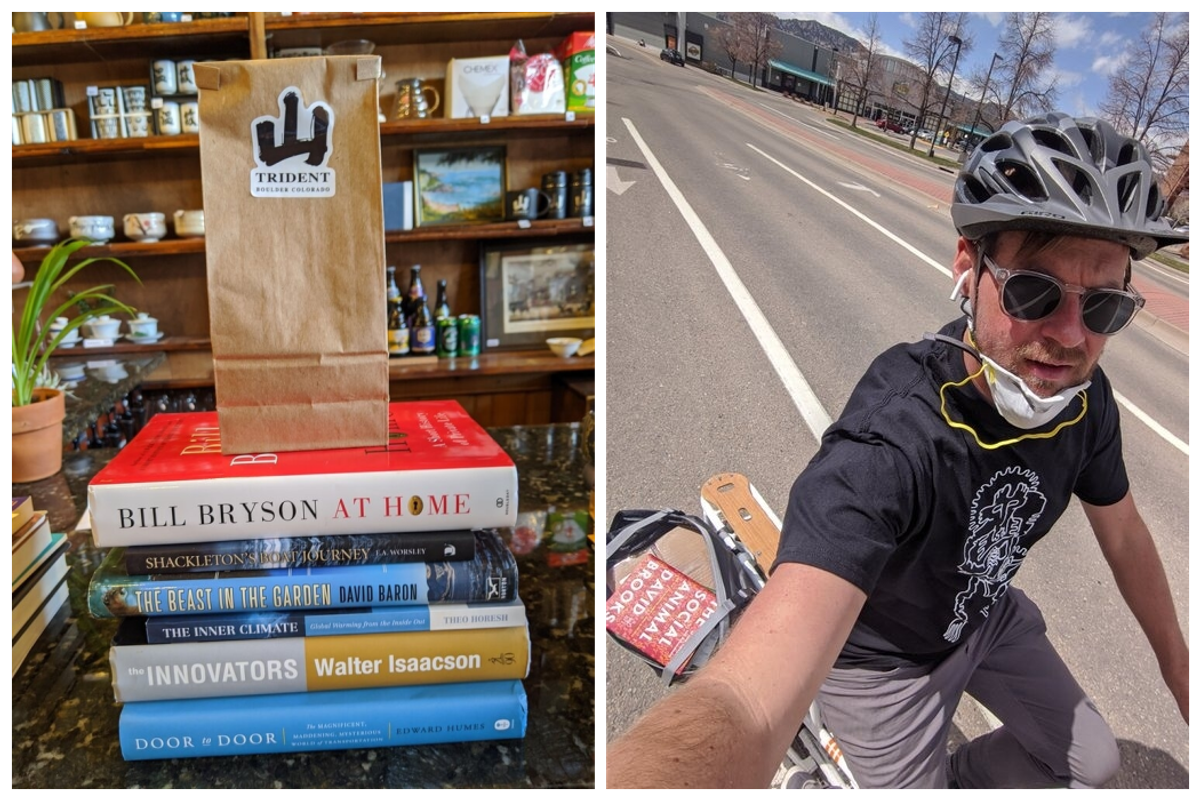 By early-April, they had sold over 300 bags. "About half are Boulder locals and the other half are from around the world," Hyde goes on. At $50, each bag is packed with four to six used books that are chosen by the staff with input from the customer. Some people requested science fiction, others wanted political biographies, and a few have left it entirely up to Trident. In addition, customers can choose a bag of coffee beans or tea.
For orders within the city of Boulder, a Trident team member will put on gloves and a mask and hand-deliver the bag via bicycle. For anyone sheltering in place outside of biking distance, they'll mail the mystery bag via USPS, for an additional $5 flat rate. "It's so much fun to pick great books for people," Hyde says. "Lots of obscure things."
Trident acquires used books from sellers throughout the country. In non-pandemic times, an average used book spends about three months on the shelf before it sells. "We're not just moving old inventory, we're packing bags with books we'd be excited to receive," Hyde says. But the endeavor hasn't been without challenges. "Keeping up with demand is something we haven't been used to," Hyde says. "We ran out of delivery bags and coffee bags. Then we ran out of shipping envelopes three times." They've also run out of sci-fi options, and sometimes struggle to fill requests within specific themes.
For many, the bags are functioning as a way to support the community. When Boulder resident Mike Gehard ordered a mystery bag, he didn't make any special requests; he let the staff at Trident choose his books at will. "I ordered a bag because I'm friends with Andrew and wanted to support a local business," he says. "I want to support as many local businesses as I can through this." Some of the books were titles he might have picked out himself, while others were surprises.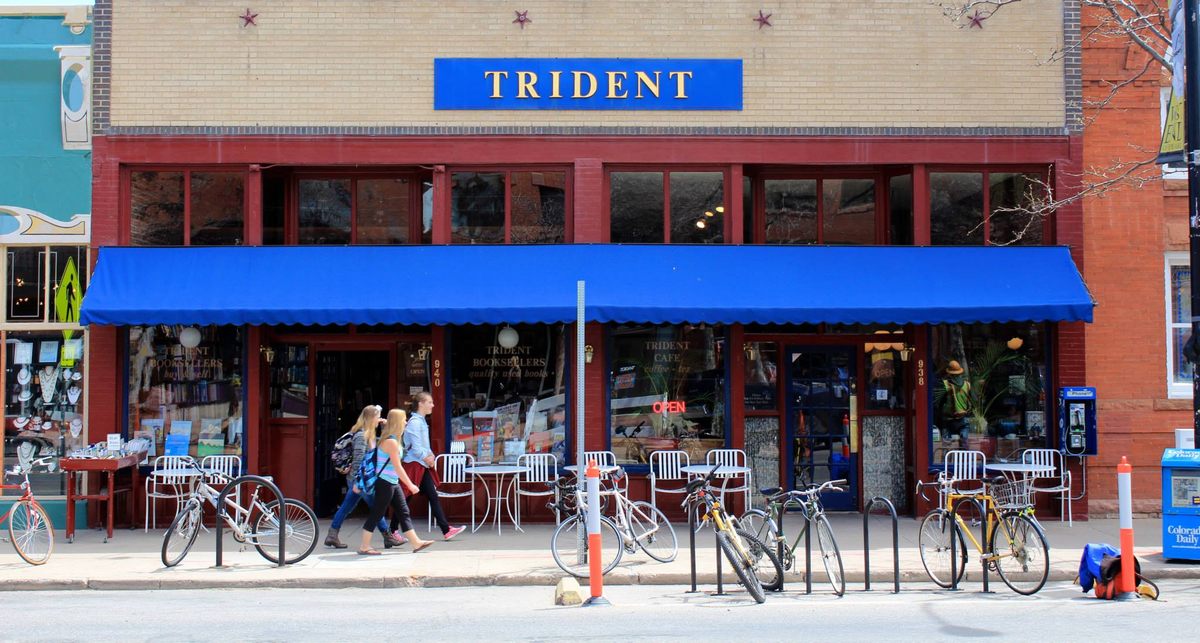 Sarah Shapiro, a resident of Boulder County, received a mystery bag from her husband as a gift. "My husband ordered it because I was stressed out," she says. "He knows I like books about death and religion, so that's what he requested." Currently, she's reading From the Bodies of the Gods: Psychoactive Plants and the Cults of the Dead. She says she looks forward to reading a horror fiction collection that also came in her bag.
The mystery bag sales are helping to keep Trident solvent, Hyde says. "The decisions we have now are not, 'Should we close?,' but rather, 'What other online strategies should we try as we weather this storm?'" He recently posted on social media: "Give me more ideas for what Trident can do for the community." He's already received requests for kids' bags and video-chat events.
Trident has historically been a brick-and-mortar store: this is Hyde's first time managing an online store and inventory. He's enjoyed the challenge of next-day fulfillment, and also the exercise of bike delivery. But he's not immune to the trauma that the world is going through. The work has helped him with the depression that many are experiencing right now. "It just gives me a challenge and purpose and that makes me, and others, happy," he says.
You can join the conversation about this and other stories in the Atlas Obscura Community Forums.