Annie Londonderry Barely Knew How to Ride a Bike When She Set Off Around the World
The record-setting 19th-century adventure was the result of a bet.
For Women's History Month, Atlas Obscura is living on the edge with Women of Extremes, our series dedicated to those who dared to defy expectations and explore the unknown.
It started, as so many things do, with a bet. It ended with a broken arm, a $13,000 purse, and two fingers in the eyes of the patriarchy.
"A Boston newspaper woman about twenty-seven years old…will undertake to travel around the world, and at the end of fifteen months return to Boston," the New York Times reported on February 25, 1894. "The traveler starts out penniless, with simply the clothes she has on, and a part of the plan is to travel through cities on a bicycle and in bicycle costume."
The first man to cycle around the world, Thomas Stevens, did so in 33 months in the 1880s, prompting two unnamed Boston businessmen to wager $10,000 that a woman could not repeat the feat. Annie Cohen Kopchovsky—a Jewish-Latvian transplant to the United States who prior to the trip sold advertising space for several Boston-based newspapers and was actually 23 or 24 years old—accepted the challenge.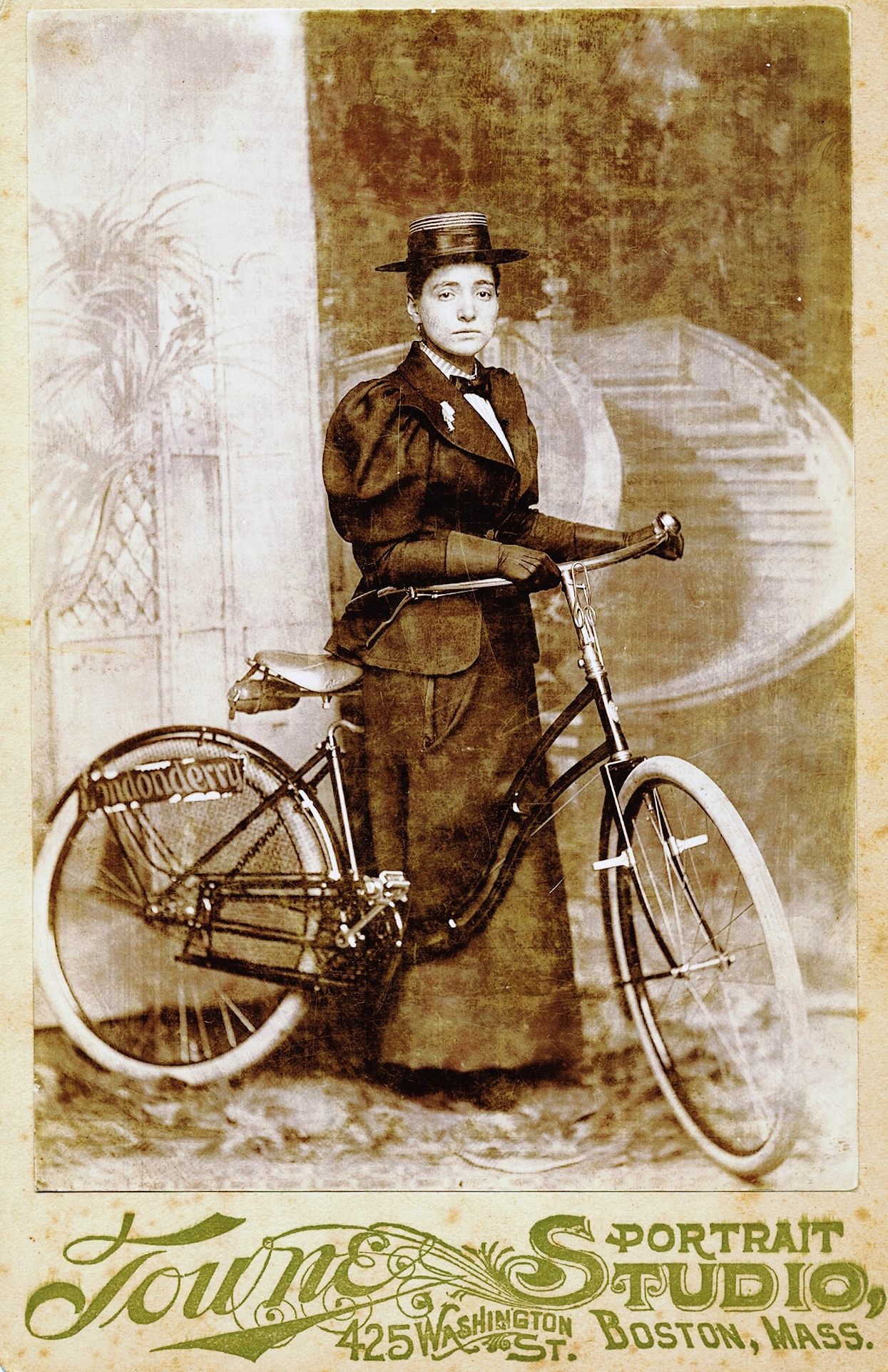 Peter Zheutlin, Kopchovsky's great grandnephew, has written extensively about his relative's trip, meticulously reconstructing her route. Still, he has not been able to figure out why she volunteered—or was chosen—for the adventure. What we do know is that on June 25, 1894, Kopchovsky, a 5-foot 3-inch, 100-pound mother of six, set out from Boston, riding a 42-pound Sterling bicycle. The 15-month trip would eventually take her east around the globe to Chicago via Alexandria and Yokohama and more than 45 other stops. It was a daunting prospect, especially for Kopchovsky, who had only ridden a bicycle for the first time a few days before her departure.
On that June afternoon, a crowd of 500 gathered at the State House in Boston to see Kopchovsky off. Speeches were made, and then a representative from New Hampshire's Londonderry Lithia Spring Water Company handed Kopchovsky $100 in sponsorship money. In exchange, she hung an advertising placard on her bike and changed her surname to "Londonderry" for the duration of the journey. "Then, packing only a change of underwear and a pearl-handled revolver, Annie Londonderry 'sailed away like a kite down Beacon Street,' according to the Boston Evening Transcript," Zheutlin writes in Bicycling magazine.
Initially, Kopchovsky cycled west to Chicago before reversing her route, apparently having realized that she would not be able to traverse the Great Plains before winter. On the verge of abandoning her trip, she cycled back east to New York. The bet did not specify how many miles Kopchovsky had to ride, and she made the most of this ambiguity, catching a steamer ship from New York to France, cycling across the country to Marseilles where she caught another ship to Alexandria before traveling to Yemen, then sailing to Sri Lanka and Singapore. From there she rode and sailed her way across Asia, claiming to have visited Russia and North Korea before cycling across Japan and sailing home from Yokohama. On March 23, 1894, she arrived back in the United States, and spent the next six months cycling eastward from San Francisco, reaching Chicago on September 12, 14 days ahead of schedule.
"Miss Annie Londonderry arrived in this city this morning, after a trip around the world on a broken arm, the result of a bad fall sustained in one of the Western towns," the New York Times reported on September 24, 1895. "She was to receive $10,000 if she finished the journey in fifteen months, and she feels proud of the record she has made." In addition to the $10,000 bet money, Kopchovsky brought in an additional $3,000 from lecturing about cycling en route.
The money was hard earned. On her journey, Kopchovsky was reportedly nearly killed by a runaway horse and wagon in California, and she collided with a drove of pigs in Iowa, falling and breaking her wrist. In a first-person account of the trip published in the New York World on October 20, 1895, Kopchovsky also claimed to have been briefly imprisoned in China during the Sino-Japanese War. "The cell was merely a hut with lattice-work sides. There was no protection from the bitter cold and I suffered keenly. While thus imprisoned a Japanese soldier dragged a Chinese prisoner up to my cell and killed him before my eyes," she wrote.
Whether or not this last part is true, partially true, or all extraordinary embellishment is hard to prove. For his part, Zheutlin recalls Kopchovsky's reputation within his family as someone who "delighted in spinning tall tales and creating her own legend." This, however, is undisputed: As the first woman to circumnavigate the globe on a bicycle, Kopchovsky became a symbol of freedom, much as the bicycle itself did. The bicycle "has done more to emancipate women than anything else in the world," suffragist Susan B. Anthony would declare two years after Kopchovsky's round-the-world ride.