A New Statue Remembers A Forgotten, Working Class Suffragette
The controversial art of choosing who we do, or do not, commemorate.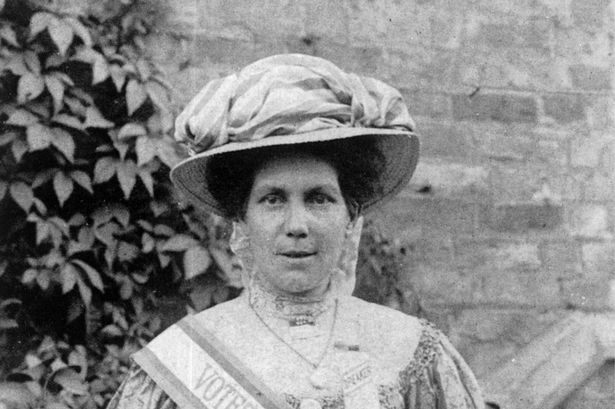 A familiar face is returning to Leicester, England. The suffragette Alice Hawkins, who died in 1946 and was buried in an unmarked pauper's grave, will be honored with a statue, reports the BBC. The monument depicts Hawkins wearing her "Votes for Women" sash. Around the world, contentious statues, and their removal, are making headlines. But, in the meantime, new monuments are going up—Emmeline Pankhurst, Millicent Fawcett, and now, Hawkins.
After leaving school at 13 in 1876, Hawkins found work in a shoe factory. Quickly, she learned that her male colleagues were not only being paid more, but receiving better working conditions. Her activism began here: first, in the local "boot and shoe" trade union, then at the Equity shoe factory, which was a worker's co-operative that encouraged its staff to participate in politics.
But Hawkins grew disappointed with these organizations, which she felt prioritized the desires of male workers over better rights for all. She began attending meetings at the Women's Social and Political Union. After her first meeting in February 1907, she was arrested at a march for women's suffrage. She was jailed five times in total over the subsequent seven years.
"Many people today believe that the suffragette movement was largely comprised of well-to-do ladies with time on their hands," said her great-grandson Peter Barrett in a 2013 press release. Instead, Hawkins was a "working class lady and mother of six," who balanced long hours in the factory with her political activism.
The memorial was made possible by a local businessman, who chose to remain anonymous. After watching the 2015 film Suffragette, he was moved to donate over $100,000 towards the statue.
But even history's heroes and heroines have their demons. That same film came under fire for glossing over the way white suffragettes excluded their black peers from the fight for voting and equality rights. Moreover, Susan B. Anthony and many other women's rights heroes, whom we continue to laud, are on the record making racist statements. Pankhurst's own forthcoming memorial, in Manchester, has itself met criticism.
In East Harlem, New York, residents have long campaigned for the removal of the statue of J. Marion Sims, often described as the father of modern gynecology. While he made tremendous strides in women's healthcare, Sims did so through his grisly experiments on enslaved black women. A local city council member, Bill Perkins, said at a rally this week that the statue came "from a mentality and an era that are quite inconsistent with today and the future," and called for its removal.
Following the events in Charlottesville, Virginia, earlier this month, Mayor Bill de Blasio announced a 90-day review on "symbols of hate" that are public memorials on city property. J. Marion Sims's statue is just one of the icons under review, alongside street names and plaques. These memorials may have been designed to withstand the ages and the elements—but sometimes, the age moves on, and the subject of the statue is deemed no longer worth commemorating.