12 Quirky Treasures of Milwaukee
Wisconsin's largest city is brewing a lot more than beer.
Panoramic view of Milwaukee, circa 1900. (Photo: Public Domain)
Ah, Milwaukee! You'll be hard pressed to find a city with prouder citizens and more midwestern charm. As the biggest city in Wisconsin, Milwaukee is home to not only 38 bowling alleys, but also the world's most famous micro-nation, a poop-processing facility, and a chapel transported from France. Atlas Obscura dug around to pinpoint Milwaukee's most unique spots.
Two thumbs up for the folks of Milwaukee! (Photo: daniel.baker/CC BY-ND 2.0)
Milwaukee has a permanent tribute to Arthur Fonzarelli, better known as "Fonzie" or "The Fonz," an upstanding citizen from the hit sitcom Happy Days, which aired from 1974 to 1984. Local citizens together raised $85,000 to erect the life-size bronze statue created by artist Gerald Sawyer, and thousands showed up for its original unveiling on the Milwaukee Riverwalk. Henry Winkler, the actor who played Fonzie, described the Bronze Fonz as "truly beautiful."

The official flag of the Kingdom of Talossa, a micronation founded in 1979 by a 14 year old. (Photo: Robin0van0der0vliet/Public domain)
The Kingdom of Talossa, founded in 1979 by then-14-year-old Milwaukee resident Robert Madison, is one of the oldest and most famous micro-nations still in existence. The kingdom's chief territorial claim is a section of Milwaukee referred to as the Greater Talossan Area. Named after the Finnish word for "inside the house," the Kingdom of Talossa currently has over 200 citizens, and a language with over 28,000 words. But all has not always been smooth in the kingdom's nearly 40-year history. In 2004, some citizens of the seceded nation seceded themselves, developing the Republic of Talossa, and in 2006, newly appointed King Louis, a fourth grader, resigned, leading to his replacement by the current King John. Since then, the kingdom has been at peace.
Fermenting waste being processed on a conveyor belt, partway to becoming Milwaukee's famous Milorganite. (Photo: rachelemkrivichi/Atlas Obscura)
10. Jones Island Poop Recycling Facility
On the edge of Milwaukee's Lake Michigan is a factory known best for its smell. On windy days, the signature smell of fermenting poop, undergoing a highly technical wastewater treatment process at the Jones Island Water Reclamation Facility, can waft all the way to the other side of the city. After a multi-step process, purified water is funneled back into Lake Michigan, and leftover solids (poop) are dehydrated, fermented, and dried to make something called Milorganite, which has been sold as a fertilizer since 1926. Curious explorers can take a tour of the facility and even get their hands on the groundbreaking stuff!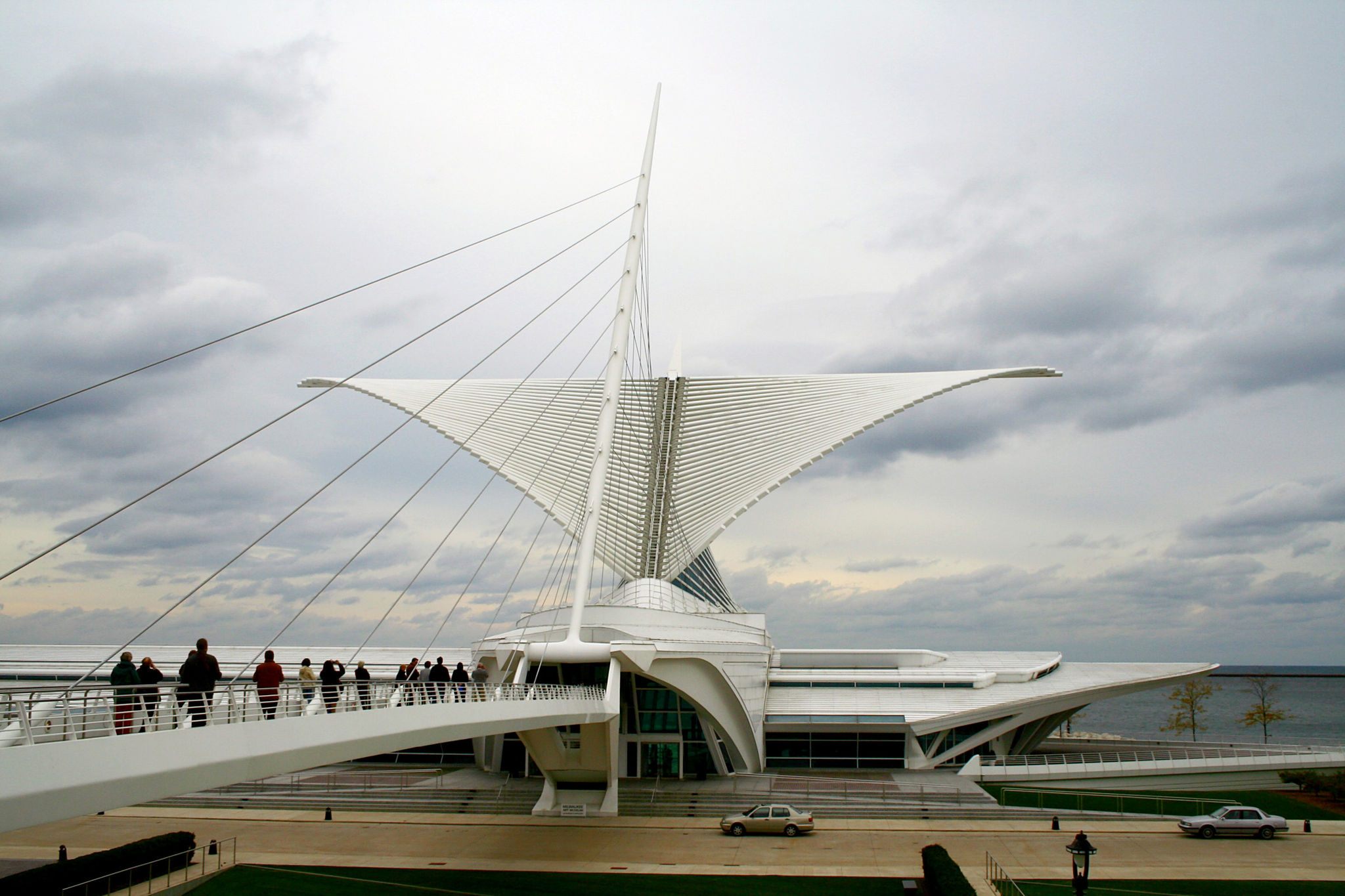 The Milwaukee Art Museum. (Photo: Michael Hicks/CC BY 2.0)
The Milwaukee Art Museum is a work of art unto itself. The building was designed by Spanish architect Santiago Calatrava, and is shaped like a bird taking flight over the lake. Large metal beams resembling outstretched wings extend from the building during the day, but actually retract in the evening when the museum closes. If this magnificence isn't enough for you, the collection contains one of the biggest collections of works by Georgia O'Keeffe, a Wisconsin native, along with works by Picasso, Monet, and Warhol.
The original roots of St. Joan of Arc Chapel can be traced back to 15th century France. (Photo: Emma Stodder)
8. St. Joan of Arc Chapel
The St. Joan of Arc Chapel, located within the Marquette University campus, came to Milwaukee all the way from the small village of Chasse, in France. In 1920, the chapel, which dates back to at least the 15th century, was dismantled and transferred to an estate on Long Island, contributing to a larger trend of uprooting medieval buildings and bringing them to America. Then, in 1964, the estate's owners sent the chapel to Marquette, and it was once again dismantled and reconstructed, with 40,000 pounds of stone transported by truck. It has been a campus fixture ever since.
The museum's pharmacy gives a glimpse into the remedies we used a century ago. (Photo: Chudnow Museum of Yesteryear)
7. Chudnow Museum of Yesteryear
The Chudnow Museum of Yesteryear is a historic building housing an extensive and eclectic collection of artifacts from the 1920s and 1930s. The collection originally belonged to Avrum Chudnow, a devotee of early Americana. You can wander your way through a fully furnished kitchen, general store, soda counter, and pharmacy, as well as a theater, doctor's office, smoke shop, barber shop, and even a secret, hidden speakeasy. In the pharmacy, you'll find items available over the counter that now seem unimaginable—tonics, cures, and elixirs containing narcotics like heroin and cocaine. These medicines were marketed as pain relievers and cure-alls, often to women suffering from cramps.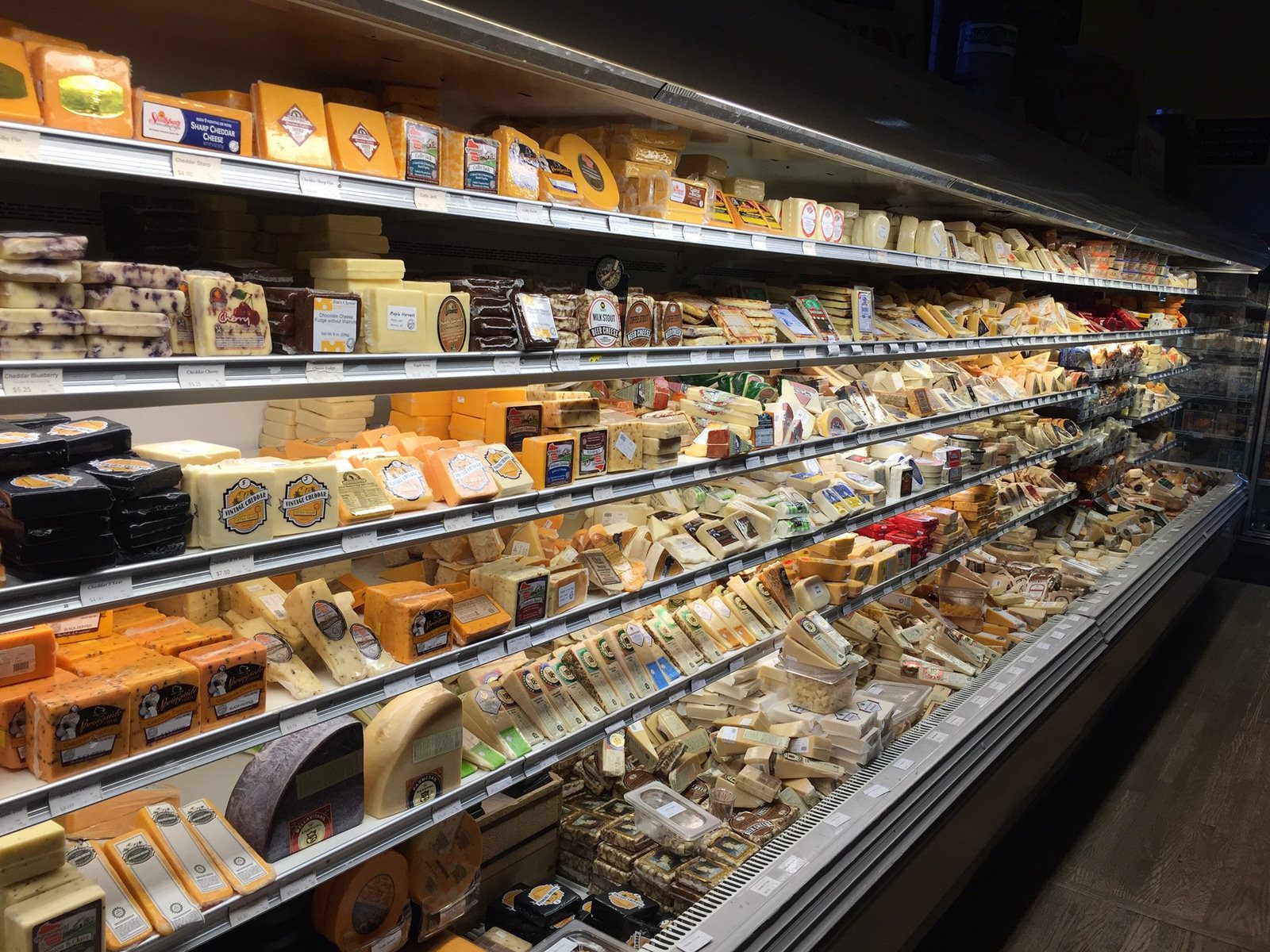 Endless oodles of cheese at the Wisconsin Cheese Mart. (Photo: Dion Hinchcliffe/CC BY-SA 2.0)
6. Wisconsin Cheese Mart
Starting with its inaugural cheese factory in 1841, Wisconsin doesn't mess around with cheese. In fact, a hard cheese from the state just won the World Championship Cheese Contest–the first U.S. cheese to win since 1988, when another Wisconsin cheese took the prize. The Wisconsin Cheese Mart, situated right in the heart of Milwaukee, has been around since 1938, and is one of the city's oldest cheese sellers. Nearly all of its cheeses are made in the state, with aged cheddar being its most prized and popular cheese, though Colby is also a favorite. In addition to its retail area, the Cheese Mart is home to the Uber Tap Room, a cozy bar where patrons can combine their love of local beer and local cheese.
The three domes at the Mitchell Park Horticultural Conservatory each have a distinct climate and setting. (Photo: Sulfur/CC BY-SA 3.0)
5. Mitchell Park Horticultural Conservatory
Each of the three beehive-shaped domes at the Mitchell Park Horticultural Conservatory functions as its own different world. Within each is a different climate. The Arid dome contains plant life from the Americas and Africa, including the unusual Welwitschia plant, which may live for over a thousand years. The Tropical dome serves as a respite from the harsh midwestern weather outside, and contains a number of colorful birds in addition to nearly 1,000 species of plants, while the Show dome changes seasonally.
Mystery and intrigue await within the Safe House—if only you know the password to get in. (Photo: Ashleigh Bennett/CC BY-ND 2.0)
Milwaukee night life gets a spy-themed edge at this clandestine spot. Tucked away in a nondescript alleyway lies the Safe House, a bar with two-way mirrors, fake bathroom doors, and a secret passageway. The establishment can only be accessed via password—although should you fail to supply one, you can gain entry by performing a ridiculous dance (which is broadcast to all patrons). Once you're in, grab a drink, try your hand at blackjack, and try not to reveal your identity.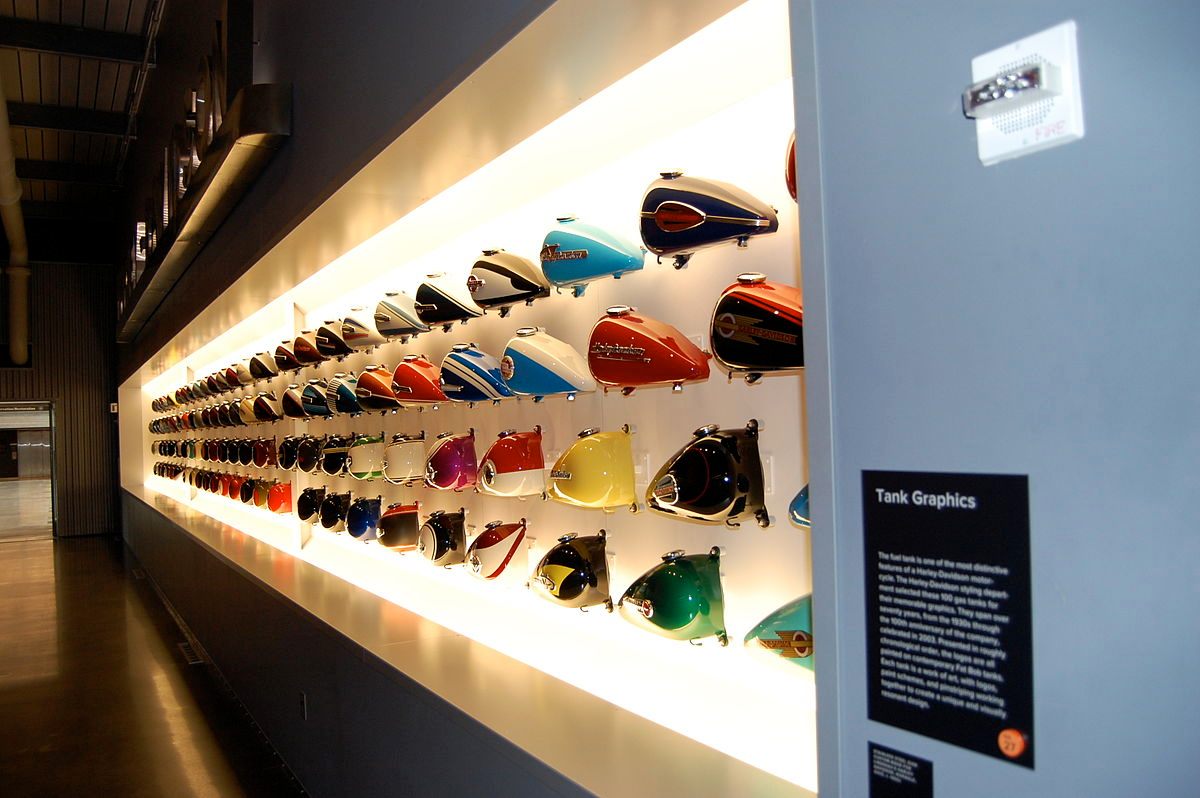 A colorful display of motorcycle gas tanks at the Harley-Davidson Museum. (Photo: Danemroberts/CC BY-SA 3.0)
3. Harley-Davidson Museum
Harley-Davidson, Inc., now the nation's most recognized name in motorcycles, was founded in 1903 in Milwaukee. The museum was established in 2008 and houses over 450 motorcycles and hundreds of thousands of artifacts from the motor company's history. Some of the highlights include the oldest-known Harley-Davidson in existence, a replica wooden board track suspended from the ceiling, and a wall featuring some of the most memorable gas tank graphics.
You can get your gluten-free wafers at this one-stop holy shop. (Photo: rachelemkrivichi/Atlas Obscura)
If your church needs a bit of fresh bling, holy goods emporium T.H. Stemper Co. is the place to go. Founded in 1911, T.H. Stemper has all manners of religious objects, in almost every size, color, and style imaginable. The store has goblets, robes, and statues as well as spare pews and framed photos of the Pope. They even stock whole wheat and gluten-free wafers. It's a true one-stop holy shop.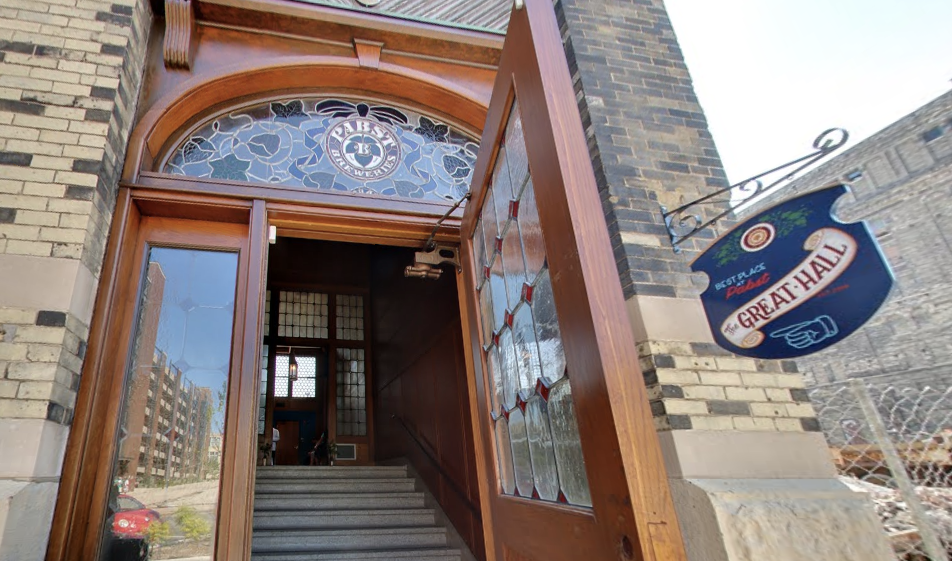 PBR, anyone? (Photo: Google Earth screen shot)
1. Best Place at the Historic Pabst Brewery
Milwaukee has brought us some of the most recognized names in beer: Pabst, Miller, Schlitz, and Blatz. The breweries' success might have been in part due to the city's once-small population, which forced them to expand sales by marketing far and wide. Founded in 1844 by a German immigrant named Jacob Best (hence "Best Place"), the Historic Pabst Brewery was the first of the Milwaukee brewers. It closed in 1996, and in 2001 the Great Hall, Captain's Courtyard, and other rooms were restored and opened to visitors.