Time Is Running Out for a Beloved Mechanical Horse-Race Game in Vegas
There's only one Sigma Derby machine left.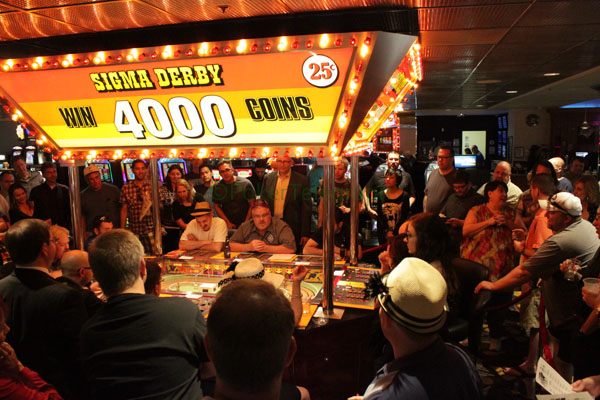 When you arrive on the second floor of The D Las Vegas casino on Fremont Street, you're greeted by the tinny, rhythmic thumping of 20 artificial hooves galloping in unison. It's more persistent and more infectious than the trademark Wheel of Fortune tones that you hear emanating from branded slots almost everywhere you go in town. It's louder than the classic pop hits blaring through the casino speakers. The only thing that comes close to drowning it out are the crowds of people who gather around its source, trading memories and gossip about the wood-panelled machine, and cheering on their picks in the hopes of winning somewhere between two and 4,000 coins.
The hammering sound belongs to Sigma Derby, a mechanical casino game that allows gamblers to bet quarters on toy horses that race around a bucolic miniature race track. Over three decades after its debut, the Derby machine has become a beloved cult icon—no easy task in an industry as fickle as gambling, or a place as ever-changing as Las Vegas. But nothing can last forever, and that's particularly true of elaborate vintage racing pony contraptions that have long since gone out of production. As far as Derby fans know, the Sigma Derby at The D recently became the last operating machine of its kind anywhere in the world.
---
Sigma Game Inc.'s Derby machines started appearing on casino floors in 1985. The rules were simple enough for anyone who had already enjoyed a number of complimentary drinks to follow, and the display compelling enough to hook even the soberest of minds: A series of odds ranging from 2-1 to a maximum of 200-1 are displayed before each race. You have 30 seconds to insert your quarters and place your bets on one of 10 possible quinella combinations—which two horses will place first and second—at one of the 10 stations surrounding the toy track. Then you cheer on your chosen ponies as an elaborate series of gears hurtles them around the track for 60 seconds. If your chosen horses come in first and second, you win the corresponding odds.
(For example, if you bet on the combination with 2-1 odds, you'll get two quarters for every one that you bet. If you have money on the 200-1 and it happens to come in, you'll win 200 quarters per quarter bet, and the infectious communal joy of winning the big one with your fellow players.)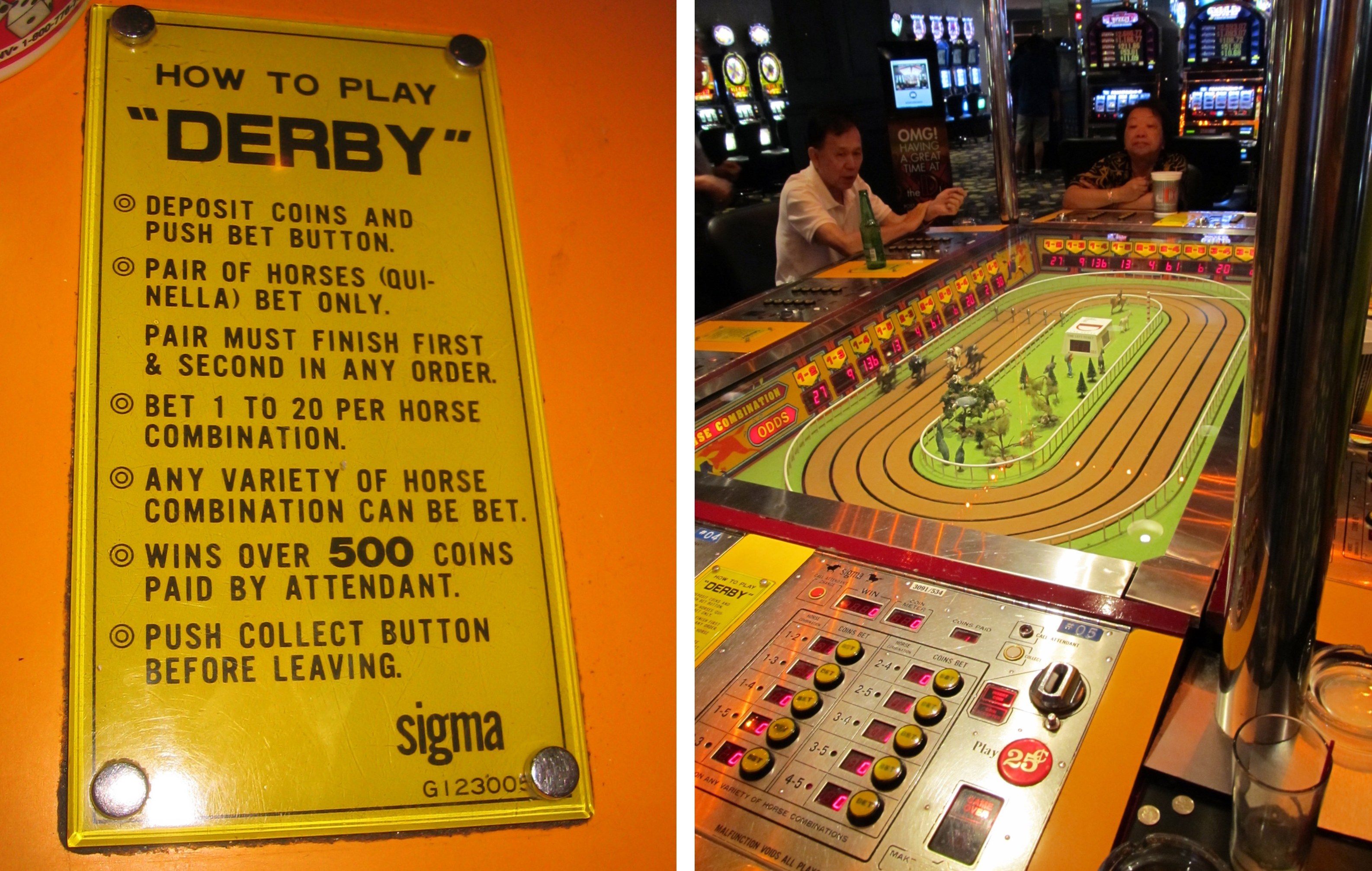 Sigma Derby was instantly appealing to patrons looking for an alternative to the potential monotony of three reel slots or the competition of table games.
"The one thing I really liked about it was the ability to sit around the table, have a communal-type setting, and interact with other people," says Ski Wagasky, a craps and blackjack player who's pretty sure that he placed his first Derby bets at The Frontier in 1986. "It was a game where everybody's playing against the house and it didn't matter if you beat the house as long as somebody beat the house."
Or at least you get to enjoy the illusion of beating the house. With a house edge between 10 and 20 percent depending on how the machine was set, Derby was just as profitable for casinos as it was amusing for gamblers. When Vegas started to shift toward massive, over-the-top resorts in 1990s, the Derby format also provided a unique design and marketing opportunity for casinos looking to go all-in on their themes. Caesars's machines featured racing chariots. The Egyptian-themed Luxor had camels instead of horses. Excalibur replaced the jockeys with knights. For all of the above reasons, Sigma Derby became a fixture on casino floors across the city—and the occasional outside location, such as Lake Tahoe.
"You saw them all over town," Wagasky recalls. "They were everywhere. They were like dirt. There wasn't a casino that didn't have them."
But as the '90s came to a close, a number of factors conspired to end the Derby's ubiquity. Although it's difficult to pin down the exact dates, anecdotally, fans noticed that new machines stopped appearing on casino floors around the turn of the century. Sigma Game Inc. ceased to be a company in 2010. This put the game out of production and limited the parts available for repair jobs just as the original machines were beginning to reach the end of their natural lifespans. With the value of a quarter decreasing due to inflation and minimum bets rising on newer, flashier slots, the cost of maintaining the existing Sigma Derby machines started to outweigh the profits for many casinos. They started breaking down. Then they started disappearing.
While they became more costly to run, though, they also became relatively cheaper to play. The decreasing value of a quarter and the increasing minimum bets on other slot machines made Derby an appealing option for gamblers on a budget. The increasing affordability of the surviving Derby machines brought a whole new audience to the game. In the early 2000s, the game began enjoying a second act.
"On my very first trip to Las Vegas, we were strolling through the Excalibur and found the Sigma Derby machine," Kristine Kulage, who has been a faithful player since 1997, says of her first time. "I had a very small budget and my dad, mom, and I sat down to play when we realized it was betting on horses and it only cost 25 cents. We had been betting on horses for many years and were also drawn to it for that reason. Then, when the free drinks started coming and the hours went by, we were hooked for life."
The looming scarcity of these old-school machines only heightened the fervor of Sigma Derby's growing cult fanbase. People with a fondness for kitsch, nostalgia, extremely low-level gambling, and free drinks started talking to other people who loved betting quarters on toy racing horses. They filled each other in on the latest gossip about the machines, their history, and where you could still find them. They created a Facebook group where over 1,500 fans from across the world could congregate, discuss their love for the game, and celebrate whenever the elusive 200-1 odds finally hit. Pilgrimages to working Derbys became an increasingly popular activity among the faithful as the supply dwindled down to a single machine at the MGM Grand and a pair at MontBleu in Lake Tahoe in the late 2000s and early 2010s.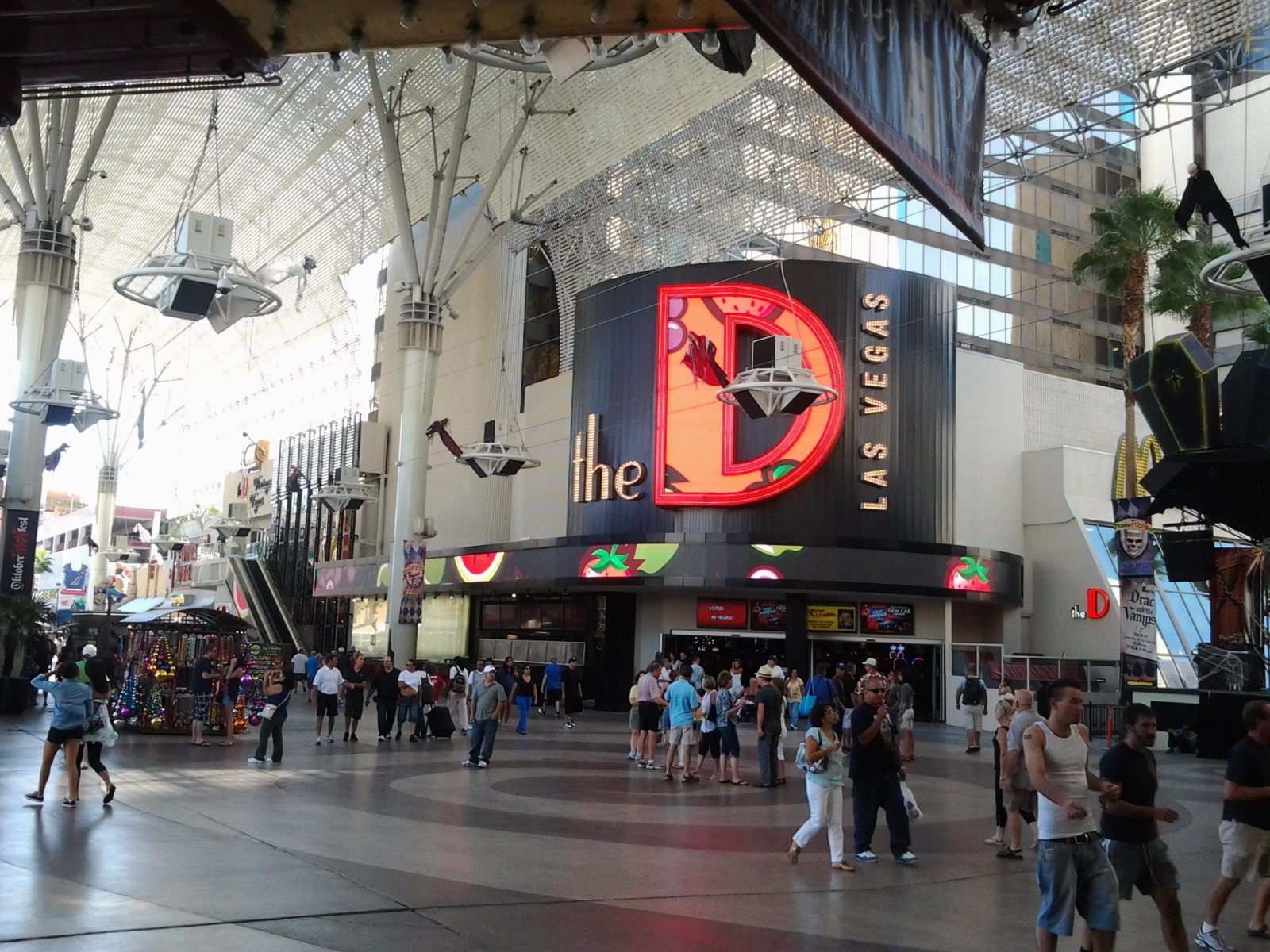 In recent years one early fan went so far as to invest in a model for his own casino. Sourcing and refurbishing a machine was one of the first actions that Derek Stevens took as the owner of The D Las Vegas, which opened on Fremont Street in 2012.
"Sigma Derby was the very first casino game that I ever played when I came to Las Vegas," Stevens says. "It was in the 1980s. I played it at the Dunes Hotel."
The decision to try to track down a machine and then to put in the time, money, and effort required to get it running again wasn't just a sentimental one, though. Stevens is a firm believer in Derby's ongoing appeal.
"I think there's something beautiful about its simplicity. The fact that you've got five horses and you've got to pick the first two and you've got that rhythmic beat associated with it, there's just something that's kind of nice," he explains. Stevens also notes that the fact that the machine still runs on coins, as opposed to the paper-based "Ticket In Ticket Out" system found on most other slots today, appeals to people. "You're playing real money, as much as you're playing quarters so there's an element of authenticity about the game that is pretty special," he says. "I always loved it, I always thought it was going to work."
Stevens is also aware of just how passionate its fanbase is. "I don't think there's many slot machines or many games that people talk about more than Sigma," he says.
The process of bringing a good-as-new Sigma Derby to Las Vegas—and keeping it there as long as possible—has been far from easy. Stevens and company eventually tracked down a machine in "either in northern Nevada or northern California," although he no longer recalls the specifics. It had been out of commission for a while and required a complete refurbishment. Getting the game approved by the gaming control Nevada Gaming Control Board also took time and effort. Finding technicians who have the skills and training to take care of a largely analog 30-year-old machine is almost impossible. Locating parts, usually extracted from the remains of other Derbys, is rapidly becoming even more difficult.
"It's a lot harder today even than it was five years ago when we got Sigma," Stevens admits. "We've bought a lot of parts off of eBay over the years to keep the horses running. But now some of that supply has dried up."
Sigma Derby machines have miraculously weathered over three decades' worth of trends in a gambling culture fueled by constant change and rapid innovation, but the one thing the Derby can't survive is time. There's a point at which the cost of keeping a Sigma Derby alive far outweighs the financial and sentimental benefits. The MontBleu reached it a few years ago when their machines quietly disappeared. Now it's looking highly likely that MGM Grand Derby has run its final race. It broke down in the fall of 2017 and was eventually removed from the floor. Wagasky, who says he has logged over 35,000 races on that particular machine, is currently leading a fan campaign to try to convince MGM to reconsider. MGM says that the machine is still in storage. Stevens, who has expressed interest in purchasing it, says they're not currently interested in selling. But its future doesn't look promising.
"[MGM has] done everything possible to prolong its active lifespan but that's simply no longer possible," a source told the gossip blog Vital Vegas in November 2018.
"We can't thank Sigma Derby fans enough for their patronage and loyalty to MGM Grand," Callie Driehorst, the Manager of Corporate Media Relations for MGM Resorts International, says on behalf of the Grand. "Our team made every effort to keep this 30-year-old game operational and on the casino floor for our loyal fan base. In recent years, it has become more and more difficult to maintain due to lack of available parts and required maintenance. Sigma Derby is an iconic classic and we have been proud to play a role in its history."
---
The end of Sigma Derby won't necessarily mean the end of toy horse-based gambling. Alfastreet, a gaming company that specializes in electronic roulette and dice machines, currently produces a Derby-esque game called Royal Derby, which promises to "conjure up some memories for experienced players and raise the excitement level for ones that have never tried something like this." Konami's Fortune Cup, a large, flashy, and expensive update on the Derby concept debuted to great interest at G2E 2016, an international gaming trade show held in Las Vegas every year, and can currently be found at a number of Vegas casinos on the strip and downtown. There's even one at The D that sits directly opposite the Sigma Derby, looking like a metaphor for the battle between Vegas's cheap, campy past and its fancier, pricier future.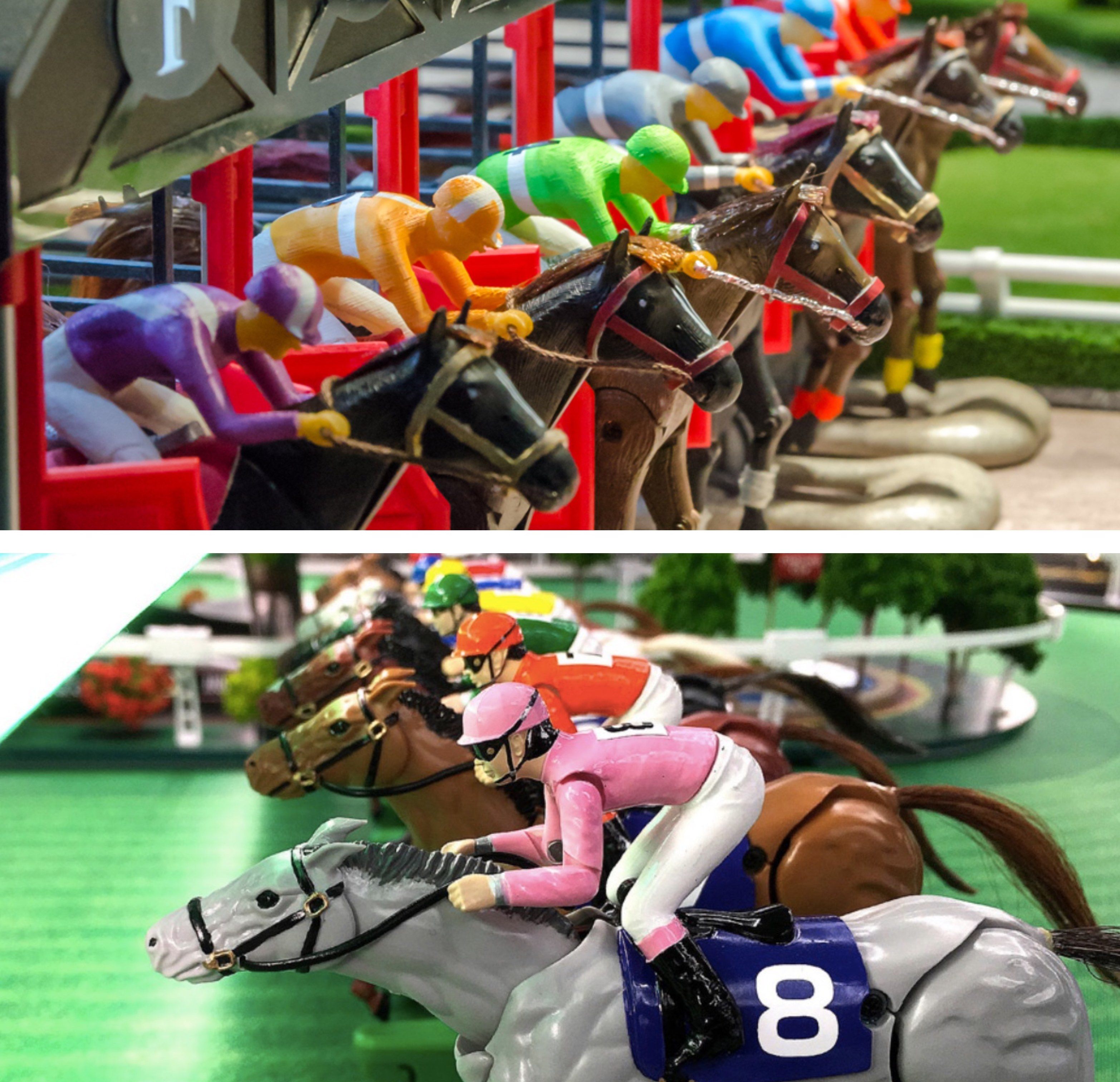 Fortune Cup might offer articulated ponies, elaborate graphics, and the promise of higher payouts, but it lacks whatever charm it is that draws people to the original game. Common complaints among Derby fans are that it's too expensive, too confusing, and too isolating.
"Honestly, you do get to know each other, make small talk, and then sometimes not-so-small talk," Kulage says of the communal Derby experience. Fortune Cup's odds—and the giant dome that covers the racing surface—gives you neither the time nor space to interact with your fellow players. "I would not use a dollar of your money for Fortune Cup," Wagasky says.
Luckily, the Sigma Derby faithful still have at least some time before they'll have to determine whether comparatively impersonal high-tech casino ponies are better than no casino ponies at all. Stevens and his team are determined to keep those hooves pounding for as long as is physically possible.
"We're going to do everything that we possibly can to keep going," he promises. "I love the fact that so many people want to come to the second floor of The D just because they want to get their Sigma Derby fix in. It's a great attraction to us, so that's why the game for us is a little bit more than a game."