The Communist Cookbook That Defined Prague's Cuisine
For years, one book dictated how and what people could eat.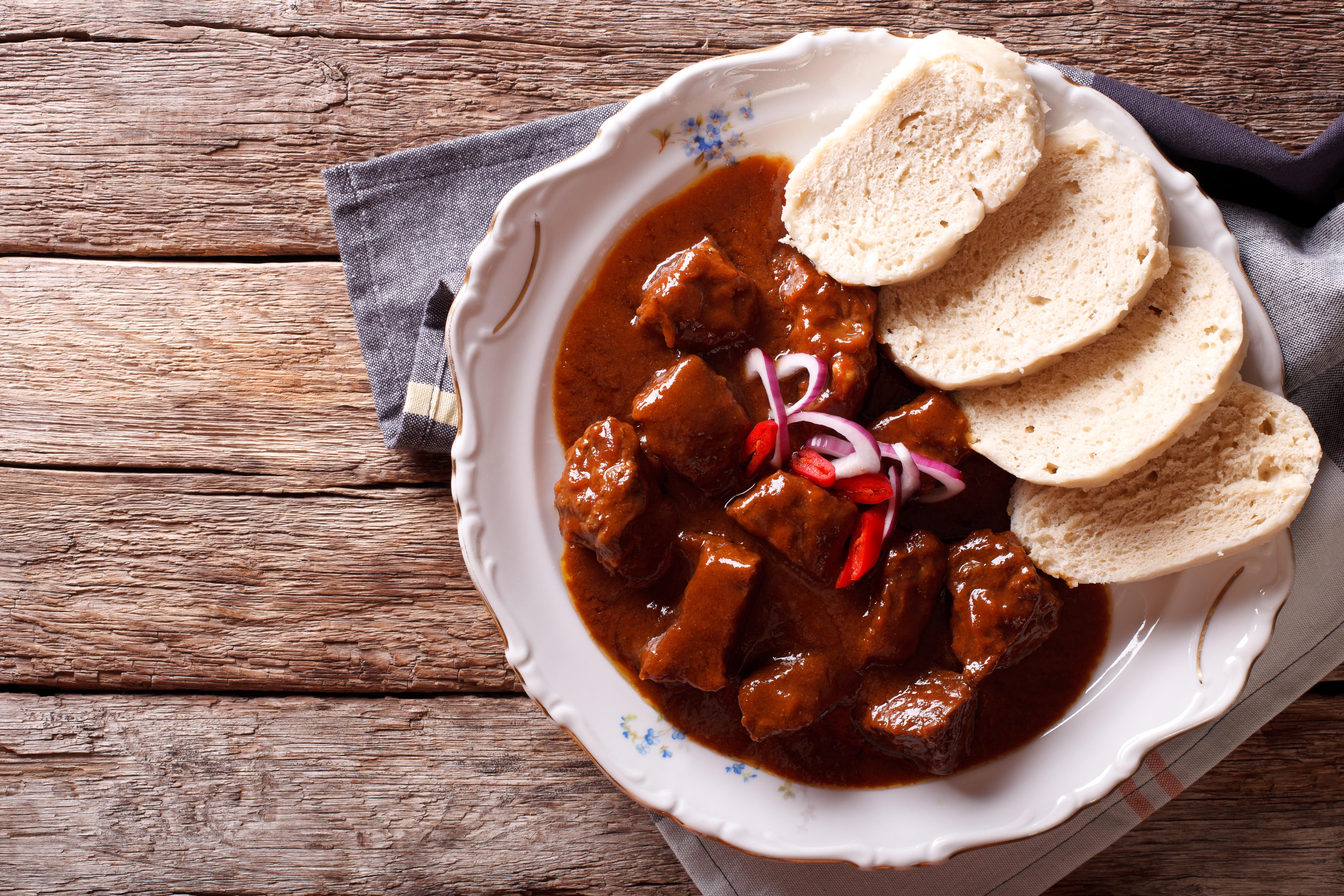 In the newly independent Czech Republic of the 1990s, cheap comfort food—such as goulash, pork knuckle, and dumplings—dominated every eatery. Meanwhile vegetarians were encouraged to feast on fried cheese and stewed cabbage. (The late Anthony Bourdain famously called it "the land vegetables forgot" in an episode of his travel show No Reservations.) For the most part, tourists loved Prague in spite of the food rather than because of it. But Czechs didn't understand the criticism. After 40 years of communism, the culinary splendor that once dominated Czech culture was a distant memory due, in part, to one very specific cookbook.
As a former cultural capital of both the Holy Roman and Habsburg Empires, ingredients and ideas once flowed freely between Prague and major metropolises in Austria, Hungary, Italy, France, and beyond. By the time Napoleon's army claimed victory in the Battle of Austerlitz, the city was an epicurean epicenter rivaling Paris and Vienna. Czechs were roasting goose better than Germans, using gnocchi in ways the Italians never thought of, and incorporating French techniques that made their meat sauces even richer. Royal banquets often featured delicacies including pheasant, turtle, and Španělské ptáčky (Spanish birds), a Czech version of roulade made from beef or veal. Economic and gastronomic excellence even survived the First World War.
It wasn't until the Nazis invaded in 1939, implementing stringent rationing and 10-12-hour workdays, that Czechoslovak cuisine took its first big hit. Every person was issued coupons that signified the amount of bread, sugar, meat, and fat they could obtain (children under ten were given additional rations of butter and milk). But after a few years, Jews were forbidden to purchase fruit, cheese, and meat. Daily life was such a challenge and access was so limited that cooking was no longer a priority. Occupiers encouraged Czechs to cook Eintopf (a one-pot potato stew), but this was a far cry from traditional Sunday roast, and it never quite caught on. Those fortunate enough to have family in the country would meet them at quiet train stations to receive black market eggs and meat.
When communists came to power in 1948, citizens were hopeful they could return to a life containing more prewar luxuries. Though the quality of food improved, life under socialist ideas still proved restrictive. Twenty years later, when liberalization started to gain traction, the party saw a need for even stricter control. In an effort to consolidate power, they purged reformist officials from the government and established a range of restrictions on everyday activities. Eating was no exception.
The state Restaurants and Cafeterias company soon issued a national cookbook entitled Receptury teplých pokrmu, or Recipes for Warm Meals. Dubbed "normovacka," or "the book of standards," it dictated what cooks in the country could serve in 845 recipes. Ladislav Pravaan, curator of the Gastronomie Muzeum of Prague, explains that the book even specified sources and serving styles for everything from sauces to side dishes.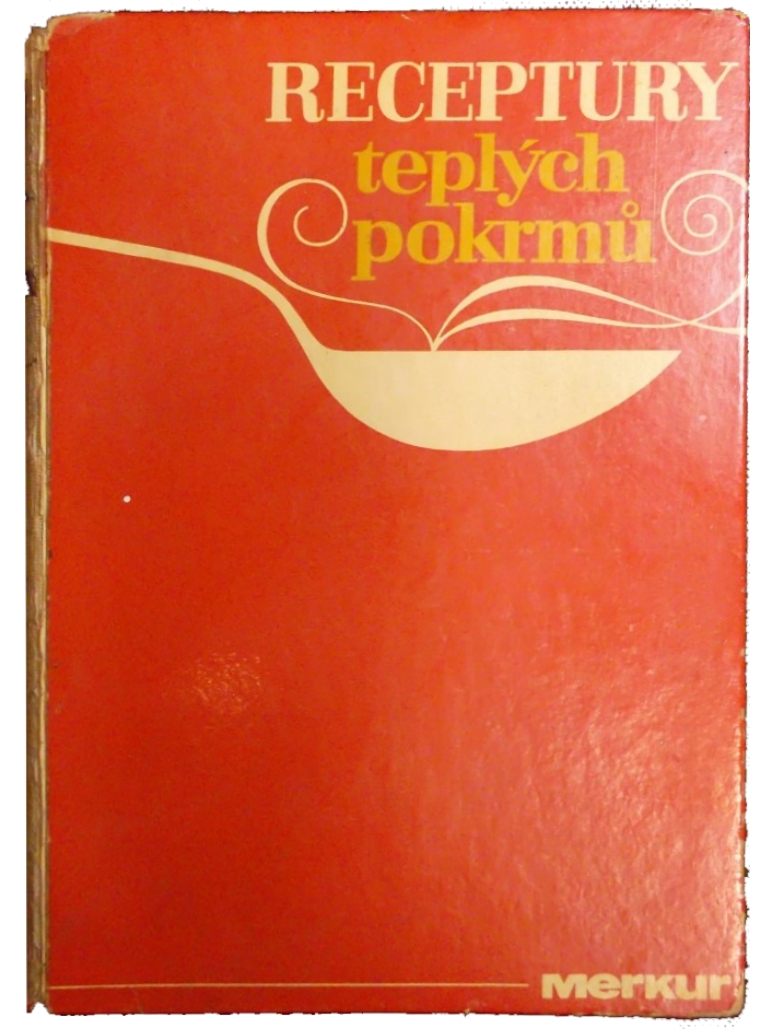 The cookbook's authors, František Syrový and Antonin Nestával, were relatively well-known chefs at the time (Nestával had even represented Czech gastronomy at the 1967 Montreal Expo). But the book emphasized limiting food imports and cooking economically, so it didn't include anything you might expect to try at a culinary competition. Nutrition was also a core component of the book: The idea was that the the better-balanced people's meals were, the harder people would work. In the book, calorie count and vitamin details were listed alongside ingredients and instructions, and certain recipes were suggested for certain professions. Portion sizes were designed by the hundreds, indicating that select dishes were to be cooked in large quantities each day.
Cooks that wanted to deviate from these recipes had to get approval from the Ministry of Health, a request that could take years to go through. Most people opted for the easier route, which is how thousands of nearly identical menus came to be established across the country. Paired with limited ingredient diversity, the nation suffered a creative drought: It wasn't just that all the same dishes were served, but the dishes were prepared exactly the same way, resulting in identical versions of dishes, too. Each bite was calculated as a means of productivity, and dining for pleasure was considered extravagant. "Special" meals were no longer considered, and the scope of Czech cuisine shrunk.
Yet as NYU Prague sociologist Vanda Thorne points out, people were eating outside the home more than ever before. Children ate at school cafeterias, and parents dined at work cantinas. Since prices were controlled and salaries were largely uniform, everyone could afford restaurants. "Meals at home were often prepared from prefabricated components as there was a noticeable lack of fresh produce," Thorne says. Though homemade meals weren't as strictly regulated by the state, there was still little opportunity for originality there.
Another problem? Farms became collectivized by the state, which meant even previously ubiquitous ingredients such as asparagus, broccoli, and thyme became largely unavailable. Pravaan recalls interruptions in basic supplies including onions and garlic as well. Imported fruits and vegetables were missed most, though. Jan Valenta, of Taste of Prague food tours, remembers craving oranges and receiving a rare treat of gift-wrapped bananas under the Christmas tree.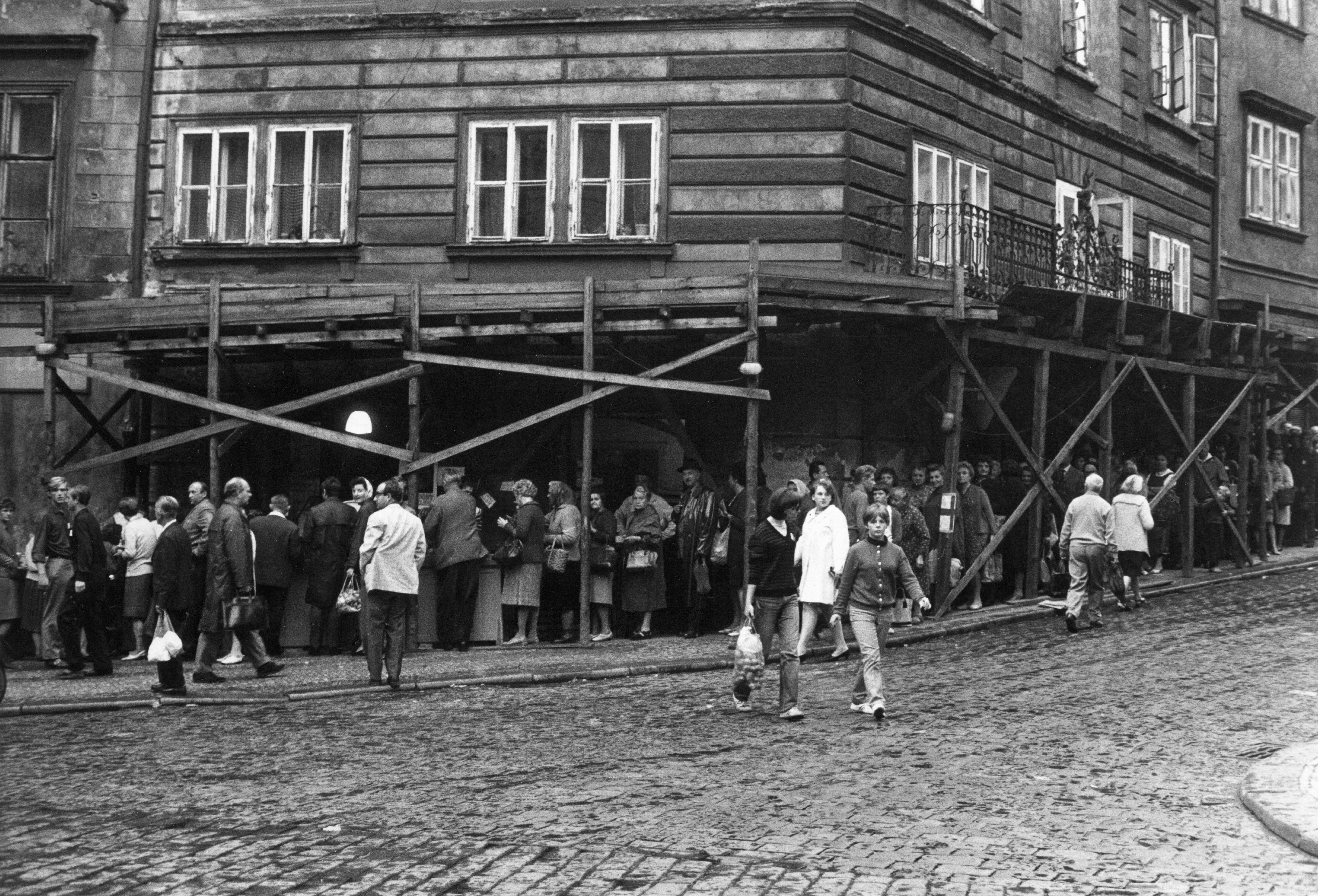 But after communism fell in 1989, the markets exploded. At the time, Valenta lived next to the first Western supermarket in the city. People would ogle the seafood section and ask how to cook fish, squid, and shrimp. Unsurprisingly, shop assistants didn't have the answers. "You could not Google things back then," he jokes.
Drawing back the Iron Curtain also meant that Czechs could travel more extensively, indulging in gastronomic delights they'd been deprived of for more than five decades. Self-described "gastronaut," guide author, and Prague Food Festival creator Pavel Maurer says that before the Velvet Revolution, following the fall of communism, there were only three restaurants in the city serving foreign cuisine (Russian, Chinese, and Indian). To get a table, you'd have to book at least a month in advance.
Italian restaurants proved popular almost immediately, because the meals were cheap to produce and widely appreciated. American-style fast food and Czech spins on Asian fare thrived for similar reasons. But restaurateurs lacked both qualifications and experience. Without basic know-how, decisions about what to cook and how to train staff seemed inconsequential. So, in an effort to satisfy every customer, they'd offer an overwhelming number of options. This aversion to risk ended up disappointing more people than it pleased. It didn't help that the same disregard awarded to chefs under communism remained long after the government changed.
The country was also undergoing an economic transition with lowered incomes and unstable agricultural output. Since vegetables and fresh fish were still relatively expensive, it took a long time for them to find their place on Czech tables. As Prague experienced a steady flow of foreign tourists and investment, these poorly-run establishments weren't meeting expectations.
Plus, as communist-run and subsidized lunchrooms disappeared, Czechs longed for the affordability of state-provided sustenance. "Before 1989," Pravaan explains, "we were eating much more for less money, and now we are eating much less for more money." The notion of food quality didn't interest the average citizen like, say, a new car or nice holiday did. For a long time, eating truly well was limited to international hotels and extremely expensive establishments.
It wasn't until 2008 that the country earned its first Michelin star for Allegro, an Italian trattoria at the Prague Four Seasons. Run by Italian chef Andrea Accordi, it was the first restaurant in an Eastern Bloc country to be included in the prestigious guide. Now, there are two Michelin-starred options and six with the Bib Gourmand distinction. These days, restaurants offer food from more than 50 cuisines around the world, including Vietnamese and Mexican fare, and Uzbek, Brazilian, and Slovenian cuisines. Booking a table has once again become a challenge.
According to celebrity chef (a phrase you wouldn't hear 20 years ago) and reality TV host Zdeněk Pohlreich, foreign chefs are to thank for incorporating standards of cooking and service into the scene. His Kitchen Nightmares-esque show, Ano, Šéfe! (Yes, Boss!) is among the influences name-checked in Prague's post-communist culinary revival. Food bloggers and seasonal farmers' markets are also helping to push Receptury teplých pokrmu further from the collective consciousness. And younger generations are prepared to pay more for good food. "We are in the first steps of transformation," Pohlreich says. "It just takes time."
It's a far cry from the days where one book dictated what people could and couldn't eat. The latest turning point for Czechs has been returning to their roots. For a long time, chefs and cooks were too excited by new opportunities or scarred by past limitations to innovate seemingly-communist meals. Plus, Czechs weren't particularly eager to spend big money on the meals they used to get at their cantina.
But all of that is changing. In fact, one of Prague's two Michelin-starred restaurants focuses on elevated Czech fare that the communists couldn't have imagined. A new cookbook from Eva Filipová, Czech Cuisine: A Modern Approach, features a compilation of recipes from Czech chefs integrating modern techniques, gastronomic trends, and impressive presentation into traditional dishes. With any luck, it will do what excellent recipes should: inspire innovation.
Gastro Obscura covers the world's most wondrous food and drink.
Sign up for our email, delivered twice a week.