The Powerful Symbolism of Ukraine's Easter Bread
All around the world, bakers are making paska in solidarity.
THIS ARTICLE IS ADAPTED FROM THE APRIL 16, 2022, EDITION OF GASTRO OBSCURA'S FAVORITE THINGS NEWSLETTER. YOU CAN SIGN UP HERE.
It's hard to imagine celebrating Easter, a holiday of spring and rebirth, in the middle of a war. But in Ukraine, bakers are still making their Easter breads with pride and defiance.
Here's just one example. Zavertailo, a sourdough bakery near St. Michael's Cathedral in Kyiv, is still baking paska for residents, in both classic fruit-studded and chocolate flavors. They're also fundraising to bake massive quantities of this sweet domed bread for the defenders of Kyiv. "Easter is celebrated not only in words, but in deeds," they write on Instagram. "Together to victory🤞🏻🇺🇦."
Sweet, egg-laced breads are part of nearly every European country's celebratory menu, especially around Easter. But paska is special. Ukrainian bakers go all out, covering their breads with tiny floury birds, braided shapes, and curved crosses, occasionally baking them into towering domes with lots of icing. Easter is the country's most important holiday, and Ukranians have long considered bread an object of reverence.
Paska is bringing bakers together for Ukraine relief. Individuals, bakeries, and churches are selling the bread both over the internet and at bake sales. Some of the bakers are Ukrainian or of Ukrainian descent, while others are swapping their yearly baking of Easter hot cross buns or panettone to make paska for the first time. But all of them are banding together during a dark time to bake a bread that symbolizes renewal and rebirth.
Whether you celebrate Easter or not, I encourage you to make a paska this spring, and to keep Ukraine in your thoughts. For those who can, donations to organizations such as World Central Kitchen will go a long way towards feeding both Ukrainian refugees and Ukraine's defenders.
---
Anatomy of a Paska
Several motifs tell the world that a bread is a paska—a food that families have made, taken to a church for blessing, and eaten together on Easter since time immemorial.In a paper about Ukrainians in Canada, author Jo Marie Powers describes paska symbolism with diagrams and lots of details. Paska is baked in infinite variations, from lofty domed loaves to small frosted buns, but these features are common.
The ingredients
"It is a bread always made with white flour."
The cross
"The dominant motif almost always is a cross, symbolizing the suffering and resurrection of Christ."
Spirals
"The ends of the cross are usually split to form spirals. The spaces between the cross are often filled with spirals or a twisted piece of dough which variously means a crown of thorns, a bird's nest, or a rose."
The braid
"Most paska are made with a braid around the top beneath the cross. The braid generally symbolized eternity, and occasionally women said it represents a path of life—the ups and downs of life, or that life is not always a smooth path."
The shape
"The paska is always round and the circular shape means eternity."
---
An International Bake Sale
Here, I've collected five photos of paska baked in support of Ukraine. Not all of them follow the traditions described above. Some are square, or frosted. My own paska came out distressingly flat. But all were made in an effort to learn more about Ukrainian culture, or to provide monetary aid to the country.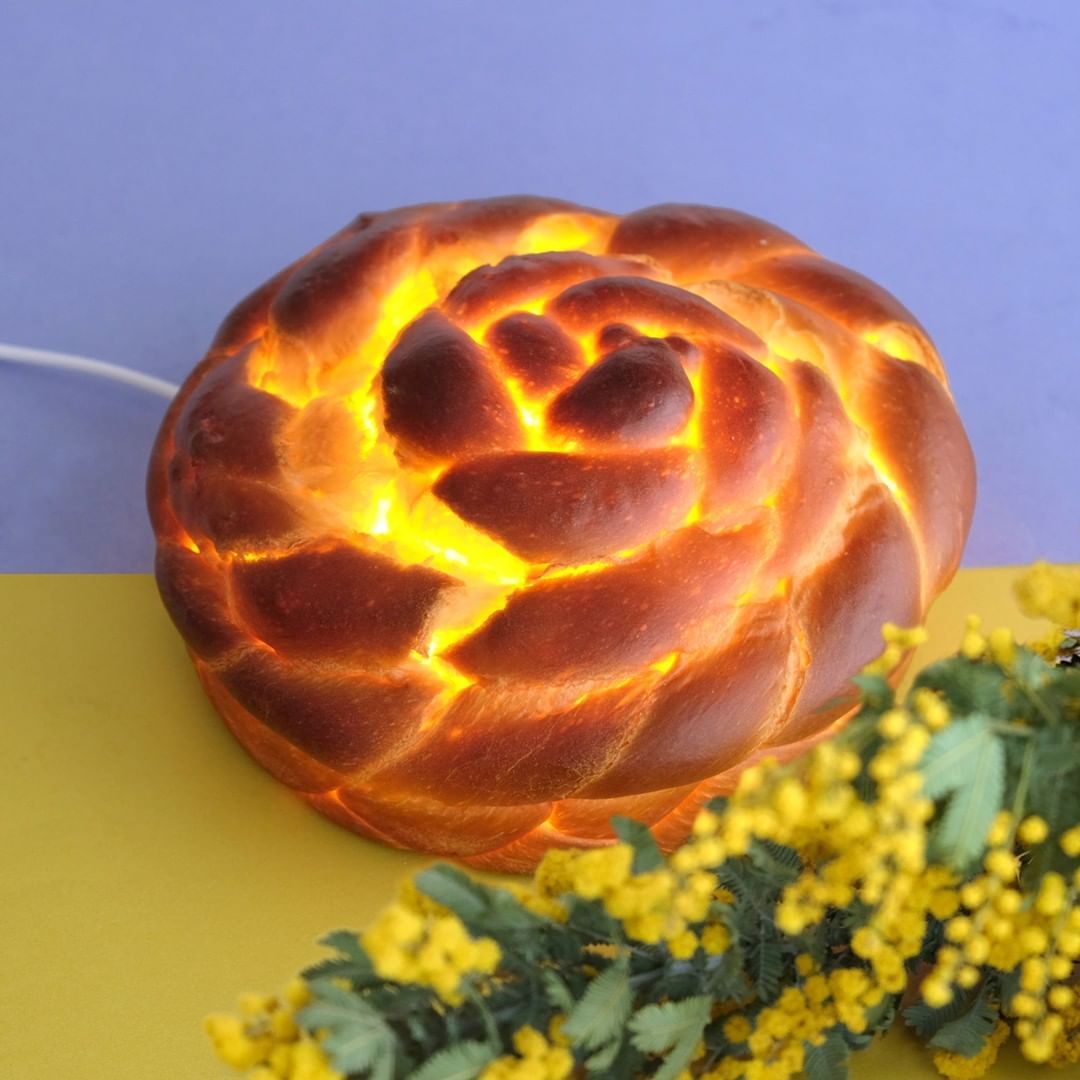 Japanese artist Yukiko Morita makes lamps out of real bread, resulting in loaves that actually light up. Proceeds from her paska lamp will go to Ukraine relief.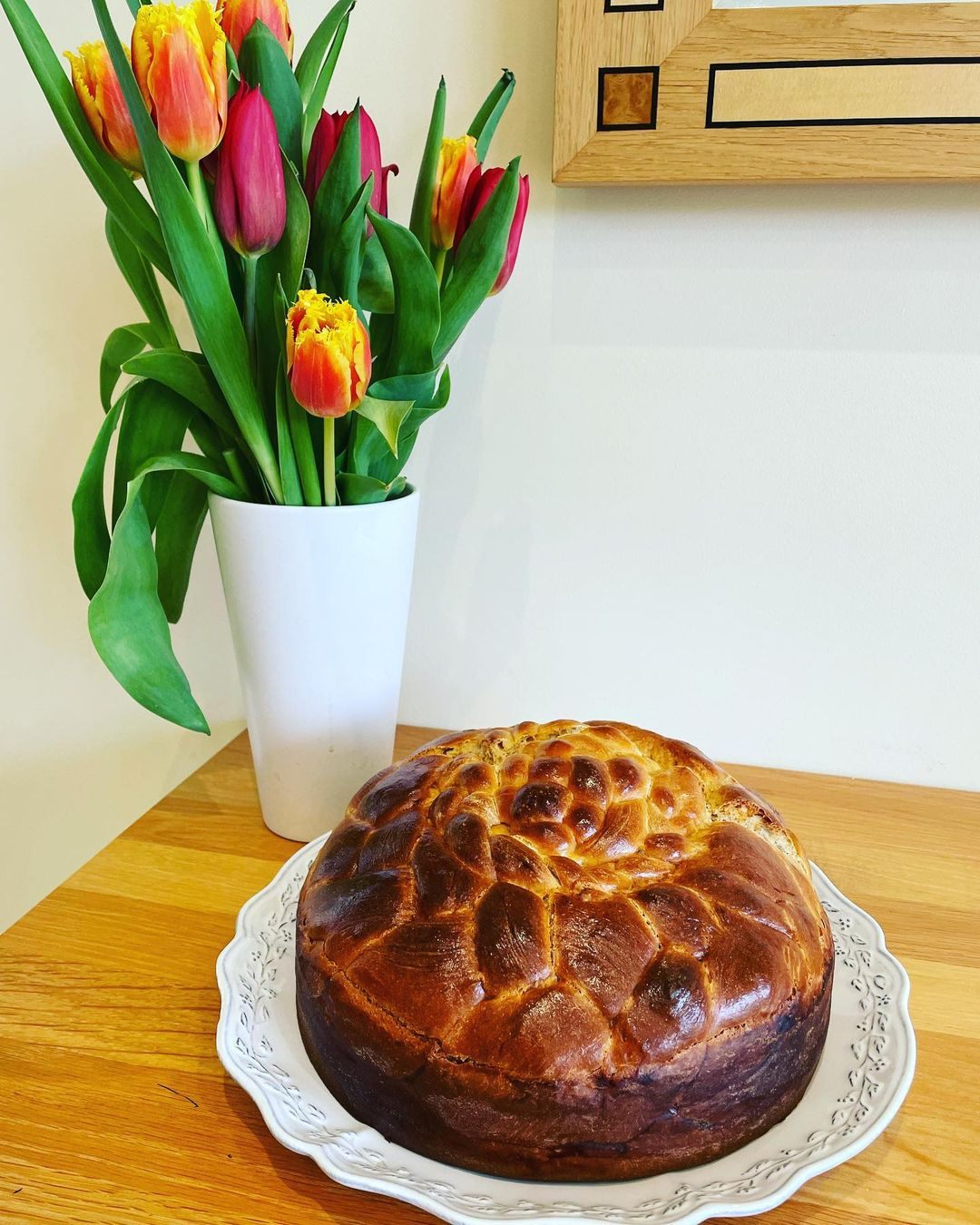 Baker Anna Rose has raised thousands of pounds for Ukraine relief by raffling off the chance to have a cake and coffee party in her Malmsbury, England, garden. This was her first paska.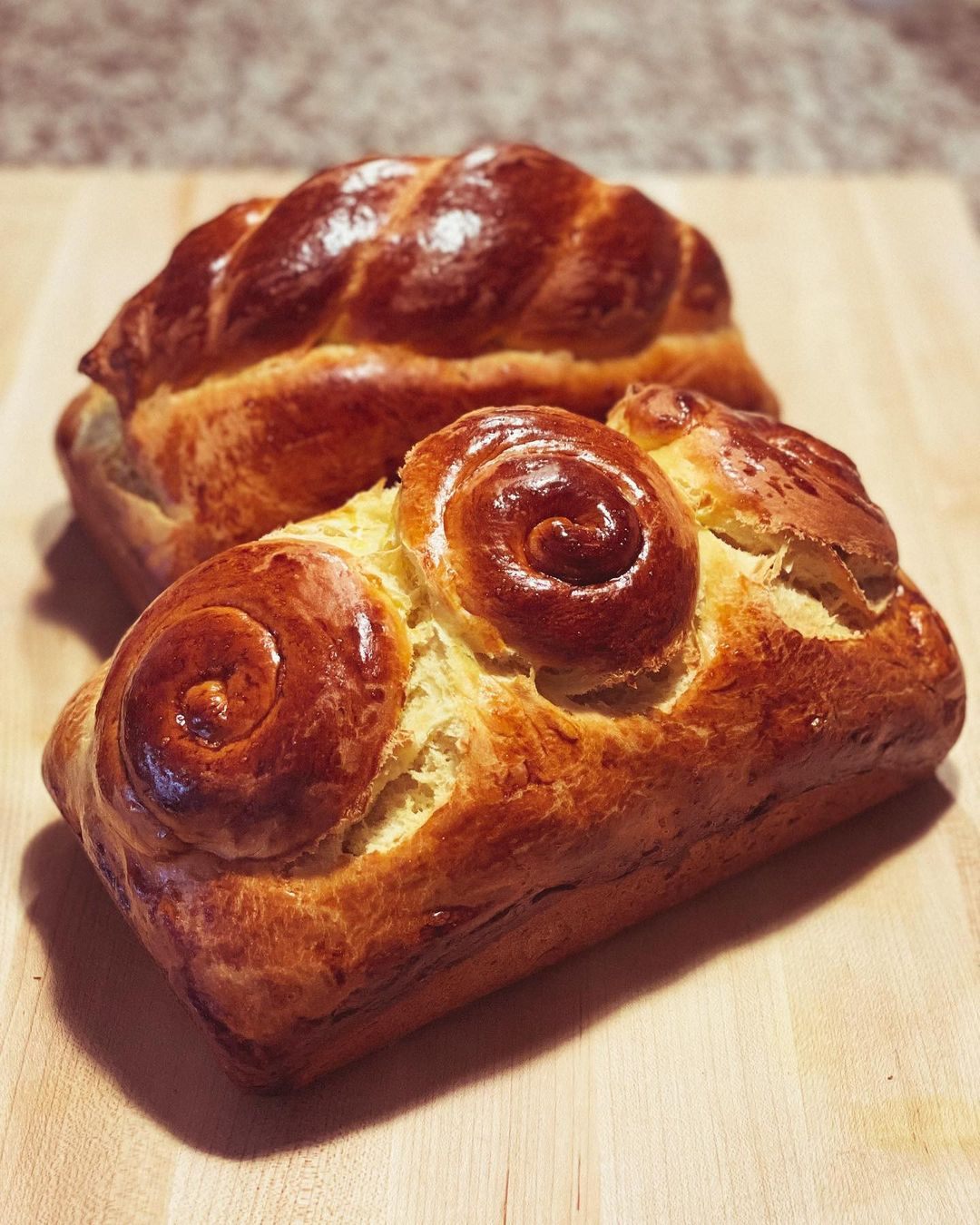 Cat VanVliet of Virginia made this rectangular, swirled paska for the #bakeforukraine campaign.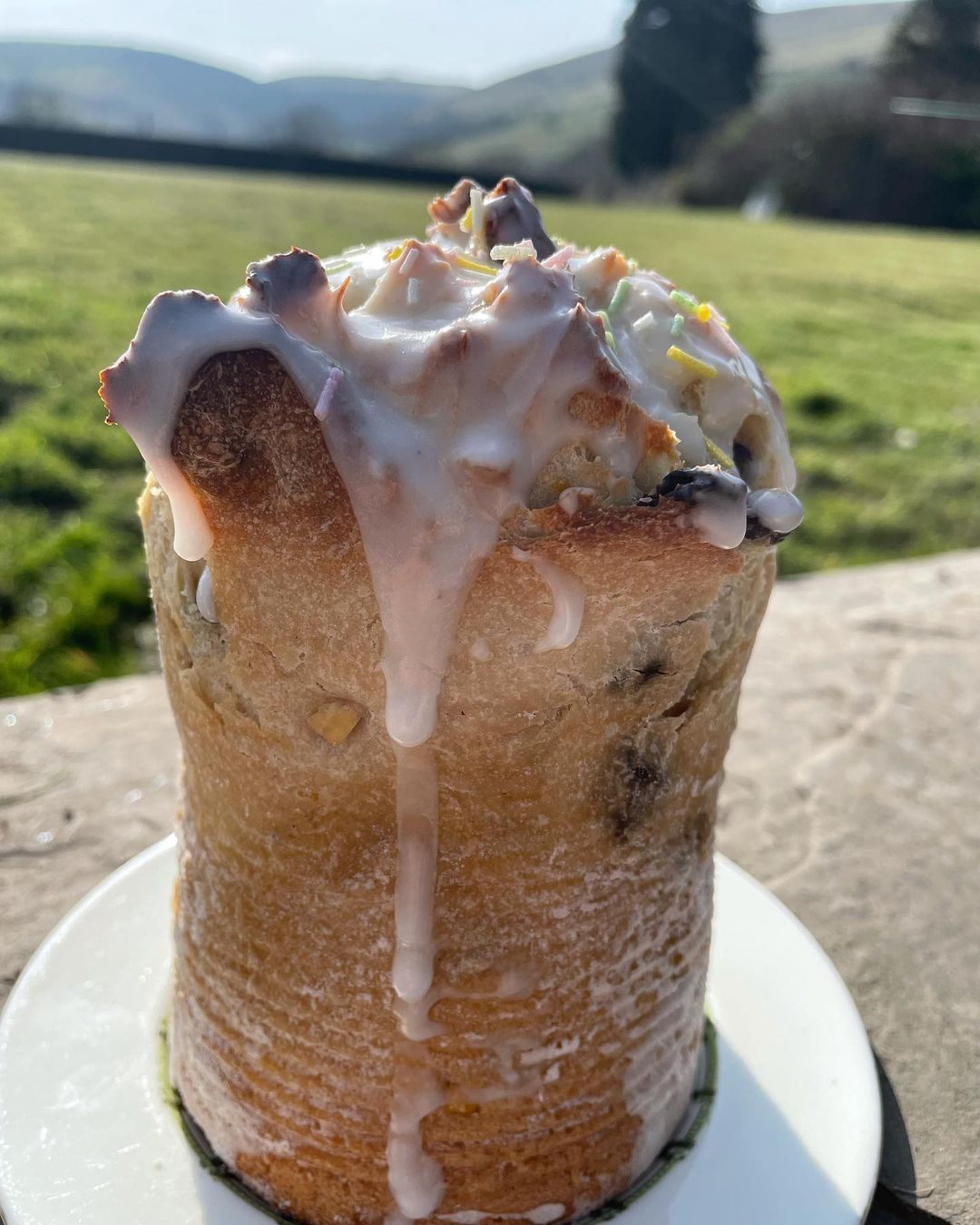 Baker Jo Lancaster in Cheshire, England, used dozens of tomato cans to bake tall paska for a Ukraine relief effort.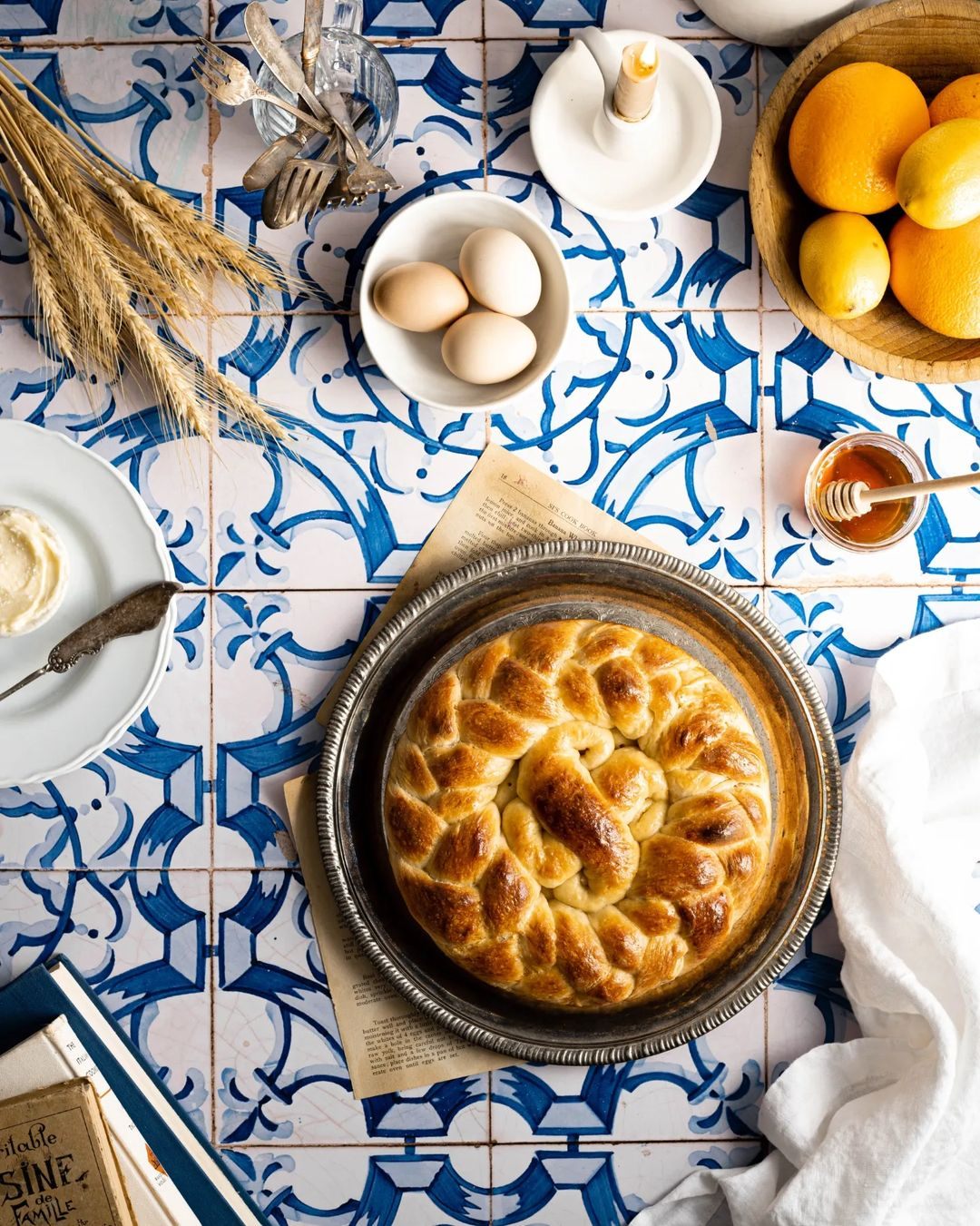 Tucson-based Hannah Dela Cruz, blogger and author of Sourdough Every Day, is donating the proceeds of a month of Patreon subscriptions to World Central Kitchen.
Gastro Obscura covers the world's most wondrous food and drink.
Sign up for our email, delivered twice a week.