The Sandwich Scandal at the Heart of the World's Greatest Golfing Event
The Masters has it all—except its missing original pimento cheese recipe.
As a veteran sports journalist, Scott Michaux has attended Super Bowls, World Series, NCAA tournaments, and just about every golf tournament under the sun. "The Masters is the best presented event in the history of sports," he says. "You can't argue that."
The Masters is one of the four major professional golf championships, where the world's top golfers converge on Augusta National Golf Club in Augusta, Georgia, to compete for the coveted Green Jacket (and, this year, a cool $11.5 million). What sets the Masters apart, however, is a behind-the-scenes devotion to aesthetic perfection that evokes from its regular patrons a near-religious fervor.
It's a place where—to believe the rumors—the grounds crew manipulates the course's iconic azaleas to bloom the very week in April when the tournament begins; where the ponds are dyed to a specific shade of blue; where a massive oak tree once fell, damaging a bathroom facility the night before the tournament, yet by morning, the building had been fully repaired and the oak tree disappeared, stump and all. "They're like the Keebler elves. Something magic is happening over there," says Michaux. "There's nothing they overlook."
For an added air of refinement, the tournament organizers are also characteristically tight-lipped about all matters, big and small. "Even when they change the course, there's no press release on anything," says Michaux. When a new building is constructed, he says, it simply appears the day of the tournament's opening, already inexplicably covered in vines.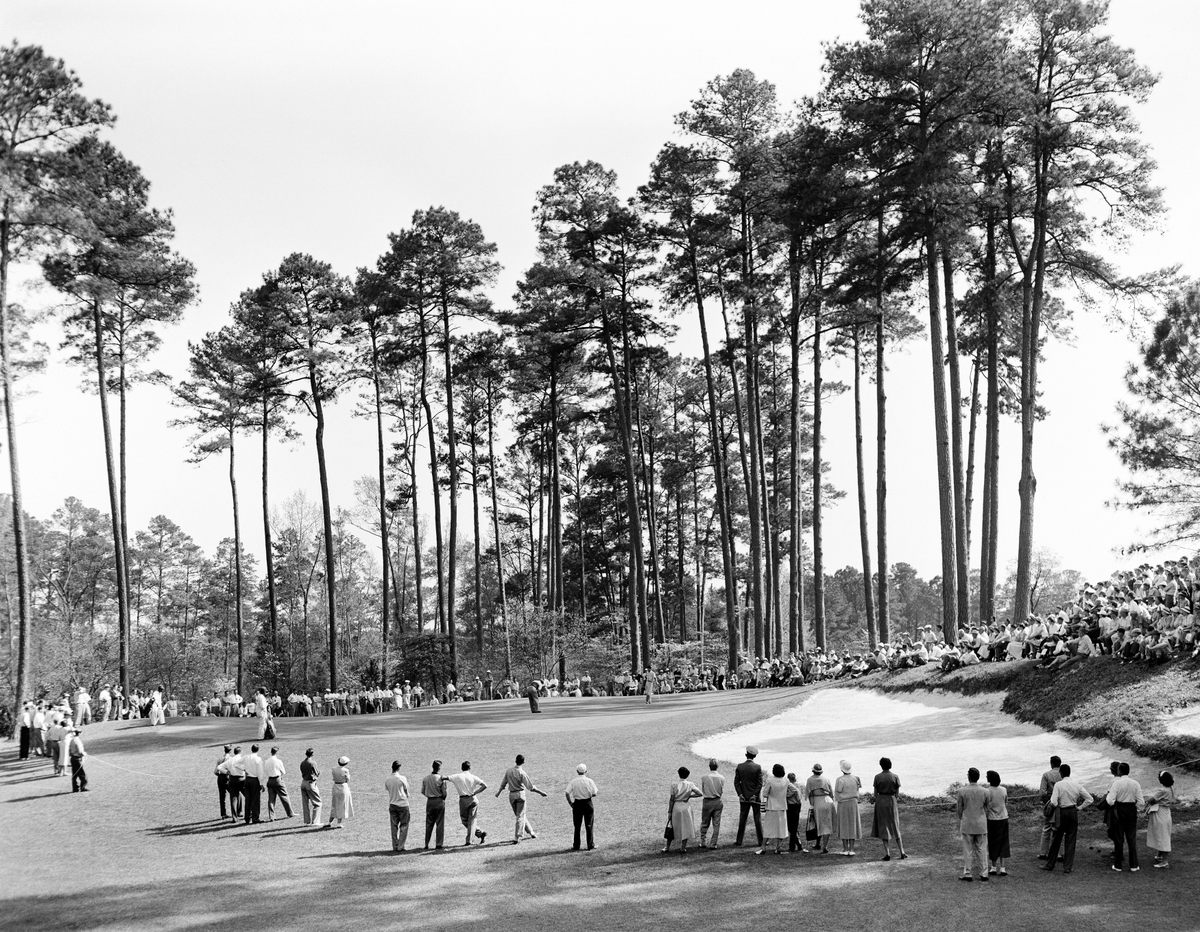 An event so wedded to perfection, so shrouded in its own tradition, is surely one of the last places you'd expect to find successive episodes of food-based spite politics. Yet here we are.
The greatest event in sports history is missing a vital recipe: that of its original pimento cheese sandwich. To be clear, it's little more than peppered cheese on white bread, yet for its simplicity, it's somehow an indelible figure in the Masters' concession scene. "Pimento cheese has latched on in people's memories," says Michaux, "even though—I would swear to you—every other sandwich they have out there is better."
The problem began more than 20 years ago, when the Masters chose not to renew the contract for the tournament's longtime pimento cheese vendor, Nick Rangos. Afterward, the caterer refused to share his private recipe, taking its secret to his grave in 2015. Although Ted Godfrey, Rangos's replacement, worked tirelessly to approximate the original masterpiece, he also withheld his recipe after the Masters replaced him with in-house catering in 2013. Rangos's surviving family did not respond to requests for comment, nor did Godfrey or the Masters' press team. What we do have, however, is a lifelong Masters patron and Augusta food blogger who wasn't above reverse-engineering the ingredients list from the back of the wrapper in 2016. It's an imitation of an imitation of an approximation—but until a Rangos relative starts sharing, it's the closest thing out there.
Since her family moved to Augusta, in the 1970s, Gina Dickson estimates she's been to no fewer than 25 Masters tournaments. "As a child, it was an honor to go in," she says. "You felt important being there, even though you weren't." Nowadays, she runs her own food blog, Intentional Hospitality, but even as a kid, the food scene at the Masters called to her. "I didn't know much about golf then, but I did know it was a really good place to eat."
With concession stands spread throughout the course, Dickson says, the Masters offers an array of picnic-ready sandwiches, wrapped in their own plastic green jackets, at absurdly low prices given the venue. There's the egg salad sandwich ($1.50), the ham and cheese ($2.50), the turkey and cheese ($2.50), and of course, the pimento cheese ($1.50), to name a few. "You had to get all the sandwiches; you couldn't just get one," says Dickson. Strikingly, the prices have not changed a dime since the days of Dickson's youth. As Michaux puts it, "You can't spend $40 on food at the Masters." He knows because a journalist friend of his tried to do so for an article. "I'm telling you, he was about to vomit by the end of the day."
A quick lesson for those not from the American South: Pimento cheese is the marriage of sweet, tangy pimento peppers with cheese, mayonnaise, and spices, that's used as a dip or spread. While it's long been a staple of down-home Southern fare (with some curiously Northern roots, it must be noted), "the pâté of the South" didn't attain iconic status in the sports world until Nick Rangos's recipe came along.
The pimento cheese he sold from his store, Woodruff Drug in Aiken, South Carolina, won so many fans across the region that in the 1960s, Masters organizers dropped the husband-and-wife catering team they'd hired since the 1940s to make way for Rangos. For 45 years, Rangos and his two children, Billy and Stella, whipped up massive quantities of his pimento cheese by hand to drop off across the state border in Augusta every April, winning devotees among patrons and players alike. "The Masters pimento cheese must be the most famous sandwich in all of sport," wrote journalist Andy Bull. Despite his outspoken distaste for the sandwich, it's the first thing even Michaux eats every year. "Someone's always gonna ask you if you've tried it yet," he says, "and I don't like saying 'no,' so I have one and get it over with."
Given the Masters' operational opacity, we'll never know why exactly they discontinued Rangos's contract. What we do know is that Rangos did not take it well. As his son, Billy, told The Guardian, "there were sour grapes on his part." The contract was unceremoniously handed over to Ted Godfrey, who ran a franchise of a regional fried-chicken chain called—unironically—WifeSaver. If the Masters saw Godfrey fit to make their pimento cheese, Rangos saw fit for Godfrey to come up with his own recipe. Despite, and perhaps in spite of, frequent requests, Rangos would not give up his secrets.
According to Godfrey, his quest to recreate Rangos's original took months. "I can't tell you how many 35-dollar cases of cheese we'd been through," he told ESPN. After countless attempts failed to satisfy the concessions committee, a tournament worker stepped forward with a frozen batch of Rangos's original pimento spread. After meticulous reverse-engineering, Godfrey presented a recipe to the committee, only to be sent back to the kitchen again. Godfrey even consulted Rangos's former supplier to get the exact ingredients. Still, the version was subpar. One night, the missing ingredient came to Godfrey, it's said, in his sleep. He'd finally cracked the code, and by the next year's tournament, Godfrey had filled Rangos's shoes, and patrons were none the wiser. As Dickson puts it, "the [Masters] is excellent at publicity—what they want out and what they don't want out."
Then in 2013, the Masters changed course a third time, taking all concessions in-house—again, for reasons we cannot confirm. And again, the embittered pimento czar withheld the recipe from the Masters. While Rangos claimed in 2013 "there's no secret to it," Godfrey insisted to ESPN, "I cannot tell you what the secret is, but there's a secret there."
When Rangos lost the contract, the change of hands hardly registered with patrons, especially diehards. "People respect the Augusta National so much that if they wanted to change vendors," says Dickson, "we're gonna support them because we know they always do what's best for us." But when Godfrey lost the contract, patrons noticed—and so did the press.
"Wright [Thompson] came up to me in the old press building and said 'what's the deal with the pimento cheese? It's not the same,'" says Michaux (who personally enjoyed the new recipe). He directed Thompson, an ESPN writer, toward Godfrey for an interview, which became the 2013 exposé later known as "PimentoGate" that finally pulled back the curtain on a Masters' operational history that tournament organizers likely would've preferred stay shut. The episode, he wrote, "left the Masters concessions staff trying—and failing, in a rare moment of fallibility—to recreate the same recipe that generations of golf fans have enjoyed." Since this occurred during the golden age of food blogs, fans displeased with the Masters in-house imitation of Godfrey's imitation of Rangos's pimento recipe took it upon themselves to recreate the masterpiece on their own. It was turning into a sad game of cheese telephone, and Dickson wasn't having it.
"There were a lot of online recipes for the Masters pimento cheese, and they had things in them that I knew weren't there," she says. "And I just wanted to bring out the true recipe as best I could." She even flagged a recipe published by the Junior League of Augusta, cited by several sources as one of the most authentic, as suspect. It calls for blue cheese, but Dickson swears she'd remember that. "I hated blue cheese as a kid." Recently—likely around the time they brought concessions in-house—the Masters began printing ingredients on the green wrappers of each sandwich. So, in 2016, Dickson took one home and got to work.
A deft cook who'd eaten countless pimento cheese sandwiches dating back to the Rangos era, Dickson says it took her only several hours to reverse-engineer the ingredients list and pin down the consistency. "A lot of other bloggers out there did it with big chunks of pre-shredded cheese, but you had to have a smaller consistency," she says.
Her recipe reads as follows:
Masters Pimento Cheese Sandwich Recipe
2 cups sharp cheddar cheese, shredded
1 cup Monterey Jack cheese, shredded
4 ounces cream cheese
½ cup mayonnaise ("just don't use Miracle Whip—that's a Northern thing")
4-ounce jar pimento peppers, drained and diced
1 tablespoon onion, very finely minced
¼ teaspoon garlic powder
¼ teaspoon cayenne pepper
¼ teaspoon salt
¼ teaspoon black pepper

1. Combine all the ingredients in a medium bowl and mix until smooth and creamy. Refrigerate the mixture for at least an hour to allow it to become firm.
2. Serve on white bread.
Having never eaten Rangos's original, Godfrey's remake, or the Master's current rendition, nor having grown up eating pimento cheese, I'm struck by the tangy pepperiness that still somehow cuts through the weight of all that cheese in this recipe. It's also a comfortable chew—a sandwich you could realistically eat without teeth (especially if you go rogue and lose the crust). Best of all, it gets better with time, and keeps for—as far as I can tell—well over a month in the fridge. That being said, I feel the pimento cheese may be punching above its weight anchoring a sandwich as the lone topping—especially on white bread. Or I could be eating it in the wrong place.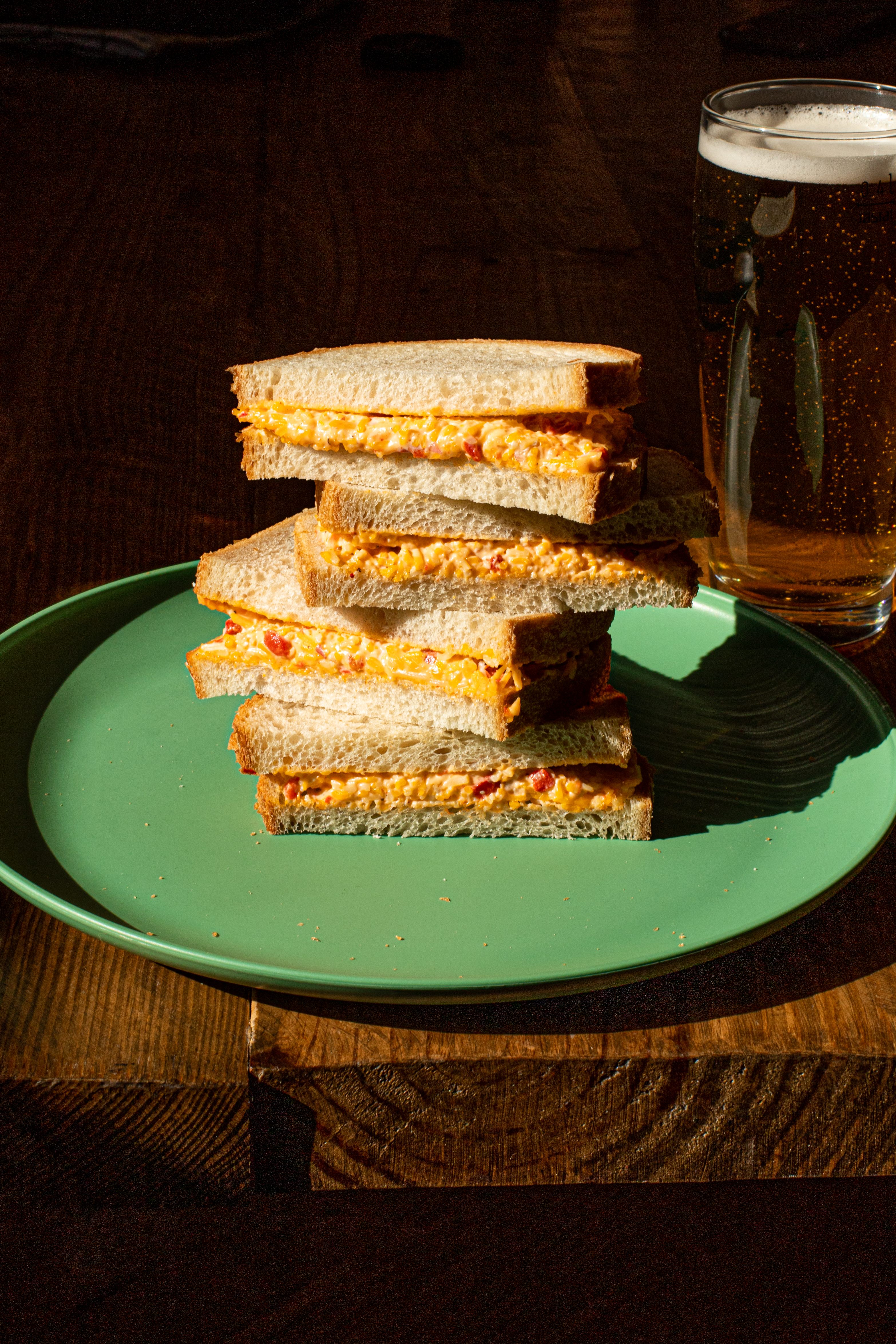 Dickson's recipe, as she attests, is very close to Rangos's original. Of course, she's biased, though not for the reasons you might think. "I can't even tell you that it's changed enough [over the years] to notice," says Dickson, because "what makes it so great is that you're in Augusta National eating it." I ask her outright if the Masters has ever, even once, done anything wrong. Before I can finish the question, she responds, "No, not that I can think of. They always have the people in mind."
In its 87-year history, the world's greatest sporting event has typically had its way. Having grown up in the area, Dickson watched the Masters purchase and raze her childhood friends' entire neighborhood to build a parking lot. "Then five years ago they bought another whole apartment complex, tore it down, and put up another parking lot," she says. "But they're offering great prices." Michaux tells me they bought a neighboring golf course's entire 9th hole for $26 million just to build a perimeter access road for maintenance trucks. Indeed, the Masters gets what the Masters wants, in all cases save one cheese sandwich recipe.
Gastro Obscura covers the world's most wondrous food and drink.
Sign up for our email, delivered twice a week.