In This Museum Full of Treasures, The Most Popular Attraction Is a Tiny Cabbage
But it's fit for an emperor.
In June 2014, the most famous treasure of Taiwan's National Palace Museum arrived in Japan. Carved from a single piece of green-and-white jade, the artwork drew 21,000 museum-goers each day. They actually lined up to see it. But it wasn't a medallion or a vase. Instead, it was a tiny, jade cabbage.
But not any old cabbage. It's a perfect depiction of a bok choy, with white stalks, sea-green foliage, and a delicate locust and a katydid (a type of cricket) perched on a leaf. The cabbage's original home was Beijing's Forbidden City, where historians say it probably belonged to Jin Fei, consort of the Qing-dynasty Guangxu Emperor. With cabbage, katydids, and locusts symbolizing purity and fertility, it would have been an ideal gift for the emperor's new consort.
Jadeite Cabbage With Insects was taken to Taiwan during the Chinese Civil War, along with the finest treasures of the imperial collections. But even among the ancient bronzes and elegant paintings that belonged to emperors, the cabbage is the star.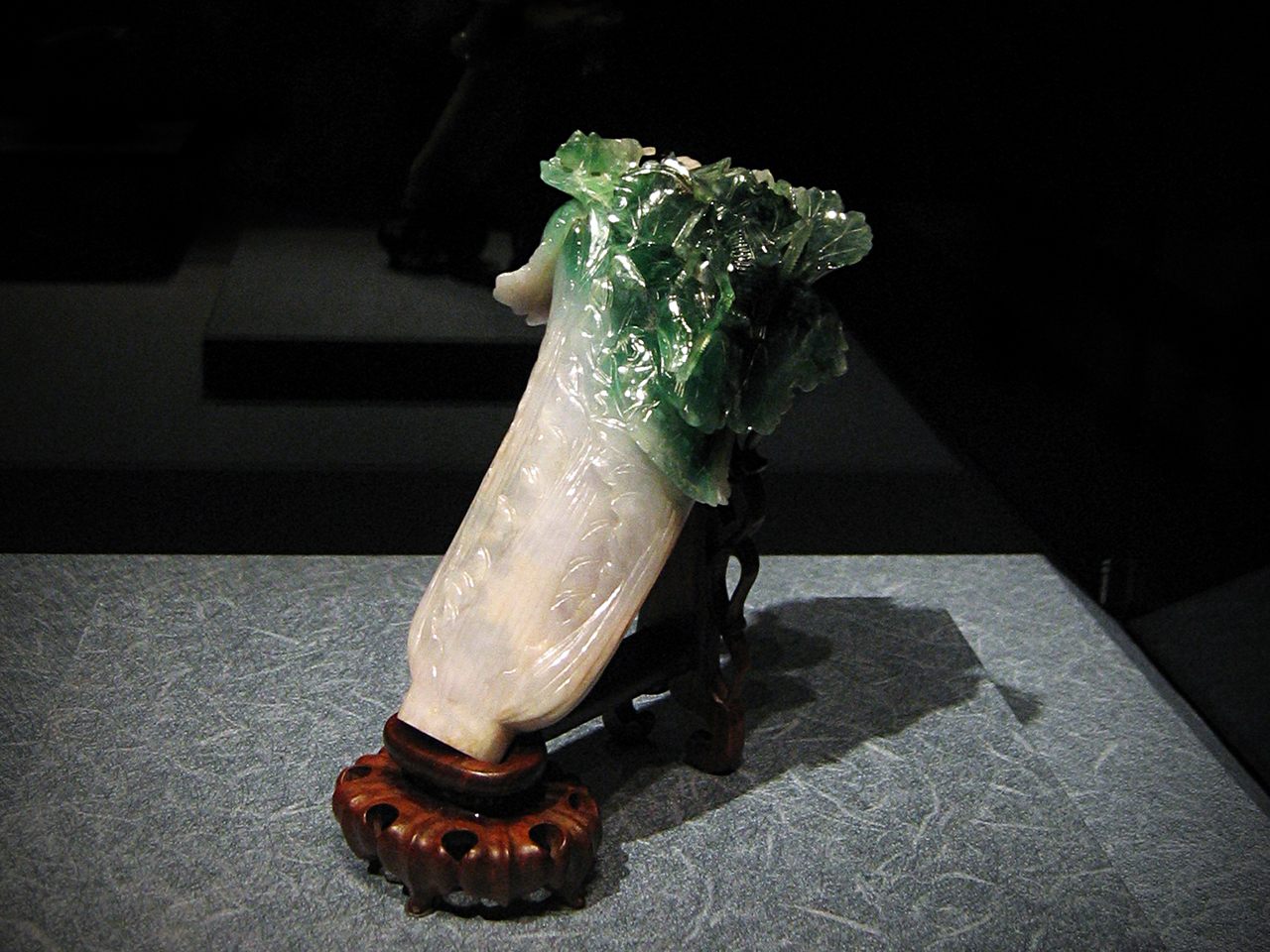 The cabbage's display case always draws a crowd comparable to the Mona Lisa in the Louvre. The museum's online gift shop sells glass versions of the cabbage; some cost hundreds of dollars. Eighty-nine other cabbage-tribute objects include rulers, magnets, wind chimes, bottle stoppers, and fried-egg shapers. All show the cabbage's famous silhouette. The museum's restaurant even offers an edible replica, with the insects represented by tiny shrimp.
Despite the cabbage's popularity, it can underwhelm. Both its size (7.4 by 3.5 inches) and its subject are humble. No one knows who carved it, and it's likely less than 200 years old. But the whimsy of a cabbage carved from priceless jade—and owned by a member of the imperial family—is compelling. So is its artistry. While many fine jade pieces are valued for their perfect structures, the jade cabbage's original stone was riddled with cracks. The anonymous carver took the multicolored, flawed stone and worked with it to reproduce the iconic leaf flares of a bok choy.
The cabbage is a grocery-store staple made art, both beautiful and relatable. While the cabbage returned to Taiwan after only two weeks, other museum objects had a longer stay in Japan. One of them was the cabbage's less-famous counterpart, a jasper stone carved to look like a piece of pork. While the meat stone has since traveled to San Francisco as well, the jade cabbage has stayed in Taiwan, dazzling and puzzling its visitors.
Gastro Obscura covers the world's most wondrous food and drink.
Sign up for our email, delivered twice a week.