There's a Hotline for People With Knotty Wood Questions
Inside Wisconsin's Forest Products Laboratory, where experiments are conducted on all things wood.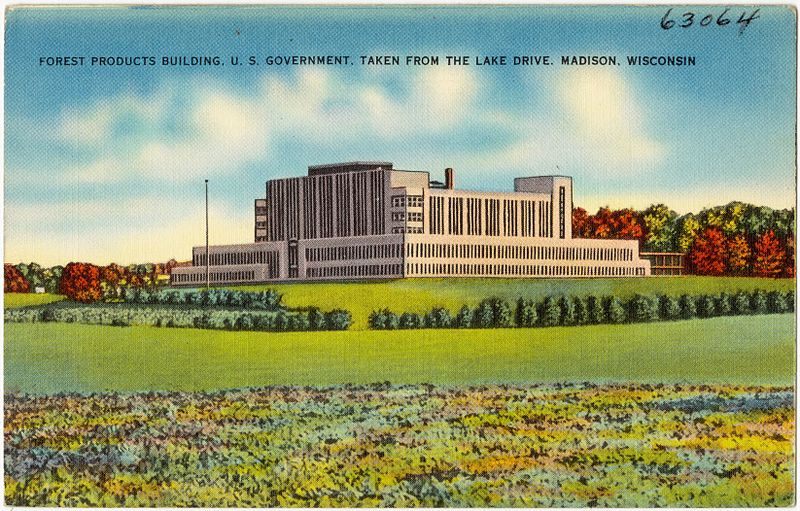 An old postcard showing the Forest Products Building c. 1930. (Photo: Boston Public Library/Public Domain)


Who would you call if you had a wood-related question? The Forest Products Laboratory, of course. But, did you even know of its existence?
The Forest Products Laboratory (FPL) was created in 1910, and was moved to its current building atop a knoll overlooking the University of Wisconsin Madison Campus in 1932.
The headquarters of the FPL conducts research on all things wood-related. Today the laboratory has 144 employees, but had over 700 at its peak. Their xylarium, or research wood collection, is the largest in the world, with over 103,000 samples. Their herbarium contains one of the largest collections of wood-decay fungi in existence.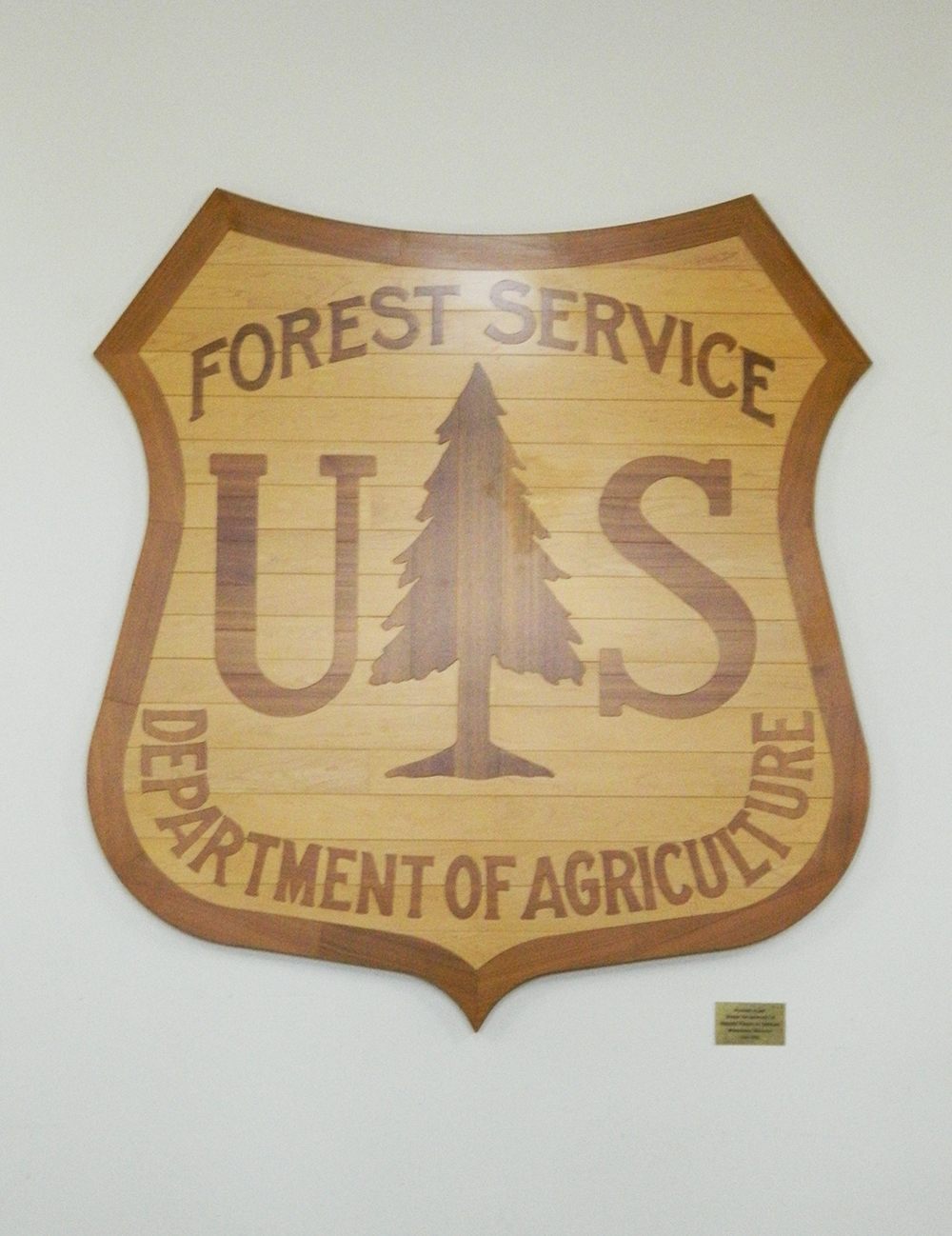 U.S. Forest Service Shield in the front lobby of the Forest Products Laboratory. (Photo: David Jester)
FPL, the only federally funded wood utilization research laboratory in the United States, answers to the public as a government resource. Operating under the Forest Service, the laboratory dispenses timely advice on wood through its hotline (number: 608-231-9200).
No question is too difficult or odd for the employees manning the FPL hotline, as long as it can somehow be tied to wood products. While compiling a science fair exhibit on the use of cotton fibers in U.S. Currency, a middle school student contacted FPL looking for such information. She was not just given the standard text-book answer.
Serendipitously for her, researchers there had just completed experiments testing the durability of paper money after multiple washings–essentially, the staff had washed dollars until they degraded. They told the student about their new findings, and she mentioned the new research in her science fair project.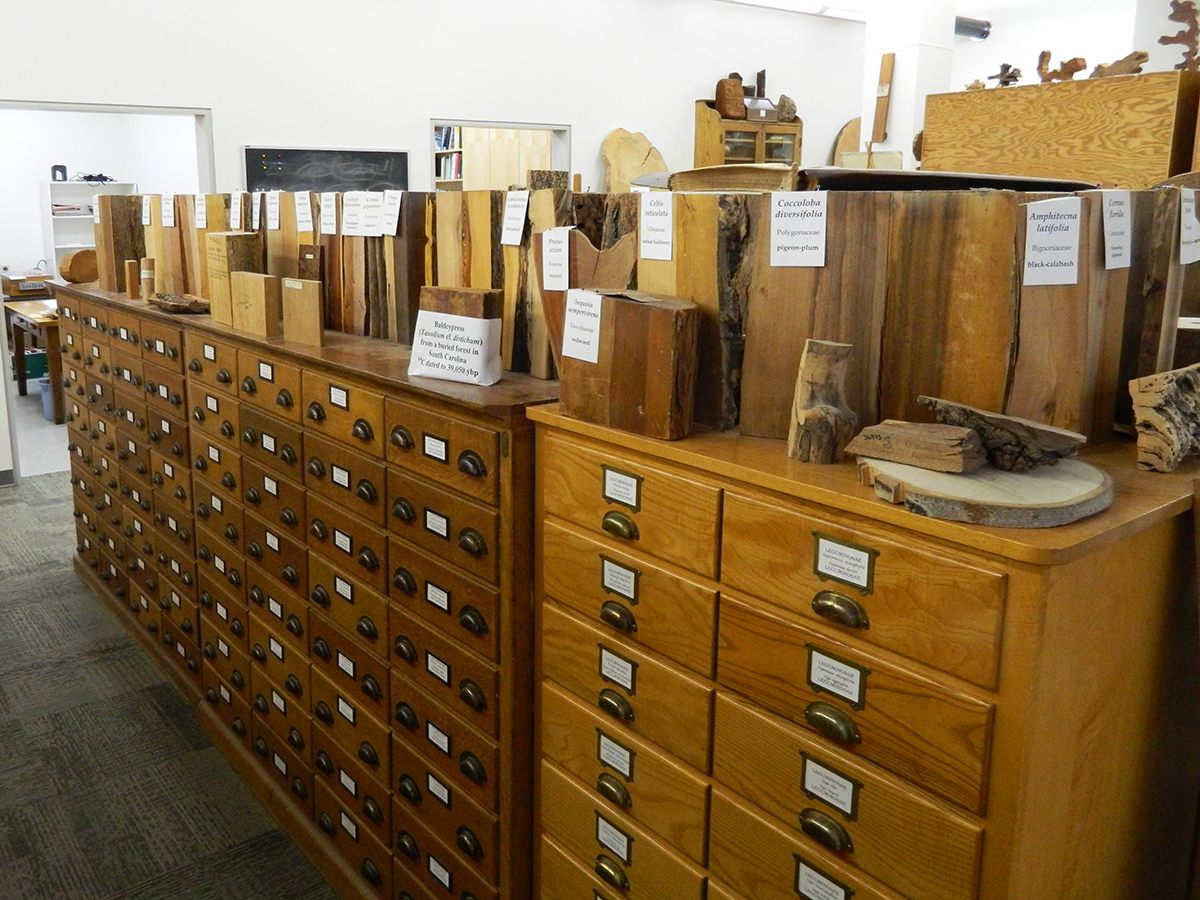 Small section of the largest xylarium in the world, with over 103,000 samples. (Photo: David Jester)

Infestation of mold is a more frequent question, with calls and emails requesting advice on elimination and safety of such spores and fungi. Other callers inquire on the type of lumber that would serve their construction needs. Some even ask advice on the best paint to be used.
Besides answering the public's questions, FPL is a repository of oddities. In their xylarium they have a piece of Leadwood, which is the heaviest and hardest wood in existence, weighing 85 pounds per cubic foot. Another sample, a piece of African Crossfire Mahogany, was the veneer used on the interior of Pontiac automobiles in 1973. It's a beautiful specimen with brown waves rippling through its golden grain, like caramel cascading down a candied apple. Not all artifacts in the library are simply wood samples, and some highlight FPL's contribution to society.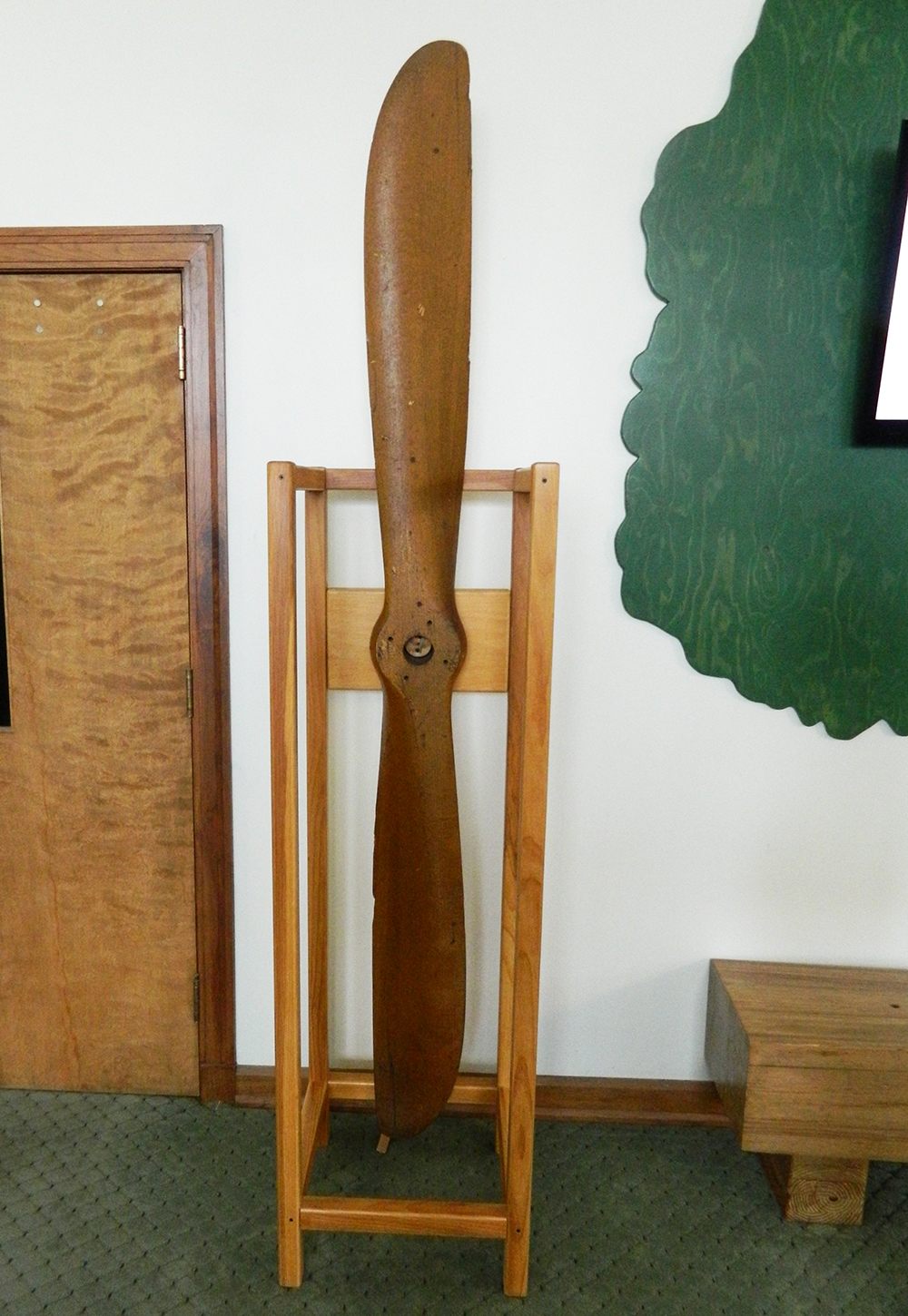 FPL developed, designed, and engineered wooden aircraft parts, such as this propeller. (Photo: David Jester)
In 2008, Major League Baseball was plagued with a significant problem. Bats seemed to have a propensity to break, leaving a potential for wooden projectiles with every crack of the bat. David Kretschmann, a scientist at FPL, was called upon to solve this problem. Examining the broken bats, footage from games, and the wood used, he deduced that the grain in the maple bats, which producers recently began using, weakened the structure of the bat.
After giving his recommendations, the MLB and producers of the bats were able to remedy this situation. In the wood library, tucked away in a corner, leans the shards of a bat that was part of this important investigation.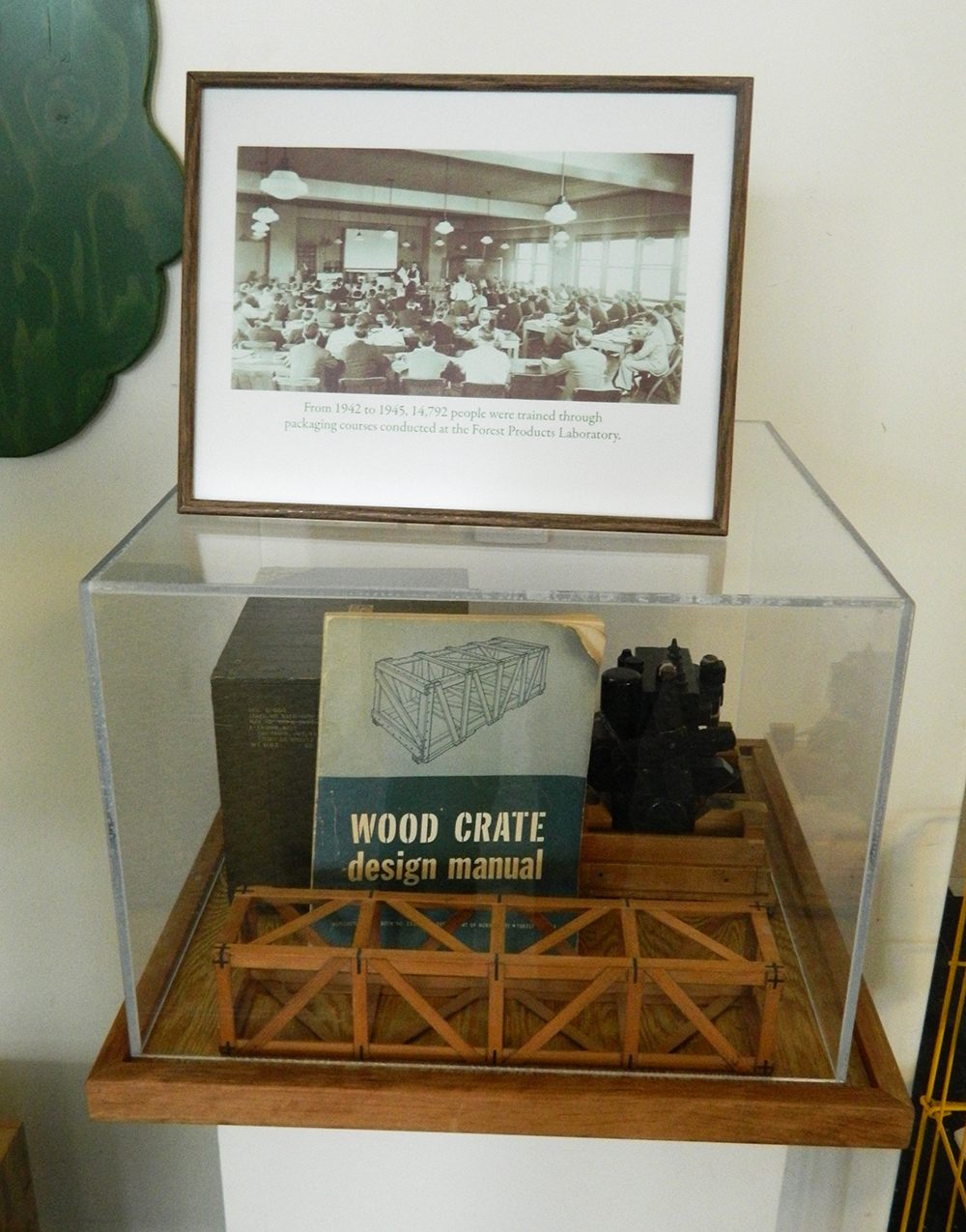 During WWII, one of FPLs contributions was the development and creation of shipping crates for the war effort. (Photo: David Jester)
The collection also contains a recreation of the ladder used in the infamous Lindbergh baby kidnapping, which the FPL's Chief Wood Technologist, Arthur Koehler, was asked to analyze during the 1932 manhunt.
When Koehler matched the wood from the ladder with wood shards found in the apartment of the prime suspect, this helped conclusively link the 20-month-old's kidnapper and killer to his crimes.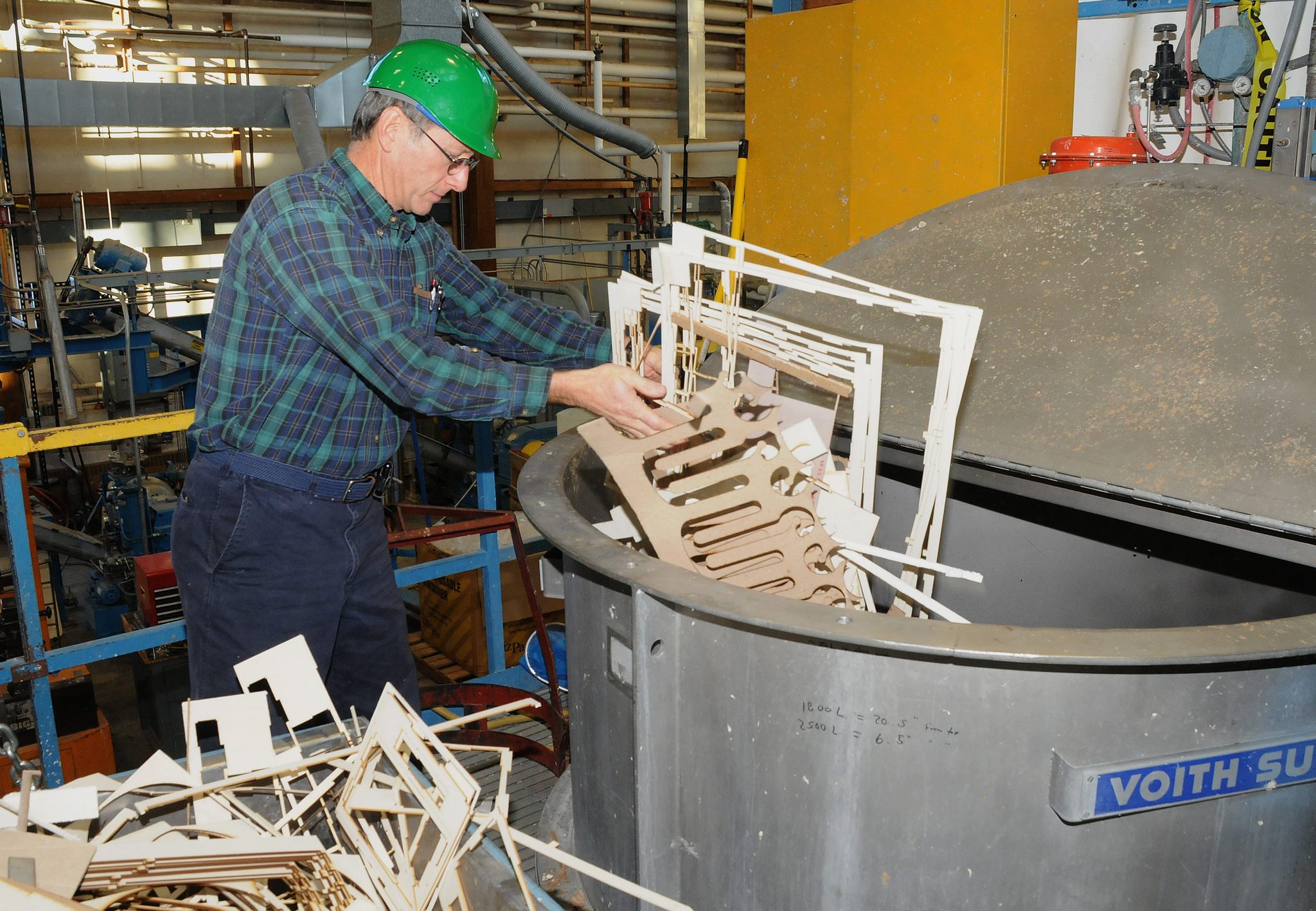 An FPL researcher loads scraps into a tank for recycling. (Photo: US Forest Service/CC BY 2.0)
Today the FPL continues to be on the cutting edge of technologies involving wood products. One process that stands out is the nondestructive evaluation of wood.
When the sarcophagus of Meretites, a noblewoman of Egypt, needed to be examined for rot, FPL took on the job. By sending sound waves through the 2,500-year-old artifact, scientists at FPL were able to identify rotted sections of wood, and advise museum specialists on the best way to preserve these damaged areas.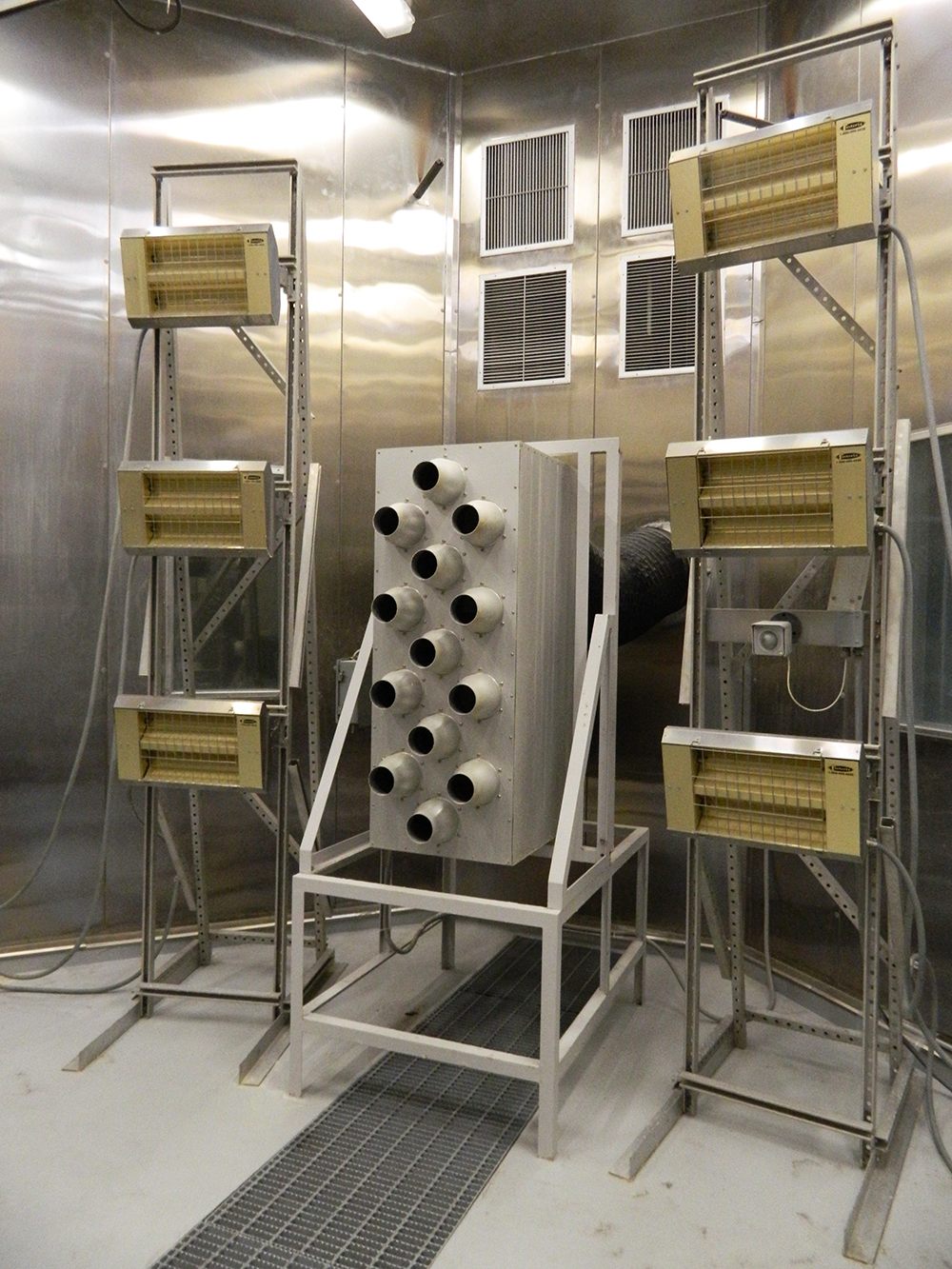 The CARWASh weather simulation, which can create any recorded weather condition in North America. (Photo: David Jester)
Weather is naturally an important part of FPL's research. The CARWASh—Chamber for Analytic Research on Wall Assemblies Exposed to Simulated Weather—tests building materials against inclement weather within a steel container.
This chamber is able to perform tests that recreate any weather condition recorded in North America, evaluating new wall assembly designs and the level of moisture within those structures, and aiding in the development of new building construction methods.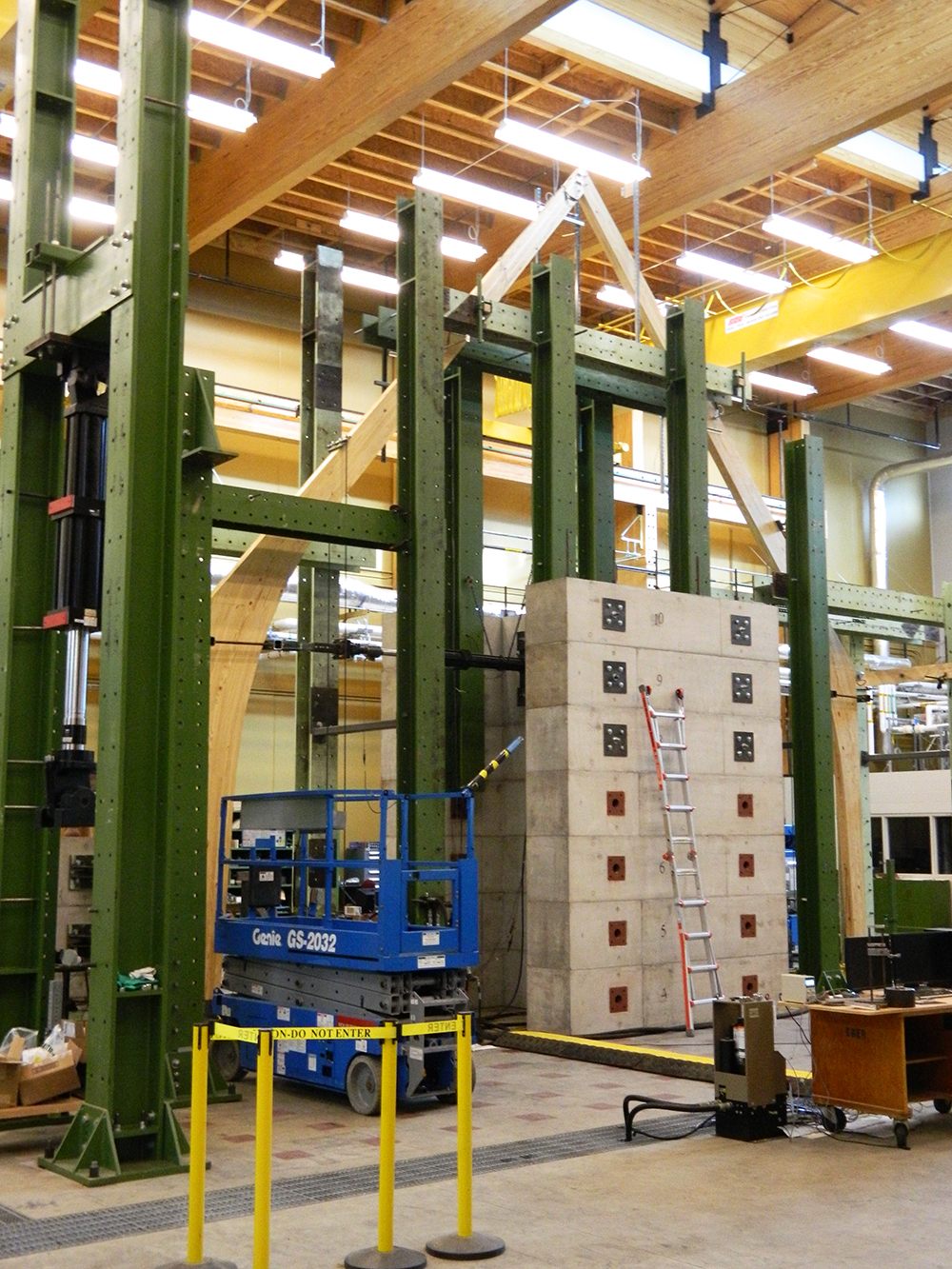 Testing strength of structural building supports, by increasing the weight load until catastrophic failure occurs. (Photo: David Jester)
FPL also conducts structural tests on wood beams, trusses, and engineered lumber to evaluate their strengths and breaking points. A company from Hollywood, with FPL's assistance, creates compostable television sets made from 50 percent cow manure and wood fiber. These boards are strong enough for a car to drive over, yet when filming is complete, studio hands can pour water over them, and watch them dissolve into a compostable slurry.
Within the walls of FPL, innovative research is conducted on a daily basis for society's benefit. Both their xylarium and herbarium are resources which scientists use to continue their understanding of wood anatomy. And resting in cabinets sit artifacts accrued over a century, waiting to tell a story about our past and the potential future of wood technology.