The Surprisingly Sacred Roots of Chocolate
Among the Maya, cacao has served as a powerful symbol from womb to tomb.
THIS ARTICLE IS ADAPTED FROM THE FEBRUARY 11, 2023, EDITION OF GASTRO OBSCURA'S FAVORITE THINGS NEWSLETTER. YOU CAN SIGN UP HERE.
I'm a big fan of chocolate. But you'll never see me with a Russell Stover's box or Whitman's Sampler. No shade to anyone who loves that kind of thing, but give me a single morsel of pure, dark chocolate over a box of cream-filled confections any day. And when it comes to Valentine's Day candy, I find the onslaught of ads a bit too cutesy. So today, I've decided to dwell in a darker sphere where I'm far more comfortable: death.
It's not that I find death romantic. But I do think funerary traditions show how people appreciate those that they value and love. And in some cultures, people express this through cacao—the plant that produces our beloved chocolate.
In fact, artifacts from ancient Maya tombs are the main reason why we know anything about early uses of cacao. Vessels found in the burial sites of royalty and elites not only featured artistic depictions of cacao but—after chemical analysis—were found to have held cacao residue inside, suggesting that the living left edible offerings to honor their dead rulers and relatives.
Cameron McNeil, an anthropologist at Lehman College, CUNY, has studied cacao-containing vessels from Maya archaeological sites. Copán, a site located in modern-day Honduras, held a wealth of cacao-based offerings in its tombs and burial sites that reveal much about the value of cacao during the Early Classic period of Maya history (400 to 600 AD). These vessels ranged from a deer-shaped bowl that likely held powdered cacao to a beautifully painted vessel that probably contained a frothy cacao drink.
Why was cacao important as a funerary offering? "It was valuable, but they also just enjoyed it," McNeil says. The seeds were so precious they served as currency. And when it came time to appease ancestors and gods, the many forms of cacao—raw seeds, pulp, powders, porridges, beverages, and sauces—were a worthy gift. But the offerings weren't just appeals to spirits: They were a flex for the living, cementing the current ruler's role as "the person with the power to call on ancestral forces," as McNeil writes in her paper "Death and Chocolate: The Significance of Cacao Offerings in Ancient Maya Tombs and Caches at Copán."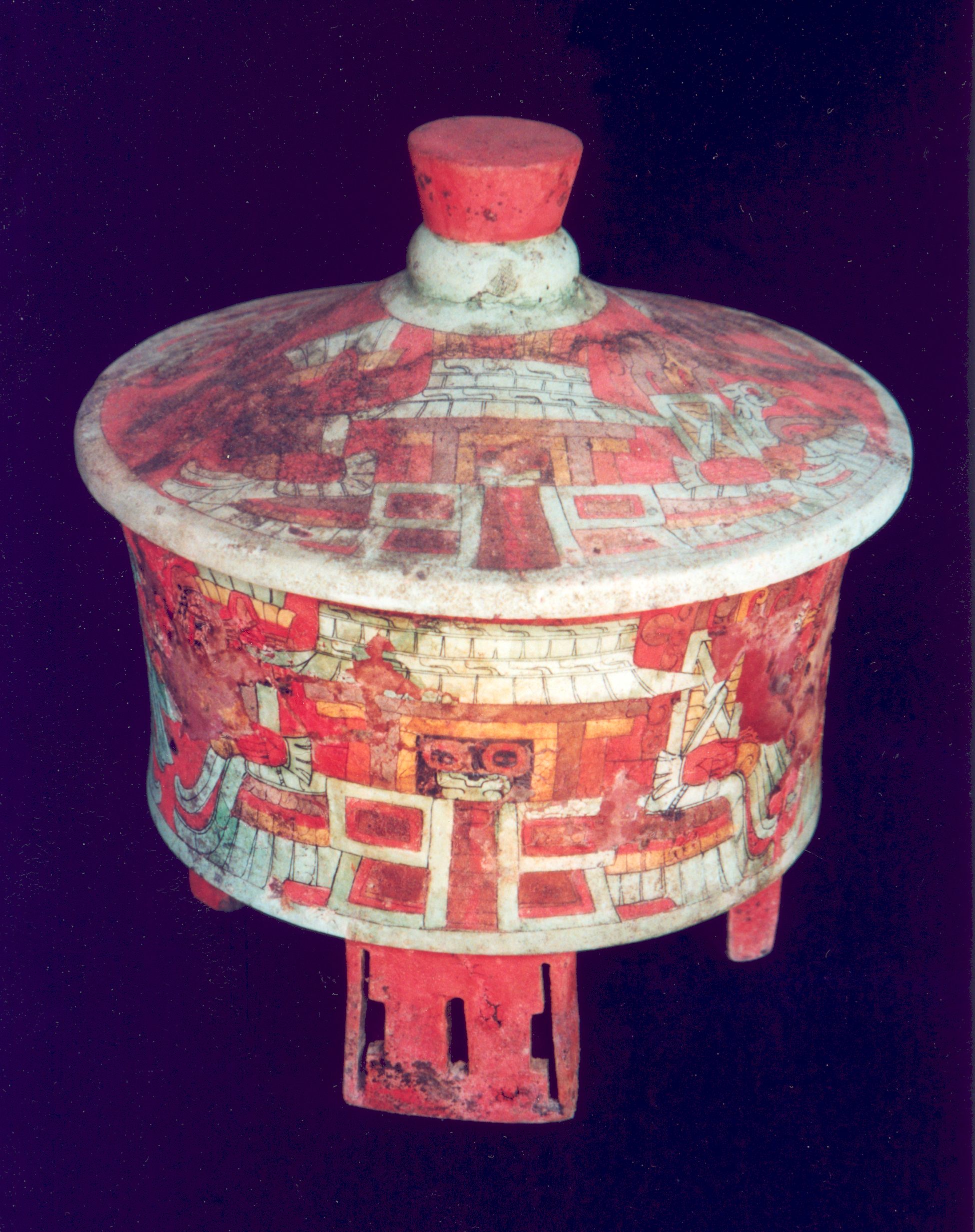 Today, chocolate—the processed form of cacao and sugar—still functions as a worthy gift on special occasions. But while modern lovers will be exchanging chocolate this Valentine's Day, McNeil doubts that romantic love played a large role in Maya cacao traditions of yore.
"It's not associated with love per se," she says. "Because if you look at traditional Maya culture, I'm not sure how much love is the basis of things and that people traditionally married for love. But it's certainly associated with fertility."
Even in death, the fertile cacao tree represented rebirth: A carving on a king's sarcophagus at Palenque (an ancient Maya city-state in southern Mexico) depicts his dead mother reborn as a cacao tree, with pods and branches growing off her body. The carving is part of what archaeologists call an "ancestor orchard" in the tomb, where ancestors are all depicted as various trees.
Today, similar traditions continue in places such as the Guatemalan town of Santiago Atitlán, where the living plant trees over the graves of the dead. In fact, cacao remains a powerful symbol in the greater Lake Atitlán region that surrounds Santiago. The lake is dotted with Indigenous Maya communities and many forms of cacao—from drinks to tamales to the pods that get strung up as decorations for Holy Week—still play an important role in modern traditions.
For Lake Atitlán residents Victorino Cotuc, who is Tz'utujil Maya, and Maria Mendoza Sac, who is Kaqchikel Maya, cacao has been a strong presence throughout their lives, from celebrating birthdays to soothing stomachaches to connecting their communities. Both now work for Cacao Source, a local organization that partners with women's collectives to produce cacao.
I recently met with them in Maria's home in San Marcos to talk about modern uses of cacao. As we sat among giant sacks of cacao beans, we discussed what cacao means to them, how its traditional role has changed over time, and how it can be a powerful tool to unite splintered groups across Central America.
This interview has been edited, condensed, and translated from Spanish and Kaqchikel. Many thanks to Eli Kej and Victorino Cotuc for their translation assistance.
Why did you start working with cacao?
VC: Cacao is very important to my identity, and I want to connect people to that. Coffee [plants] arrived in Lake Atitlán around 50 years ago and so many of our grandparents brought coffee plantations here. But before that, the most important drink for festivals was cacao. Now cacao is still an important drink too, but many farmers are producing coffee instead. I'm here to share cacao.
MMS: My grandparents sold cacao. They would go to the coast to get the beans, then dry them out on the patio. My grandmother and mother then sold it in Santa Cruz [another town on Lake Atitlán]. My grandfather was the leading force behind our cacao, so when he died, we stopped making it. When I started working with Cacao Source two years ago and my mother saw the big bags of beans at my house, she started crying because it reminded her of her past.
Speaking of mothers, I know there are several cacao traditions for expectant and recent mothers. Can you talk a bit about that?
MMS: Midwives say that a cup of cacao heats up the body from the inside, especially when combined with pepper, cloves, and cinnamon. It warms up the body and is good for the baby when you're pregnant.
And when you're in labor, you're supposed to drink a cup of cacao to stimulate the system and give you more strength to push. I drank this when giving birth to each of my five children. And when my sister visited me in the hospital, she brought me a thermos of cacao!
When you're breastfeeding, you're also supposed to drink cacao because it helps stimulate milk. I drank it every day the first month after I gave birth, then gradually drank a little less as time went by.
What are some other rituals or traditions that you associate with cacao?
MMS: You drink it for festivals, for birthdays. When I was a child, my mother would prepare an atole made from a masa of cacao and corn that we would drink for festivals and share with everyone in the community. Every January 15, inauguration day for new members of government, we'd make cacao for the new leaders and the community. It was out of respect.
Can you talk about some of the symbolism surrounding cacao and its production?
VC: When our grandmothers roasted the cacao seeds, they would do it over a fire surrounded by three stones. And when they ground it, they'd use a metate [an ancient stone grinding tool] that stood on three stones. These represent the three jade stones that the gods put in the sky to create the whole universe. [Note: While some people still use a metate or fire, the workers at Cacao Source use ovens and a machine to roast and grind, for consistency.]
So we've talked about cacao as a drink, with the hot cacao and atole. Are there any dishes that you like to make from cacao?
MMS: We make a mole that goes over chicken, and we add cacao into tamales sometimes. And we make a very good dessert with plantains and chocolate.
That sounds delicious.
MMS: It's very good. If you come back, I will cook it for you.
Thank you! Is there anything else people should know about Guatemalan cacao and your work?
VC: Before the Spaniards came, the different Maya kingdoms were very connected. They were using cacao politically, religiously, and economically. They were trading cacao, they were drinking cacao during meetings between kings.
When the Spaniards came, the kingdoms became more and more separate. But now, we are sharing cacao again. We see a movement happening where there is more connection again between the different lineages. I like to work with cacao because it's a gateway for this connection.
We have cacao from the Cobán region, we have cacao that's from a more Caribbean region. We have cacao that's part of a permaculture project meant to help to rebuild an area where there was a lot of mining.
Through cacao, we can be more connected with each other in Guatemala.
Gastro Obscura covers the world's most wondrous food and drink.
Sign up for our email, delivered twice a week.