Local Emancipation Commemorations Bring Black Communities Closer to the Past
Events like Tennessee's Libation Ceremony offer a chance "to finally start grabbing the pieces that have been scattered and lost."
With the sultry humidity of Tennessee summer hanging in the air, a small group dressed in white gathered on a Saturday morning, under shade trees at Freedmen's Mission Historic Cemetery in Knoxville. The little patch of earth adjacent to Knoxville College, a historically Black liberal arts school, is dotted with weathered headstones.
Prior to the pandemic, and since 2015, nearly 100 community members would have filled the small cemetery's rolling terrain on this distinctive date—August 8. They would come for a special ceremony, one that feels particularly resonant in today's America, and has its roots across the ocean in Africa. But in 2020, only a handful of people were present. They donned masks and spread themselves in the grass a safe distance from one another. A video camera recorded their activity and streamed it online, so everyone else could take part from the safety of home.
The collective convened near a stone, the final resting place of Lizzy Forby. Forby was enslaved by Andrew Johnson, the military governor of Tennessee and future U.S. President, on his farm in nearby Greeneville. Some historians believe she may have been one of his illegitimate children.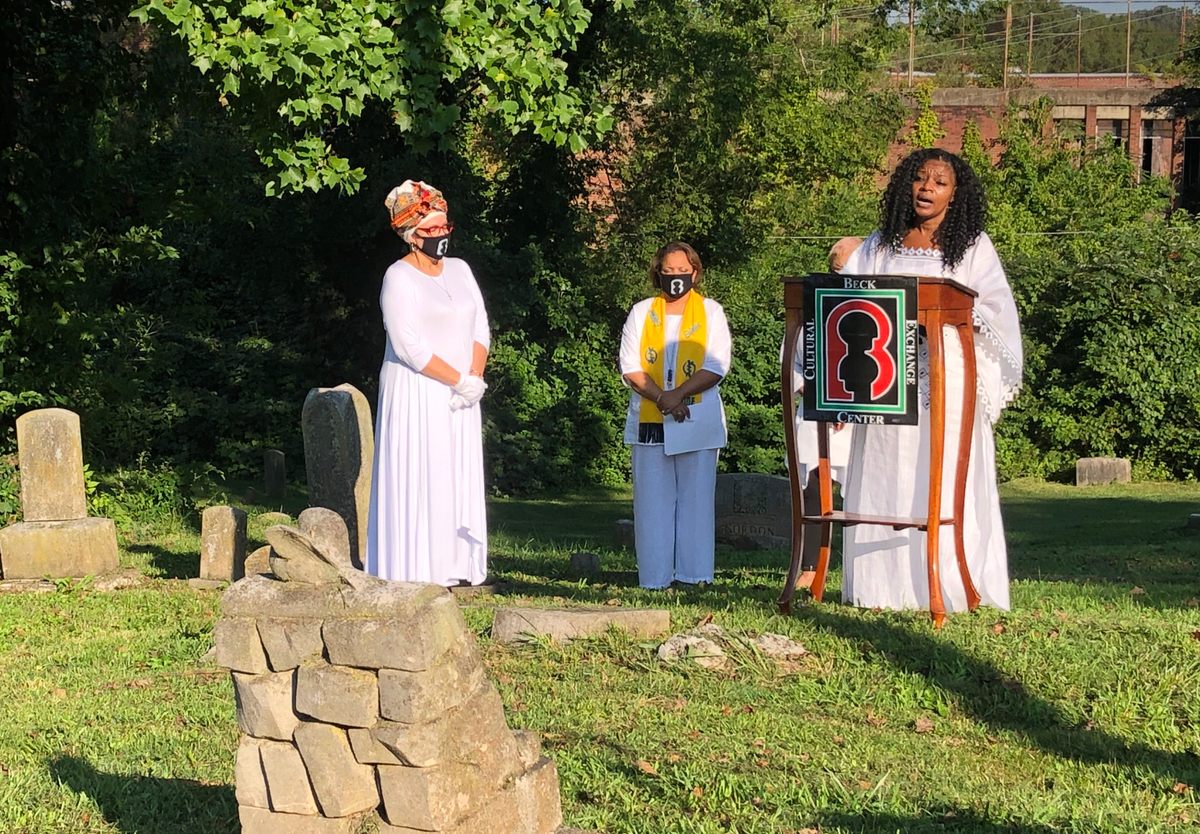 On August 8, 1863, Johnson emancipated Forby—who had been enslaved since birth—and others from forced servitude. She eventually migrated to Knoxville, a mother of nine, and when she died in 1905, her remains were buried at Freedmen's, where they now rest alongside the graves of her siblings, Florence and William, which are unmarked.
Forby's uncle, Samuel Johnson, also emancipated from Johnson, is credited with organizing the first celebrations marking Black freedom in the region. Newspaper retellings record an event in 1871, with a procession in Greeneville to mark the occasion. Since then, the tradition has spread to seven states and more than 50 communities. In 2020—with racial tension at the forefront of local and national conversation— Governor Bill Lee officially named August 8 Emancipation Day in Tennessee, after more than 150 years.
---
According to William Isom II, director of the Tennessee-based nonprofit Black in Appalachia project, the region's emancipation observances have contracted over the decades, though they have proven resilient. Years past included baseball games, picnics, beauty pageants, and music from the likes of Louis Armstrong, spread across vast swaths, from cities and rural hamlets. Now, with plans in only select cities, August 8 has become a homecoming of sorts, marked by reunions and gatherings.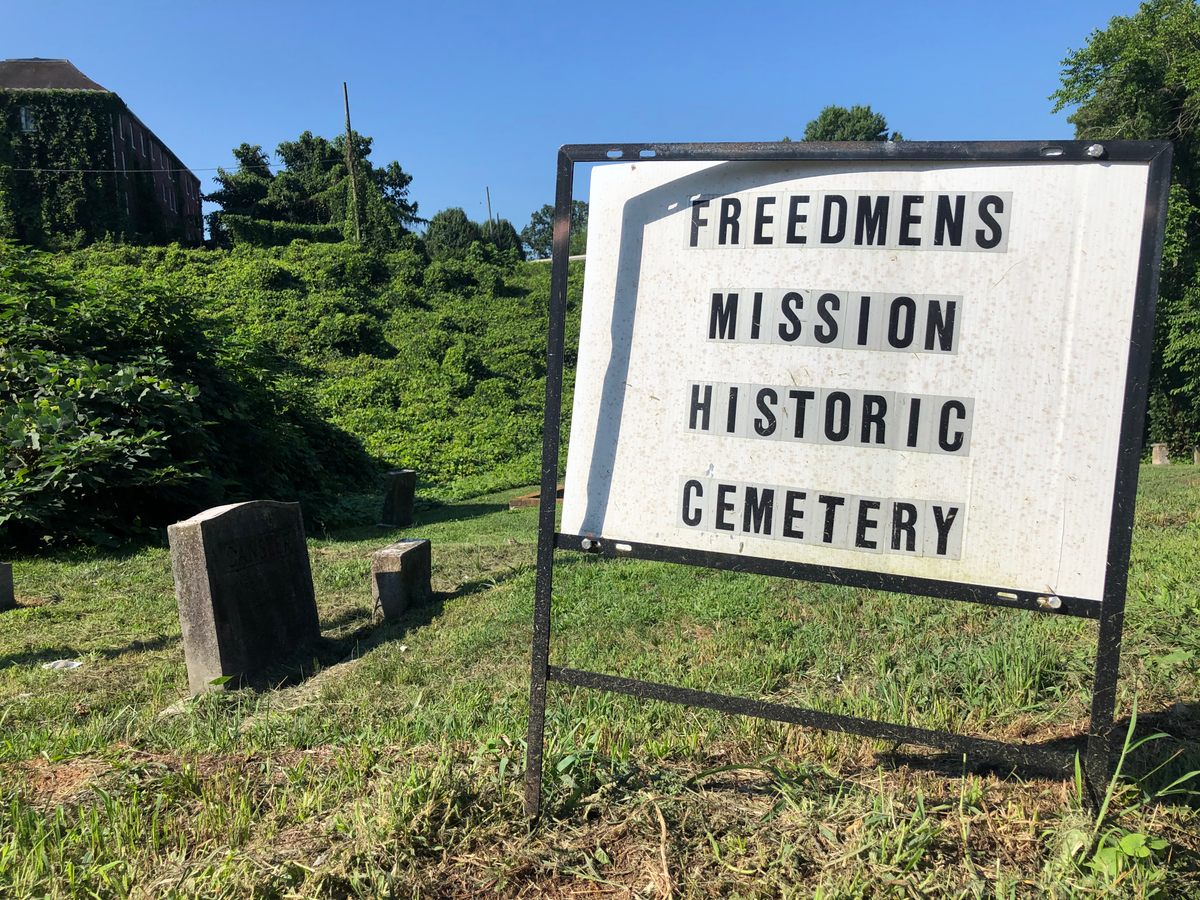 "Emancipation celebrations have occurred through Reconstruction, the dismantling of Reconstruction, 1919's Red Summer, out migration, and formalized Jim Crow," Isom says. "Emancipation is still celebrated today, even with the ongoing murder of Black people in the streets of America."
Juneteenth—or Freedom Day, which has origins in Texas and is celebrated on June 19—is perhaps the best known emancipation celebration in the United States. Isom calls 2020's collective energy around the occasion amid national protests against racial injustice "amazing." While the national movement to celebrate Juneteenth provides a broad space for celebration, recognition, and discussion, he says, local traditions such as August 8 add to the richness of the narrative. "It's beautiful," he says. "We have an overarching national observance and smaller celebrations that lend to the telling of local stories under a broader umbrella."
---
The group gathered at Freedmen's Mission Historic Cemetery on the summer morning were there for a Libation Ceremony, a relatively new addition to Knoxville's recognition, but one deeply rooted in African tradition that moved across the ocean with slavery's forced migration. In prior years, Knoxville's August 8 commemoration also included a festival and gala. In this year of social distance, it saw a virtual town hall and small red-carpet affair—all streamed. But, according to Reverend Renee Kesler, the president of Knoxville's Beck Cultural Exchange Center, a nonprofit devoted to the preservation of the region's Black American culture and history—these celebratory events cannot happen without first attending to a deeply reverent memorial at the cemetery to acknowledge the plight of the region's Black ancestors.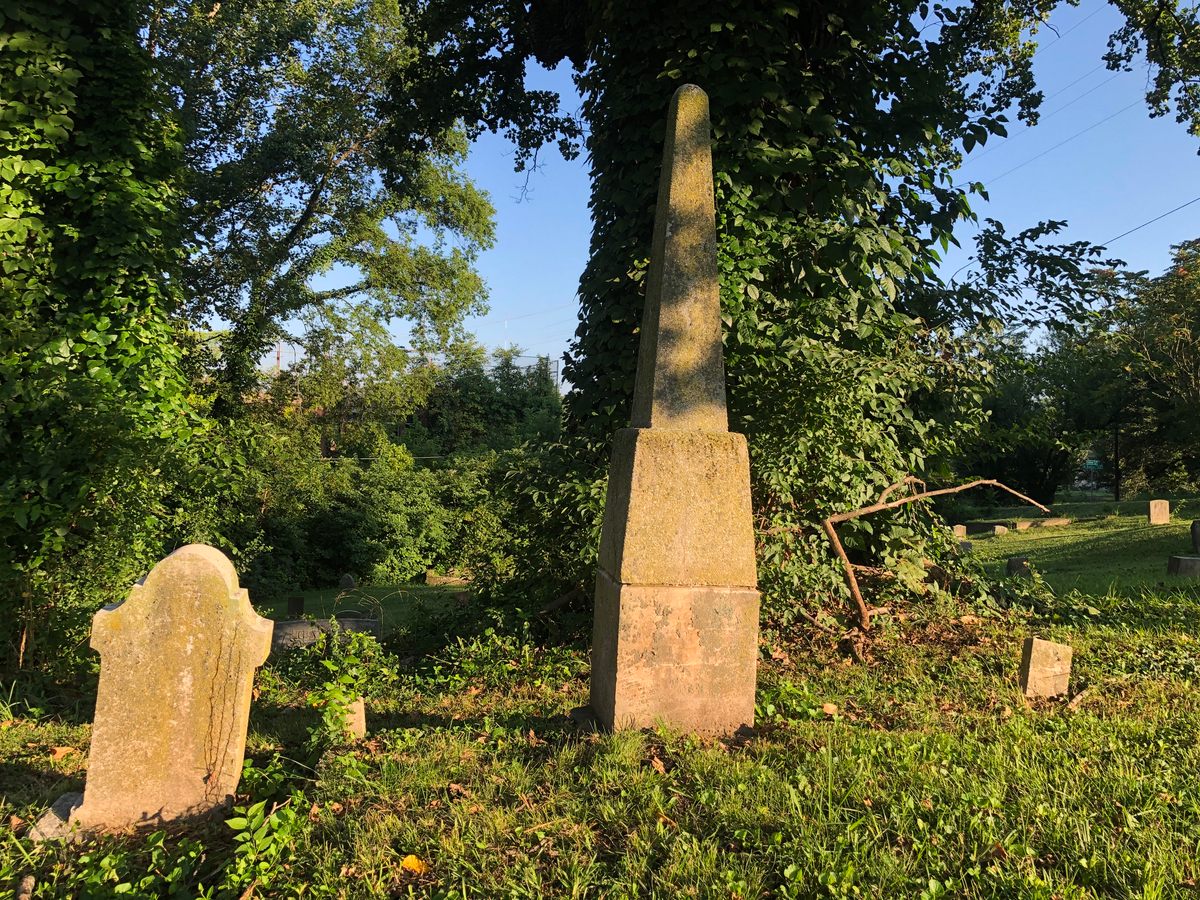 "We have to remember those who came before us," Kesler explained. The Libation at the graveyard is her brainchild, now in its sixth year. "They bear record, they paved the way." Kesler called them "resilient people who survived the horrors of slavery," and who, once emancipated, went on to great things, including organizing such enduring, symbolic events.
Isom says Knoxville's choice of a graveyard is significant. "Our Black cemeteries are oftentimes our most vulnerable spaces," he says. "They are the most at risk of being lost, forgotten, and overgrown." Acts like the Libation, he says, allow Black communities room for healing while also reclaiming stolen swaths of culture, wounds that remain incredibly fresh. Like many others, Isom belongs to the first generation of his family to live free from formalized segregation, though not systemic racism. "The Libation Ceremony is an illustration of us having the space and time to finally start grabbing the pieces that have been scattered and lost," he says.
Back at Freedman's, the ceremony continued with prayer, remarks, song, and dance, but the highlight is the ritual pouring of water on Forby's grave as an act of adoration. "Eternal vigilance is the price of freedom," explained Reverend Alan Jones, who has served as the ceremony's leader since its founding, paraphrasing a widely used 19th-century sentiment. Jones also tied the ritual to the biblical story of King David, in addition to African narratives.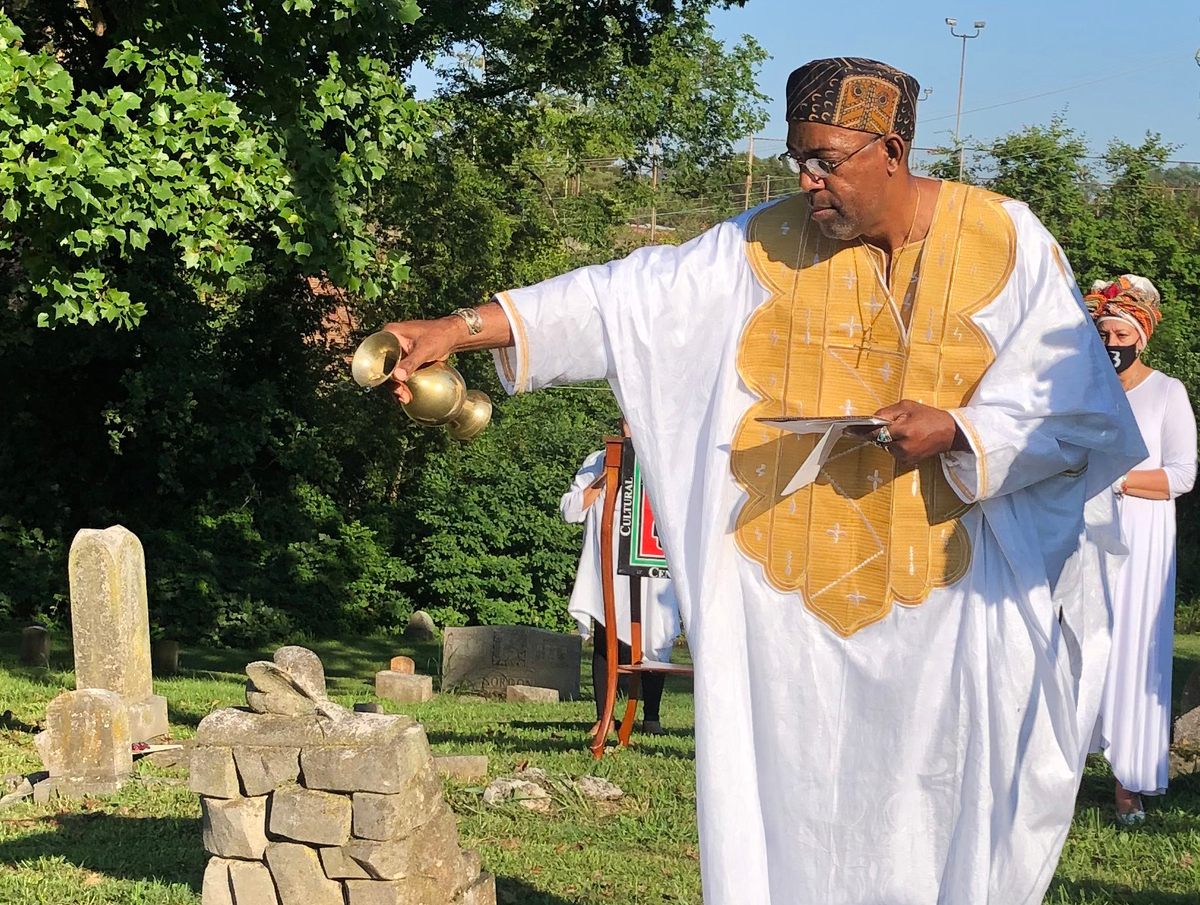 "An African proverb tells us that people who lack knowledge of their past are like a tree without roots," Jones told the small crowd. "In the spirit of remembrance, we pour this Libation," he said, holding a metal chalice high over Forby's headstone. The assembled joined him in emotion as he continued: "We pour it to remember the past so we may learn. We pour it to honor the importance of family and friends. We raise our cup to God to show our reverence for the original source of our lives. We use cool water as a symbol of the continuity of life to purify and nourish our souls. We pour it to celebrate the memory of the departed."
Jones allowed some water to slip from the chalice onto Forby's grave, while uttering "Asante," Swahili for "Thank you." He asked the collective to call out to their brethren. "John Lewis, great Civil Rights hero," he said, as everyone took a noticeable communal breath to remember the leader who died just weeks before. "Asante," they responded.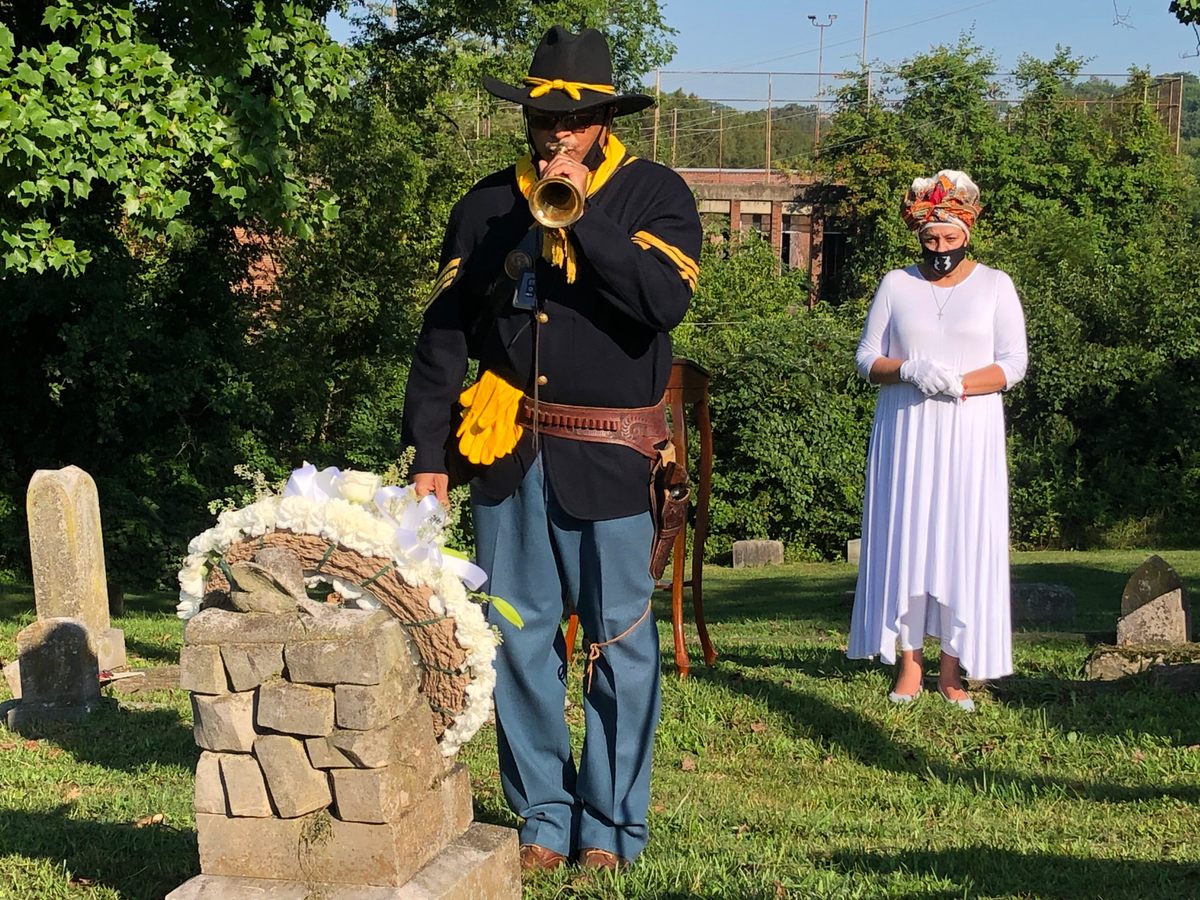 A man dressed as a Buffalo Soldier gently placed a wreath of white flowers on Forby's headstone, and saluted. Then three dancers, garbed in white, flowed through the space, no music to guide them. A dancer, also named Liz, her sister-in-law Felecia, and Felecia's 15-year-old son Ray, circled Forby's grave with gold streamers. Liz later called her participation a spiritual act, a channel for Lizzy and the others buried there. "I want them to feel freedom through me," she explained. "We show up to give them light."
A few in the crowd spoke of an earlier time, of Black Codes and Jim Crow laws, when their friends and relatives were only permitted to visit Knoxville's Chilhowee Park one day a year—on August 8. "I remember hearing my parents talk about the one day they were allowed to go," Jones said. "We are no longer confined to one day to celebrate," Kesler added. "We now celebrate freedom every day. It is a God-given right."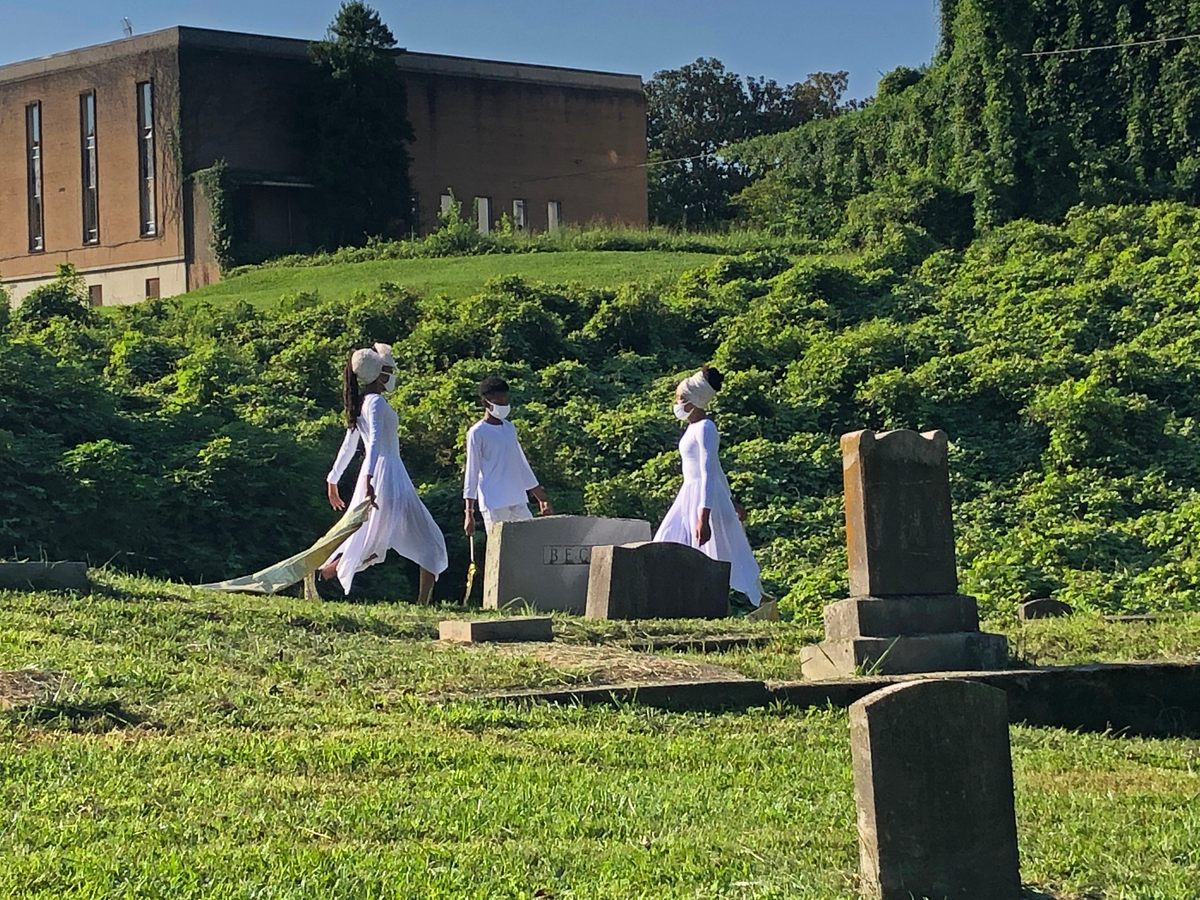 This year's racial unrest and its associated energy could be felt in the crowd. A nearby sign and the T-shirt of a teenager watching read "Black Lives Matter." "One man's death shook the world and I say to the Lord when I pray, 'Here we go again,'" Jones said, of the murder of George Floyd by police in Minnesota. Vrondelia Chandler, who presided over the ceremony, asked rhetorically at the start, "If a body is at liberty and the mind is still in shackles, are we really free?"
Near the end of the gathering, Dr. Olga Welch, who retired in 2016 from her position as dean of Duquesne University's School of Education, filled the silence with hopeful words from an old spiritual: "I sing because I'm happy, I sing because I'm free."