When Wine and Sauce Labels Were Glorious Works of Art
The wealthy once labeled their ketchup, soy sauce, and champagne with style.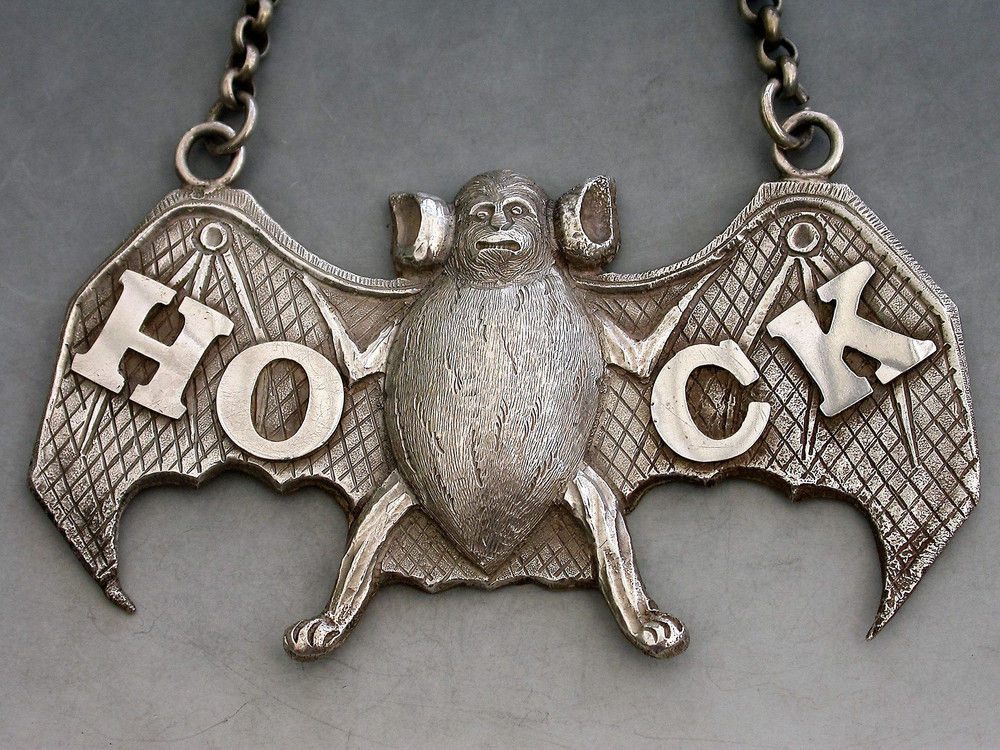 Whether on Dom Pérignon or plonk, wine labels tend to feature elegant lettering, illustrations of rolling green hills, and the promise of an unrivaled taste experience. Your average bottle of soy sauce or ketchup might have a recipe on the side.
But starting in the 18th century, one kind of label symbolized both wealth and good taste. By using elegant silver attached to small chains, British silversmiths created labels for customers' wines and sauces. Either a simple etched word or an elaborate medallion, these labels were both useful and beautiful.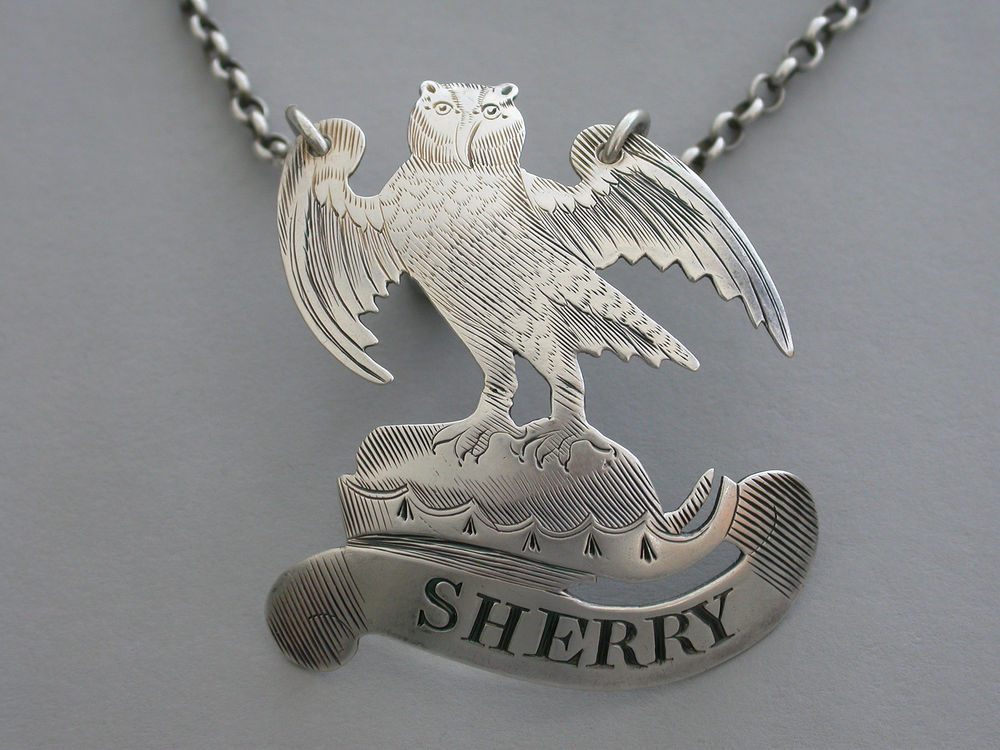 In Georgian Britain, wines flooded into the nation from all over the world. But the opaque bottles hid their contents. Plus, wines and liquors of the period often contained sediment, and their containers could be banged-up and dirty after a long journey. For the discerning, a filthy, unfiltered bottle of wine on the dinner table would be unthinkable. At high-class tables, wine needed to be poured into a clear decanter before serving. To mark which wines were inside, decanters sported "bottle tickets," or silver wine labels, hung around their necks. Made from silver, silver-plate, enamel, and even mother-of-pearl, their shapes and designs were equally varied, from scrolls to escutcheons to elaborate cut-out letters.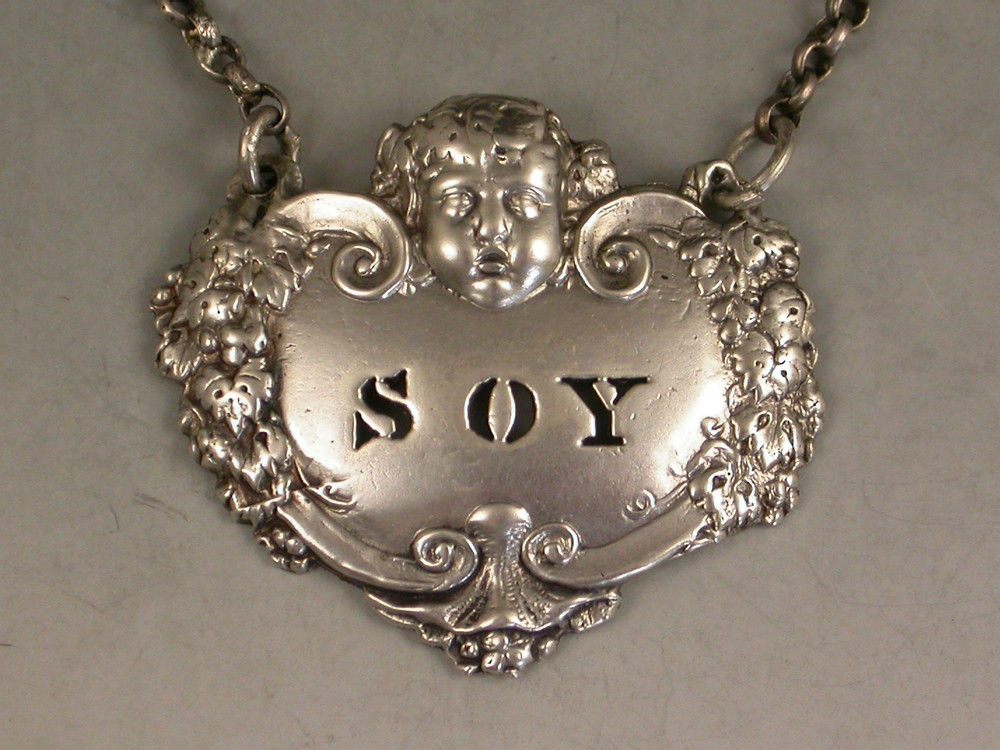 Silver firms owned by Hester Bateman and James Phipps made labels for everything from champagne and sherry to curaçao and hock, a type of German white wine. Wine labels could be made and used abroad, with the most fascinating example being Chinese bat-shaped wine labels. Yet, according to the Victoria and Albert Museum, which has a large collection of wine labels, they were "peculiarly English and never became fashionable abroad." But in Britain, the custom was crucial. When a captain served an un-decanted bottle of Moselle wine at a regimental dinner, his commander, mistaking it for the beer he had forbidden, had him arrested. The ensuing furor, which included a duel and a trial in the House of Lords, was known as the "Black Bottle Affair."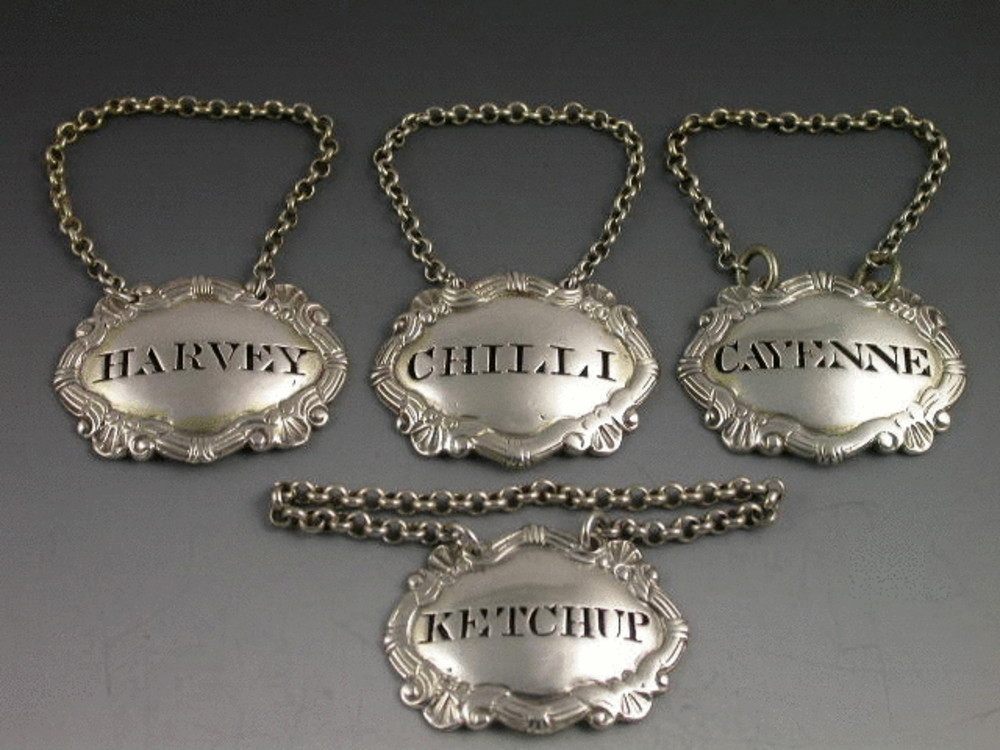 Sauces, whose cruets were often elaborately cut glass, making it hard to see what was inside, also got the silver-label treatment. Like with wine, the taste for sauces was surprisingly global. In fact, writes John Salter in Sauce Labels, 1750-1950, "From 1780 for some 60-odd years, the demand for a wide range of sauces was incessant." Often, sauce containers came in sets called "soy frames." After all, in the mid-18th century, soy sauce was on wealthy British tables, along with flavored vinegars, spicy kyan, or cayenne sauces, chili sauces, and a range of ketchups, from walnut to mushroom. Labels existed for all of them, even sauces that today are almost unknown, such as Harvey's sauce, made with anchovies and colored with cochineal, and the gloriously named Zoobditty fish sauce.
Medicine bottles also sometimes had silver labels describing the inner contents. Describing a label inscribed with the slightly terrifying word "acid," the Steppes Hill Farm Antiques website notes that doctors provided mildly stimulating acids to "Hypochondriacs and … persons afflicted with flatulence."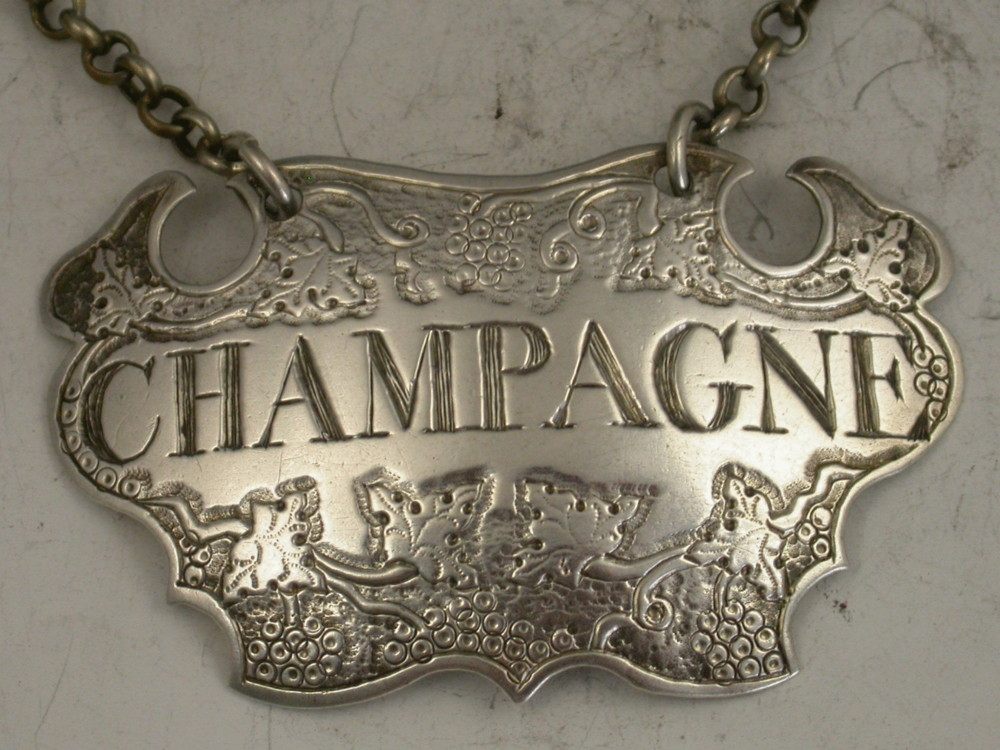 According to Wine Labels, 1780-2003, published by the Wine Label Circle, as the Victorian era went on, "improvement in the production of wine enabled it to be served straight from the bottle." That, along with new legislation allowing wine to be sold in stores, meant that paper labels became standard. Plus, writes Salter, as "transport facilities improved, less reliance was placed on highly flavored sauces to make food palatable." Silver labels, for both sauce and wine, became novelties, and then nearly unknown.
But there's one big exception. The Wine Label Circle is a passionate group of collectors with twice-annual meetings that publishes books on the history of silver labels of all types. While the wines and sauces they helped identify are long gone, the silver labels that adorned them continued to be celebrated.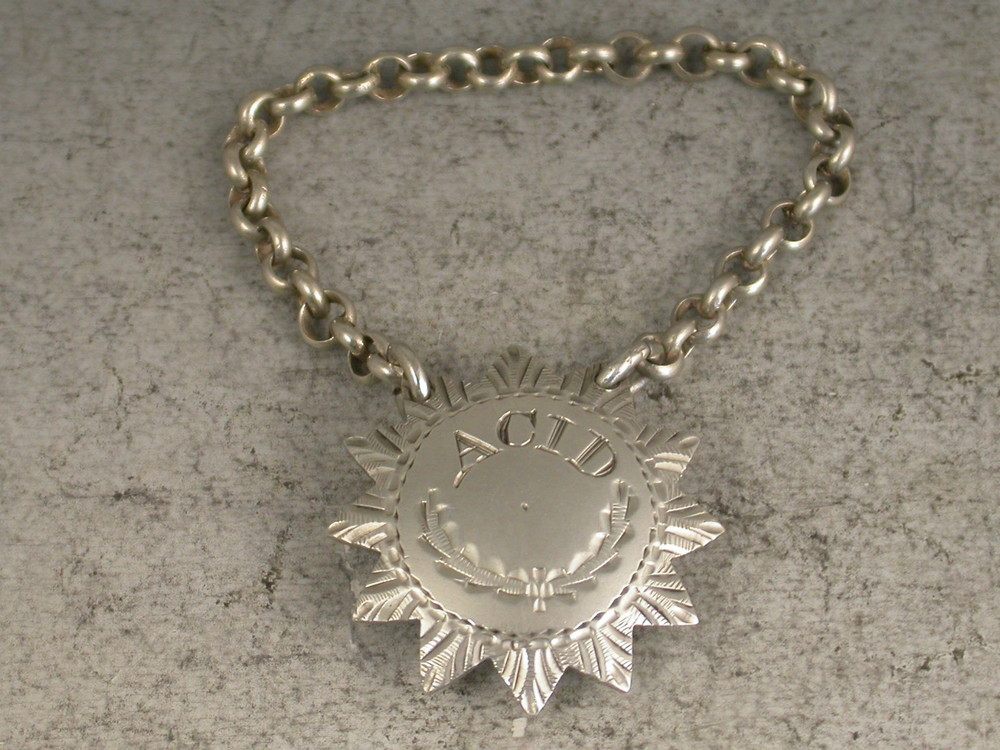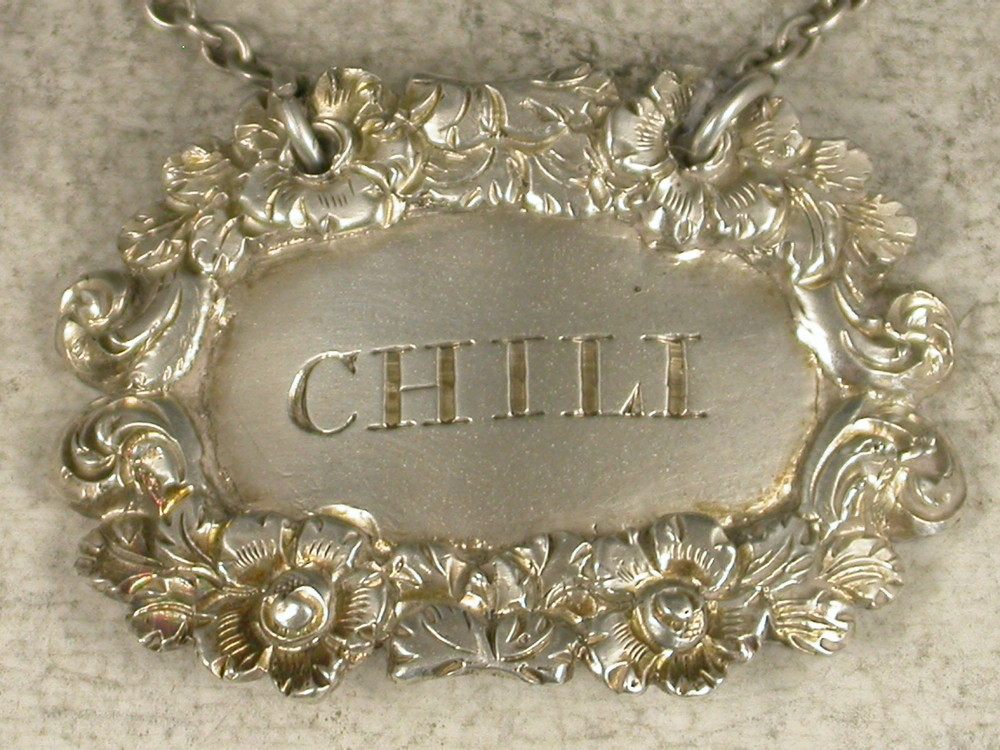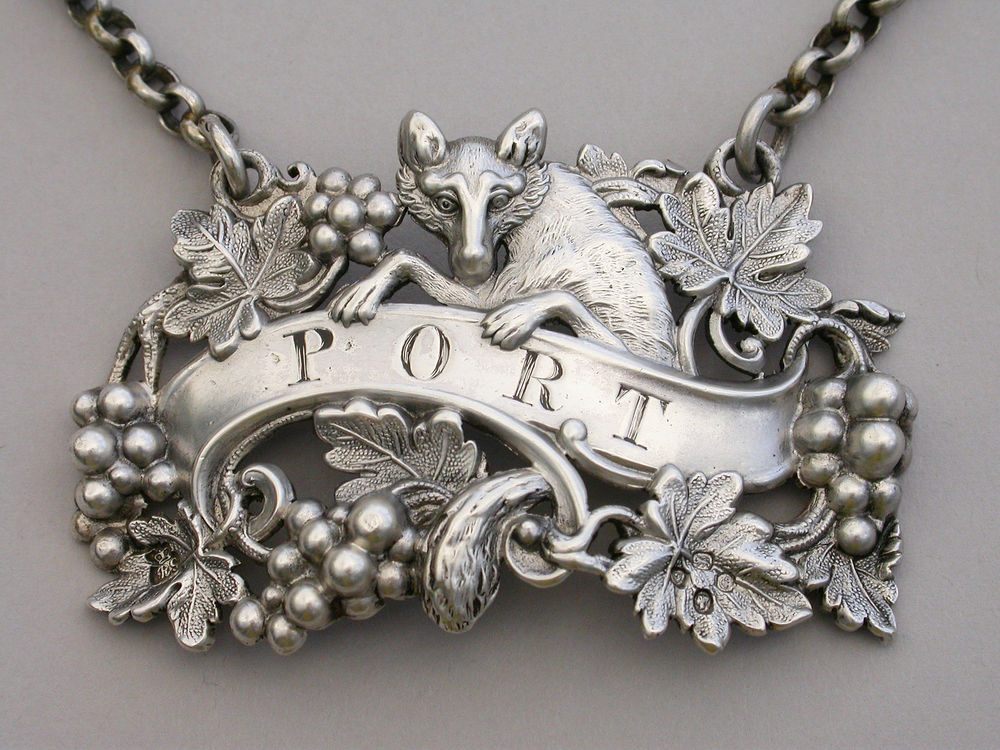 Gastro Obscura covers the world's most wondrous food and drink.
Sign up for our email, delivered twice a week.