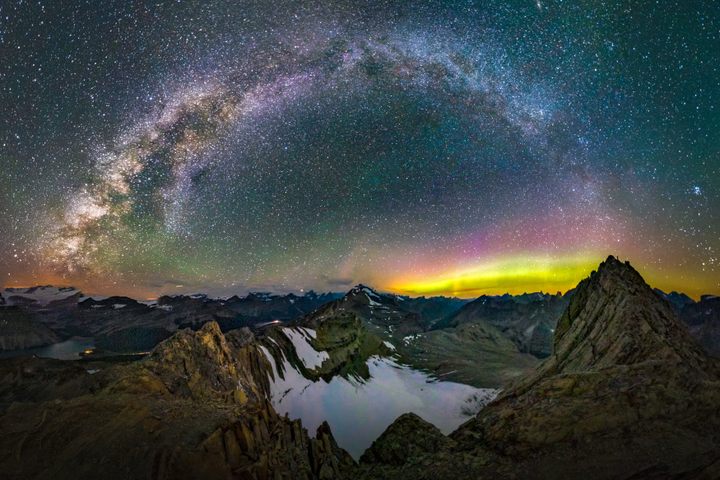 Tips for the Best Milky Way Images, From a Photographer Obsessed With It
Stanley Aryanto took a once-in-a-lifetime photo of the Milky Way, Comet NEOWISE, and auroras thanks to planning, patience, and luck. Now he's sharing what he knows.
For the first 30 years of his life, Stanley Aryanto says that he was living someone else's dream. He had a comfortable job as a mechanical engineer, but he wasn't happy.
During a trip through Europe in 2015, he snapped tons of photos with a pocket camera. But when he got home, he was disappointed. Nothing he'd captured did the trip justice: His photos were crooked, dark, or taken without a thought for composition.
He started watching YouTube photography videos, upgraded his camera, and practiced relentlessly. His skills grew quickly, and so did his sense of fulfillment. In 2018, he quit his job to become a digital nomad and pursue photography full-time, capturing the Milky Way and other natural wonders.
Atlas Obscura spoke with Aryanto about the balance between experiencing and photographing moments, the story behind one of his favorite shots, and his beginner-friendly tips for capturing the Milky Way.
What was the experience that ignited your passion for photographing the night sky, including the Milky Way?
I lived in a metropolitan city in Indonesia. Never, ever would you be able to see the Milky Way there. Too much light pollution. When I moved to Perth, Western Australia, you only had to drive 15-30 minutes—an hour, max—to get this pristine, dark sky. In mid-2016, I heard from friends about a beautiful viewpoint near Mundaring, [just east of Perth] where you could just lay on the ground and look at the stars. It was—I'm getting goosebumps as I say this—one of the most incredible feelings. It was just so serene, so beautiful.
How do you balance the joy of experiencing natural beauty with the pressure to document and share images in the age of social media?
I focus on the experience before the photo. For me, the photo is more like a trophy. If I go on this crazy hike, look out and I'm like, "Wow, this is incredible," I'm going to take something I can share with people to show what that adventure means.
I used to live near Lake Louise in Canada, just the most beautiful lake. There's a parking lot, and right in front of it, there's a broad wall. I could not believe the number of people who would go from the parking lot to the wall, take a photo, take a selfie, and then go straight back to the parking lot [and leave]. It's just crazy, because it doesn't take five minutes to explore [beyond the wall]. I'm not against the popular shot. But, as a photographer, and as a human being, I think we owe it to everyone else to [find and] share our unique perspectives of the world.
Tell us how your best known image, of the Milky Way with Comet NEOWISE and auroras, came to be.
I wanted to take a photo of NEOWISE, which can only be seen every 6,800 years, in the Canadian Rockies. But every time I checked the forecast, it was just full cloud coverage. Finally I found this little [period of] clear sky from about 10 or 11 p.m. until dawn. I went on Google Maps and Google Earth [to look at] different compositions, and chose to go to a place called Tent Ridge [southwest of Calgary].
A friend and I drove about two hours and then started to hike. I carried this [roughly 40-pound] bag. I had two cameras, two tripods, and I think it was about four lenses. As we hiked, there was this icy patch, which I did not predict at all because it was the middle of summer. So we're holding onto trees and then pulling ourselves up.
We finally got up there just before sunset, and it was the most beautiful sunset. But the problem with beautiful sunsets is usually there are a lot of clouds. I thought, "Okay, well, I don't know how well this will turn out, but anyway, I'm glad I got a sunset."
[Then] within a span of about five or 10 minutes, all the clouds suddenly disappeared, right when [the forecast] said it was going to be clear. The aurora was dancing, and it was really beautiful. I realized the Milky Way was about to rise as well. … It was literally the best night of my life.
What tips do you have for people who would like to photograph the Milky Way or learn more about astrophotography?
My biggest tip is to find the dark sky. There are many tools on Google where you can see the light pollution index. Then you want to make sure you can find the Milky Way—again, there are many tools, but a couple that I'd recommend are Photopills and Stellarium.
Then, you want to do a manual focus on something as far [away] as possible. Set your aperture to the widest opening, which is the smallest number: usually, for a budget camera, about 3.5, or for a professional camera, 2.8.
Set your exposure time. This one gets a little bit tricky because it depends on the lens. But I usually start with 25 seconds. If you see a comma on the stars because [the exposure] is too long—because our world is rotating, it captures that rotation—all you've got to do is reduce the number of seconds. For your ISO, you can start with 3200. And then, from there, if you need to, you can increase that all the way to whatever your camera is capable of.
With an iPhone, use night mode and set it to the longest exposure. Handheld, you can go up to 10 seconds. If it's mounted on a tripod, you can go up to 30 seconds. At night, the camera [may] struggle to know what to focus on, because you can't see anything in the dark. Find a light source that's about 30 steps away from you, focus on infinity, and hold on the distant light source until the AF/AE LOCK appears, and you can recompose to the composition you wish to capture with your phone.
I think for most people, the camera that you have is good enough. Before you invest in more equipment, invest in yourself. Look for different perspectives and add your own twist to your photography. At the end of the day, the vision is yours.
This interview has been edited for clarity and length.