Mapping the Ghostly Traces of Abandoned Railroads
An interactive, crowdsourced atlas plots vanished transit routes.
In the 1830s, a rail line linked Elkton, Maryland, with New Castle, Delaware, shortening the time it took to shuttle people and goods between the Delaware River and Chesapeake Bay. Today you'd never know it had been there. A photograph snapped years after the line had been abandoned captures a stone culvert halfway to collapse into the creek it spanned. Another image, captured even later, shows a relict trail that looks more like a footpath than a railroad right-of-way. The compacted dirt seems wide enough to accommodate no more than two pairs of shoes at a time.
The scar of the New Castle and Frenchtown Railroad barely whispers of the railcars that once barreled through. That's what earned it a place on Andrew Grigg's map.
For the past several years, Grigg, a transit enthusiast, has been building an interactive atlas of abandoned railroads. Using Google Maps, he lays the ghostly silhouettes of the lines over modern aerial imagery. His recreation of the 16-mile New Castle and Frenchtown Line crosses state lines and modern highways, marches through suburban housing developments, and passes near a cineplex, a Walmart, and a paintball field.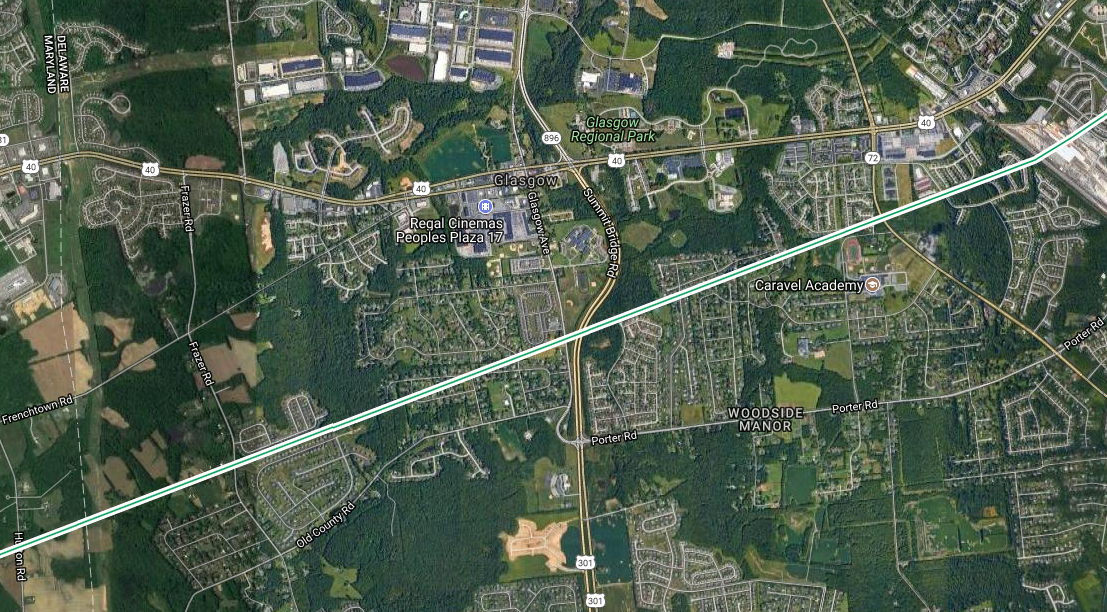 To uncover abandoned lines, Grigg consults a visual atlas of historic aerial images that spans decades, draws from railfan brain trusts, and tracks down leads that surface in Facebook groups. A scant handful of state transportation departments, including Iowa's, maintain lists, too. If more states did this, Grigg says, his project would be a bit of a lighter lift.

So far Grigg, who works at a traffic information center in Illinois, has catalogued some 2,500 lines, covering more than 60,000 miles. Most crawl across the United States, though there are a few in the United Kingdom, Canada, and Mexico. Zoomed out, his interactive map is striped with tan, red, and teal lines (with the shade indicating the length). Some are mere dashes, others wriggle like worms, some dip or wind, a few meander almost all the way across a state.
The heft of the U.S. rail network peaked by 1916, according to the Association of American Railroads, and has shrunk steadily ever since. Railroads are abandoned for all sorts of reasons, Grigg says. The New Castle and Frenchtown, for example, was one of the first to go. It was inaugurated in the early 1830s when, due to an opening-day mechanical snafu, the cars were first hauled by horses. Locomotives began chugging along it soon after, though service was sometimes snarled by meandering bovines. Andrew Jackson, Henry Clay, and Davy Crockett all took rides before the line merged with others and was ultimately just deserted in 1859. In the Northeast, the system was overbuilt as competing companies scrambled for a slice of the infrastructure boom, leaving less-favored lines to wither and die. Out West, tracks went silent when once-booming industries wobbled or went bust. "Many lines were built for mining towns," Grigg says. "Once a mine was no longer profitable, neither was the railroad."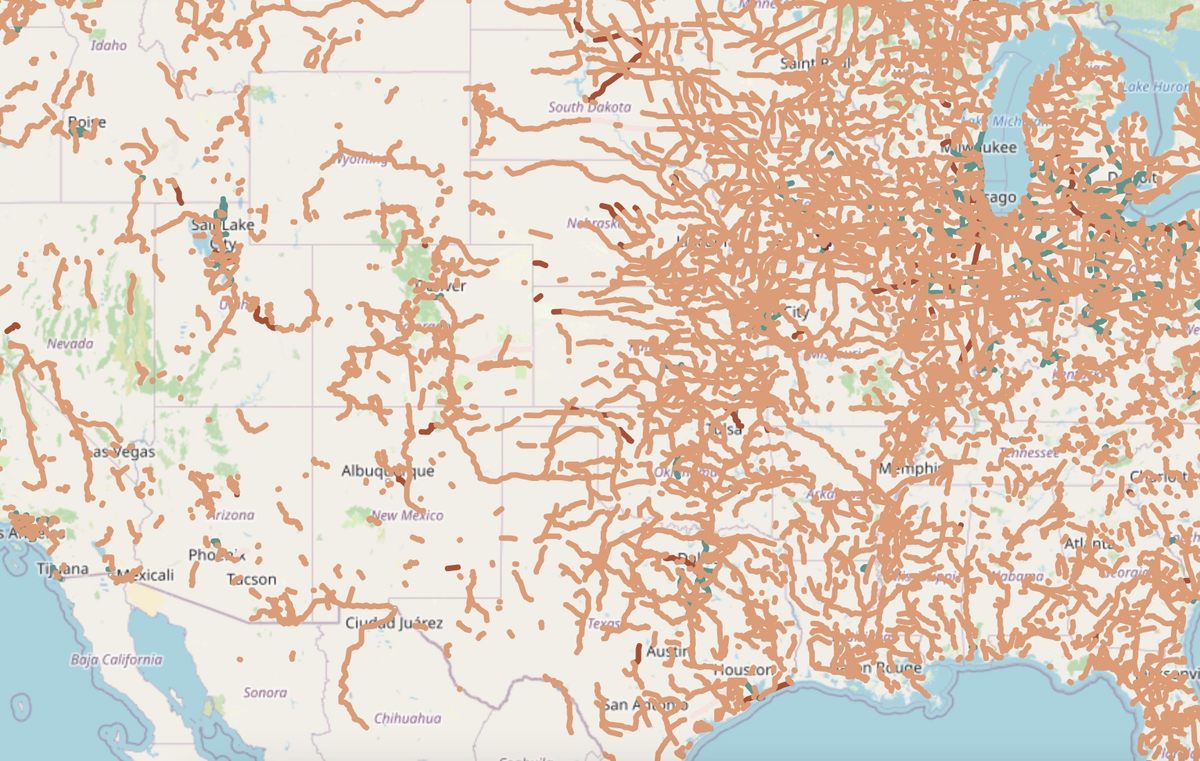 Clicking on the lines on his map brings up details, including the towns they connected. Some of the towns have sparse backstories, and have left few visual traces. The map also notes a handful of ghost towns, including some that have are now underwater, drowned by dammed rivers or mining activity.
In some instances, former crossings and depots have been completely eclipsed, such as a large railyard in Pittsburgh that is now home to stadiums and a casino. But not all abandoned railroads were scrubbed away entirely. In New York City, Toronto, and elsewhere, some segments have been given second lives as urban parkland.
Tracing the routes is an ongoing task, and the project will continue to sprawl as infrastructure goes up or falls into quiet stasis and neglect. "One thing I've learned is that the rail network is an organic entity," Grigg says. "Lines are continuously being built even today, as well as abandoned."
Grigg has invited other cartography enthusiasts to pitch in with annotations. So far, around 50 people have helped expand his atlas and excavate histories on the brink of being forgotten. "I've many times felt that there are often worlds hidden within plain sight to most people," he says. "The abandoned railroad network is certainly one of them."
* This story originally appeared on January 9, 2018. Grigg migrated his map to a new platform in October 2021, and the story has been updated.