Lush Island Seeks Intrepid Dairy Farmer With Herd
Is it you?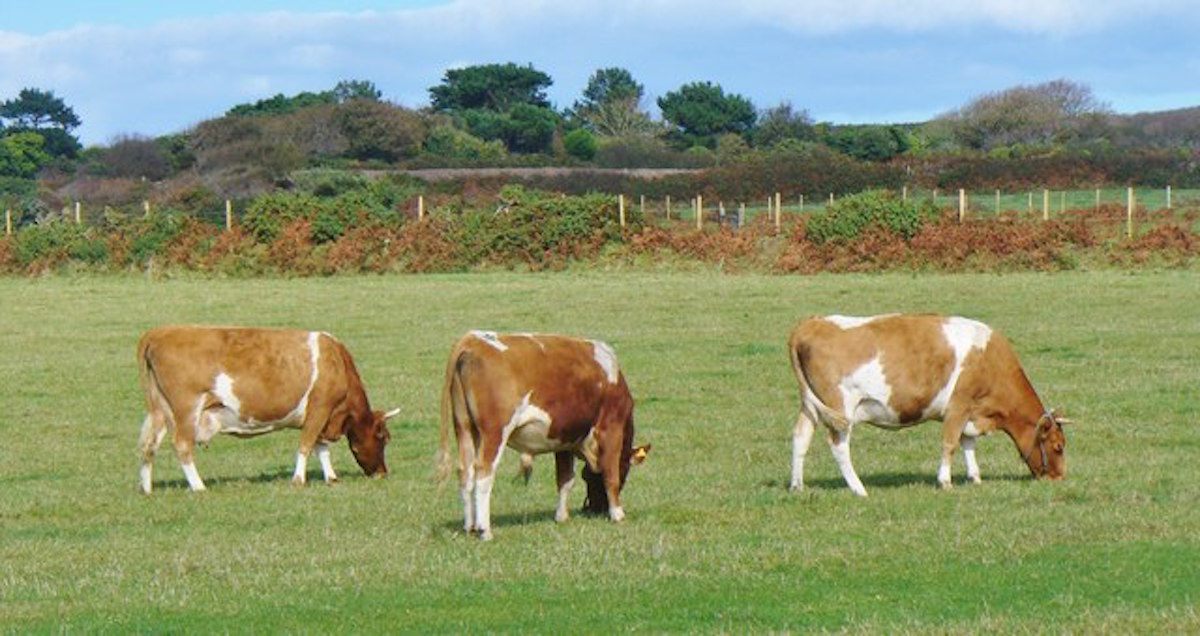 For over a year, the Channel Islands community of Sark has been importing their milk from elsewhere. According to the BBC, the community is currently looking for someone to put an end to this nonsense and bring dairy production—and a herd of cows—back to the island.
Sark is three miles long and a mile-and-a-half wide, free of cars and streetlights. Around 500 people live on the island, surrounded by a rocky cliff-lined coast accessible by ferry and boat, under a sky dark enough for the stars to twinkle at night. Sark's last dairy farmer, Christopher Nightingale, shut his operation down in 2017 due to rising costs and a lack of land stability: The island is still led by a seigneur, or feudal lord (currently, Christopher Beaumont). While feudalism formally ended on the island in 2008, old habits die hard. Farmers on Sark must still lease their land on a short-term basis, which makes it difficult to plan a sustainable business.
The way most U.K. residents get their milk has been changing over the past 30 years. While 89 percent of British households still had fresh milk delivered to their doorsteps in 1980, that number has dropped down to around three percent today. Supermarkets in the U.K. drove small dairies like Sark's out of business by selling milk below the cost of production, says Richard Young, policy director of the U.K.-based nonprofit Sustainable Food Trust and co-owner of Kite's Nest Farm. Between 2005 and 2015, half of the U.K.'s dairy farms were driven out of business, and those that remain are mostly large farms with 500 cows or more. Sark doesn't need nearly so many given its population—a herd of 25 to 35 local Jersey or Guernsey cows should do, says Young.
Richard Axton is the main force behind promoting a Sark community dairy, which is slated to be built this year, and calling for a dairy farmer—or a couple—to come, cows in tow, to the island. The local economy depends mainly on tourism, so the new dairy farmer will be expected to provide for local residents, and then some.
"Sark's visitors are increasingly going to be old people who walk around the plateau of the island, rather than scrambling down to the beach and they are going to be looking for good things to eat and drink and take home with them," local Conseiller Helen Plummer said at a meeting in January, during which the community dairy project was discussed.
So, who will satiate Sark's taste for sweeter, grass-fed milk, cheese, butter, and cream from neighborly cows? If you have the experience and cows to take the job on, a local chocolate company encourages interested applicants to be in touch.
Gastro Obscura covers the world's most wondrous food and drink.
Sign up for our email, delivered twice a week.