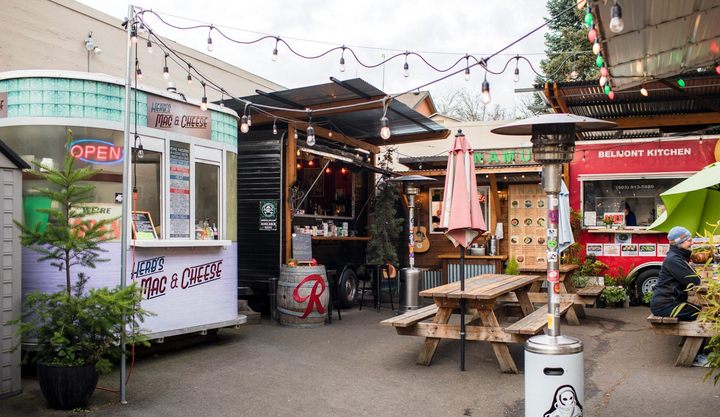 Inside Portland's Food Cart Culture
The city's iconic pods are famous for innovative–and often outlandish—culinary creations.
Some of Portland's best—and most creative—cuisine comes from food carts, tiny mobile kitchens clustered all over the city in collectives known as pods. The offerings are as diverse as the city, and in many ways these restaurants on wheels make up their own version of Portland in miniature.
Unlike their roving food truck counterparts, food carts are trailers outfitted with a kitchen that's much smaller, and less mobile. They're typically parked in a leased location, where they stay for months and often even years.
Food carts have thrived in Portland since the 1980s, but morphed into a full-blown phenomenon—and became enmeshed in the city's identity—amid the Great Recession.
In those tough times, "it was hard to come up with money and capital to get into a brick and mortar," says Leah Tucker, a former food cart owner who now serves as the executive director of the Oregon Mobile Food Association. "But you don't stop desiring that dream as an entrepreneur, as a restaurateur."
At the same time, landowners struggled to sell or develop their properties and were looking for ways to pay their taxes. Enter an unusual tenant—the mobile restaurant. "It was just this weird kind of perfect storm of things that happened during the recession that really just lit the fire underneath this industry," Tucker says. "And that kind of organically created these strange pod things that we see now."
Over the years, food carts have served as launching pads for some of Portland's best-known restaurants: Nong's Khao Man Gai, outlandish sandwich shop Lardo, and the Salt & Straw ice cream behemoth all started as food carts. So it could be that the sandwich you're eating from a compostable carton or the unexpected fusion dish you're slurping in a gravel lot might be from the next James Beard Award-winning restaurant.
Experiencing Portland's Food Carts First-hand
From pod to pod, the city's rich diversity shines, providing hungry crowds with the opportunity to experience flavors from all over the world like Montreal-style pastrami at Pastrami Zombie and Vietnamese soul food at Matta. Or take a different journey by way of Texas barbecue at Matt's BBQ Tacos and some Indian-Mexican fusion at Poco India. On average, most food cart finds are $10 to $15—significantly less than that trans-Atlantic plane ticket.
All told, there are more than 30 pods in the Portland area. Here are a few to whet your appetite for experiencing Stumptown through a gastro lens:
The Bite on Belmont
4255 SE Belmont St, Portland, OR 97215
Pay a visit to Viking Soul Food and skip the flight to Norway. This Airstream-turned-kitchen is tucked at the back of the Bite on Belmont pod. Viking Soul Food's modern take on Scandinavian fare will warm you up, as will the heated tent where you can sit and eat kicked-up classics like Norwegian meatballs covered in caramelized goat cheese gravy and wrapped in lefse, a thin potato flatbread. Other favorites in this cluster located in the heart of the Belmont District include Herb's Mac and Cheese and the entirely plant-based Dinger's Deli.
Cartlandia
8145 SE 82nd Ave, Portland, OR 97266
This self-proclaimed bike-centric super pod, located near the junction of SE 82nd Street and the Springwater Corridor Bike Trail, is home to more than 30 carts in Southeast Portland. People descend on this popular pod for staples like morning bagels at Puddletown Bagels and stay for its indoor gathering spaces. Whether you're after morning fuel, or fare inspired by Mexico, Thailand, Puerto Rico, and India, this pod that caters to cyclists delivers. Diners here choose between a kid-friendly outdoor space, or tucking into the Blue Room Bar, which serves 12 taps of local beer and cider and allows patrons to bring in food from the carts.
Portland Mercado
7238 SE Foster Road, Portland, OR 97206
The tropical colors covering the exterior of Portland Mercado, a public market in the Foster-Powell neighborhood, hint at the Latin flavors that await inside. The development has a public market at its center, while nine carts on the periphery serve Mexican, Colombian, Puerto Rican, Cuban, Peruvian, and Venezuelan cuisines alongside other Latino-owned businesses, including a coffee shop and bar. Built with the belief that food brings people together, Portland Mercado aims to replicate the experience of a trip to Latin America right in the very U.S. corner farthest from it.
This hub is unique in that it also runs a business incubator program to encourage and support entrepreneurs. "It's brilliant," says Brett Burmeister, the man behind the encyclopedic website Food Carts Portland. "This idea of teaching someone the next steps and breaking down some of those fearful barriers in our society makes this one of the best programs I've ever seen. And this pod has become an anchor for a changing neighborhood."
Cartopia Pod
1207 SE Hawthorne Blvd, Portland, OR 97214
This is one of the oldest pods in Portland, and a favorite late-night destination. The lot offers a covered, heated seating area amid the quirky gift shops and bookstores of Southeast Hawthorne Street. Cartopia is a lunchtime staple, but as the day goes on, carts blend in with the neighborhood's nightlife scene of pubs, beer bars, and music clubs. Barhoppers sit at picnic tables under string lights and dine on Latin-style roasted chicken with chimichurri at Chicken and Guns, and over-the-top poutine at Potato Champion, where toppings include palak paneer, pulled pork, and peanut satay with raspberry jam. Hungry crowds can make their way down the street to one of Southeast's newer pods, Hawthorne Asylum, just two blocks away.
Hawthorne Asylum
1080 SE Madison St, Portland, OR 97214
Hawthorne Asylum is named for its street as well as its nod to Oregon's past. Visitors enter through an iron gate that once led to the now-defunct Oregon Hospital for the Insane. Today, the pod accepts donations to support mental healthcare for children.
This bustling food court offers an eclectic mix of twists on familiar foods and fermented drinks, along with plenty of favorite dishes. Diners gather around a massive rectangular fire pit surrounded by steampunk metal sculptures. Innovative fusions like grits and po'boys at the Southern-meets-South-African cart South give visitors plenty of reason to return, while vegans come for Egyptian stand Peri Koshari.
New flavors and fusions are continually being introduced to the area, and these pods are just a few examples of how Portland's food scene is always evolving. Track the newest pods, or stay true to a local favorite. However you take it in, there's no right or wrong way to experience Portland's cart culture.