How to Make Vietnamese Egg Coffee
And appreciate the country's beans and brews.
During World War II, Nguyen Gian faced a problem: a milk shortage. He was working in a hotel in Hanoi, Vietnam, and his solution was to mix whipped eggs into the coffee. This classic case of constraints spurring creativity is widely credited as the moment that cà phê trứng, or Vietnamese egg coffee, was invented.
Over the years, Gian, along with other residents of Hanoi, a highly caffeinated city, developed egg coffee into a drink you want even when plenty of milk is on the table. It combines the strength of Vietnamese coffee—whose unique coffee culture is powered by robusta beans, rather than the arabica beans ground and brewed in most of the world's coffee shops—with a sweet frothiness that makes lattes taste like diet drinks.
I've long been curious about cà phê trứng, which occupies the Venn-diagram center of my coffee preferences: sweet and strong. So, last week, I spoke with Sahra Nguyen (no relation to Gian) of Nguyen Coffee Supply about Vietnam's coffee industry, egg coffee, and how to make it.
I know the idea of putting eggs in coffee is unfamiliar to many people, maybe even strange. Can you tell us what the egg is up to in egg coffee?
I'm a huge fan. It's not something I make regularly—at least in my world, it's regarded as a bit of a treat, a bit decadent. It's insanely delicious. You only use the egg yolk, but the flavor is not super yolky. When whipped, it's the texture, not flavor, that comes through.
You want to add the egg cream when the coffee is still pretty hot to "cook the egg." When taking a sip, the best part is the hot, bold coffee and cool, silky cream. Those contrasts create this heavenly experience.
Could you tell me about the backstory of egg coffee?
Vietnamese coffee is thought of as paired with condensed milk. Why is that? Because for generations, people did not have fridges, and many still don't. So condensed milk became popular.
Egg coffee is really famous in Hanoi. It's because of the limitations of not really having espresso machines until recently, not having fresh milk until recently. Egg was a feasible way to complement coffee and give it a dessert treatment, to make it special.
What is different or unique about Vietnamese coffee in general?
Vietnam is the world's second-largest producer of coffee. And it's #1 in robusta beans. There are two main varieties of coffee beans: robusta and arabica. In the U.S., almost 100 percent of craft coffee is centered around arabica. In Vietnam, it's 99 percent robusta.
Robusta has double the caffeine content and 60 percent less fat and sugar. Robusta is strong and bold, and people in Vietnam love bold, strong coffee. People there don't understand light American coffee.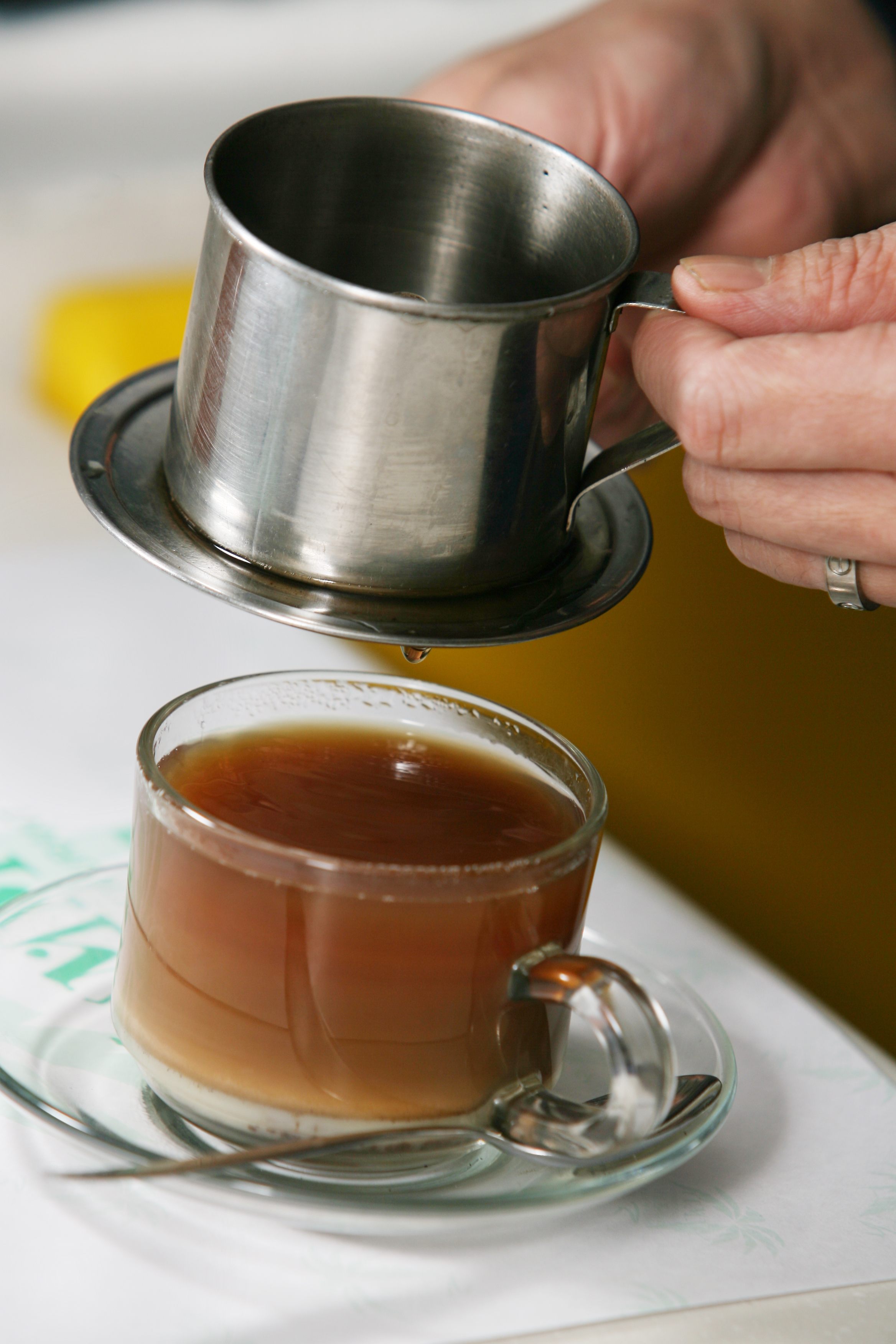 When I read about coffee, arabica is described as what's sold in nice cafés. And robusta is described as the cheap, not-as-good beans used in instant coffee. But I imagine you disagree?
You're right. Anyone doing a quick Google search will find arabica matter-of-factly described as better and robusta as cheap, gross, bitter.
It's so wrong, and harmful to communities at the end of the supply chain that farm robusta. They're boxed into economic exploitation, poverty. They can't advance their product and livelihood because the industry decided it's not good, which is just not true.
How did this happen?
That's a deeper conversation for a historian or anthropologist, but I'd say Vietnam has been pushed into the commodity market, like instant-coffee products, because the communist government standardized the price of coffee across the board, so farmers had no incentive to improve their coffee's quality. That's when Vietnamese coffee entered the market, and that's the root of the perception.
Vietnamese coffee is so strong. I'm kind of a lightweight, so I can't make it too often. Are Vietnamese people and Vietnamese coffee drinkers the heavyweights of the caffeine world?
Yeah, actually. I drink our Vietnamese coffee every day. It hits me still, but not like it did three years ago [before starting Nguyen Coffee]. When I drink a non-robusta blend, I feel nothing. It's like water.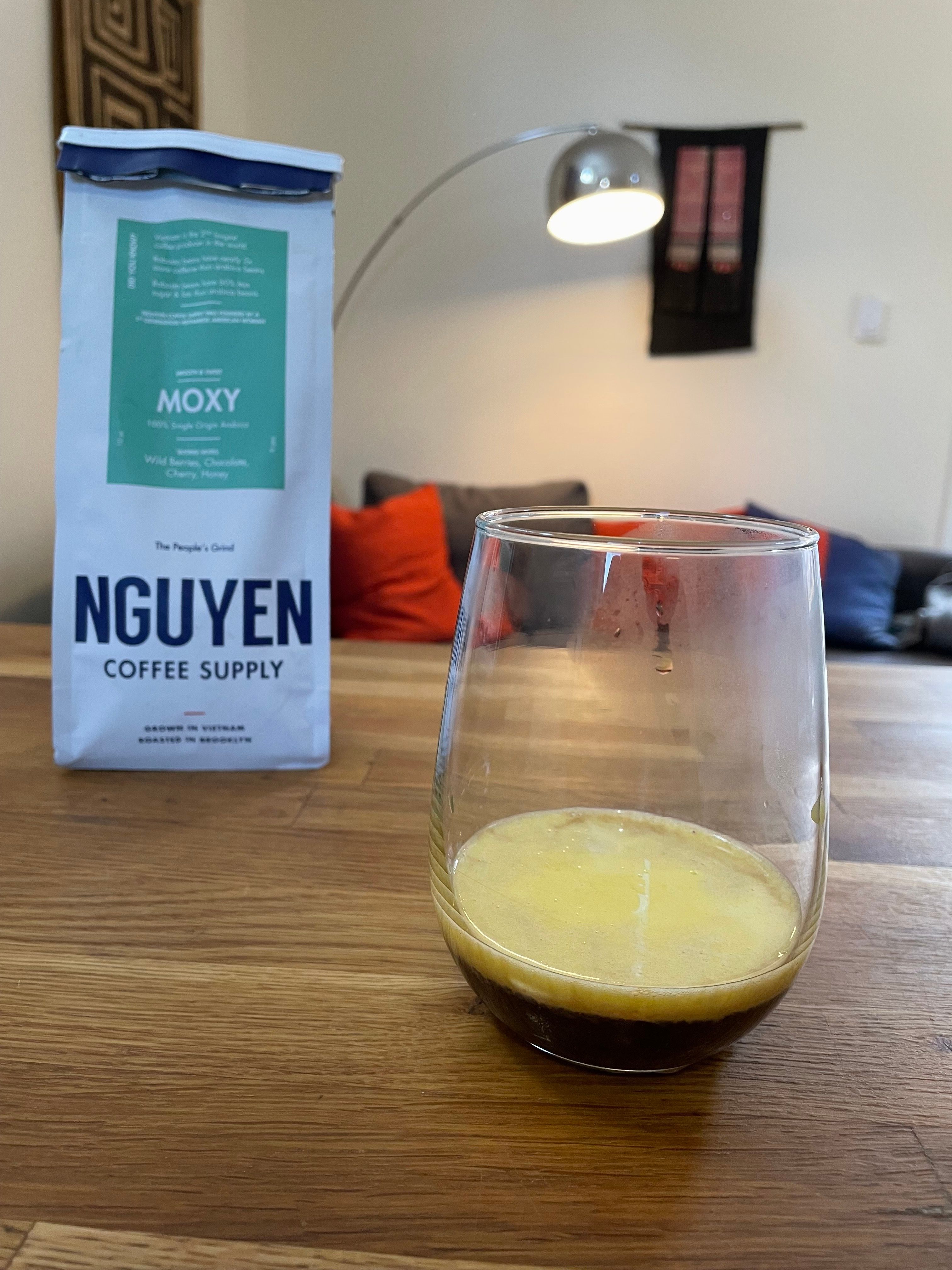 How to Make Egg Coffee
Serves 1
Ingredients
Ground Robusta coffee beans (Sahra recommends Nguyen's "Truegrit" or "Loyalty")
1.5 tablespoons sweetened condensed milk
1/2 teaspoon sugar
1 egg yolk
2 cups of hot water, plus boiling water for the coffee
Instructions
Make 1 serving of Vietnamese coffee using a phin. (You can follow the instructions to brew with a phin here.) If you don't have a phin, brew 4 ounces of strong coffee via another method, such as French Press or an espresso machine.
Combine egg yolks, sugar, and sweetened condensed milk in a bowl.
Mix with an electric wire whisk until thick and foamy, about 5 minutes.
Boil 2 cups of water. Place it in a heat-safe bowl.
Place your serving glass in the bowl of hot water. This will help cook the egg topping.
Pour ½ your coffee into the serving glass.
Add all of the egg mixture to the top of the serving glass.
Pour the remaining coffee over the top, allowing it to soak through the egg.
Allow to sit in the hot water for 3 minutes to help cook the egg through.
Serve and enjoy!
Additional recipe notes: If you are kinda cheap (like me) or a masochist (like me), you can hand whisk instead of buying or borrowing an electric whisk. My colleague Sam O'Brien recommends listening to "Freebird" while hand whisking, which I found helpful. Nguyen's video tutorial contains a trick for telling if you've whisked well enough. You may also want to stir the egg cream before taking your first sip!
Gastro Obscura covers the world's most wondrous food and drink.
Sign up for our email, delivered twice a week.