This Man Took a Photo With Every Mailbox in Seattle
David Peterman spent about a year on this valiant quest.
Would you like to take a picture with every single USPS mailbox in Seattle? Okay, here's the bad news: Somebody beat you to it. Now for the good news: That person is David Peterman, and he has thoughtfully documented the entire process on his blog, Mailboxes of Seattle. He finished his quest in early 2018, and his blog remains home to photos of every single blue letter-chomper the city had to offer at the time—all 346 of them.
When George Mallory was asked why he decided to climb Mount Everest, he famously answered "Because it's there." Peterman's motivation was similar. "I found all these sites online where you can look up any city, and it'll show you where all the mailboxes are," he says. "I thought, 'Hey, I wonder if anyone's been to every mailbox in Seattle?'"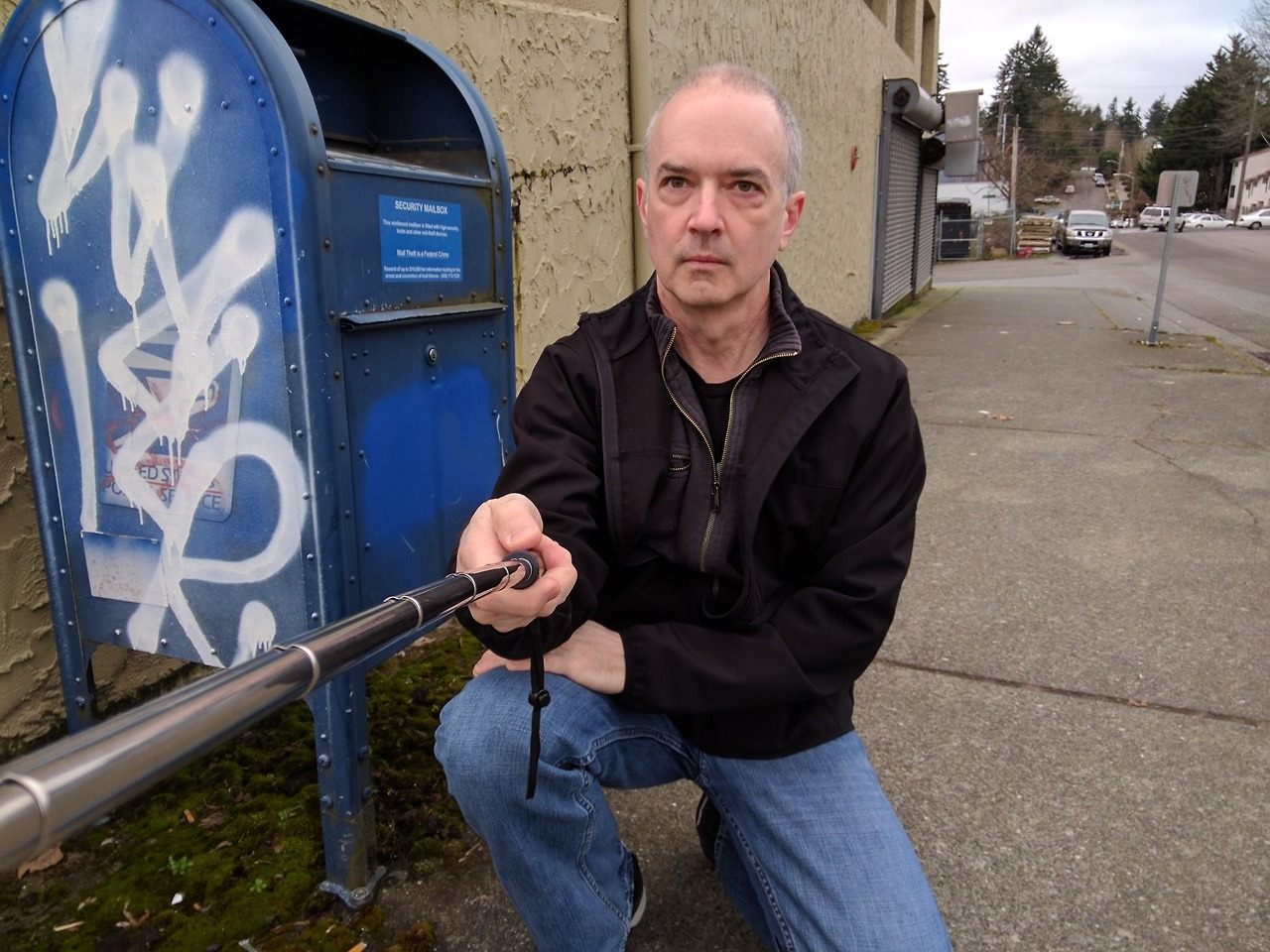 So, early in 2017, Peterman began his journey. He started by venturing to the four corners of the city: His first photo, at 140th and Lake City Way, features the most northeastern mailbox in town. After he scratched those off his list, he proceeded at random. After all, there are mailboxes everywhere: in suburbs and urban centers; outside bustling restaurants and in abandoned lots.
Peterman, who has lived in Seattle for over 30 years, was surprised at what he learned about his city. "I found neighborhoods I had never heard of," he says. He cites one small neighborhood next to a major freeway, which he has driven by hundreds of times. "I looked on the map, and there was a mailbox," he says. Along with it were several blocks of homes: "People's lives are back here, and I had no idea."
He also found out a lot about mailboxes. For one thing, they make for surprisingly good party conversation. "People will have a favorite mailbox," he says, "or they'll start getting upset because all the mailboxes are disappearing." Peterman's original list contained several dozen boxes that are simply no longer there, victims of the city's construction boom.
For another, they lend themselves quite well to anthropomorphism. On his blog, Peterman assesses each mailbox's personality. One is upset about new development crowding it out. Another, next to a cupola-topped church, is jealous because the building copped his style. Some are on well-trafficked streets, and are probably happy. Others are tucked away and ill-used, and might be sad. "I think they have something to say," he explains.
After about a year of questing, Peterman paid his final mailbox call in February 2018. Friends joined him, along with several fans he had never met. They took one massive, energetic photograph. (The box was mostly obscured in the process.) And then Peterman collapsed his selfie stick and stamped the project finished.
"That was it," he says. "It had a nice beginning, it had a nice ending, it's done." If you're in Seattle, consider sending a letter—the local mailboxes might be feeling lonely.
Below are a few of our favorite photographs from the Mailboxes of Seattle project.