The Story Behind New York City's New Egg House
If you visit this pop-up, you'll enter the dreams of Ellis the egg.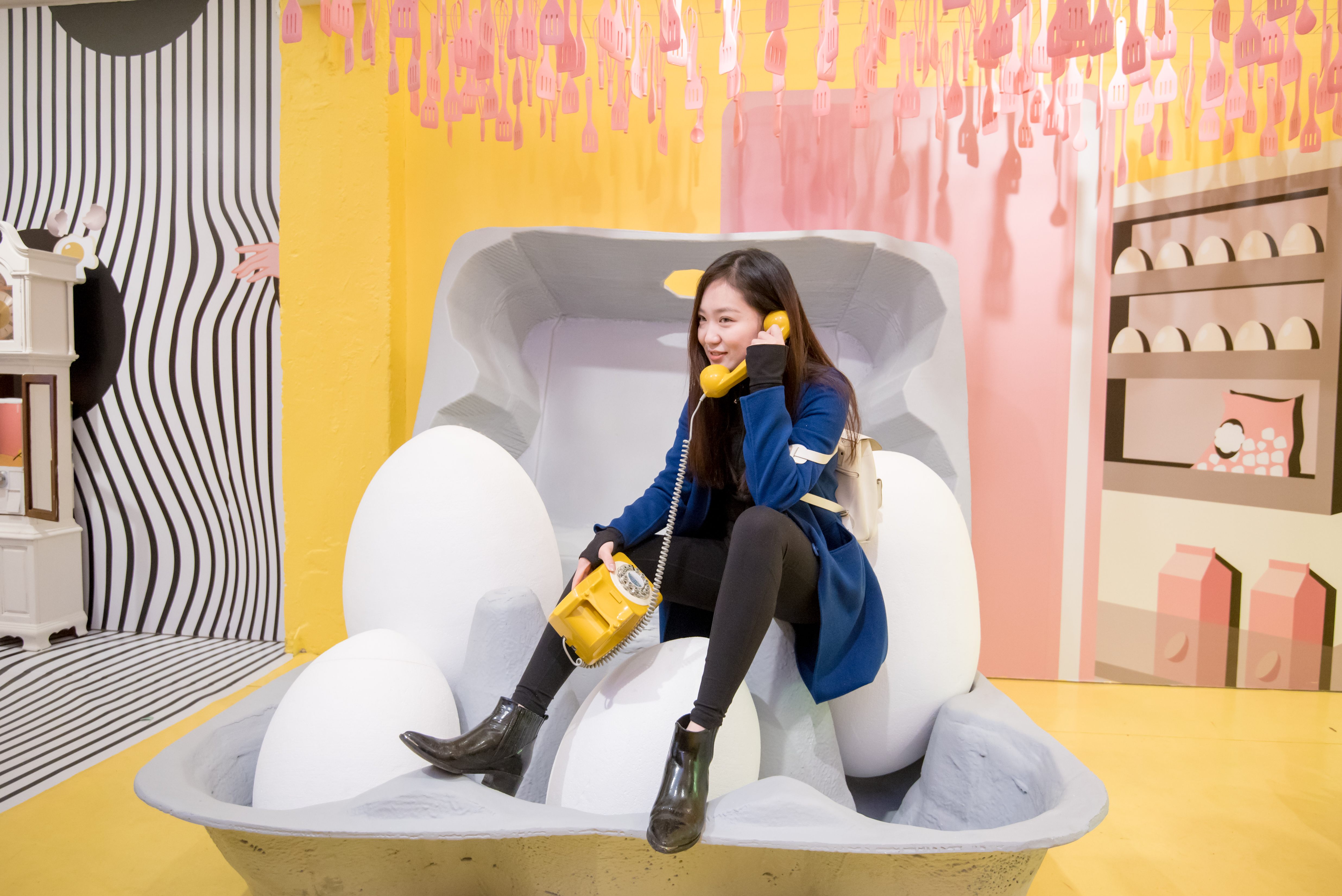 There's no need to follow signs or check Google Maps to find the Egg House in Manhattan's Lower East Side. Instead, follow the people dressed in sunny yellow, who are wearing egg-emblazoned shirts and egg earrings.
The eggy attire is intended for a new, egg-themed pop-up, which is open until the end of June. For those not versed in Instagram, pop-ups tend to be brightly-lit and lavishly decorated spaces that lend themselves to photography. Popular pop-ups include the Museum of Ice Cream, which previously popped into New York and dominates social media wherever it goes.
New York City is the Egg House's first stop. Occupying a 3,300 square-foot, two-story space, the installation is all about eggs. Fluffy clouds attached to the walls evoke whipped egg whites, and visitors receive glasses of eggnog. Selfie-seeking guests can crawl among the giant eggs in a massive carton, or lounge in a yellow-and-white ball pit.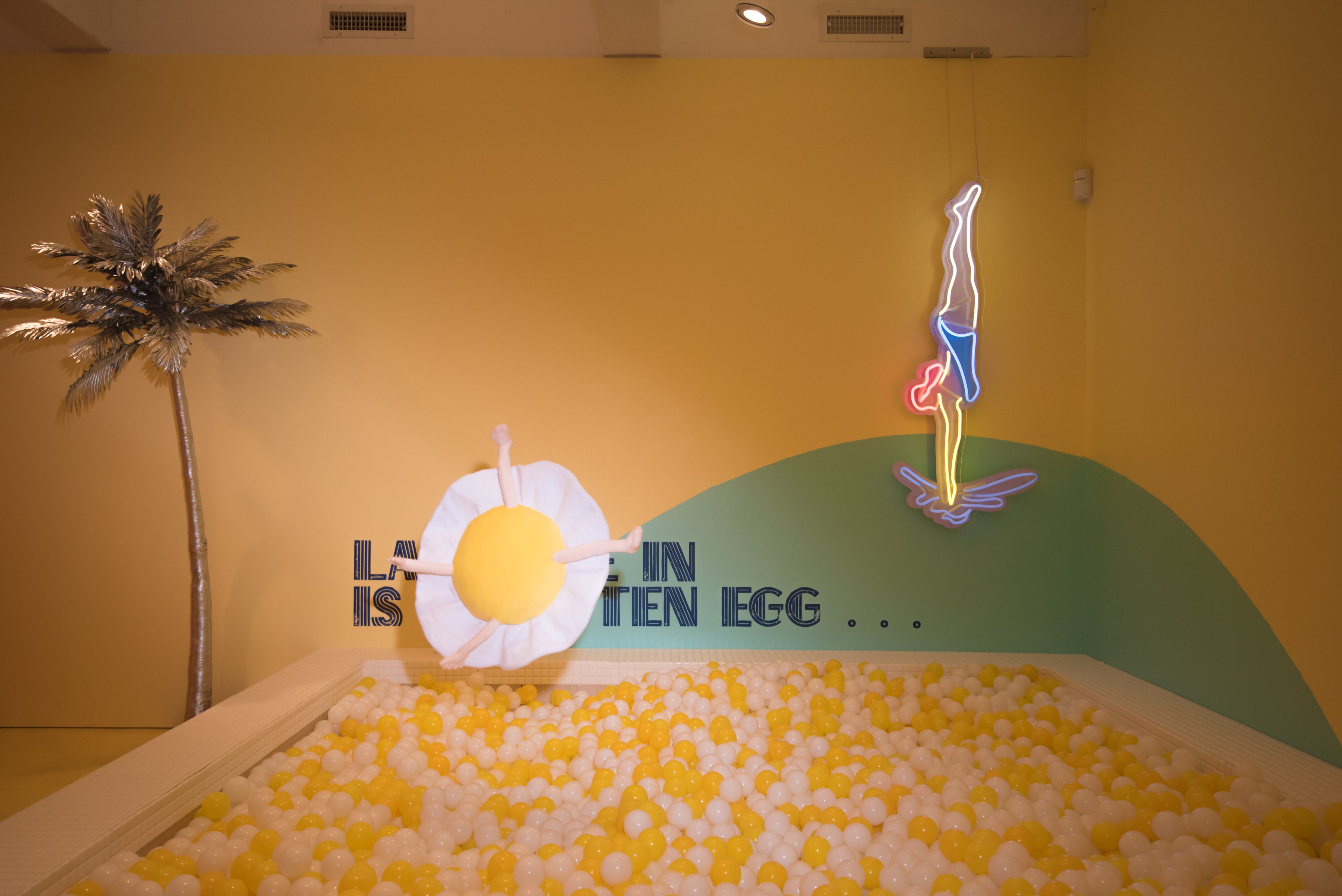 The person in charge of this exotic business venture is Biubiu Xu. Originally, she says, she imagined the space simply as a pretty space for pictures. (She came up with the idea during an egg-filled brunch last year.) But while Xu is a fan of art installations, she's not an artist herself: She studied accounting. So she recruited designers Anji Liu and Defu Kong of 3T Studio, who invented the Egg House's mythology.
Both Xu and Liu say they needed a narrative to distinguish the Egg House from other pop-ups, and they came up with quite the story. The House is the domain of Ellis, who is, naturally, an egg. While most of the House suggests that Ellis lives a swanky lifestyle with a pool and a garden, Ellis's bedroom tells a different tale. Inside, it's dark and filled with ambient city noises. A massive white egg (Ellis, of course) looms on the bed, and expressions flicker on its non-face with the help of a projector.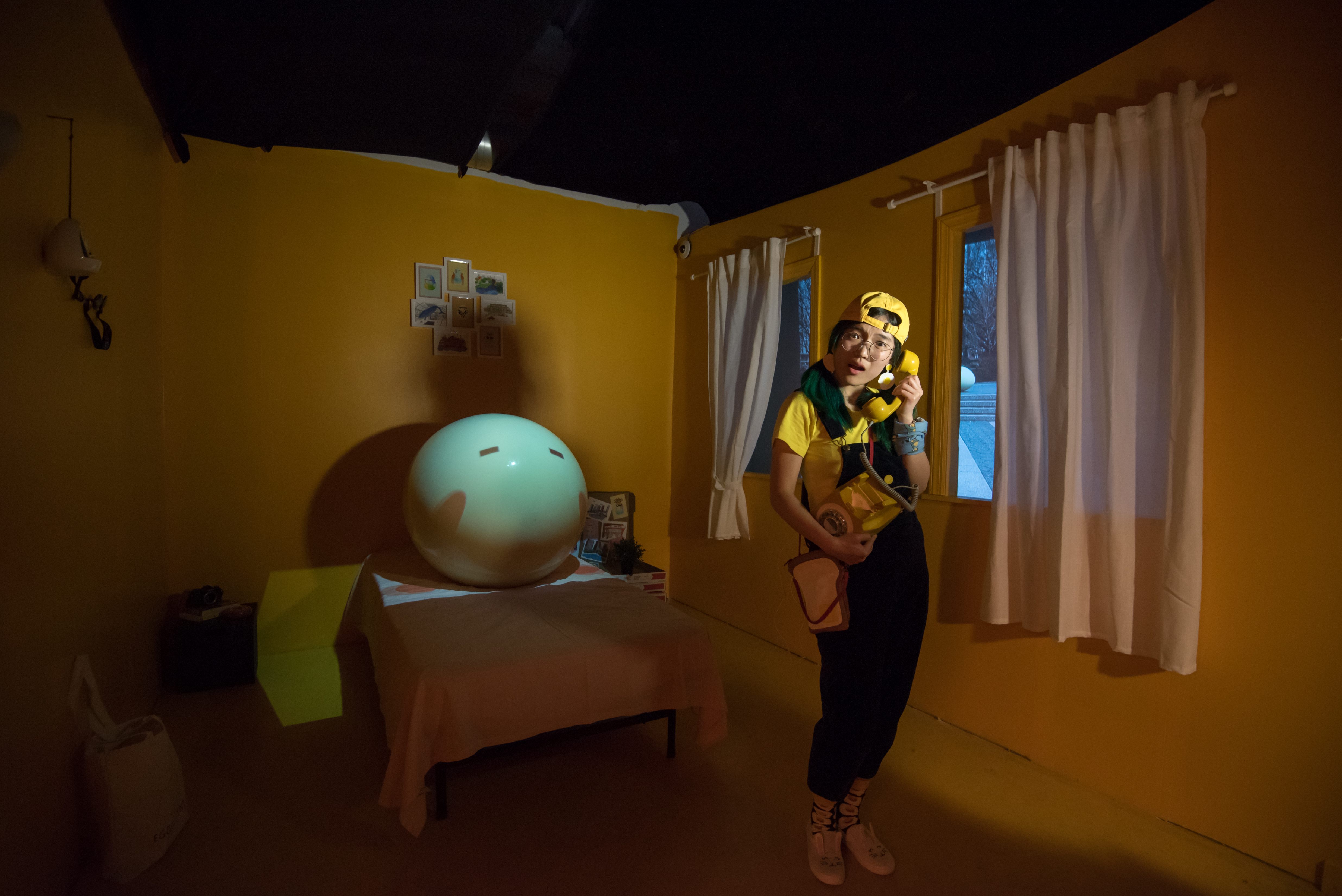 According to Liu, Ellis is a stand-in for the New York story. After all, what is an egg except unrealized potential? Millions of young people have come to New York and lived in dark little bedrooms as they try to make a go of it in the city. Ellis's name even references Ellis Island, the gateway for many immigrants into America. Though the designers insist that Ellis is more of an every-egg, the name is especially evocative in a diverse city such as New York. "Initially, all of us are from China," Liu says, motioning at the Egg House team.
Dreams are another important component of the Egg House. In the eerie glowing display of Ellis's garden, Liu gestures to a simple white tent. Soon, he says, they will construct an even smaller bedroom and place a regular-sized version of Ellis the egg inside. The whole installation will be the dream of that Ellis, Liu explains. "If he wakes up, everything here will—" Liu sharply claps, a sound that echoes through the basement like a cracking egg.
The name Ellis, he points out, also sounds similar to Alice, the heroine of Lewis Carroll's surrealist children's tale that turned out to be all a dream. Like Alice's journey, parts of the Egg House are slightly creepy."Eggs are full of the unknown," Kong adds, his face lit by the green light of the egg garden. "Eggs can be cute, but also sexy," a member of the publicity team explains later. "Maybe we'll do fruit next."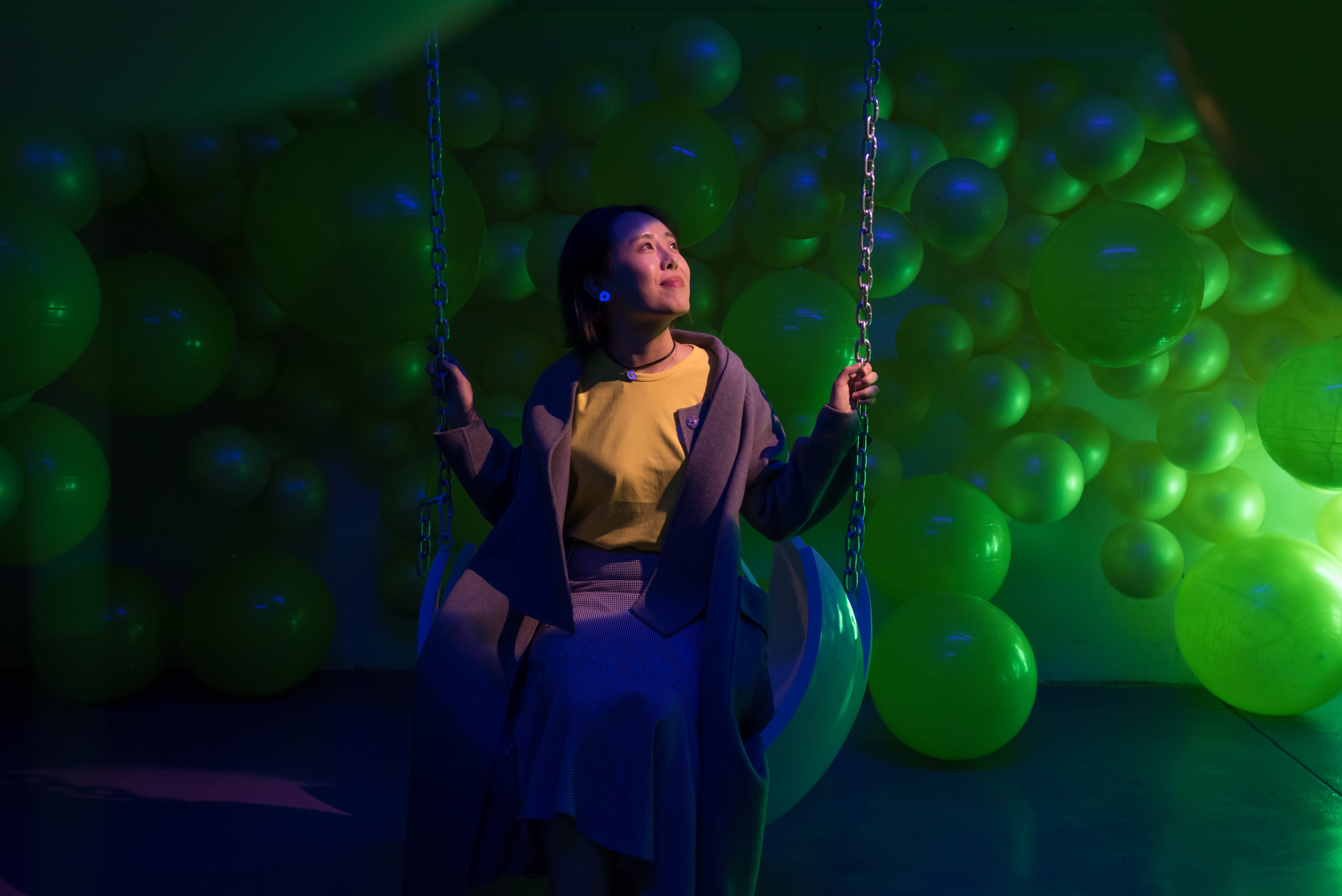 As social media influencers and their attendant photographers wander the installation, many linger in Ellis's bedroom to watch a film of giant egg sitting on a park bench. (To drum up interest in the show, Liu and the others took Ellis around town, as if he was wandering the city.) Away from the chatter and music, the quietest space is the garden in the basement, with its alien green-growing eggs. Liu says that the effect was created by inflating exercise balls to different sizes. In the middle of the display is a swing shaped like half a cracked egg. Terry, one of the Egg House's guides, proudly explains that it can hold up to two tons of weight.
The Egg House's concept might not be ready to hatch quite yet. Admission is a steep $18, and the space isn't all that large. But the Egg House team is dreaming big. Liu told me that after the Egg House visits Shanghai and Los Angeles, it will return to New York in a bigger space. Another organizer confides that the team pulled an all-nighter to arrange the House for its press viewing. Sacrificing sleep to chase dreams: What could be more New York?
Gastro Obscura covers the world's most wondrous food and drink.
Sign up for our email, delivered twice a week.