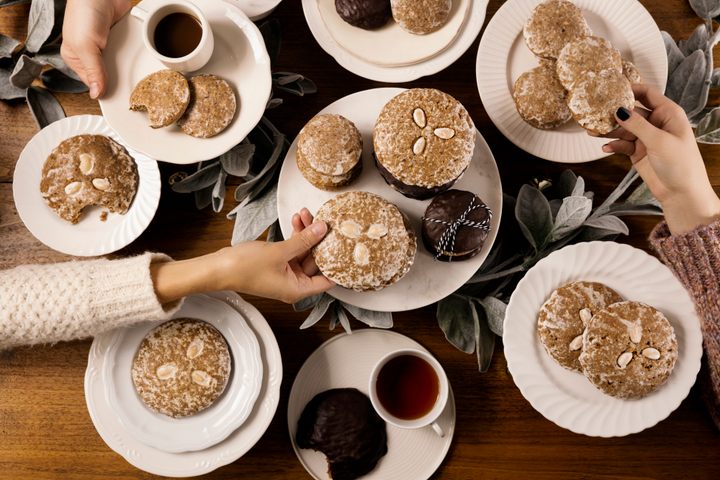 German Lebkuchen Are a Labor of Love With a Centuries-Old History
Some of these gingerbread cookies take months to make.
In 1296, in the city of Ulm on the Danube River, Franconian monks invented a culinary wonder. Thanks to the Old Salt Road, a trading route through Germany out to the Far East, the monks had access to cinnamon, cloves, and anise. They didn't have much in the way of butter, flour, or sugar, but they had nuts from the forest and honey from the monastery's apiaries.
One day, a clever friar had the idea to knead the spoils of the spice trade into the kind of cakey, honey-enriched dough that locals had enjoyed since Roman times. According to legend, they improvised a rather ingenious way of keeping them from sticking in the oven: by baking them on leftover Communion wafers.
The result was a cookie that bordered on miraculous: rich and sweet, and capable of maintaining its soft texture for months. When snowfall cut off supplies from out of town, lebkuchen became a calorically dense form of sustenance and a rare bright spot after the dark descent of the Northern European winter solstice.
"Making the dough with honey and without copious quantities of fat, means you can bake it and keep it for months," explains Luisa Weiss, a Berlin-based author who wrote about Lebkuchen in her book Classic German Baking. "[Gingerbread] was considered almost medicinal. It was prescribed to build up your strength, because it was considered healthy and full of these warming spices."
Part of the secret to the dough's longevity lay in an archaic form of leavening. The monks would most likely have used either hartshorn, from the powdered antlers of a stag, or potash, a form of potassium carbonate derived from wood ashes left at the bottom of the pot. Unlike baking powder or baking soda, which start reacting as soon as they encounter heat and moisture, potash remains dormant until it hits the inferno of an oven.
"It's a wonder drug—once you start baking, the potash comes to life," Weiss says. "It basically creates carbon dioxide that gives these cookies this wonderful texture. The crumb is really, really light."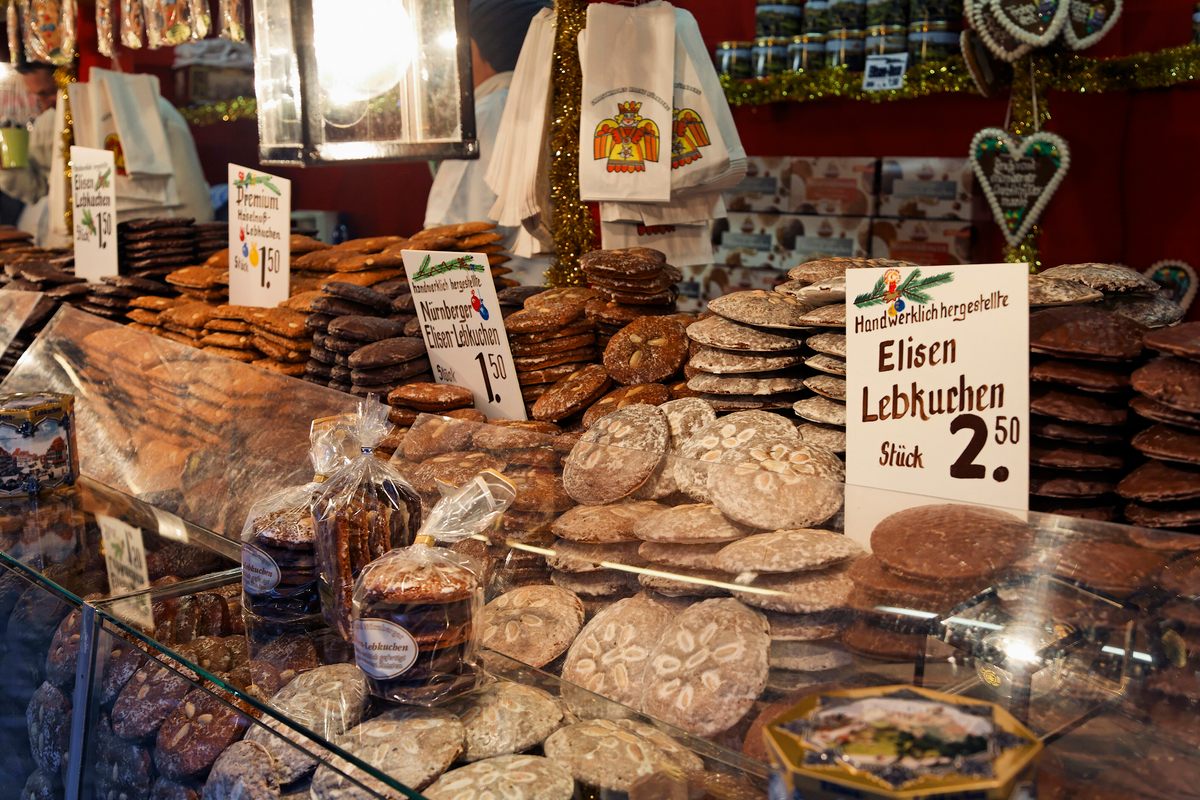 This ancestor to our modern gingerbread caught on quickly beyond the monastery walls, although the name "lebkuchen" wouldn't appear until 1409. According to Weiss, one etymological theory behind the name is that "Leb" comes from "Leib," or "body"—as in the body of Christ. It could just as easily be "Laib," in reference to a loaf of bread, or even from the Latin libum, or "pancake." Other names include Honigkuchen ("honey cake") or Pfefferkuchen ("pepper cake"). "Back in the Middle Ages, Pfeffer—pepper—was a catchall term for spices in general," she notes.
Today, lebkuchen are as closely associated with the Christmas season as the scent of Glühwein simmering in copper cauldrons. In 2021, Germans produced 84.5 metric tons of them. The term "lebkuchen" these days is something of a catch-all, one which applies to both the high-end pastries and the pizza-sized gingerbread hearts hanging at every Weinachtsmarkt.
Dozens of towns and regions have their own distinctive riffs on gingerbread. In Pulsnitz, a small town in Saxony, locals are so taken with their specialty Pfefferkuchen that they have a dedicated museum. The same goes for the people of Aachen, whose Printen cookies are a geographically protected treasure. Legend has it, in the 17th century, enterprising bakers revived a Charlemagne-era recipe for gingerbread cookies stamped with patterns. Today, they're sweetened with sugar beet syrup—a leftover from when a Napoleonic embargo cut off the local honey supply.
Sandy Lee, founder of Leckerlee, one of the only traditional lebkuchen bakeries in the United States, first encountered the cookies at a Christmas market after moving to Berlin in 2009. Lebkuchen, she discovered, are no ordinary cookies.
"They didn't taste like anything I'd ever had," she says. "I just loved them so much. It became a personal obsession for a really long time." Before long, she was diving through archival records and making regular trips throughout the country to sample different variations.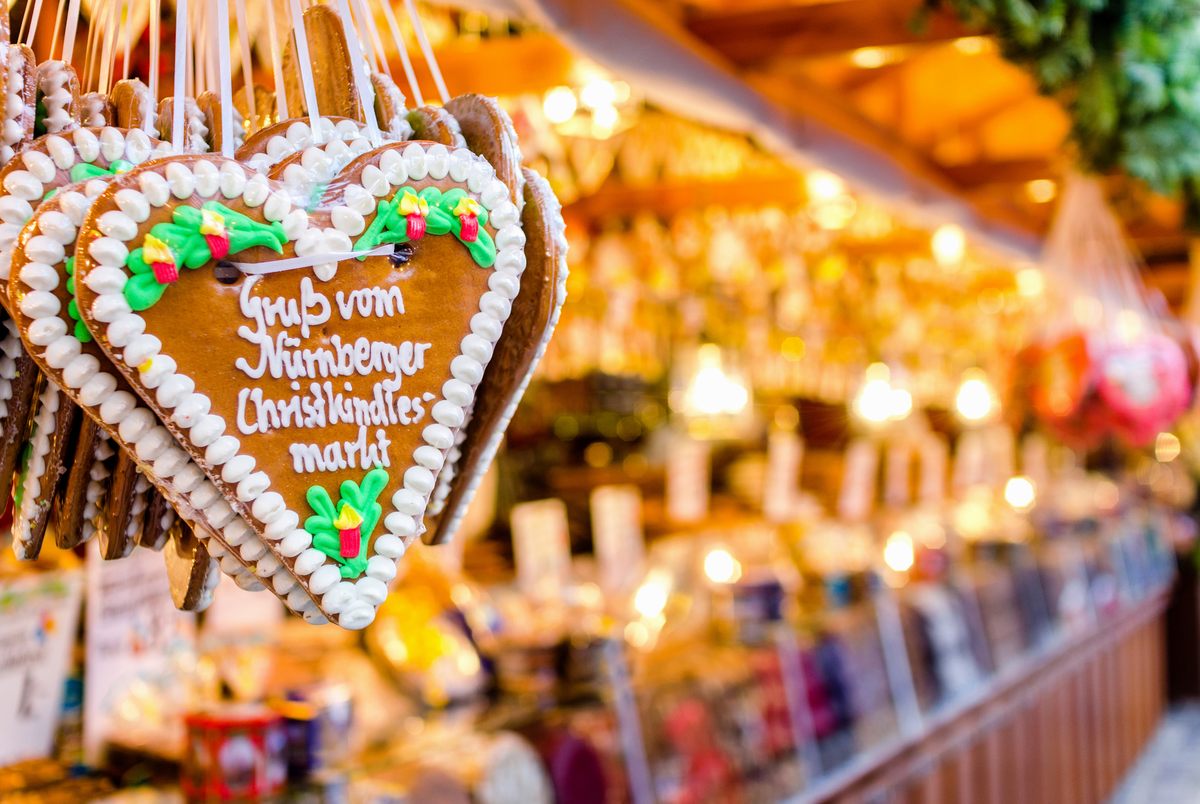 What she found was that the most prized lebkuchen often required costly ingredients and tremendous time and effort. Many of these recipes also say an astonishing amount about the regions that make them. For instance, the lingering fault lines between the former German Democratic Republic (GDR) and West Germany can still be seen when it comes to lebkuchen. "The ones in the former East are definitely a lot more sparse and dry," Lee says. Even today, bakers in these areas tend to package their lebkuchen in simple paper cylinders rather than ornate tins, in a nod to leaner times.
The most famous version by far is Elisenlebkuchen. By law, these carefully regulated confections must come from Nuremberg and contain at least 25 percent nuts by weight, although some go as high as 40 or 50 percent. Each year, this a city with a population of roughly a half million produces roughly 70 million Nürnberger Lebkuchen. As is tradition, each comes on a Backoblaten, a nod to the Franconian monks and their Communion wafers.
"Most Americans want to peel it off, but they're absolutely edible. We've had people write in saying, 'Hey, you have this paper stuck to each one…'" Lee says.
Because they contain little to no gluten, Elisenlebkuchen, the style which Leckerlee bakes, do not require resting, but the doughs for many of the honeyed, flour-based lebkuchen varieties age for months. For many German bakeries, Christmas cookie production begins in the spring.
"All the regions have their own versions, and not all of them have a resting phase, but many of the really famous ones do. They're called lagerteige, or 'storage doughs,'" Weiss says. "The aging process creates lactic acid that improves the flavor." Lactic acid is a metabolic byproduct of Lactobacillus, a helpful wild bacteria that adds tang in fermented foods from sauerkraut to sour beers.
Although no one would call the finished cookies sour, the process results in an incomparable depth of flavor. Aging benefits all sorts of cookie doughs, but most, such as the classic American chocolate chip, will start to deteriorate after a few days—not so with lebkuchen doughs leavened with potash.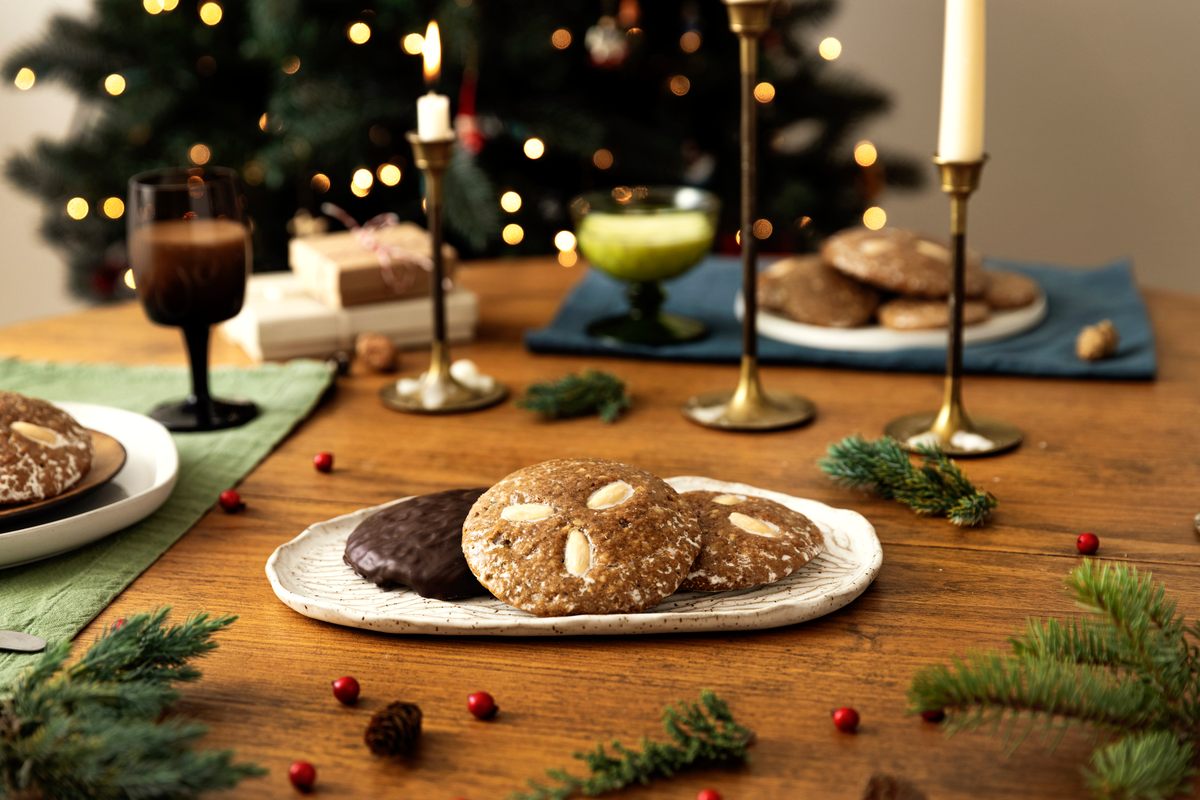 Weiss lists a handful of recipes for lebkuchen in her book, but for the aged variety, she strongly recommends tracking down potash. These cookies may take extra work and a lot of time, but the end result is truly special.
"The longer you let it sit, the better the cookies taste," Weiss says. "They just become more complex and richly flavored. It really made a difference when we were testing recipes. We baked off bits of the dough over a span of two months and I was blown away." At some point, however, she says she draws the line. "When you're baking for your home consumption, even in October, it feels a little loony to fire up the old mixer."
Lebkuchen
Adapted with permission from Classic German Baking by Luisa Weiss.
Ingredients
¾ cup honey
1 ⅓ cup plus 1 tablespoon firmly packed light brown sugar
7 tablespoons unsalted, high-fat European-style butter
4 cups all-purpose flour
3 tablespoons cinnamon
2 teaspoons ground cloves
½ teaspoon ground cardamom
½ teaspoon ground ginger
½ teaspoon ground mace
¼ teaspoon ground aniseed
Grated peel of one lemon, preferably organic
2 tablespoons cocoa powder
1 scant tablespoon of potassium carbonate (potash)
1 tablespoon kirsch
2 large eggs
Blanched whole almonds (optional)
7 oz. bittersweet chocolate, 55 to 70 percent cacao (optional)
1 cup confectioners' sugar (optional)
1/4 cup water (for glaze, optional)
Instructions
Place the honey and brown sugar in a small pot and warm gently over low heat; do not bring to a boil. As soon as the sugar has melted, remove from heat and add the butter. Let the butter melt completely. Set aside.

In the bowl of a stand mixture, stir together the flour, spices, grated lemon peel, and cocoa powder.

Stir the potassium carbonate into the kirsch to dissolve.

Make a well in the middle of the flour mixture and crack in the eggs. Attach the bowl to the stand mixer and fit it with the whisk attachment. Mix on low speed, and then continue mixing as you slowly pour the honey mixture into the bowl. With the mixer still running, pour the potassium carbonate mixture into the bowl. The potassium carbonate smells a little unpleasant, but that odor will dissipate during the storage period. Continue mixing for five minutes. The dough will glisten faintly.

Scrape the dough into a ceramic bowl and cover with a plate. The covering should not be airtight; the dough needs to be able to breathe. Place it in a cool, dark place for a minimum of one day. Optimally, the dough should rest for two months; its flavor will become much more nuanced.

A couple of hours before you plan to bake, line two baking sheets with parchment paper. Assemble an assortment of cookie cutters. In Germany, hearts, bells, animals, boots, and stars are all traditional shapes.

Scrape the dough out onto a lightly floured work surface. Knead once or twice, then cut the dough into quarters. Working one quarter at a time, roll the dough out to ¼ inch thickness. Cut out cookies and lay them close together on the first prepared baking sheet. Once all of the cookies are cut out and laid on the baking sheet, set them aside to rest for one to two hours at room temperature.

Decorate with almonds, if desired, gently pressing them into the cookies.

Heat the oven to 325°F and position a rack in the center of the oven. Bake the cookies for 15 to 20 minutes, or until they are puffed. They should be firm and dry to the touch. Don't let the tops brown or the bottoms burn. Remove the baking sheet from the oven and place on a rack to cool. Repeat with the remaining dough.

To glaze the cookies: place 1 cup confectioners' sugar and 1/4 cup water in a saucepan over medium-high heat. Bring to a boil until the water has mostly evaporated and the glaze is thick with big bubbles. Remove from heat, then immediately brush the glaze over the hot cookies right after they emerge from the oven. Allow to cool and set.

To coat the lebkuchen with chocolate: Coarsely chop the chocolate, place in a metal bowl over a pot of simmering water, and melt, stirring, until smooth and glossy. Turn the fully cooled lebkuchen upside down and dip them evenly into the melted chocolate. Let them cool right-side up on a rack until set.

When the glazed and chocolate-coated lebkuchen are set, store them in an airtight container, where they will keep for up to six months.
Gastro Obscura covers the world's most wondrous food and drink.
Sign up for our email, delivered twice a week.