History's First Named Author Was a Mesopotamian Priestess
Her name was Enheduanna.
In Atlas Obscura's Q&A series She Was There, we talk to female scholars who are writing long-forgotten women back into history.
History's first recorded author was a woman named Enheduanna. Born sometime in the latter half of the 23rd century BC, Enheduanna was the high priestess of the ancient Mesopotamian city of Ur. It was a political role as well as a religious one; as the daughter of a powerful king, Enheduanna was no stranger to affairs of the state. In her writing, she wielded her pen for peace, working to unite a fractured kingdom.
Today, more than 4,000 years after her death, her words continue to echo down to us. A new exhibit at The Morgan Library and Museum in New York City, She Who Wrote: Enheduanna and Women of Mesopotamia, ca. 3400–2000 B.C., highlights Enheduanna and the importance of other Mesopotamian women. Atlas Obscura spoke with one of the scholars on the exhibition team, Majdolene Dajani, about Enheduanna, what her life might've looked like, and why her story deserves to be told. The exhibit runs until February 19, 2023.
What was Enheduanna's background?
Her father was King Sargon, ruler of the Akkadians. He conquered an area in southern Iraq, Sumer, and she was put into power as a priestess of the moon god, Nanna. In her writings, she took a Sumerian goddess, Inanna, and fused her with an Akkadian goddess, Ishtar. She tried to unite these two different cultures, these two different people under her father's reign. So she was a key political entity.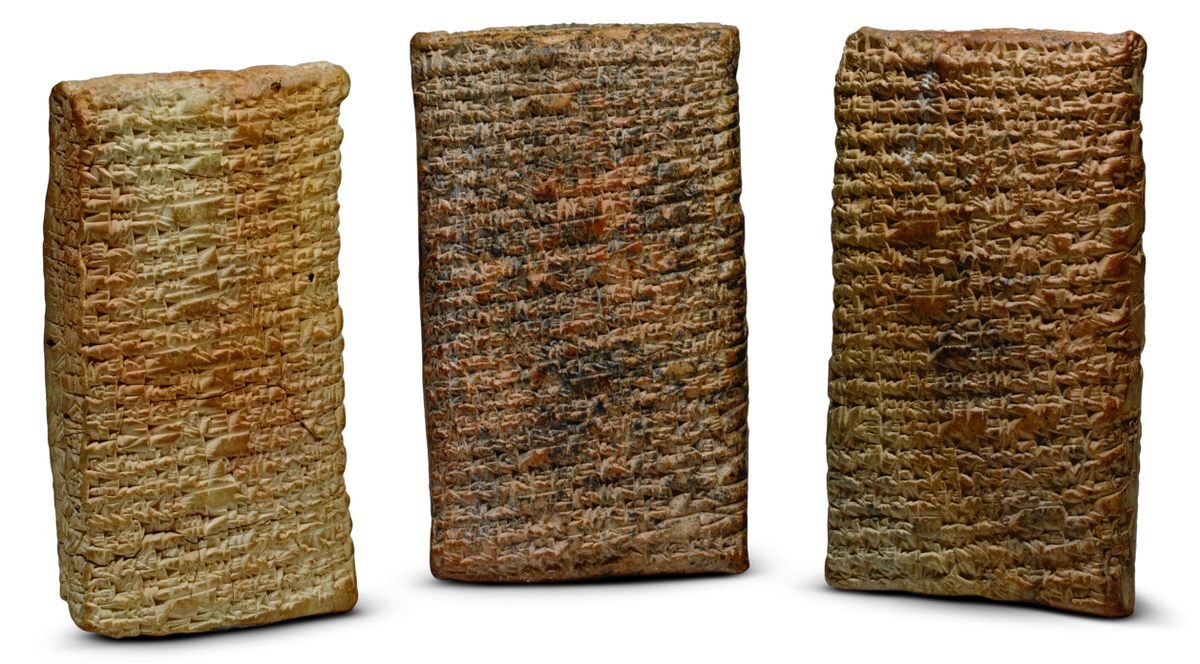 What do we know about her life as a priestess, from her daily routines to the power she wielded?
Sometimes we have these people where we know them by name and we know what their position was. But then there's this other aspect of what was their everyday normal life, and it's hard to grasp.
We have a representation of her on a disk where she is facilitating a ritual where a libation is being poured for the god. There's a set of temple hymns that she wrote. And so her role has something to do with ritual and libations honoring the gods and facilitating that.
There's something called the King's List. It's a list of all the kings that ruled and beside them is the list of the priestesses who were in power during their reigns. So I think that tells us a lot about the importance of the priestesses' role within society, but also within the political atmosphere of the times.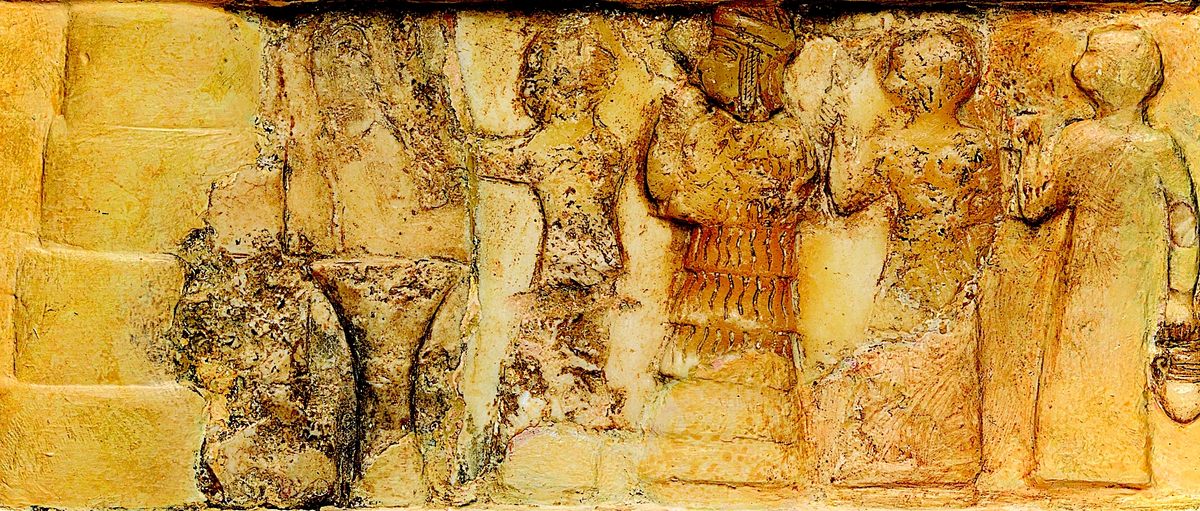 Tell us about the Mesopotamian goddesses, Inanna and Ishtar, who feature in Enheduanna's writings.
Inanna is a Sumerian goddess. She's often associated with reproduction and fertility, sexuality. For example, we see her in materials where there's abundance, like natural landscapes where there are animals or where food is being brought to a temple.
And then, Ishtar is a goddess of war. When she is combined with the Sumerian goddess Inanna, she also takes on the reproductive aspect. But really she is a goddess that crosses boundaries. In some of the poems about her, it talks not only about how she can destroy a landscape or make it fertile and abundant with life, but she also can, for example, make people or animals change genders. She's very powerful, and also the associations with fertility, reproduction, and sexuality could have been there before she was combined with Inanna. But the warrior aspect really comes through with the Akkadian Ishtar.
Ishtar/Inanna stays popular throughout Mesopotamia, throughout the time periods, but that's not the case for any of the other gods. They go and come in popularity. But she really stays, throughout time. She was very popular. The Exaltation of Inanna, which Enheduanna composed, I believe the first line says something to the effect of, "Inanna, Queen of the Heavens." So she's clearly a major goddess.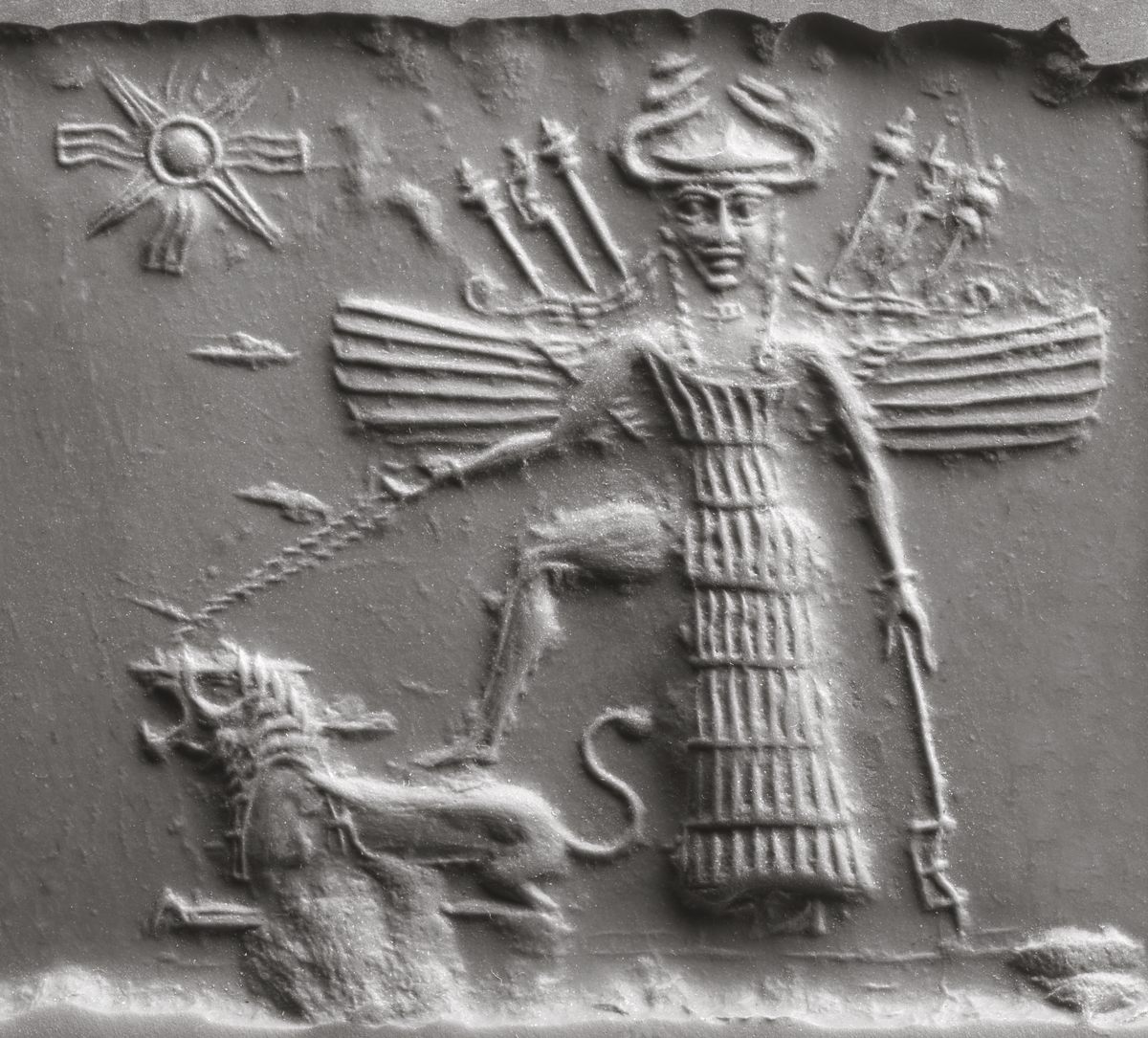 What does Ishtar/Inanna's popularity tell us about gender roles in Mesopotamian society?
It's very hard to assess this…She's a goddess. She's not a mortal woman, and because she's not a mortal woman, she gets to do things and be a symbol in a way that mortal women are not going to be. But I think what we can say, when you couple that with this King's List, is that power wasn't just a male quality or something that men aspired to or controlled. I think it's very important to see women in these political structures and dynasties.
Why has the role of women in Mesopotamia, and Enheduanna specifically, not been well understood?
When some of Enheduanna's materials were discovered, modern archeologists and scholars dismissed this evidence. It wasn't taken seriously. Because she was a woman, I think, she was dismissed and her role and her impact were also dismissed.
I'll give you an example. There is a Mesopotamian statue of a woman with a tablet on her lap. Presumably, she's going to write something. When it was found and commented on by early scholars and archeologists, they said something to the effect of "woman with tablet on her lap meaning unknown," just to give you the sense of the dismissiveness of modern scholars. And that dismissiveness has kind of hung over us because what you do in scholarship is you read everything that someone has written on a certain subject. So it influences, the way later scholars were writing and thinking as well.
Mesopotamians clearly knew Enheduanna's impact and her legacy. But in modern society, I think it hasn't always been that way.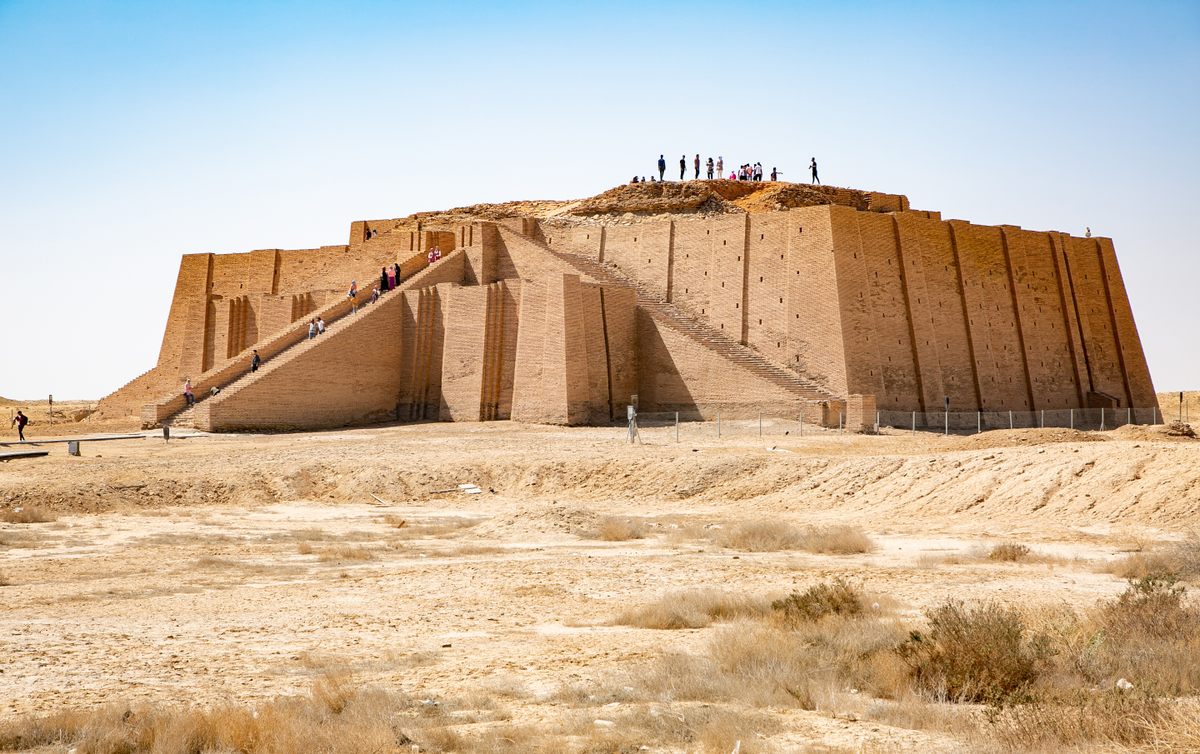 As you were researching Enheduanna, did anything surprise you?
Sometimes, you're reading about these people in a textbook or in an article, and you don't get a first-person narrative, right? These texts are extracted and then put together by a scholar.
But in the process of doing this research and reading The Exaltation, Enheduanna refers to herself in the first person. It's her story. There's a strength in her words, in her conviction. You can see her passion.
It was a nice reminder that she was a person and had feelings and motives and emotions and passion. It's a powerful and eerie feeling because you're hearing the voice of someone long gone.
This interview has been edited for length and clarity.