An Ever-Shifting Austin Art Space Makes Its Biggest Move Yet
HOPE Outdoor Gallery is a local landmark. Will its spirit follow it to its new location?
Helena Martin remembers when she first learned to let go. The Austin, Texas-based muralist regularly spends hours out in the hot sun, covering walls with color. It doesn't always pay off, but on this particular occasion, she'd made something she was proud of.
She doesn't quite recall what it was—probably a portrait, or a dreamy-looking animal. But when she went back the next day to check on it again, her heart sank. "It had a big graffiti over the top of it—bubble letters," Martin says. "And I cried! I cried about it."
She took some time, talked to some of her peers, and found some peace. "Now, when I paint there, I have the expectation that it won't last longer than when I see it," she says. "It really helps me with non-attachment, you know? Being in the moment."
In most cities, graffiti and street art spread horizontally across the landscape, splashing color onto brick walls and overpasses. But while Austin has its fair share of murals and tags, many of its aesthetic assets are currently concentrated in one place: a community paint park called HOPE Outdoor Gallery. Located at 1008 Baylor Street in the middle of downtown, the concrete-studded hillside is a riot of shapes and colors, seized in a cycle of constant morphing. In the eight years since its founding, it has hosted thousands of street and graffiti artists, from big names like Shepard Fairey to wide-eyed little kids, all spraying and painting and bubbling over each other.
After this summer, though, the walls are coming down. Another HOPE Outdoor Gallery is opening in a different location, about 10 miles southeast. The current space, with its layers of paint, sweat, and tears, will be demolished to make room for a development. In the meantime, the gallery's many creators and fans are fielding new questions. How do you transplant the spirit of a place? And when do you just have to let go?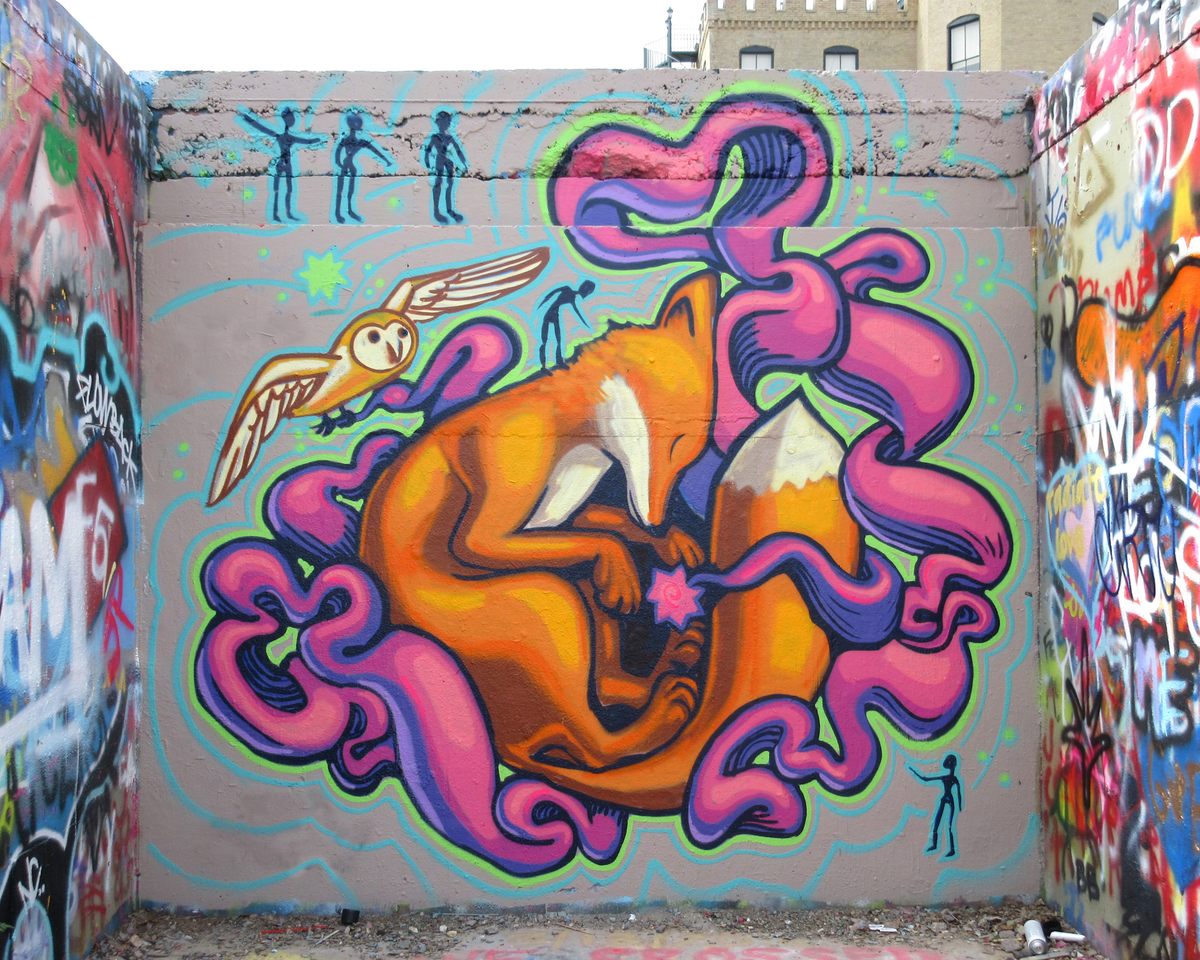 Before the HOPE Outdoor Gallery was a successful art space, it was a failed real estate project. Developers bought the lot in the mid-1980s, and began to build what local reporter James Rambin has described as a "massive turkey of a condo," a multi-story stack of identical housing units that covered the hill. The building was eventually found to be unsound, and by 1990, it had been torn down. All that was left was the foundation: a set of concrete rectangles, jutting straight out of the ground, enticingly blank.
Graffiti artists started treating the area like a 3-D canvas. They called it "The Foundation," a homage to the space's origins that could also be read as a tongue-in-cheek invocation of all the things it was not: funded, official, legitimate. Then, in 2010, Andi Scull Cheatham—the founder of a nonprofit production company called Helping Other People Everywhere (HOPE), which links artists with social causes—decided to try and change that. She reached out to the property owners, who had also tried and failed to build on the lot, and found that they were enthusiastic about this alternative use, and that they wouldn't be developing the land for at least three years.
This seemed like enough time to try out her plan, which she describes as "a visual open mic:" a place for artists to test out new ideas without worrying about aesthetic or legal consequences. "A lot of this art form is done nervously in the dark," Scull Cheatham says. "There aren't really canvasses for people to just practice on, or gain their confidence."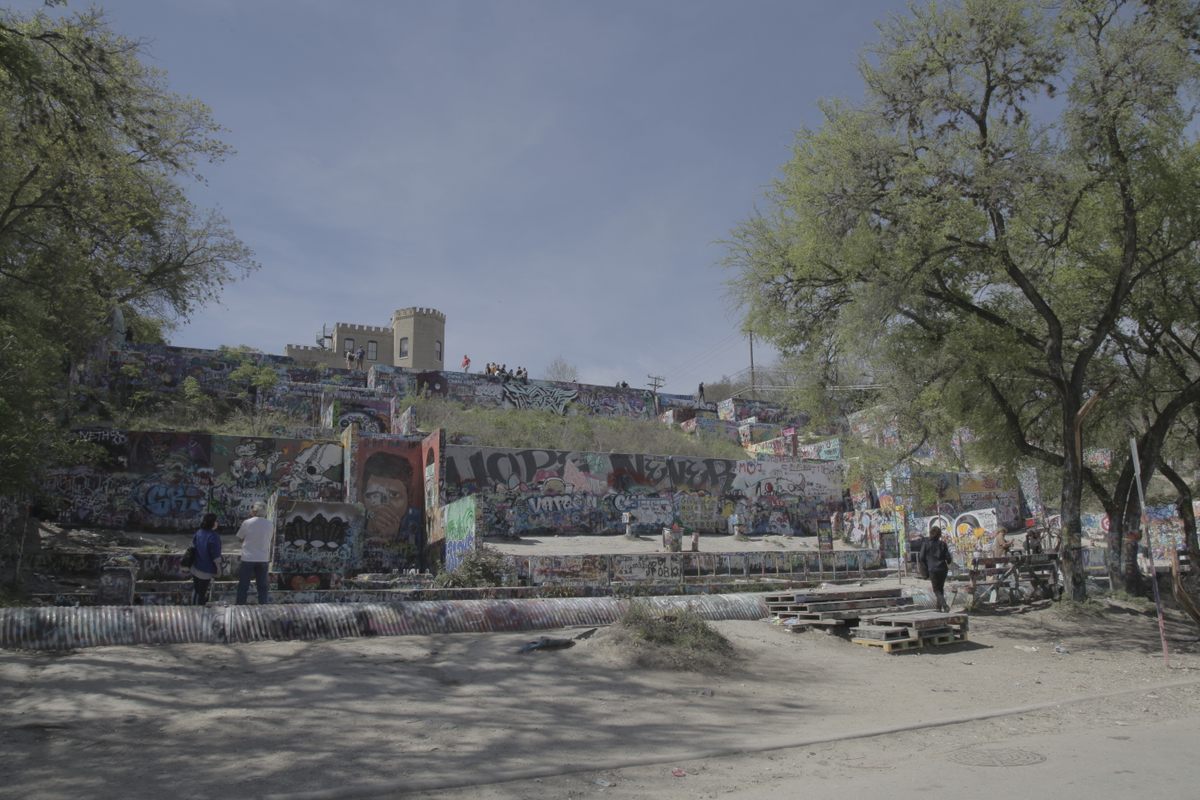 Cheatham and her team worked to make the site more user-friendly. "We very much started from scratch," she says, at times literally: "We… had to go out and clear all of the thorns and poison ivy." Contractors removed trailers full of trash, "some of it unmentionable," as one told the Austin Chronicle. By March 2011's South by Southwest Festival, the gallery was up and running. Shepard Fairey, who is also HOPE's cofounder, contributed the first major installation, a long stretch of black-and-white wheatpaste posters. Others began registering to participate. Layers of paint piled up.
The gallery slowly gained a reputation among artists, in the city and beyond. "It's the best legal graffiti wall I've ever seen," says Martin, who moved to Austin in 2013 partly because of it. "It's got a lot of fame and renown because of its size, location, and accessibility." She rattles off good memories: the joy of watching kids use spray paint for the first time; the pride of finally supporting herself through her art; the sweaty camaraderie of collaborating with other painters in the July heat.
"It's like Mars there in the summertime," she says. "We'd be out there working really hard, but you're just driven by this passion—you get to share your art with the world, and you don't have to be looking over your shoulder for a cop." Others were drawn by its democratic spirit. "It really is a space that is available to everybody," says illustrator and muralist Val Brains, who began painting there in 2017. "Toddlers can spray, or your 89-year-old grandma… anyone can come, any background, any skill level."
It wasn't just contributors who took to it, either: The colorful, ever-changing spot is now a prime hangout for tourists and locals alike. Some bag a quick selfie and then skedaddle. Others shoot music videos, take quinceañera photos, or practice tap dancing and tuba playing. UT Austin students hang out there on Friday nights, and then volunteer to come clean up on Sunday mornings. Sometimes, fans become artists: Scull Cheatham likes to tell the story of a dentist who started spraying for fun a few years back, and now gets mural commissions elsewhere in the city. "No one was expecting the public to receive it in the way they did," she says, adding that the space now hosts between 50 and 200 visitors every hour.
Like other popular Austin spots—the bridge full of bats, the cathedral made of trash—the gallery provides a mix of friendliness and offbeat energy that many people like to associate with the city as a whole. "[It's] as close to a sacred site for the new generation of the Keep Austin Weird set as anything we've got these days," writes Rambin, adding wryly that "the only remaining step for its canonization… is for it to shut down."
The space's martyrdom approaches. In 2017, the longtime owner of 1008 Baylor Street, Vic Ayad, sold the property to a local developer. He and his former co-owner had held onto it longer than they had originally planned, paying about $30,000 in property taxes annually in order to support the site's artistic use. But they finally got the offer they were looking for, and the gallery began to plan its next move.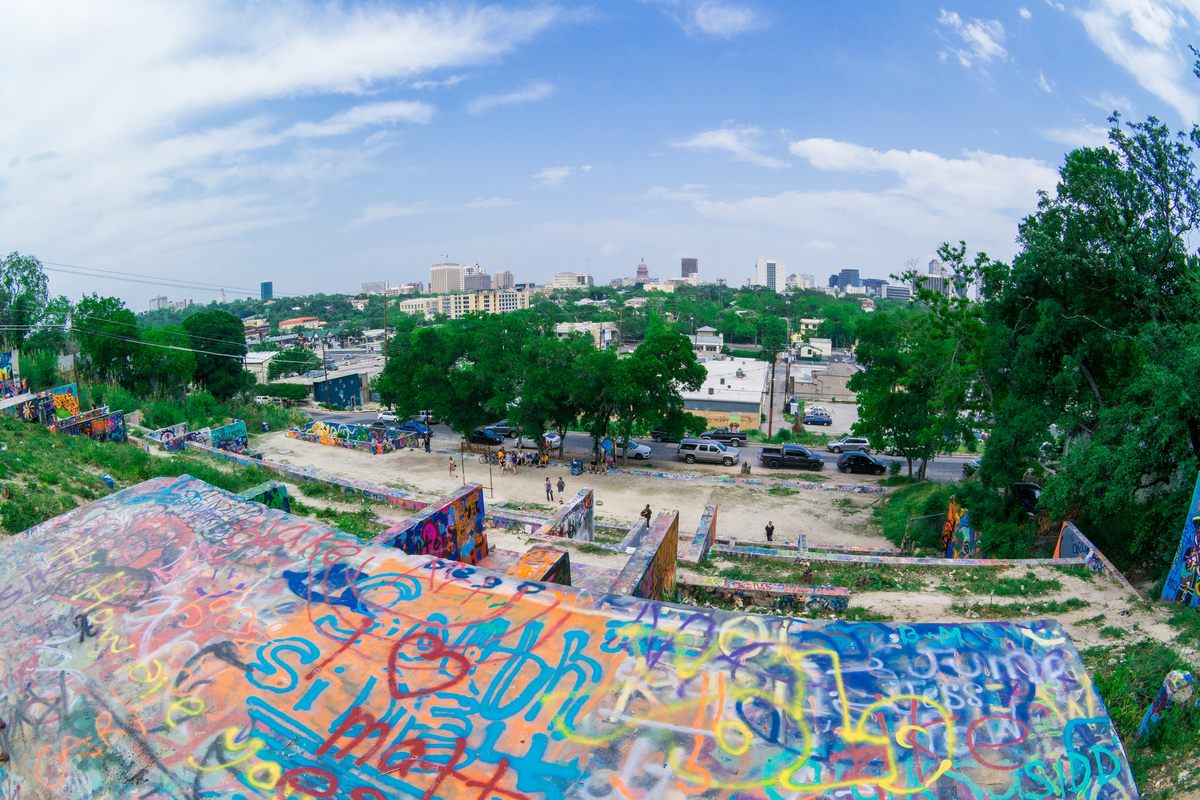 "We always knew it would be a temporary project [in this spot]," says Scull Cheatham, who has been scoping out new locations for four years. In November of 2017, she announced the fruits of this search: The HOPE Outdoor Gallery will be moving to a six-acre lot within Carson Creek Ranch, a riverside event space near Austin-Bergstrom International Airport. From her perspective, this is entirely good news. The current site lacks basic amenities, like bathrooms and water fountains. People are always getting parking tickets and spraying on the neighbors' cactuses. "Even if we could stay there—if we had all the funds in the world—it still isn't in an ideal space for all the activity, and what people love about it," she says.
The new location, she adds, will preserve the most important quality of the current one: "A safe place to be able to paint for hours in peace outside." Certain sections of the gallery will be curated, so that special pieces can stick around for longer. There will be fewer drive-by Instagrammers, and tourists can visit on their way to or from the airport, when they might be more likely to actually buy a print or a T-shirt from the artists there. The infrastructural elements of the site will be arranged to spell out "HOPE" from above, so that people flying in and out will know exactly what they're looking at.
Artists and fans are appreciative of Ayad's generosity, as well as Scull Cheatham's tirelessness. Many are excited to check out the new location. (A fundraiser, in which fans can pay to get their name carved onto a brick and placed in the space, has garnered hundreds of takers.) There's also a sense of inevitability—as Martin puts it, "we're lucky we had it as long as we did." Public art spaces can't often outcompete condos—just look at 5Pointz, the recently whitewashed graffiti mecca in the Bronx—and Austin is one of the fastest-gentrifying cities in the United States. "I think that's probably the last undeveloped tract in central Austin," says Chris Neely, the city hall reporter for Community Impact Newspaper. "This was all to be expected eventually."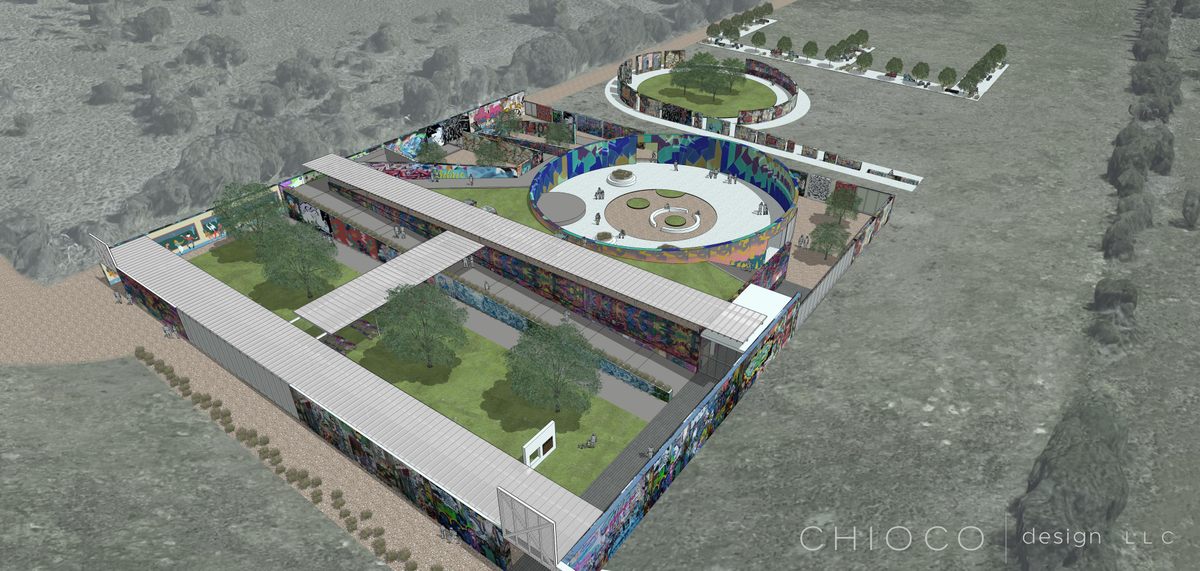 But there's a certain amount of mourning, too. In January, Austin's Historic Landmark Commission officially voted to demolish the current gallery. Neely reported on the meeting, and so many people read his story about it, the paper's web server broke. "It was known that the graffiti park was moving," says Neely. "I don't think people realized it was getting demolished." Editorials started popping up. "We're losing a site-specific art gallery that can't just be replaced and moved," says Laura Doan, who penned one for UT's campus paper, The Daily Texan. "The layers and layers of art that are in HOPE outdoor gallery will not all be translated to this new space." Others, including Neely, think it's doomed to lose some flair. "I doubt that the new location will be as cool and natural-feeling as the current graffiti park," he says.
Earlier this month, HOPE released an updated timeline. The Carson Creek Ranch gallery is slated to open next spring, and the current site will stick around until then. According to a recent press release, Scull Cheatham and the developers are working on ensuring that the park's legacy is "forever recognized on Baylor Street," and a chunk of one of the walls is being moved to the new site. The Austin Historic Commision has decreed that the park undergo "comprehensive photo-documentation" for posterity.
In the meantime, each day, the people who continually create the HOPE Gallery show up to paint. After all, they're street artists—they know that something can fill your field of vision one day and then simply disappear. When that happens, there's nothing to do but pack up your colors and move on. "I feel like if there is an audience [at the new gallery], people will continue to spray," says Brains. And either way, she's not too worried: "People who are creative will always find another place."